Are you looking to change your domain name on Shopify? Maybe you've just launched your,Shopify store and want to use a custom domain, or you're unhappy with your current domain. Whatever the reason, this post will show you How to Change Domain Name on Shopify.
What is a domain name, and why do you need one for your Shopify store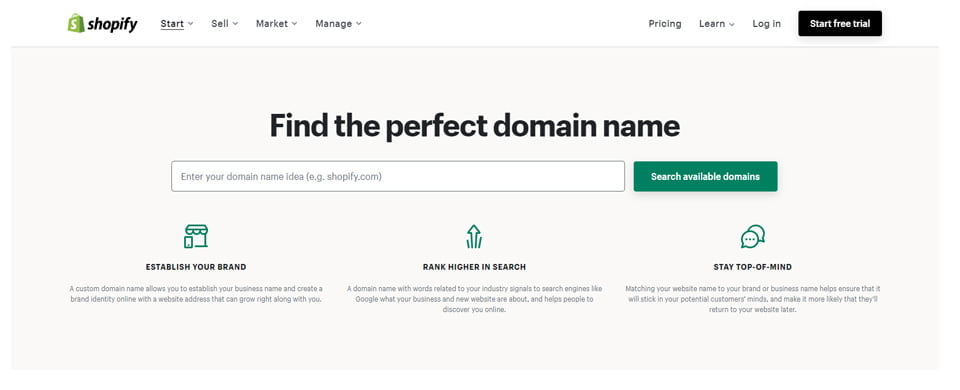 An Internet website is identified by its domain name, and a specific address. Users need a domain name to find a website, like a street address, to find a house. A top-level domain (TLD), like.com or.net, plus a second-level domain (SLD), like Shopify, make up the majority of domain names. Combining these, we obtain the complete domain name for your Shopify store: Shopify.com.
Although building a website without a domain name is possible, doing so is not advised. Customers may find it easier to remember your site's URL if you choose memorable domain names, which are an essential branding component. Additionally, they facilitate customers' access to your website through search engines.

How to find a domain name for your store
The first step in starting an internet business is to locate a domain name that accurately describes your brand. And although it may seem like a straightforward chore, it can be rather tricky. However, don't worry; we are here to assist. Follow these simple steps to discover the perfect domain for your online store:
Start the search by brainstorming a list of keywords that represent your business.
Be creative with your combinations and try to create something unique.
Invent new names by taking inspiration from popular brands or using wordplay.
If all else fails, hire a specialist to do the heavy lifting.
How to set up your domain name with Shopify
So you want to start selling online, and you've decided to use Shopify as your eCommerce online store. The first step is to set up your domain name. You have a few options: buy a new domain through Shopify, connect an existing domain you own, or transfer an existing domain to Shopify. We'll go over all three options so that you can choose the best one for your Shopify store.
Purchase a domain through Shopify: To simplify the setup process, you may do so through Shopify if you want to purchase a new domain. If this is the first domain you add to Shopify, the web address that clients see is already set up to be this domain. If you already have a domain associated with your store, the new domain will automatically reroute to it. From your Shopify admin, you can manage all of your domain settings.
Connect your domain to Shopify: To modify your domain settings, make payments for your domain, and renew it if you continue to utilize the third-party domain provider. This option is ideal if you wish to connect different domains to your store or aren't yet ready to transfer your domain name to Shopify. The use of a Shopify-connected domain is required to access several sophisticated capabilities, so keep that in mind.
Transfer your domain to Shopify: By transferring your domain name to Shopify, you'll have access to all of our cutting-edge domain capabilities, and your domain settings' administration will be made much more accessible.
If you choose to move your domain name in the future, bear in mind that it could take up to two weeks for the DNS modifications to propagate throughout the internet. We suggest using your current hosting service in the interim to ensure your client's needs are met.
When registering your domain name with Shopify online store, there is no right or wrong choice; it all relies on what is best for your company. Regardless of your preference, we make it simple to start selling online!
How to change your primary domain
Clients visiting your online store see your primary domain name in the address bar. The format your-store-name.myShopify.com is used by default when you sign up for Shopify as your primary domain. You can create a custom domain, establish it as the primary domain, and then modify the domain visitors to your store use to access it. What to do is as follows:
Go to Settings > Domains in your Shopify admin.
Select the domain you want to use as your primary domain by clicking it.
Then select Set as primary. All traffic from your myShopify.com domain will be diverted to your custom domain. If necessary, you can always revert your main domain to myShopify.com.
How to create a routing domain for a custom storefront
You can make a routing domain that directs traffic to a specific target but doesn't go via the main domain. Only custom stores use routing domains.
You must include a custom domain in your store to build a routing domain.
Go to Settings > Domains in your Shopify admin.
Select the domain you want to use as a routing domain by clicking it. Click Domain Type Change. Click Change domain type after selecting Routing domain.
How to Change Domain Name target
You may need to modify the domain's target as your company expands and undergoes changes. For instance, you might want to switch your primary domain or relocate your website to a new platform. Changing a domain target is relatively straightforward, regardless of the motivation.
Go to Settings > Domains in your Shopify admin.
Click on the domain whose target you wish to modify after that. Then select "Change target." Choose the target's name from the Target list. Then select "Save." You can quickly alter the domain's target with a few clicks.
Your attempt to modify your Shopify domain name was successful. Now go forth and establish the globe as your storefront.

Tips for choosing a domain name
The selection of a domain name is crucial. After all, it's the first thing visitors to your website will see. Make certain it's distinctive, simple to spell, and related to your brand. Here are some pointers to assist you in selecting the ideal domain name:
Keep it short and sweet. The shorter your domain name, the easier it will be for people to remember. Try to avoid using abbreviations or acronyms, as these can be difficult to remember.
Make it easy to spell. You don't want people to get frustrated when they try to type in your URL. Avoid using words that are often misspelled, or spelled differently than they sound.
Choose a .com domain. People are more likely to remember a .com domain than any other type of domain extension. Plus, .com domains are more universally recognized than other extensions, so people will know where to find you no matter what.
Be relevant. Add custom domain Shopify name that reflect your brand or what you're offering on your website. Avoid using unrelated keywords just to get traffic from search engines.
Do your research. Before registering your domain name, do a quick search online to ensure another website is not already using it. You don't want any confusion down the road.
By following these tips, you'll be well on choosing a great domain name for your new website!
Frequently Asked Questions
With Shopify, can I use my own domain name?
Yes, Shopify allows you to utilize your own domain
Can I Change My Shopify Store's Domain?
Your primary domain automatically takes the form of your-store-name.myShopify.com when you sign up for Shopify. If you wish to change the domain that customers use to access your store, you can add a custom domain and then designate it as the primary domain.
Does altering your domain name have an impact on SEO?
Yes, changing a domain name can have an impact on SEO.
Final Thoughts: How to Change Domain Name on Shopify
So there you have it – everything you need to know about changing your domain name on Shopify. We hope this article has been helpful and that you're now feeling confident about making the switch. Just remember, take your time, double-check your work, and be sure to hit that save button when you're done. And if all else fails, the Shopify customer support team is always here to help.