The rise of eCommerce has skyrocketed the valuation of Shopify, a premier eCommerce platform. Being one of the world's leading e-commerce platforms, it has been growing in popularity over the past few years.
As the world continues to transform into an increasingly digital economy, more and more businesses are turning to Shopify to run their operations and the answers to how much is Shopify worth may surprise you!
In this blog post, we'll explore Shopify's current valuation and discuss what factors have contributed to its success.
Shopify's History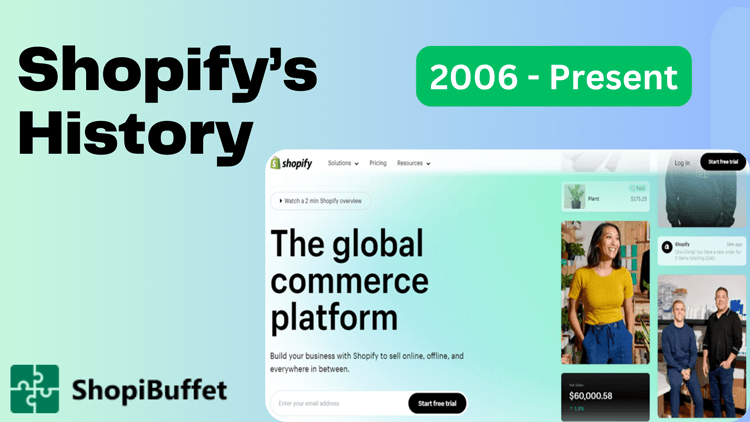 The history of Shopify started in 2004 when the company was originally an online store that sold snowboards under the name Snowdevil. The company never intended to become a platform for eCommerce nor to create its own software for that purpose.
However, as the company's founders faced difficulties finding an eCommerce platform that met their needs, they decided to create their own. In 2006, they launched the first iteration of Shopify, which was initially called Jaded Pixel.
By 2010, Shopify was already processing $100 million in revenue for its customers. In the following year, Shopify raised a Series B round of funding, which amounted to $15 million, and came from several investors, including Bessemer Venture Partners, FirstMark Capital, Felicis Ventures, and Georgian Partners. At that time, there were already 15,000 active eCommerce websites across 80 countries powered by Shopify.
By 2014, Shopify had over 80,000 customers who had combined sales of more than $1.6 billion in the previous year. The company had over 300 employees, and rumors of a Shopify IPO started to swirl. By the end of the year, Shopify's market value was estimated to be $1 billion, with 100,000 stores and 500 employees.
Since then, Shopify has continued to grow and expand its offerings, becoming one of the leading eCommerce platforms in the world. Today, Shopify powers over 1.7 million eCommerce businesses in more than 175 countries, with over 7,000 employees and a market capitalization of over $150 billion as of May 2023.
Shopify's Revenue and Net Worth
As of May 15, 2023, Shopify's net worth, (source- stockanalysis), is estimated to be $77.07 billion. In terms of total revenue, Shopify reported $1.7 billion for the latest fiscal year.
This represents a 26% increase compared to the previous year, indicating strong growth in the company's sales. The 28% increase on a constant currency basis accounts for the impact of currency fluctuations and provides a more accurate measure of revenue growth.
These figures demonstrate Shopify's significant market presence and its ability to generate a substantial conversion rate. The company's success is attributed to its eCommerce platform, which empowers businesses of all sizes to create and manage their online stores efficiently.
| | |
| --- | --- |
| Metric | Amount |
| Net Worth | $77.07 billion |
| Total Revenue | $1.7 billion |
| Revenue Growth | 26% |
| Revenue Growth (Constant Currency Basis) | 28% |
Shopify's Revenue and Net Worth
Mavon Shopify Theme
Boost your online store's conversion rate with Mavon, the high-converting Shopify theme. Elevate your brand with its visually stunning design, flexible sections, and top-notch user experience.
Shopify's Market Cap
Definition and importance of market capitalization
Market capitalization, often referred to as a market cap, is a measure of a company's total value in the stock market. It is calculated by multiplying the current share price of a company by the total number of outstanding shares. Shopify capital reflects the collective perception of investors regarding how much is Shopify worth and is a key indicator of its size and significance in the market.
Shopify's market cap history and growth
Shopify's market capitalization (market cap) has shown significant fluctuations in recent years. In 2020, its market cap was $137.41 billion, which increased to $171.57 billion in 2021, indicating strong investor confidence and positive financial performance. However, in 2022, the market cap dropped to $44.15 billion, suggesting a decline in investor sentiment or external factors affecting the market.
As of 2023, Shopify's market cap stands at nearly $77 billion. Market cap reflects the total value of a company in the stock market and can fluctuate based on factors such as stock price and investor perception. Monitoring market cap trends is important for investors and stakeholders to gauge the perceived value and market sentiment towards Shopify as a company.

Factors Affecting Shopify's Worth
Subscription Solutions
Shopify offers subscription plans to merchants, providing them with a range of features and services to build and manage their online stores. Shopify generates revenue from these subscription solutions which play a significant role in determining Shopify's worth.
As more merchants sign up for Shopify's subscriptions and existing merchants upgrade to higher-priced plans, it can lead to increased conversion rate and a positive impact on Shopify's worth.
Marchant Solutions
In addition to subscription fees, Shopify revenue through its merchant solutions, which include transaction fees, shopify payments processing, and other services such as shipping and fulfillment. The growth and adoption of these merchant solutions and the volume of transactions processed through Shopify's platform contribute to its overall worth.
These factors, among others, such as user growth, expansion into new markets, and partnerships, collectively influence Shopify's net worth and valuation in the market. It's important for investors and stakeholders to consider these factors when evaluating the potential value and future prospects of the company.
Recommended Blog for You
👉 Shopify vs Teespring: Which One is Better for Your Business?
👉 Best Shopify Freelance Web Designers: How to Find and Hire One
👉 Shopify CRM – Best 5 CRM For Shopify eCommerce Store
👉 Shopify Integration with eBay: How to Use Shopify to Sell on eBay
Future Outlook
Predictions and Expectations for Shopify's future growth and Worth
Shopify has shown strong growth and has positioned itself as a leading eCommerce platform. Here are some predictions and expectations for Shopify's future growth and worth:
Continued Revenue Growth: Shopify is expected to continue experiencing revenue growth as more eCommerce businesses choose to establish an online presence. The increasing trend of eCommerce and the growing adoption of Shopify's platform indicate a positive outlook for shopify revenue.
Expansion into International Markets: Shopify has been expanding its presence globally, targeting markets beyond North America. This international expansion presents an opportunity for Shopify to tap into new customer segments and drive further growth.
Enhanced Platform Capabilities: Shopify is continuously investing in improving its platform, introducing new features, and expanding its ecosystem of apps and integrations. These efforts are expected to enhance the value proposition for merchants and attract more eCommerce businesses to the shopify platform.
Potential risks and challenges that could impact Shopify's future worth
Intense Competition: The eCommerce industry is highly competitive, with other platforms and marketplaces vying for market share. Increased competition could impact Shopify's growth and market position.
Changing Consumer Behavior: Shifts in consumer behavior and preferences can impact the demand for eCommerce solutions. Changes in shopping habits or economic conditions could affect Shopify's growth trajectory.
Regulatory and Legal Challenges: As the eCommerce industry becomes more regulated, Shopify may face compliance challenges and legal hurdles that could impact its operations and growth potential.
Technological Advancements: Rapid advancements in technology and new trends, such as augmented reality and voice commerce, may require Shopify to adapt and invest in innovative solutions to stay competitive.
Get Exclusive Shopify Services from ShopiBuffet
Starting an internet retail company can be challenging. Without the right assistance, juggling merchandise, customers, and shopify website design may be challenging. Fortunately, ShopiBuffet has your back. Their Shopify services provide a quick and simple approach to getting your eCommerce website up and operating.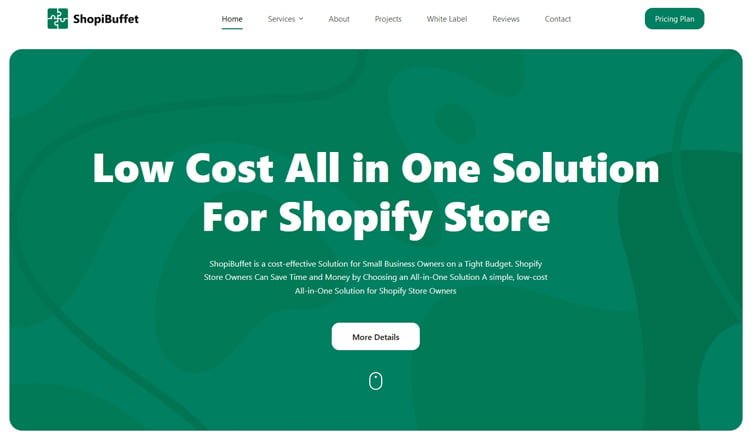 You may always get help from their team of knowledgeable pros for everything you may require. Why then wait? Start your business right now with ShopiBuffet's assistance!
Frequently Asked Questions
When was Shopify founded?
Shopify was founded in 2006 in Ottawa, Canada.
What subscription solutions does Shopify offer?
Shopify offers three main subscription solutions: Basic Shopify, Shopify, and Advanced Shopify. Basic Shopify is best for small businesses, while Shopify and Advanced Shopify are designed for larger businesses and offer more advanced features.
How can I get exclusive services from ShopiBuffet?
To get exclusive services from ShopiBuffet, you can visit their shopify website and sign up for their email list or follow them on social media. They often share information about their exclusive services and promotions through these channels. You can also contact their customer support team for more information on how to access these services.
Final thoughts on the significance of Shopify's worth in the eCommerce industry
As we wrap up our discussion on How Much is Shopify Worth in the eCommerce industry, it's worth noting just how far they've come. From starting as a small online store to becoming a global brand with over a million merchants, Shopify has made a significant impact on the way we buy and sell goods online.
The Shopify platform's ease of use, flexibility, and affordability have made it an attractive option for entrepreneurs and established businesses alike. Overall, Shopify's worth in the eCommerce platform is undeniable, and we can only imagine the exciting developments that the platform has in store for both merchants and consumers.