Shopify is one of the best popular eCommerce platforms available today, and for a good reason. It's easy to use, scalable and offers a wide range of features to help businesses succeed online. One area where Shopify shines is in its support for CRM (customer relationship management) tools.
CRM tools allow businesses to track and manage customer interactions, sales, and support requests. This data can improve customer service, sales processes, and marketing efforts. 
What is CRM?
CRM, or customer relationship management, is a term that describes the various ways in which businesses interact with their customers. At its most basic, CRM keeps track of customer contact information and interactions. However, it can also involve much more complex activities such as managing customer support loyalty programs and tracking sales data.
In recent years, CRM has become increasingly important as businesses realize the importance of maintaining good customer relationships. In today's highly competitive marketplace, firms that can effectively manage their customer relationships can often gain a significant competitive advantage. As a result, CRM has become an essential part of doing business for many organizations.
Does Shopify integrate CRM systems?
Many online businesses can use Shopify because it is a flexible platform. The fact that Shopify's integration with CRM systems is one of the factors contributing to its popularity. This enables organizations to manage their consumer data and interactions in one area. Shopify interfaces with several different CRM platforms, including Salesforce, HubSpot, and Zoho. Additionally, Shopify provides its user-friendly and highly efficient CRM system. Shopify has options for both complex solutions and more straightforward ones.
What are the benefits of CRM for the Shopify eCommerce store?
Any business owner knows that customer relations are key to success. Good customer relations lead to repeat customers, and repeat customers are the lifeblood of any business. However, maintaining good customer relations can be a challenge, especially for businesses that are growing rapidly. This is where CRM comes in. A system called CRM, or customer relationship management, aids organizations in monitoring and controlling client interactions.
Shopify integration can facilitate tracking customer orders, managing customer inquiries, and processing refunds for Shopify eCommerce stores. CRM may also increase customer satisfaction by delivering a superior overall experience. CRM is therefore a crucial tool for any Shopify eCommerce shop that want to expand and succeed.

The 5 best CRMs for Shopify eCommerce stores
HubSpot CRM
HubSpot's Shopify integration is a game-changer for Shopify based eCommerce businesses. The ability to create custom workflows based on customer interactions is invaluable. By analyzing customers' interactions with your site, products, and deals, you can create workflows triggered by specific events, like when a customer abandons their cart.
The system can send abandoned cart email nurturing, smart CTAs in content, and product-specific re-engagement ads. In addition, eCommerce reports will be added to your account to track orders and customer engagement. With this integration, you'll be able to create workflows tailored to your specific needs, making your life easier and your business run more efficiently.
Pricing: HubSpot CRM offers 3 pricing plans –
Starter Plan: $45/mo
Professional Plan: $800/mo
Enterprise Plan: $3600/mo
Agile CRM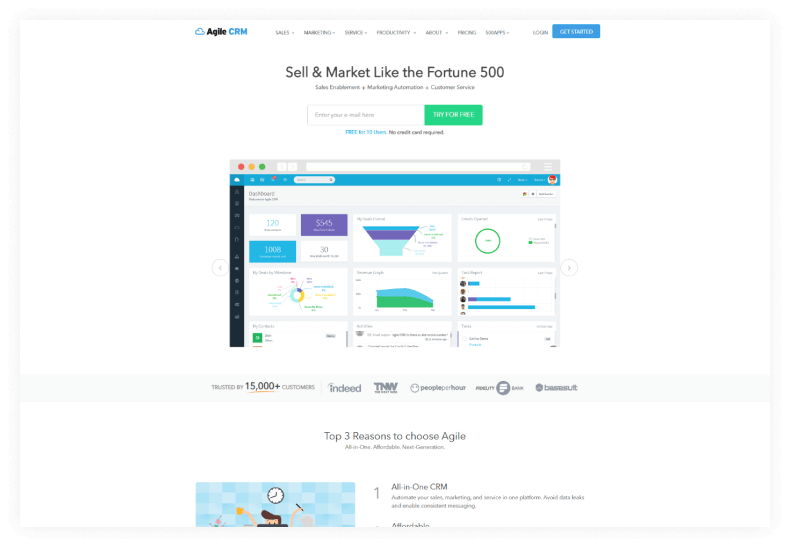 Agile CRM is the next generation of customer relationship management software. It's a cloud-based SaaS service that is mobile-ready, fast, and simple to use. Agile CRM helps businesses automate their sales, marketing, and service in one platform. It also helps businesses avoid data leaks and communicate consistently across all channels. And it's reasonably priced! You can take advantage of Agile's cutting-edge features and integrations, simple implementation, and excellent support at a cost that won't break the bank.
Agile CRM is one of the best CRM for eCommerce for sales and marketing teams. It's packed with features that help you drive more revenue. Contact-level analytics let you see exactly how customers are engaging with your brand. Exit-intent pop-ups make sure you're not losing any potential leads.
Pricing: Agile CRM offers 4 pricing plans –
Free Plan: Free of Cost
Starter Plan: $8.99/mo
Regular Plan: $29.99/mo
Enterprise Plan: $47.99/mo
Mavon Shopify Theme
Boost your online store's conversion rate with Mavon, the high-converting Shopify theme. Elevate your brand with its visually stunning design, flexible sections, and top-notch user experience.
Mailchimp CRM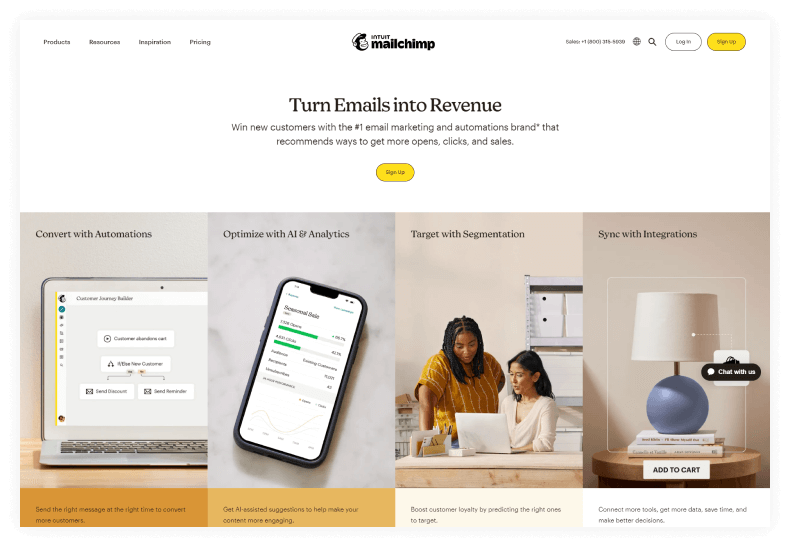 Mailchimp is one of the best CRM for eCommerce that integrate easily with Shopify. This CRM integration helps you to market more effectively to prospects and customer support using custom and prebuilt audience segments. Based on audience segmentation, you can send various types of marketing emails. These include prospect offers, new subscribers, coupons and time-limited deals, order updates, and repeat buyer rewards.
Mailchimp's Shopify CRM lifetime value analysis provides an in-depth look into an individual's purchase history, allowing you to set spending thresholds and create customer segments based on how much they're likely to spend. With contact profiles, you can better understand your contacts by viewing their profiles and learning from their past actions. And with the subject line helper, you can craft catchy and effective email subject lines that will help improve your open rates.
Pricing: Mailchimp CRM offers 4 pricing plans –
Free Plan: Free of Cost
Essential Plan: $11/mo
Standard Plan: $17/mo
Premium Plan: $299/mo
Salesforce CRM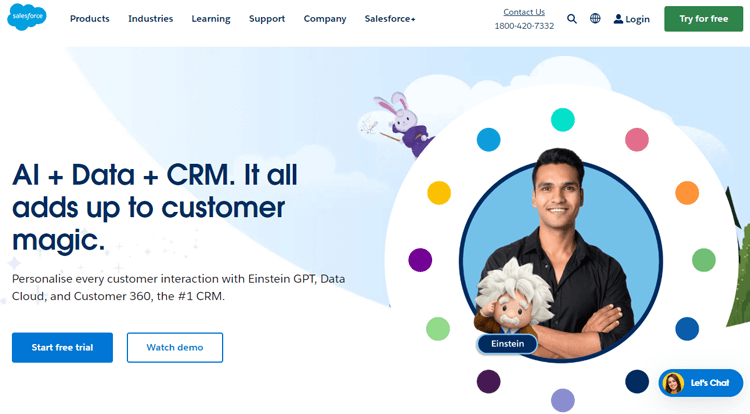 Salesforce CRM is the most popular CRM system among businesses of all sizes. It is known for its sophisticated sales tools, robust reporting capabilities, and easy integration with other software. Shopify Made Easy is a connector app allowing Salesforce to connect Shopify store to work seamlessly. With Shopify Made Easy, you can import all your legacy Shopify data, manage inventory from a centralized platform, and increase productivity by synchronizing multiple Shopify stores with a single Salesforce account.
Salesforce is a comprehensive CRM platform that offers a variety of features to help businesses manage their customer relationships. One of the most notable features is the Lightning App Builder, which allows users to build custom applications using a point-and-click interface. Salesforce also offers email auto sync, allowing businesses to sync email data with their CRM automatically.
Pricing: Salesforce CRM offers 4 pricing plans –
Essentials Plan: $25/mo
Professional Plan: $75/mo
Enterprise Plan: $150/mo
Unlimited Plan: $300/mo
ActiveCampaign CRM
ActiveCampaign's marketing and sales features are impressive, and their customer support is quick and friendly. However, we'll need to put them under the microscope to see if they're as good as they claim to be. Our review of ActiveCampaign will closely examine their features, performance, and price to help you decide if they're the right tool to connect to the Shopify store.
With autoresponders that can be based on a myriad of conditions, ActiveCampaign makes it easy to nurture your leads and get them moving down your sales pipeline. The 'Deals' system in ActiveCampaign's CRM software allows you to keep track of your sales pipeline, add notes to contacts, set up appointments, and send direct messages. The 'Conversations' feature lets you send targeted messages to your website visitors to create an optimized customer experience.
Pricing: ActiveCampaign CRM offers 4 pricing plans –
Lite Plan: $29/mo
Plus Plan: $49/mo
Professional Plan: $149/mo
Enterprise Plan: Custom
The pros and cons of using CRMs in the Shopify store
Being a business owner means you're constantly looking for ways to simplify your life. You can't accomplish everything yourself since there are only so many hours in the day.The use of customer relationship management (CRM) software can be beneficial. Keep track of customers' contact information, orders, and preferences by using CRM software to automate a variety of customer administration tasks. Here are a few advantages and disadvantages to think about before choosing.
Pros
Enhanced Cross-Selling Opportunities
Improved customer relations
A growth in sales.
Improved workplace relationships.
Marketing and sales follow-ups that are automated.
Increased effectiveness
Cons
For some store owners, the monthly cost can be overwhelming.
Learning how to use all the features and set up your account correctly can be challenging.
could lose the distinctive personal touch that makes your company special.

Frequently Asked Questions
Is salesforce automatically used by Shopify?
No, salesforce isn't automatically used by Shopify.
Is Mailchimp a Shopify CRM?
No, it isn't. But it integrates well with Shopify.
How much technical knowledge is required to utilize ActiveCampaign?
To use ActiveCampaign, you don't need to be a designer or developer. On our platform, anyone may design email marketing campaigns and marketing automations.
What popular free CRM features are available?
The CRM offered by HubSpot includes the following features:
Get in touch with deal and task management email engagement tracking and notifications, Templates for emails and scheduling
Final thoughts
Well, there you have it! Everything you need to know about using CRMs in your Shopify store. By now, you should have a good understanding of what CRMs are and how they can benefit your business. A CRM system for your store should be set up and used by you as well. Last but not least, you need to be aware of some of the possible hazards that can arise when using a CRM. You may perhaps use this knowledge to make the best choice for your company.