An About Us page is a great way to introduce your brand to customers. It gives you the opportunity to tell your story, showcase your products and services, and engage with customers in an informative and meaningful way. With the right design elements and content, your About Us page can be influential in helping customers form meaningful connections with your brand.
In this article, we will explore tips on how to add an About Us page on Shopify. We'll cover everything from choosing the right design elements to crafting compelling copy that will draw users in. Let's get started!
Purpose of the About Us page
A Shopify store's "About Us" page is where the owner can introduce themselves, share their experiences, and give details about their brand and core principles. Building trust with potential clients and establishing a reputation for the store both depend on this page.
The About Us page gives business owners a chance to highlight their personality and provide visitors with a sense of who they are and what motivates them. Store owners may foster a feeling of community and help customers connect with their business more deeply by revealing their history, mission, and vision.
In conclusion, the Shopify store's About Us page is a crucial resource for fostering customer relationships, creating credibility, and gaining trust.
Importance of a well-crafted About Us page
For several reasons, a Shopify store's About Us page needs to be done well. Here are some major advantages of having an effective "About Us" page:
Familiarity and trust: By learning more about the store owners, visitors will feel more comfortable making purchases from them. Store owners can foster a sense of familiarity and trust with prospective customers by being open about who they are and what motivates their business.
Helps guests understand their options: A store's products or services can be learned useful information from an "About Us" page. This can include information on the product's quality, the materials they were made with, and any other crucial characteristics. By providing guests with a clear understanding of their options, store owners can help them make informed purchasing decisions.
Humanizes your company: A company can become more approachable and human by including an About Us page on its website design. Store owners may establish a relationship with their audience and demonstrate that they are more than simply a nameless corporation by providing stories, images, and other intimate information.
Overall, a well-crafted About Us page can help to establish credibility, build trust, and create a connection with potential customers. It is a crucial tool for any Shopify store owner trying to expand their clientele and build a strong brand.
How to Add an About Us Page on Shopify: Steps
Here are the steps of how to add an about us page on Shopify –
Step 1: Log in to your Shopify store's admin dashboard.
To access your store's admin dashboard, go to the Shopify website and log in with your store's credentials. Once you're logged in, you'll be taken to your store's main dashboard, where you can manage your store's settings, products, orders, and more.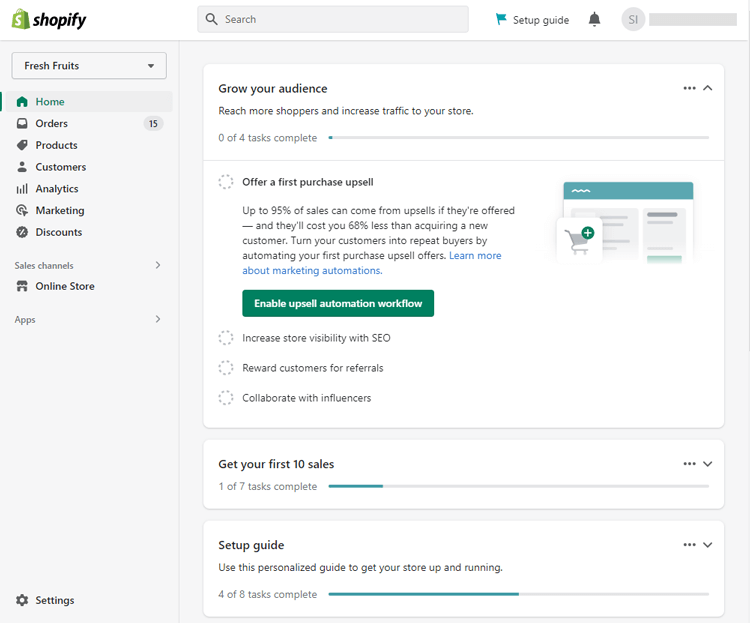 Step 2: From the left Menu Option, select "Online Store."
In the admin dashboard, you'll see menu with various options on the left side. To create a new page for your store, select "Online Store" from this menu. This will bring up a sub-menu with several options related to managing your store's online presence.

Step 3: Click on "Add page" to create a new page.
Under the "Online Store" menu, click on "Pages" and then select "Add page" to create a new page for your store. This will take you to a page editor where you can enter the content for your new page.

Step 4: Enter a name for your page and add the content you want to include.
In the page editor, enter a name for your new page. This should be something like "About Us" or "Our Story." Next, add the content you want to include on the page. This might include information about your brand, your mission and values, your team, or anything else that you think would be helpful for customers to know.
Step 5: Save your page when you're finished.
Once you've entered all the content for your new page, click the "Save" button to save your changes. This will add your new page to your store's list of pages.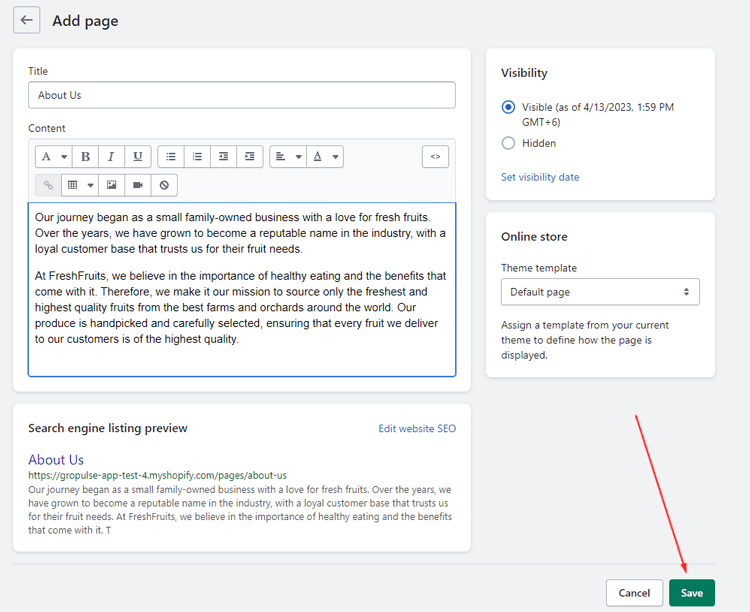 Step 6: To make your new "About Us" page accessible to your customers, include it in your store's navigation menu.
To make your new page visible to customers, you'll need to add it to your store's navigation menu. To do this:
Go to the "Navigation" section of your store's "Online Store" menu.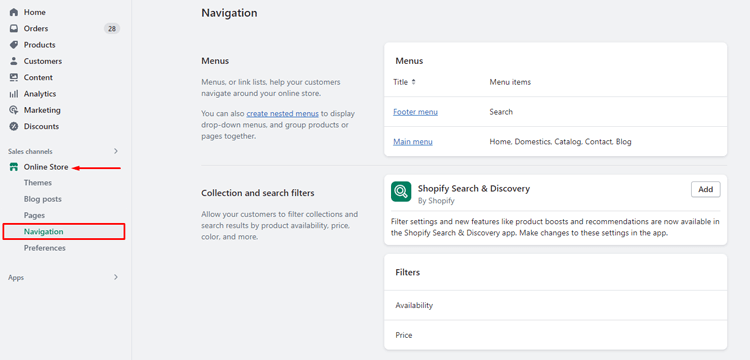 From there, Select the menu where you want to add your new page,
Then click "Add menu item."
Enter the name of your new page and select it from the list of pages. Once you've done this, your new "About Us" page should be visible in your store's navigation menu.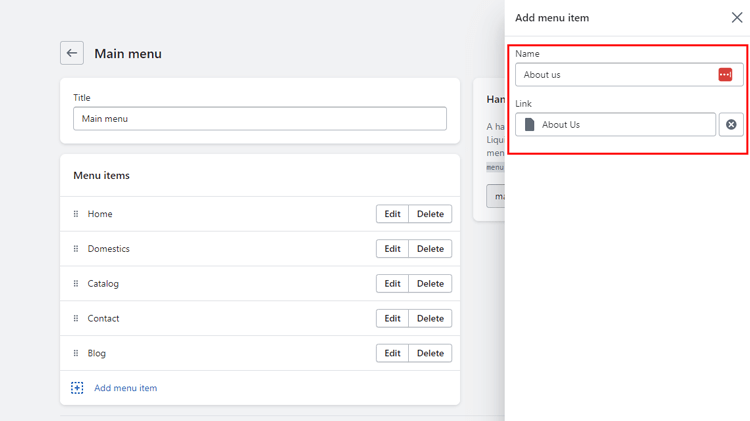 Defining Your Target Audience
Who are your ideal customers?
The story behind your brand explains who you are, how you got started, and what drives you. It tells the tale of your company's development and explains what makes you unique in your field. Your brand story can enable you to establish a personal connection with your audience and foster a sense of familiarity and trust.
What are their needs and preferences?
Find out what makes your brand distinctive in order to stand out in a crowded market. This could be a particular good or service you provide, a special method of customer support, or a distinctive feature of your brand's personality. Whatever it is, make sure to make it crystal apparent to your audience so they are aware of how you differ from your rivals.
What messaging will resonate with them?
Your brand purpose as a whole is what drives your company's existence. It is what propels and inspires you to carry out your daily activities. On the other side, your values are the tenets and convictions that direct your company and influence how you conduct business. As a result, you may develop a strong connection with your audience and draw in clients who share your values by clearly communicating your mission and core beliefs.

Writing Your About Us Page
While you are browsing how to add an about us page on Shopify, you must consider a few things. Keep these things in mind while writing your about us page for Shopify –
Making a Catchy Headline
Your website's About Us page is one of the most crucial sections since it provides a history of your company and informs visitors about who you are and what you do. Create a title that grabs the reader's attention and conveys your brand's personality and beliefs if you want to leave a lasting impression. Your title should be succinct and distinctive and emphasize the key features of your company.
Telling Your Brand's Story
Your brand's story is what distinguishes you from the competition and makes you memorable in your customers' minds. Including this tale on your About Us page is a great strategy to engage your audience and promote your brand.
Your Unique Selling Proposition (USP) in the Spotlight
What distinguishes you from the competition and makes you special is your unique selling proposition (USP). This is what will convince potential customers to choose your company over other companies, so it is crucial to emphasize this on your About Us page. Your dedication to quality, your outstanding customer service, or your cutting-edge goods or services could all be your USPs.
Defining Your Brand's Mission and Values
The mission and values of your brand represent the guiding principles that direct your company. Including them on your About Us page is crucial since they enable visitors to learn more about your values and goals. Your beliefs should match your mission statement, which should be clear and succinct.
Including Social Proof and Customer Testimonials
Social proof and customer testimonials are effective resources that can aid in establishing trust with prospective clients. A great method to highlight your brand's reputation and the satisfied consumers who have used your goods or services is to include them on your About Us page. Make sure to draw attention to the most convincing testimonies and utilize them to demonstrate your brand's value.
Including a call to action
Your About Us page is a great place to interact with visitors and motivate them to take action. A call-to-action (CTA) that is crystal clear is vital because it can direct site visitors to the appropriate next steps, such as purchasing something, signing up for your newsletter, or following you on social media.
Designing Your About Us Page
To ensure that your Shopify About Us page effectively conveys your brand message to potential clients, it's vital to take into account a number of important factors. Observe the following advice:
Choosing the right visuals
Visuals have a significant influence on how people view your brand. Pick movies and photos of the highest quality that faithfully reflect your company's image and core principles. Use original photos that highlight your staff, products, or services rather than stock photos.
Incorporating your brand's color scheme and typography
To strengthen your brand identification, use your company's colors and typeface consistently throughout your About Us page. Additionally, this may make it simpler for visitors to recall your brand.
Making your About Us page mobile-friendly
It's critical to build your "About Us" page with mobile users in mind because more people are utilizing mobile devices to surf the internet. Make sure your page is simple to use and that even on a small screen, all of the content is readable.

Optimizing Your About Us Page for SEO
Here are some general tips for optimizing your Shopify About Us page for SEO:
Use keyword research tools to find the words and phrases that customers are searching for that are linked to your company. When writing the text for your About Us page, use these keywords as a reference.
Use your target keywords in the headline, subheadings, and body text of your About Us page to include them into your content. However, avoid cluttering your content with keywords to the point that it hurts your SEO rating.
Enhance meta tags and descriptions. Ensure that the meta title and description of your About Us page are pertinent, elucidating, and contain your goal keywords. This will aid in search engines comprehending the content of your page and increase clicks from users.
Create backlinks to your "About Us" page. Backlinks from other trustworthy websites can boost your page's authority to rank better in search results. Contact other website designs and request that they link to your page.
Top Recommended Blog for You
👉 How to Create a Shopify Coming Soon Page: The Ultimate Guide
👉 How to Sell ebook on Shopify: Everything You Need to Know
👉 How to Add a Size Chart on Shopify Store: Tips and Tricks
👉 How to Add a Pricing Table to Your Shopify Store
👉 How to Add Afterpay to Shopify: The Essential Guide
Conclusion
How to add an About us page on Shopify is a great way to let your customers get to know you, tell a story that resonates with them, and connect on a deeper level. Therefore, it's essential to take the time to write an About Us page that reflects who you are, stands out among competitors, and is informative and engaging.