Do you want to add a sale tag to your Shopify store? This can be a great way to let your customers know about the discounts you are offering. In this step-by-step guide, we will show you how to add sale tag on Shopify store.
Reasons for Adding Sale Tag on Shopify
There are several reasons why you might want to add a sale tag on Shopify, including:
To increase sales
One of the primary reasons for adding Shopify products tag is to increase sales. Customers are often attracted to products that are on sale or discounted, and the sale tag can encourage them to make a purchase they might not have otherwise.
To clear inventory:
If you have excess inventory that you need to move quickly, adding a sale tag can be an effective way to incentivize customers to buy those products.
To promote new products
If you have just released a new product and are thinking about how to put items on sale on Shopify, sale tags can help generate buzz and encourage customers to try it out. This can be especially effective if the sale is for a limited time only.
To reward loyal customers
Sale tags can be a way to reward your loyal customers and show them that you appreciate their business. For example, you could add a discount code to customers who have made multiple purchases from your store.
To compete with other retailers
If your competitors are offering sales or discounts, adding Shopify product labels or sell tags can help you stay competitive and attract customers who might otherwise go to your competitors.
Benefits of Adding Sale Tags for Customers
Adding a sale tag to your products on Shopify can provide several benefits for customers, such as:
Attracting attention
Sale tags catch customers' attention and make them more likely to notice and consider purchasing the product. This can be especially effective for customers who are bargain hunters or looking for deals.
Saving money
Sale tags allow customers to save money on products they are interested in. This can be a major selling point for price-sensitive customers or looking to stretch their budget.
Creating urgency
Sale tags can create a sense of urgency in customers, encouraging them to purchase before the sale ends or before the product sells out. This can lead to more impulse purchases and a higher likelihood of customers completing their purchases.
Building trust
Sale tags can help build trust with customers by demonstrating that you are offering them a good deal and that you are transparent about pricing. This can lead to increased customer loyalty and a higher likelihood of repeat business.

Step-by-Step Guide: How to Add Sale Tag on Shopify
Worried about how to add sale tag on Shopify, just follow these simple steps:
Log in to your Shopify account and navigate to the admin page.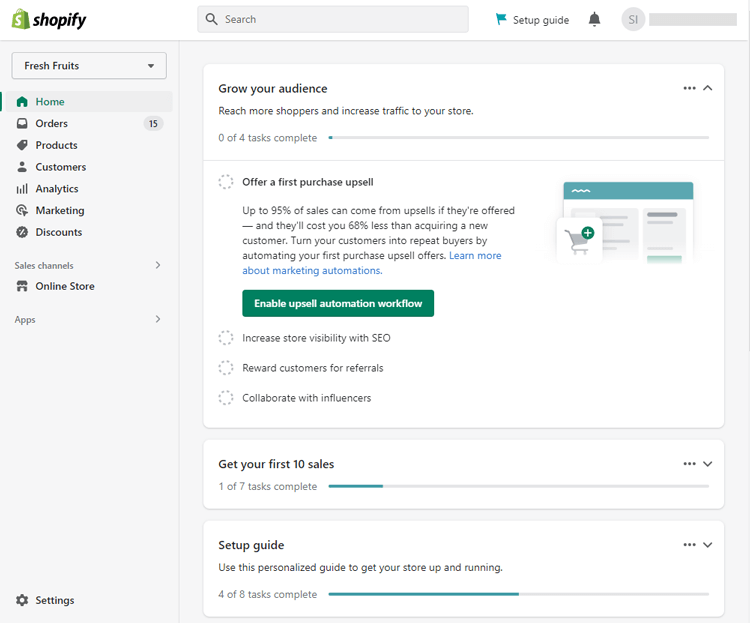 Click on the Products section. Choose the product to which you want to add a sale tag too.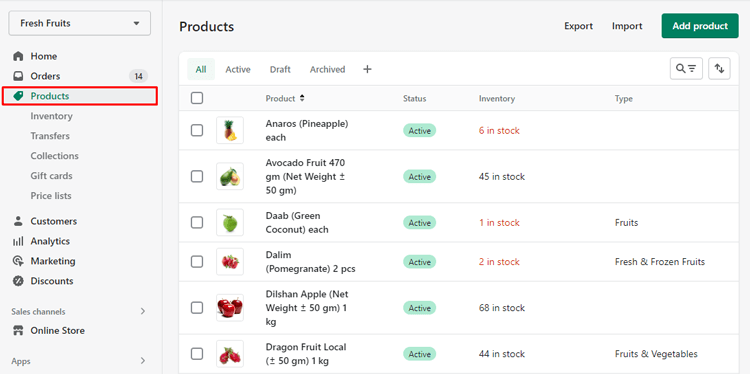 Scroll down to the pricing section on the product's page. In the pricing section, you will see two options: Price and Compare at Price. Copy the original price from the Price box and paste it into the Compare at Price box.
Enter the new sale price for the product in the Price box.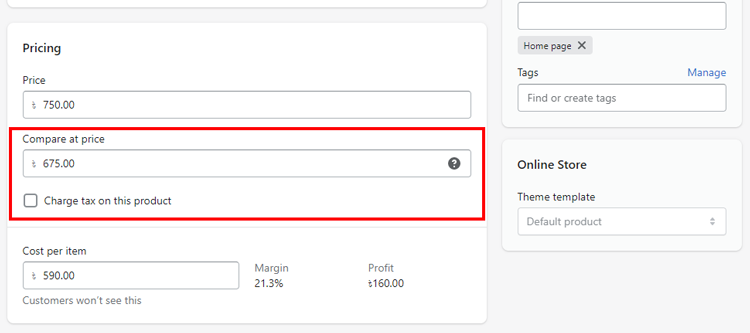 Click the Save button.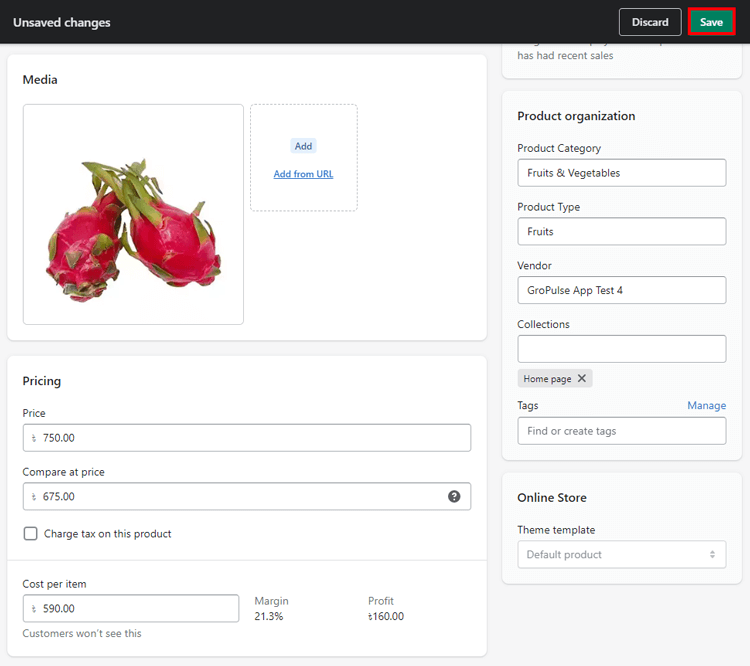 To ensure that the sale tag is working, click View at the top of the product page. You will see the original price with a strike-through line, and the new sale price next to it highlighted in red.
Tips for Optimizing Your Discount Strategies
Here are some tips for optimizing your discount strategies:
Take caution: Discounts should be used sparingly because overuse of them can erode consumers' perception of your brand's value over time, which can adversely affect your bottom line. Strategically consider giving discounts to customers, either during a sale or to encourage a particular action.
Create a brand: More than just your goods or services, make up your brand. It relates to how clients view and engage with your company. Provide discounts in a way that supports the mission and personality of your company. For instance, if you own a luxury brand, think about giving your most devoted consumers access to limited-time deals.
Display your differentiators: Focus on what makes your goods or services special rather than just competing on price. In order to stand out from the competitors, highlight your product quality, customer support, and other qualities. Customers will be more likely to choose your goods or services even if they are not the most affordable alternative as a result, helping to increase brand loyalty.
Increase value instead of lowering prices: Instead of consistently cutting prices, consider increasing the value of your goods or services. For instance, you might offer free shipping on orders over a specific amount or package several things together at a discount. These value-adds won't have as much of an impact on your bottom line as discounts, but they can be just as appealing to customers.
Overall, it's important to be strategic with your discount strategies and to consider how they fit into your overall brand and business goals. By using discounts sparingly and focusing on building your brand and adding value, you can maximize the impact of your promotions.
Bonus: Recommended Shopify Themes
Lezada
If you're in the market for an eCommerce website, but feeling overwhelmed with where to start, Lezada – Multipurpose Shopify Theme may be just what you need. The theme features a sleek and timeless design that is sure to make your website stand out. But it doesn't just stop at aesthetics – Lezada also offers a range of features to make your website as functional as possible.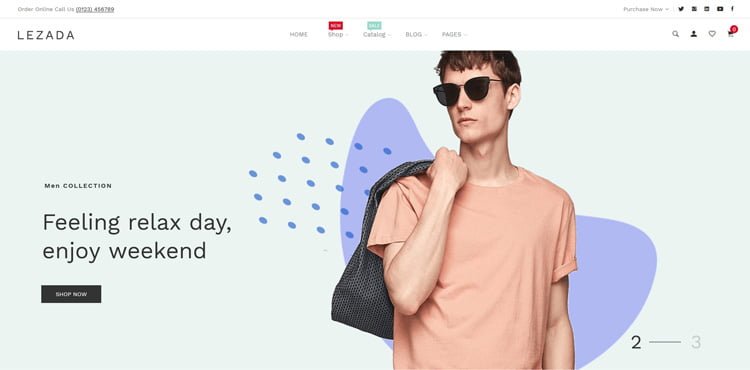 From banner images to multiple language support, Lezada is the ultimate eCommerce solution. Plus, with features like a notification bar and support for multiple currencies, you're sure to leave a lasting impression on your clients. With Lezada, you'll be able to create the website of your dreams with ease.
Highlighted Features:
Fully Responsive
RTL Version
Notification Bar
Multiple Currency
Breadcrumb banner
Price: Regular License: $55
LeArts
LeArts is the Shopify theme that comes with multiple homepage layouts to choose from, you can create a website that represents your unique style and captures customers' attention. But, LeArts is more than just pretty designs.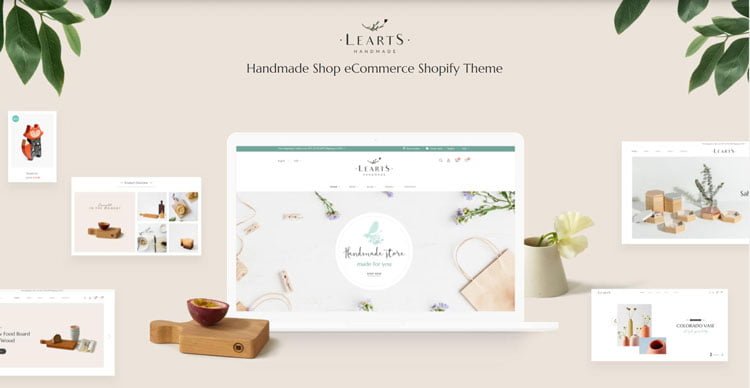 The theme's features, like Google Analytic integration and pre-loaders, are designed to improve customer satisfaction and increase your profits. As a bonus, LeArts offers multiple currency options to accommodate your international customers.
Highlighted Features:
Multiple Currency
13+ Home Versions
Shopify Builder
Theme Colors
Unlimited Colors
Price: Regular License: $34
Corano
If you're in the market for a Shopify theme that will perfectly showcase your beautiful jewelry collection, look no further than Corano. This Shopify theme comes with eight stunning homepage options as well as an RTL version, ensuring a timeless and exclusive look for your online store.
Not only that, but Corano also offers some of the most helpful features that come with Shopify Online Store 2.0, such as Shopify sections, multi-colors, and multiple currency support during checkout.
Additionally, with Ajax Popup Cart and Ajax Wishlist options, the customer experience is made easy and hassle-free. Finally, don't forget about the mega menu, slideshow, collection, and multiple banners, all of which will help your store stand out from the rest. Trust us, Corano is the ideal choice for any jewelry store looking to make a statement online.
Highlighted Features:
Mega menu
Slideshow
Collection Banner
Multiple Banner
Banner with Collection
Price: Regular License: $41
Bardy
Bardy – Beard Oil Shopify Theme is user-friendly theme that is perfect for anyone who wants to create a professional-looking website without having to be a coding expert. With 15+ pre-loaders and a modern flat design, it's easy to customize your site and capture your viewers' attention.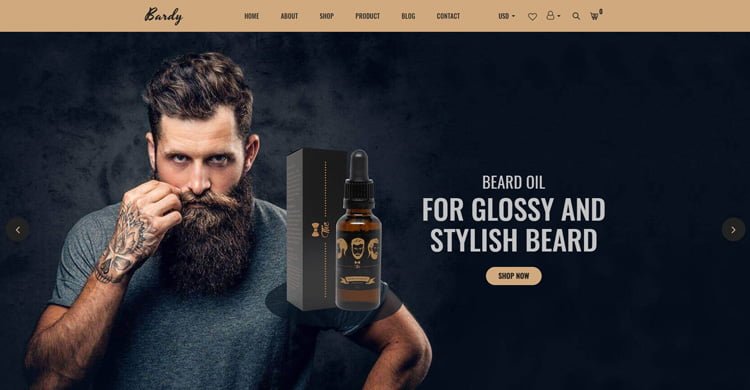 Plus, with features like the ability to add your Google Analytics code and create valid HTML5 & CSS3 design codes, it's never been easier to create a website that looks great and performs well.
Highlighted Features:
Creative and Modern Flat Design
Built Based on Bootstrap 4
Fully Responsive
Cross Browser Optimization
Well Commented HTML & CSS files
Price: Regular License: $48
Plantmore
Plantmore is a fantastic Shopify theme for any store that is related to plants, gardens, or landscaping, and its capabilities are impressive. This amazing Shopify theme is perfect for any store related to landscaping or plants.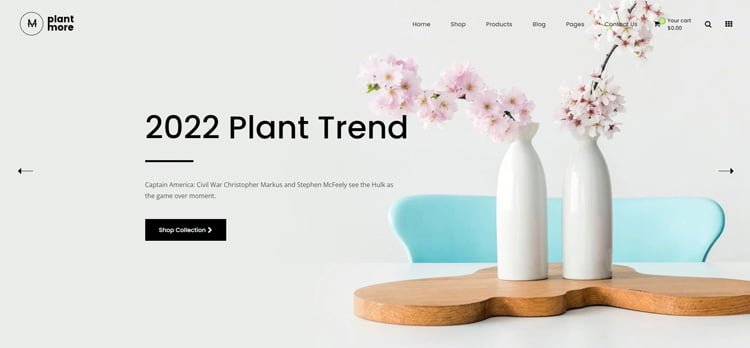 With its impressive capabilities, it allows you to bring your products to life on the internet. One of its standout features is its 9 customizable home versions, including single RTL versions and customizable pre-loaders, sliders, and currency selections.
Even if your store doesn't specialize in plants or gardening, Plantmore has so many features like 404 pages, FAQ pages, and countdowns that can be customized to fit any store's needs. With modern design and easy-to-use features, Plantmore is the answer to your website needs.
Highlighted Features:
Valid HTML5 & CSS3
Neat, clean, and simple design
Creative and Modern Flat Design
Built Based on Bootstrap 4
Fully Responsive
Price: Regular License: $48
Get Exclusive Shopify Services from Shopibuffet
ShopiBuffet premium Shopify services make it easy for entrepreneurs to achieve their business goals. With a team of experienced professionals who are dedicated to configuring store themes, managing product configurations, streamlining navigation and collections, and setting up sales channels.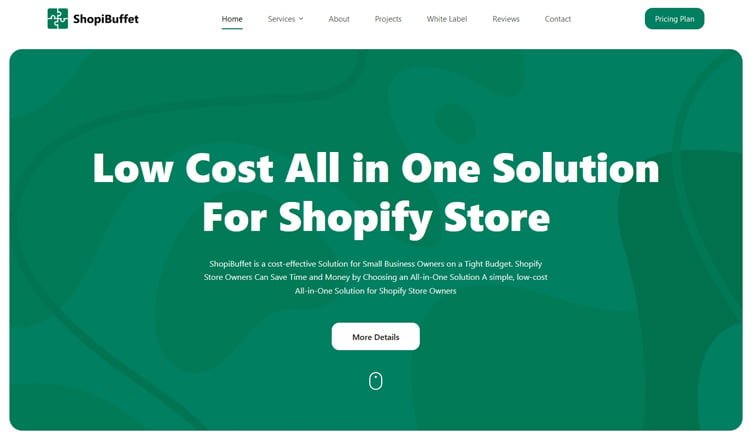 ShopiBuffet is the perfect solution for any entrepreneur looking to establish a successful online store. Let their expertise help you create a seamless and efficient online shop that is primed for success.
Conclusion
How to Add Sale Tag on Shopify is a simple and effective way to catch your customer's attention. With just a few clicks, you can easily highlight your products that are on sale and entice your customers to make a purchase. It creates a sense of urgency and excitement and gives your customers a reason to come back and check out what other deals you have in store.