Are you looking for a way to sell your ebook on Shopify? If so, you're in the right place! In this blog post, we will walk you through everything you need to know about selling ebooks on Shopify. We'll cover topics such as creating an ebook, adding it to your shop, and how to sell ebook on shopify.
Plus, we'll provide some tips and tricks for increasing your ebook sales. So read on to learn how to start selling ebooks on Shopify today.
Benefits of Selling Ebooks via Shopify
Selling ebooks online via Shopify can provide numerous benefits for authors and publishers. One of the main advantages is the ability to reach and retain customers in a way that is convenient and hassle-free.
Reach and retain customers:
By using Shopify to sell your eBooks, you can create a professional online store that provides a great shopping experience for customers. This might assist you in bringing in new clients and keeping your current ones who are looking for eBooks that satisfy their wants.
Market across social media:
Shopify's social media integrations enable you to promote your eBooks on various social media platforms such as Facebook, Instagram, and Twitter. This allows you to gain more exposure and connect with more people, which will ultimately raise your sales.
Chat with customers:
Shopify Inbox provides you with a chat feature that allows you to communicate directly with customers who visit your online store. Create rapport with them, respond to any queries or worries they may have, and ultimately raise the possibility of a sale.
Know your audience:
Shopify provides you with valuable customer data and insights that can help you better understand your audience. This includes information on customer behavior, preferences, and demographics, which can help you tailor your marketing campaigns, improve your eBook offerings, and ultimately increase sales.
Things to Consider to Create a Great eBook Store
Creating a great eBook store requires careful thought and consideration.
Firstly, it is important to ensure that readers cannot edit the text of the eBook without the author's consent. This will help to preserve the integrity of the content and protect the author's rights.
Secondly, the eBook's format must be responsive to various device screens, so that readers can enjoy a seamless reading experience whether they are using a tablet, computer, smartphone, or laptop. By taking these factors into account, you can create an eBook store that offers high-quality, reliable content to readers all over the world.
Effective Ideas for eBook
Before you dive into how to sell ebook on shopify, you must create an eBook that engages readers and leaves a lasting impression, you need to consider a few key elements. Here are a few effective ideas:
Captivating Design:
When it comes to creating a captivating design, it's essential to keep your reader's experience in mind. By providing simple yet interactive elements such as navigation, images, and content layout, you can make their reading experience both efficient and enjoyable.
Additionally, you want to ensure that your eBook looks professional, with a consistent theme or purpose running through the copy and images. Finally, it's crucial to choose formats and file types that are accessible for all readers, ensuring that your eBook is
easy to access no matter what device your audience is using.
Product selection:
Ensure that you have a diverse selection of eBooks to offer your customers. Consider the different genres and topics that appeal to your target audience, and make sure that you have a good selection of eBooks in each of those categories.
Content quality:
Make sure that the eBooks you offer are high quality and well-written. Ensure that the eBooks are properly formatted and easy to read.
Pricing strategy:
Consider your pricing strategy carefully. Price your eBooks competitively, but also make sure that you are making a profit. Consider offering discounts and promotions to attract customers.
Marketing strategy:
Develop a marketing strategy to promote your eBook store. Consider using social media, email marketing, and advertising to reach potential customers.

Configure Your Shop to Sell Ebooks
for digital products by default. You may sell a variety of digital goods, such as ebooks, graphics, videos, and songs, using the Digital Downloads app, which is accessible in the Shopify App Store.
An email with a download link will be sent to the buyer when they make an ebook purchase as opposed to a physical item. You may sell both physical and digital goods in your store using the Digital Downloads app, and you can even assemble bundles of both kinds of goods.
How to Add eBooks to Your Shopify Store
Adding eBooks to your Shopify store can be a great way to expand your product offerings and generate additional revenue streams. Here's how you can add eBooks to your Shopify store:
Click on Products from the Dashboard and select Add digital products.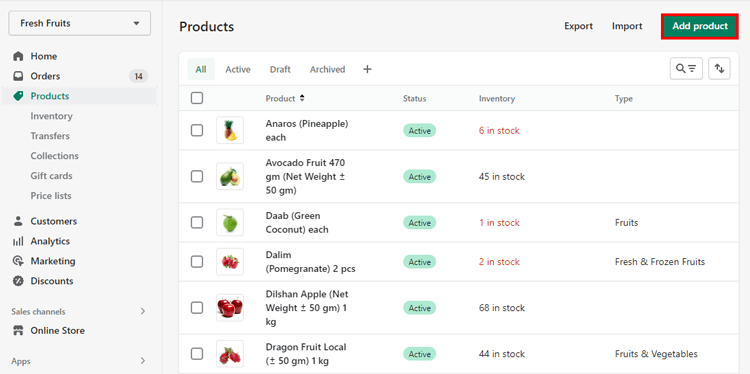 Provide your eBook's title and detailed description, and upload its cover art.
Enter the pricing information and inventory details such as barcode and SKU.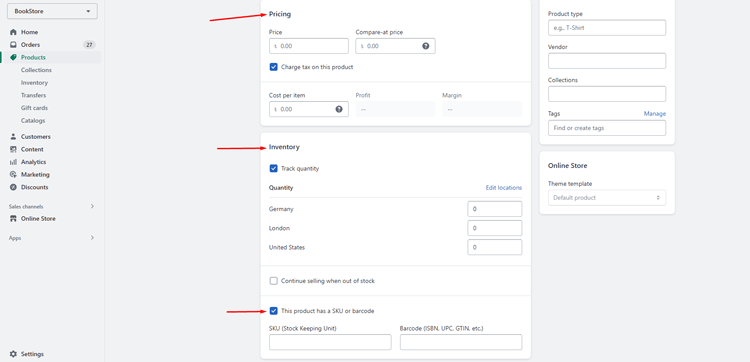 Under Shipping, check the box that says 'Digital product or service.'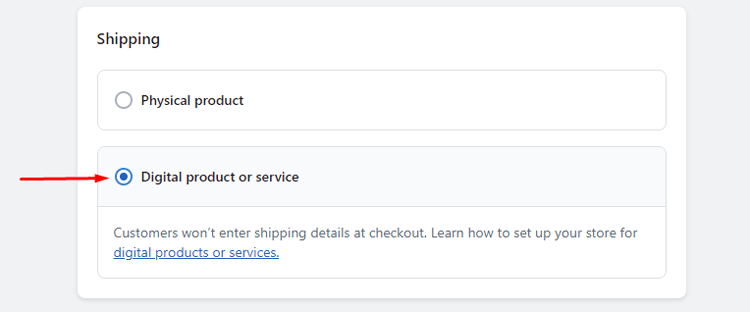 Save the product and go to More Actions.
Add a Digital Attachment and select your ebook file, then hit Upload File. View the eBook in the Shopify admin and make the product available. Your eBook will be live and ready to sell on Shopify.
Software to Create and Publish eBooks
If you want to create and publish eBooks, choosing the right software is one of the most important decisions. You can create beautiful, professional-looking content with the right program to impress your readers.
Many eBook software options allow you to add custom visuals, tweak formatting, and make other adjustments to ensure your work looks and reads just how you want it to. So whether you're an experienced writer or just getting started, take the time to research your options and find the perfect software to help you get your work out there!

Marketing Tips to Sell eBooks
After creating and publishing your eBook, promoting it is essential. Here are some tips for marketing your eBook:
Create a landing page:
A landing page can effectively promote your eBook and convert visitors into customers. You can easily create a landing page for your digital products eBook store with Shopify's page builder app, GemPages, which offers professional and trendy templates.
Create a marketing strategy:
Promote your brand on social media sites to spread the word about your ebook and increase website traffic. Create promotions such as discounts, sales, and special offers to market your eBook, and explore various distribution channels to reach a wider audience.
Choose tracking methods:
Different tracking methods, such as lead tracking and traffic tracking, can help you measure the performance of your marketing efforts. Decide which tracking methods are most relevant to your goals and utilize them to optimize your blog business strategy.
By implementing these marketing strategies, you can effectively promote your eBook, increase visibility, and reach your target audience.
These are some recommended useful Shopify themes for the eBook store—
Lezada – Multipurpose Shopify Theme
Take your eCommerce site to the next level with the help of Lezada – Multipurpose Shopify Theme. Don't get bogged down with creating a website from scratch when you can use a classic and professional-looking template like Lezada.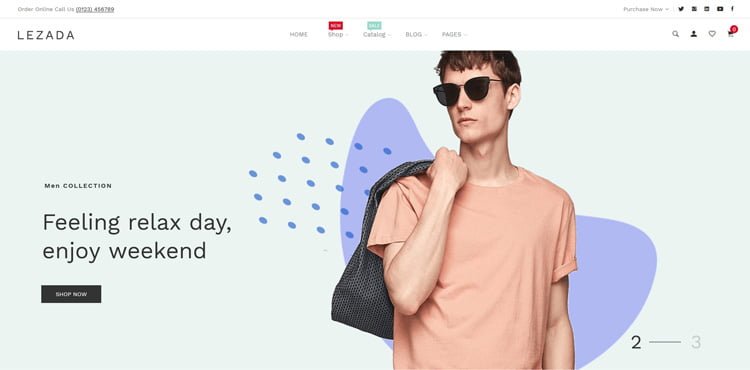 This theme is designed to make your site stand out, with various features offering flexibility and customization options. Whether banner images, social media integration, or multilingual support, Lezada has covered you. With this powerful eCommerce tool at your fingertips, building a modern and effective site has never been easier.
Highlighted Features:
Fully Responsive
RTL Version
Notification Bar
Multiple Currency
Breadcrumb banner
Price: Regular License: $55
Boighor – Books Store Library Shopify Theme
For anyone looking to start selling digital products on shopify, the Boighor Shopify theme is a must-consider option. Its responsive design and drag & drop page builder offer an effortless way to sell physical and downloadable items on your online store.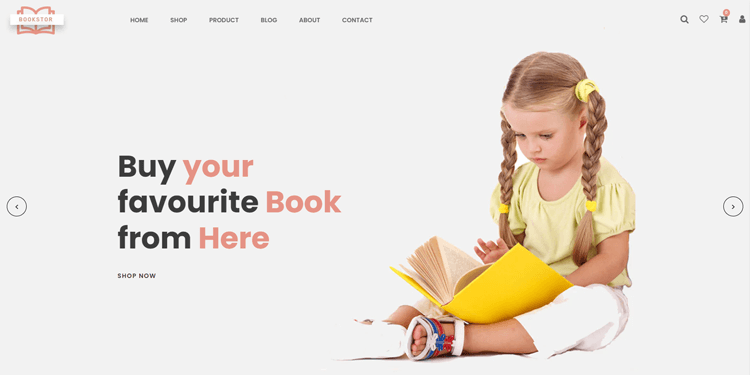 With the theme's built-in mega menu and Image Slider, it's easy to showcase your products and give your customers an enjoyable user experience. Boighor is ideal for expanding their digital content offerings or selling books online. Whether you're new to the game or an experienced seller, Boighor sets you up for success.
Highlighted Features:
Ajax Cart
Built-in wishlist
Quickview
Brand Logo
Breadcrumb banner
Price: Boighor offers one license for users:
Regular License: $48
Susan – Book Store Shopify Theme
With a responsive design and a drag-and-drop page builder,
selling digital products shopify has never been easier. Not only can you sell physical books, but you can also offer downloadable items too! Plus, with multiple currency support and a newsletter popup, you can connect with customers worldwide.
And let's not forget about the beautiful color options and a dropdown menu that makes navigation a breeze. Susan is a perfect choice whether you're just starting out or looking to take your eCommerce project to the next level.
Highlighted Features:
Theme Color Options
Newsletter Popup
Multiple Currency
Dropdown Menu
MegaMenu
Price: Susan offers one license for users:
Regular License: $48
Koparion – Book Store Shopify Theme
Koparion theme is the perfect solution with its responsive design, your store will look great on any device – whether on a desktop, tablet, or mobile phone. The Shopify Sections feature also makes it easy to customize your store exactly the way you want it, without the need for any coding knowledge.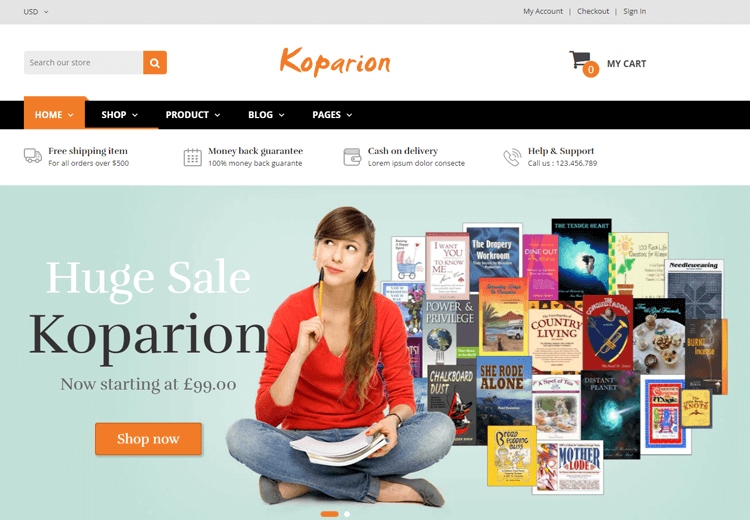 Plus, you can expand your reach to a global audience with support for multiple currencies. And if you want to keep your customers updated on your latest releases, the Newsletter feature has covered you.
Highlighted Features:
Newsletter Popup
Notification Bar
Ajax Popup Cart
Ajax Wishlist
QuickView
Price: Koparion offers one license for users:
Regular License: $48
Shirley – Book Store Shopify Theme
Shirley is a powerful theme adorned with numerous useful features for authors and visitors. Setting this bookstore theme as your website you can sell digital products and services online. The Page Builder is quite useful since it enables you to create web pages without ever touching a word of code.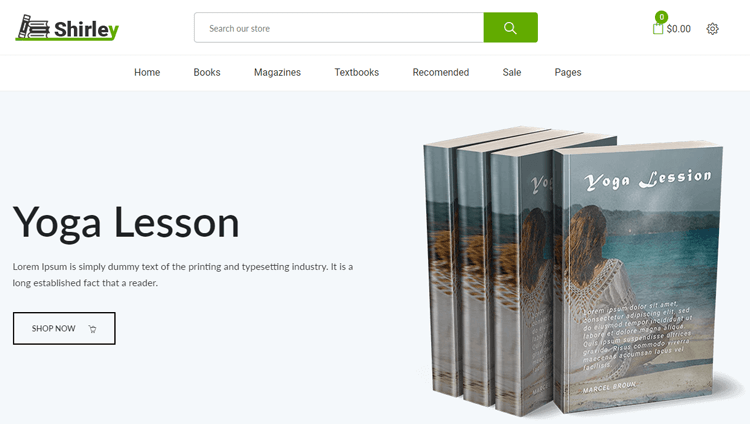 The Dropdown Menu is a great way to organize your website's content, and the Featured Product Tab is a great way to showcase your bestsellers. The 2+ Category Banner is a great way to promote your different categories of products, and the Countdown Timer Banner is a great way to countdown to special sales or events.
Highlighted Features:
Theme Color Options
Newsletter Popup
Multiple Currency
Dropdown Menu
MegaMenu
Price: Susan offers one license for users:
Regular License: $48
Baoke – Book Store Shopify Theme
If you're looking for a Shopify theme that's perfect for your online bookshop, Baoke might be the one for you. This Bootstrap-based theme offers a sleek and functional design that can cater to both digital products and physical books.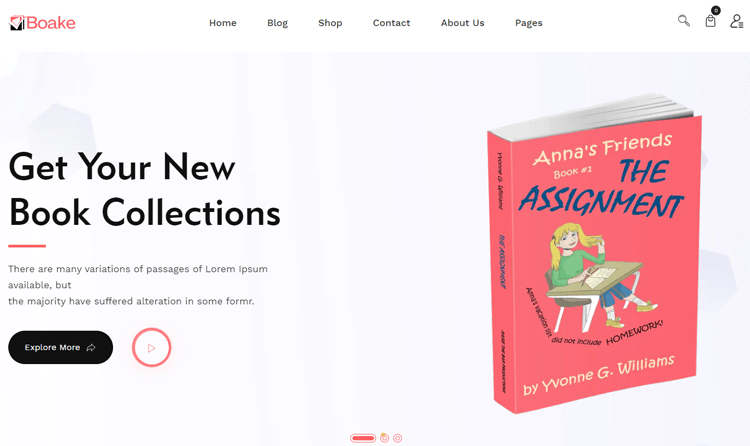 You can choose from three or more ready-made home pages, adjust the theme color, and even set up a pop-up newsletter to showcase your latest titles. Baoke is also user-friendly, with drag-and-drop options and filters that make it easy for customers to find the books they need. With Baoke, you can create an online bookshop that's both beautiful and easy to use.
Highlighted Features:
Neat, clean and simple design
Creative and Modern Flat Design
Built Based on Bootstrap 4
Fully Responsive
Cross Browser Optimization
Price: Baoke offers one license for users:
Regular License: $29
Booken – Book Store Shopify Theme
Booken Shopify theme is packed with features that make building a stunning and functional website simple and enjoyable. With 3+ home page options and 5+ unique sliders, finding the perfect layout to showcase your books, stationery products, magazines, and more is a walk in the park.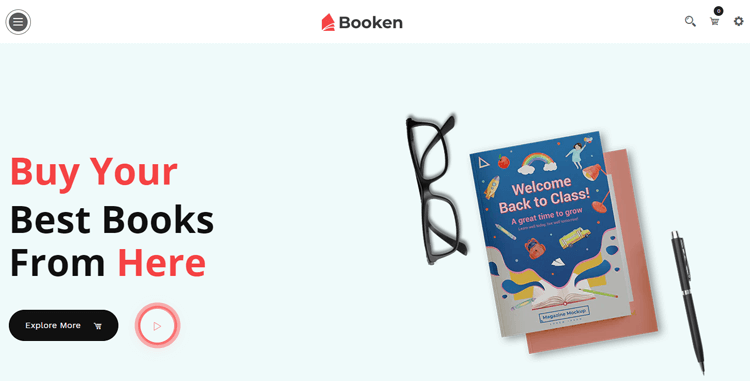 Plus, with the added benefit of compatibility across all devices and web browsers, you can be sure that every visitor will have a seamless browsing experience. Booken truly is the ideal choice for any bookstore looking to establish a first-class online presence.
Highlighted Features:
15+ Pre-loader
Valid HTML5 & CSS3
Neat, clean, and simple design
Creative and Modern Flat Design
Price: Booken offers one license for users:
Regular License: $39
👉 Explore More Top Rated Shopify Theme for your store.
Get Exclusive Shopify Services from ShopiBuffet
For business owners wishing to launch a profitable online retail operation, ShopiBuffet is the ideal option. With their premium Shopify services, entrepreneurs can rest assured that their businesses are in capable hands.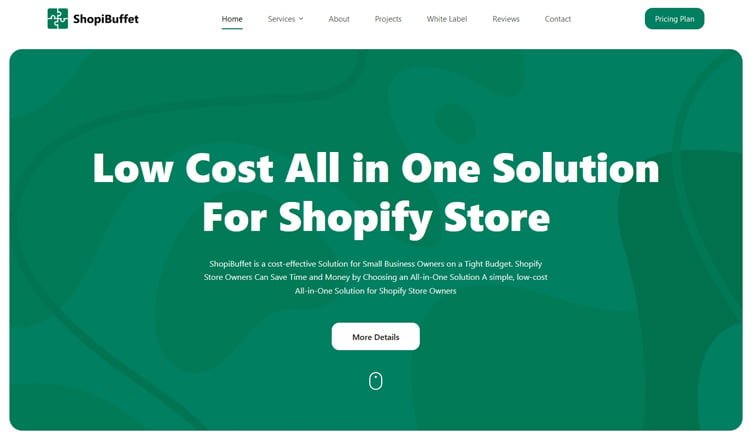 The team at ShopiBuffet is made up of experienced professionals who have the expertise to ensure that Shopify store themes are on point, collections are streamlined, sales channels are in order, and product configurations are managed seamlessly. In short, ShopiBuffet can help entrepreneurs create an online business that's not only efficient but also successful.
Frequently Asked Questions
What file format should I use for my ebook?
The file format you use for your ebook depends on personal preference, compatibility, and accessibility. Common ebook formats include PDF, EPUB, or MOBI.
Can I offer a sample or preview of my ebook on Shopify?
Yes, you can offer a sample or preview of your ebook on Shopify. You can do this by creating a separate product listing for the sample or preview with a lower price or description indicating that it is only a sample or preview.
Can I offer promotions or discounts on my ebook in Shopify?
Yes, you can offer promotions and discounts on your ebook file in Shopify. This can be done through Shopify's built-in discount codes or third-party apps from the app store, which can offer special deals such as BOGOF deals, percentage discounts, or bundled ebook deals.
Final Thoughts
Selling ebooks on Shopify is a great way to turn a passion for writing into a profitable venture. As you wrap up the process of setting up your ebook store on Shopify, it's important to remember that the real work is just beginning. Marketing your ebook and building a brand around it takes time and effort, but with dedication and persistence, your sales will start to take off. Remember to stay engaged with your audience and continue to produce quality content.