Are you an aspiring eCommerce entrepreneur looking to simplify your payment processes and provide your customers with a convenient and trusted payment option? Look no further! In this article, we will show you the step-by-step process of how to add PayPal to Shopify, the popular e-commerce platform.
With PayPal's seamless integration, you can streamline your payment processes and offer your customers a safe and easy way to check out. So, let's dive right in and unlock the power of PayPal for your Shopify store!
Why Use PayPal on Shopify
Using PayPal on Shopify offers several advantages for both merchants and customers:
Trust and Familiarity: PayPal is a globally recognized and trusted payment platform. Many online shoppers are already familiar with PayPal and have confidence in its security and reliability. Offering PayPal can help build trust with your customers.
Broad Customer Base: PayPal has a vast customer base, making it easier to reach and attract potential customers. Some shoppers prefer using PayPal for its convenience and buyer protection policies.
Flexible Payment Options: PayPal supports various payment methods, such as they accept credit cards and bank transfers. This flexibility can accommodate a wide range of customer preferences.
Enhanced Security: PayPal uses advanced encryption and security measures to protect financial information. By using PayPal, you reduce the risk associated with handling sensitive payment data.
Faster Checkout: PayPal's Express Checkout option allows customers to complete their purchases with just a few clicks, reducing cart abandonment rates and speeding up the checkout process.
International Transactions: PayPal enables you to accept payments from customers worldwide, simplifying cross-border transactions and currency conversion.
Mobile Payments: PayPal is compatible with mobile devices, making it convenient for customers shopping on smartphones or tablets.
Mavon Shopify Theme
Boost your online store's conversion rate with Mavon, the high-converting Shopify theme. Elevate your brand with its visually stunning design, flexible sections, and top-notch user experience.
Ways of How to Add PayPal to Shopify
Regarding how to add PayPal to Shopify store typically involves two main steps:
Connecting PayPal to Shopify
To seamlessly integrate PayPal with your Shopify store, follow these steps:
Log In to Your Shopify Dashboard: Access your Shopify admin panel using your credentials.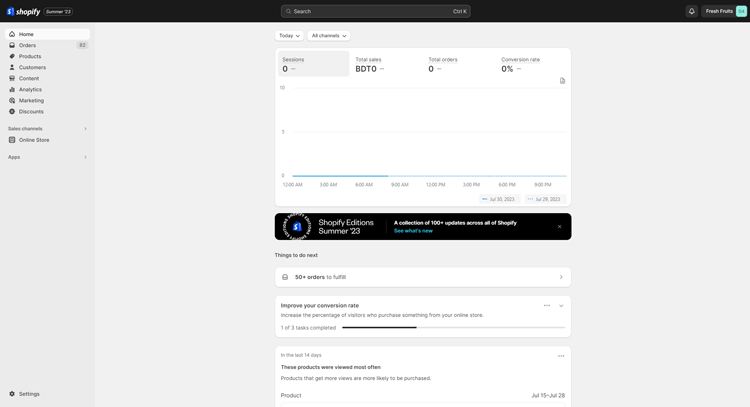 Navigate to Settings: Scroll down and locate the "Settings" tab on the left-hand side of your dashboard. Click on it to open the settings menu.

Access Payments: Within the settings menu, select "Payments." This section is where you manage your payment gateways.
Activate PayPal Express Checkout: Inside the Payments section, locate the module related to PayPal. Click on "PayPal Express Checkout."
Initiate Activation: Choose "Activate" within the PayPal Express Checkout settings. This step begins the activation process.
Provide PayPal Credentials: You'll be prompted to enter your PayPal login account email address and password. This step is crucial for linking your PayPal account to your Shopify store.
Grant Permission: Upon entering your credentials, select the option "I Give Permission." This action authorizes the connection between PayPal and Shopify.
Return to Shopify Settings: After successfully granting permission, navigate back to the Shopify settings menu.
Choose Payment Method: Depending on your preference, you can enable automatic or manual payments. This step involves configuring how you want payments to be processed through PayPal on your Shopify store.
Check Email for Confirmation: Keep an eye on your email inbox. You might receive prompts or notifications from both Shopify and PayPal. Follow any instructions provided to finalize the integration process.
🚀 Ready to skyrocket your Shopify store to success?
🚀 Unlock the secrets to success and boost your sales 📈 with ShopiBuffet's expert services. Don't miss out, get started now!
Verifying the PayPal Account
To verify your PayPal express checkout account after connecting it to your Shopify store, follow these steps by linking your bank account:
Log In to Your PayPal Dashboard: Access your PayPal account by logging in with your credentials.
Navigate to Payment Options: At the top of the page, you will typically find a menu option like "Pay and get paid." Click on this option to proceed.
Access Banks & Cards: Within the payment options, you should see a section named "Banks & Cards." Click on this section to manage your linked financial institutions.
Link a Bank Account: Look for the option to "Link a bank account" and select it. This step initiates the process of connecting your bank account to your PayPal account.
Search for Your Bank: Begin typing the name of your bank in the provided field. As you type, PayPal's system will generate a dropdown list of possible matches. Locate and select your bank from this list.
Log In to Your Bank: Once you've selected your bank, you'll be prompted to log in to your bank account. PayPal will typically provide an automated process for this, ensuring secure and efficient linking.
Agree and Link: After successfully connecting your bank account, review any terms or agreements presented by PayPal. Once you've reviewed them, click on "Agree and link" to complete the process.
Frequently Asked Questions
Can customers pay using credit/debit cards through PayPal on Shopify?
Yes, customers can pay using debit or credit cards through PayPal's guest checkout option without needing a PayPal account.
Is PayPal available internationally?
Yes, PayPal is accepted globally and supports transactions in multiple currencies, making it suitable for international businesses.
What is PayPal Express Checkout?
PayPal Express Checkout streamlines the checkout process, allowing customers to skip manual data entry. It's a fast and secure way for customers to complete purchases.
Are there any transaction fees for using PayPal on Shopify?
Both PayPal and Shopify charge transaction fees. Make sure to review each platform's fee structure to understand the costs associated with PayPal transactions.
Hire Developers to Build Your Shopify Store (Recommended- ShopiBuffet)
Start an extraordinary journey with ShopiBuffet, your go-to source for elite Shopify services that guarantee an amazing experience. Making a fully functional dropshipping store becomes a quick and easy process with ShopiBuffet by your side, assisted by a team of knowledgeable experts.
Their skillful professionals manage every aspect, ensuring the success of your store, from product setup and simple navigation to boosting sales channels and fine-tuning collections. Their skill also extends to creating fascinating themes that improve the aesthetics of your store.
The commitment of ShopiBuffet goes beyond just starting an online store. Their dedication includes ongoing support and direction, which ensures your successful presence in the competitive internet market. Their constant customer support, which provides aid whenever needed, makes the challenges of running an internet business manageable.
Whether you are a rookie or an experienced veteran, ShopiBuffet customizes its services to your specific needs, regardless of your degree of competence. ShopiBuffet simplifies the complexities of online selling and is your partner in achieving e-commerce success by offering solutions that are tailored to your unique journey.
Conclusion
In conclusion, the process of "How to Add PayPal to Shopify" involves integrating PayPal as a payment option to your Shopify store, which can greatly benefit your business. With over 300 million active users worldwide, PayPal is a trusted and popular payment method. This integration can help increase your conversion rates, as customers who prefer to pay using PayPal can easily do so.
Additionally, PayPal offers seller protection and can help you reduce fraud and chargebacks. All in all, adding PayPal to Shopify is a smart move that can help you attract more customers and grow your business.