Are you looking to increase your Shopify sales? Look no further than the best Shopify themes for conversion. With a wide selection of professional and stylish themes available, you can find the perfect one to match your brand and really drive up customer interest and engagement. Optimizing your store with one of these best Shopify themes for conversion is an effective way of turning visitors into loyal customers.
What Are the Best Shopify Themes for Conversion?
Mavon
If you're searching for the perfect Shopify theme to boost your online store's conversion rates, then Mavon is definitely worth considering. This theme offers an impressive range of innovative and highly customizable features, which will allow you to bring your brand aesthetic to life and create a website that stands out from the competition.
With over 20+ customizable sections, Mavon truly gives you the freedom to create an online Shopify store that perfectly represents your unique brand identity. This high-converting theme features an eye-catching design and flexible options that are designed to help elevate your brand and, more importantly, increase your store conversion rates.
With advanced filtering, color swatches, quick view, and mega menu options, Mavon offers a first-class user experience that your customers will love. And best of all, it's easy to use and offers a comprehensive set of features, eliminating the need for expensive add-ons and apps.
So, if you're serious about growing your eCommerce business, consider investing in Mavon today and start enjoying the benefits of a more effective Shopify theme for conversion.
Highlighted Features
Compatible with Shopify version 2.0
Stunning and Modern Design
20+ Customizable Sections
Includes robust features like Advanced filtering, color swatches, quick view, and mega menu.
Unlimited Free Trials
Free Theme Updates
Speed Optimized
Non-Expiring Theme License
Price: $280.00
Lezada
If you are looking for an outstanding Shopify theme that can help you to build a website with a classic and tremendous look, then you should check out Lezada – Multipurpose Shopify Theme. Designed specifically for eCommerce or other general-purpose websites, Lezada is a quality choice for anyone looking to compete in the tough race that is the online business.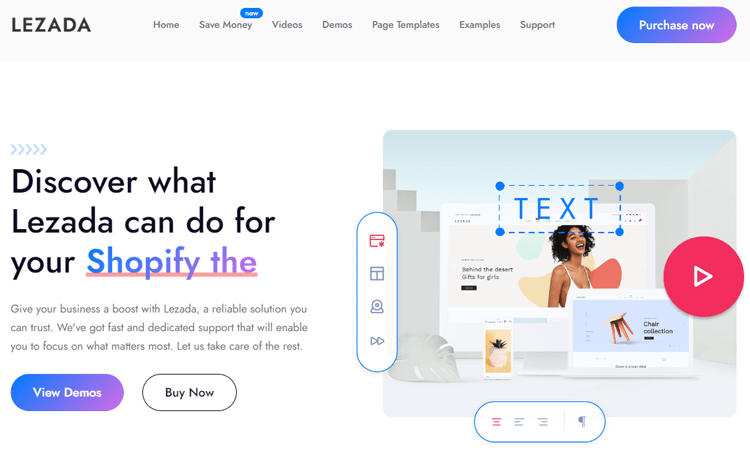 With over 220 Home Versions to choose from, 11+ Revolution Slider options, and 40+ Drag and Drop Sections available, businesses have the flexibility to create a unique website tailored to their brand.
Additionally, Lezada is built with Bootstrap 4, CSS3, HTML 5, and W3C-validated markup, providing businesses with the most up-to-date technology for their website. This theme is 100% responsive and fast, offering cross-browser compatibility.
The Detailed Documentation and Google Analytics integration further simplify tasks for businesses, allowing them to focus on driving conversions. Choose Lezada Shopify themes for a user-friendly and conversion-focused website.
Highlighted Features
MegaMenu, sidebar menu
Slick slider
Featured Product
Tab With Product
Isotope Filtering Product
7+ Banner
6+ Category Banner
Price:
Regular License: $79
Extended License: $2850
LeArts
Learts is a Shopify theme that is perfect for online businesses looking to showcase their creative side. With its elegant and lively design, Learts truly reflects the fine craftsmanship that goes into handmade gifts, furniture stores, and art studios. In addition to its various pre-made home pages and page layouts, this theme also includes premium site-building tools that allow for customization and creativity.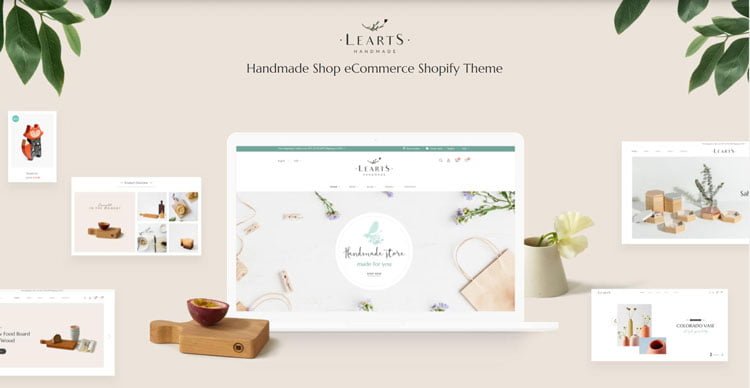 Learts offers 14+ home pages to explore, giving you a clear understanding of their capabilities and how they can help bring your vision to life. With their professional tone and attention to detail, Learts can help you create a successful online presence that will attract customers and increase your sales. With over 26 custom shortcodes, users can create personalized websites that sell more items and earn bigger profits.
For those looking for Shopify themes for conversion, Learts is definitely a professional choice.
Highlighted Features
14+ Responsive Homepages
12+ Blog Layouts (Single Layouts, Archive Layouts)
4+ Portfolio Layouts
Instagram Shop
Shoppable Images
Wishlist
Quick View
Price:
Regular License: $69
Extended License: $2600

Corano
Corano – Jewelry Store Shopify Theme is a highly efficient and exclusive theme that is specifically designed to transform your online jewelry store into a stunning masterpiece. With 08 unique homepage variations, including the RTL version, this theme is sure to provide your customers with an irresistible shopping experience.
Moreover, since the theme is migrated to Shopify Online Store 2.0, you will get the most advanced and updated functionalities provided by the new version.
This is especially important if you are looking to enhance your Shopify themes for conversion and increase your sales. Notably, with the latest version, adding sections to all pages has become a breeze, which means managing your store has become more efficient and hassle-free. You no longer need to worry about code edits, elaborate workarounds with blocks, or custom apps to add sections to other pages.
This latest edition of Corano Jewelry Store Shopify Theme has surely set the bar high for online jewelry store themes.
Highlighted Features
Quick Install
Dark Version
Christmas Version
Multi Colors
Newsletter Popup
Notification Bar
Price:
Regular License: $59
Extended License: $1500
Bardy
For businesses looking for Shopify themes that can help drive conversions, Bardy Beard Oil Shopify Theme is a top choice. With a modern and clean design, this eCommerce theme is built to showcase your products in a professional and attractive way. It has all the features and design elements you need to create an engaging website that will grab viewers' attention and encourage them to make purchases.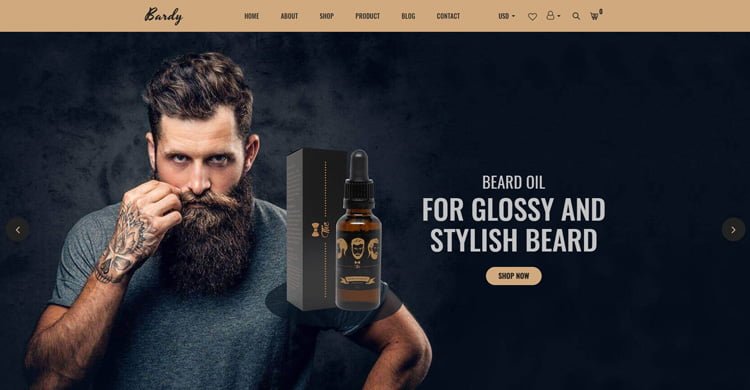 From its two home page options to its RTL version and Ajax Cart, this theme is packed with everything you need to get your business up and running quickly and effectively. Plus, with built-in features like Pagination and Valid HTML5 & CSS3, you can be sure that your website will be fast, responsive, and user-friendly.
Overall, Bardy Beard Oil Shopify Theme + RTL + Droppshiping is a great choice for businesses looking to improve their online presence and boost their sales.
Highlighted Features
Drag & Drop
Theme Color Options
Newsletter Popup
Multiple Currency
Mega Menu
RTL Version
Price:
Regular License: $43
Extended License: $2400
Phuler
The Phuler Flower Shop Shopify theme is a surefire way to make your online flower store look as professional as it is charming. With its elegant design, responsiveness, and built-in Shopify Sections, this theme is a must-have for florist businesses, online bouquet shops, and any flower store that wants to stand out from the pack.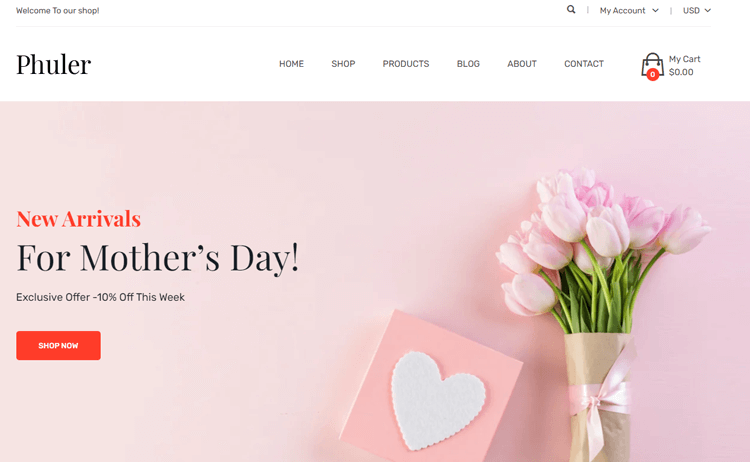 With its two unique and impressive home versions and intuitive features, Phuler can help you present your products in a more visually appealing way. One of its standout features is the slideshow, which allows you to highlight your most charming flowers, new arrivals, hot deals, exclusive offers, and important discount information.
Additionally, Phuler offers a host of other functionalities such as theme color options, mega menu with image, drop-down menu, unique header style, product with carousel, and more. The drag and drop page builder makes it easy to create an overwhelming and splendid website that will convert visitors into loyal customers.
Whether you're just starting out in the floral business or you're a seasoned pro, the Phuler Shopify theme will take your online presence to the next level.
Highlighted Features
Multiple Currency
Header Style
Dropdown Menu
MegaMenu
MegaMenu With Image
Sections
Unique slider
Price:
Regular License: $48
Extended License: $2400
Impulse
Looking to boost your online store's conversion rates? Look no further than Impulse, the Shopify theme that comes packed with features and tools designed to help you succeed. With over 20 sections available to use wherever you need them, as well as product sales points and meta fields, you'll have everything you need to create a visually stunning and user-friendly storefront.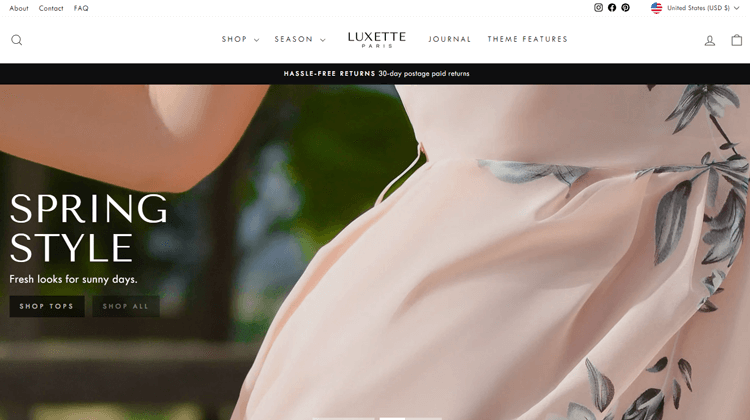 With features like Quick View, sales points, meta fields, and engaging videos, you'll be able to showcase your products in the most compelling way possible. And with size & price sidebar filters and subcollections, you'll help shoppers find exactly what they're looking for. All of this features are wrapped up in a modern design that will make your brand stand out from the crowd.
But that's not all, Impulse also offers multiple landing, product, and collection templates, allowing you to tailor your site's design to your specific needs. And with the powerful custom promotion designer, you'll be able to keep your customers engaged and shopping for longer. With Impulse, you'll have all the tools you need to take your store's success to the next level.
Highlighted Features
Product reviews
Promo banners
Quick view
Slide out cart
Product filtering and sorting
Price: $350
Impact
If you're looking to take your online store to the next level, look no further than the Impact Shopify theme. With its modern design and impactful aesthetic, this theme is guaranteed to catch the attention of your audience from the moment they land on your site. But it's not just about style, the Impact theme is also packed with over 35 sections that allow you to create a truly unique store that stands out from the competition without compromising performance, SEO, and accessibility.
The Impact Shopify theme is specially designed to optimize your store for sales conversion. With features like quick buy on Collection pages, Sticky Add to Cart, and Complementary products on product pages, you will never lose a sale. The Impact theme provides an excellent user experience and a seamless purchasing process, making it easier for customers to find and buy products. It's no wonder that it's one of the most popular Shopify themes today.
Plus, with features like gradients and subtle animations, you can bring your brand to life in a way that truly resonates with your target audience. Discover the power of Shopify Themes for Conversion with the Impact theme today.
Highlighted Features
Works with the latest Shopify features
Free high-resolution photos
Unlimited free trial
Non-expiring license for one store
Price: $350
Warehouse
For online merchants with extensive product catalogs, organizing, presenting, and filtering products can be a challenge. Fortunately, the Warehouse Shopify Theme is tailored specifically for such businesses, providing powerful collection pages that can easily handle 1000s of products. Its adaptable layout helps you create a unique display of your products, content, metafields, and more with highly versatile custom settings.

It has been speed-tested and approved to meet Shopify's performance standards, ensuring seamless browsing and checkout. What's more, you can test this theme for free with your own products, brand colors, and customizations. And, to help you create a stunning website, Shopify Burst provides free high-resolution photos for your use.
With the Warehouse Shopify theme, you can rest assured that you are getting a theme designed for conversion and optimized for speed. Not only does Warehouse make managing large catalogs a breeze, but also its focus on Shopify Themes for Conversion ensures that your online store can convert visitors into customers with ease.
Highlighted Features
Unlimited Free Trials
Free Theme Updates
Speed Optimized
Non-Expiring Theme License
Price: $320
Boost
Shopify Themes for Conversion can make all the difference when it comes to engaging with your customers. The Boost Shopify Theme, in particular, is designed to let your brand personality shine through with feature-rich sections, immersive content, and customizable promotions.
With all the tools you need at your disposal, including SEO, performance, flexible sections, advanced product filters, and much more, you'll be able to compete with the biggest players in your industry.
With an unlimited free trial period, you can freely customize this theme to fit your brand colors, add your own products, and make any other necessary customizations. Additionally, Shopify Burst offers free high-resolution photos that you can use to elevate the look of your online store. Plus, with free theme updates and a non-expiring license for one store, you can have peace of mind knowing that you'll always have access to the latest features and a functional theme.
And with over 10 years of experience under our belts, we can confidently say that we know what works when it comes to boosting conversion rates. Trust us to help you take your business to the next level with the amazing Boost Shopify Theme.
Highlighted Features
Works with the latest Shopify features
Unlimited Free Trials
Free Theme Updates
Speed Optimized
Non-Expiring Theme License
Price: $300
How Do These Themes Help Increase Conversion?
When it comes to boosting your conversion rates, the right Shopify theme can make all the difference. By incorporating key design elements and features specifically geared towards increasing sales, a well-crafted theme can help you attract and retain more customers.
Here are some ways that Shopify themes can help increase conversion:
Professional design: Shopify themes offer professional and aesthetically pleasing designs that can help build trust with customers and increase brand credibility.
Mobile responsiveness: Many Shopify themes are optimized for mobile devices, ensuring that your website looks great and functions properly on a range of screen sizes and devices.
Easy navigation: Clear and user-friendly navigation menus can help customers quickly find the products they are looking for, reducing frustration and improving the overall user experience.
Call-to-action buttons: Effective call-to-action (CTA) buttons can lead customers through the purchasing process and encourage them to complete their transactions.
Customization options: Most Shopify themes offer a range of customization options, allowing you to tailor the design and layout of your website to meet your unique business needs and goals.
Page speed optimization: Shopify themes are designed to be fast and easy to load, which can help reduce bounce rates and improve conversion rates.
Trust badges: Including trust badges, such as security certificates or customer reviews, can help build trust with customers and encourage them to make a purchase.
Product pages: Well-designed product pages can enhance the shopping experience and provide valuable information to customers, helping them make informed decisions about their purchases.
Integrations: Shopify themes can support a variety of integrations with other apps and services, allowing you to expand your eCommerce capabilities and improve the customer experience.
Master Shopify store management through learning:
👉 How to Create Barcode in Shopify – A Step-by-Step Guide
👉 How to Add Author in Shopify Blog: Everything You Need to Know
👉 How to Add Shipping Policy on Shopify: A Step-by-Step Guide
👉 How to Backup Your Shopify Theme: Quick and Easy Ways
👉 How to Change Shop Name on Shopify: Quick and Easy Guide
Frequently Asked Questions
How do I choose the best Shopify theme for my business?
When choosing a Shopify theme for your business, consider your target audience, brand image, and website goals. Look for themes that offer the features and functionality you need to meet those goals and provide a positive user experience for your customers.
Can I switch to a different Shopify theme after launching my website?
Yes, you can switch to a different Shopify theme at any time. However, it's important to note that switching themes may require some additional customization and configuration work to ensure that your website looks and functions properly with the new theme.
Get Exclusive Shopify Services from ShopiBuffet
ShopiBuffet is a professional Shopify Development Services provider for businesses looking to succeed online. Their team can help businesses create an online store, manage inventory, take payments, and ship orders. In addition, they offer custom Shopify development services with a vast range of features and tools.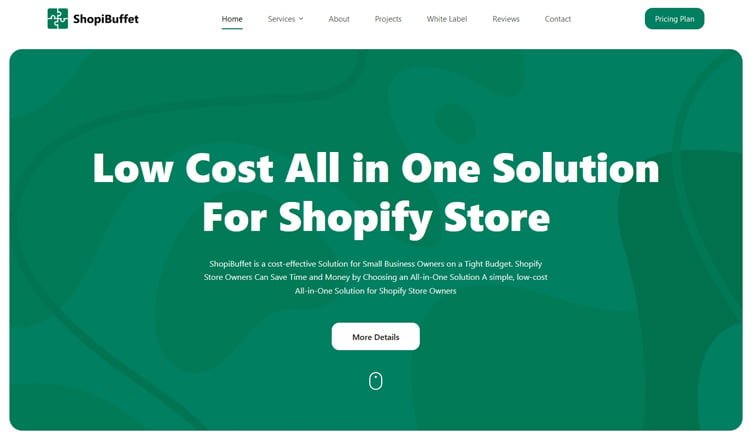 One of Shopify's unique offerings is its built-in SEO tools designed to attract more visitors to online stores. However, Shopify Development Services goes beyond just basic online store features and offers various Shopify themes for conversion. Their platform is highly scalable, allowing businesses to grow their online presence as their needs evolve.
Whether a business is just starting with eCommerce or looking to take its business to the next level, Shopify Development Services can provide the necessary tools and support needed to achieve success.
Conclusion
In a highly competitive online retail environment, the choice of the right Shopify theme is critical to the success of your eCommerce business. A well-designed Shopify theme for conversion can boost user engagement, increase customer retention, and ultimately, drive sales. In this article, we have delved into the best Shopify themes for conversion. From minimalistic and modern to bold and colorful, each one offers a unique design that suits different styles of online stores.
With their intuitive navigation, customizable features, and mobile-responsive layouts, these themes are guaranteed to help increase your Shopify sales and position your business for long-term success. Choose the one that best represents your brand's identity and watch your online store grow.