Are you ready to take your business to the next level and start selling your products online? Well, you're in luck because today, we are diving into the age-old debate of Shopify vs Wix! These two eCommerce platforms have been battling it out for years, each claiming to be the best option for your business.
But which one truly reigns supreme? Whether you're a small business owner or an aspiring entrepreneur, it's crucial to choose the right platform that aligns with your goals and meets your needs. So, grab a cup of coffee and get ready to explore the world of Shopify vs Wix!
Shopify: An Overview
Features
Shopify is a popular eCommerce platform that empowers businesses to create and manage online stores. It offers a comprehensive set of features designed to facilitate the entire eCommerce journey, from setting up an eCommerce store to selling products, managing inventory, and handling payments.
Store Setup: Shopify provides a user-friendly interface to build and customize your online store, even without technical expertise. It offers various themes and templates to choose from which allows you to create a visually appealing eCommerce store.
Product Management: You can easily add, organize, and manage your products with detailed descriptions, images, and variations. Shopify eCommerce website builders support digital and physical products, making it suitable for a wide range of businesses.
Payment Options: Shopify integrates with multiple payment gateways, allowing you to offer various payment methods to your customers. It also provides its own payment gateway, Shopify Payments, for seamless transactions.
eCommerce Analytics: Shopify eCommerce website builders provide insights into your store's performance through detailed analytics. You can track sales, customer behavior, and other key metrics to make informed decisions.
App Store: The Shopify App Store offers a vast array of apps and plugins to enhance your store's functionality. You can find apps for marketing, SEO, customer support, and more.
SEO and Marketing: Shopify includes built-in SEO features to optimize your eCommerce store for search engines. It also offers marketing tools like discounts, social media integration, and email marketing campaigns.
Advantages
User-Friendly: Shopify's intuitive interface makes it accessible to users with varying levels of technical knowledge.
Scalability: It suits businesses of all sizes, from startups to large enterprises, and can accommodate growth.
Security: Shopify handles security aspects, including SSL certificates, to ensure secure transactions and data protection.
24/7 Support: Shopify offers customer support around the clock to assist with any issues or inquiries.
Limitations
Cost: While Shopify offers different pricing tiers, the overall cost can increase with app subscriptions and transaction fees.
Customization Limitations: While customization is possible, the extent of design freedom might be limited compared to platforms with more coding access.
Transaction Fees: If you don't use Shopify Payments (their own payment gateway), transaction fees apply to each sale.
Advanced Features: While Shopify is powerful, some advanced features might require third-party apps or custom development.
🚀 Ready to skyrocket your Shopify store to success?
🚀 Unlock the secrets to success and boost your sales 📈 with ShopiBuffet's expert services. Don't miss out, get started now!
Wix: An Overview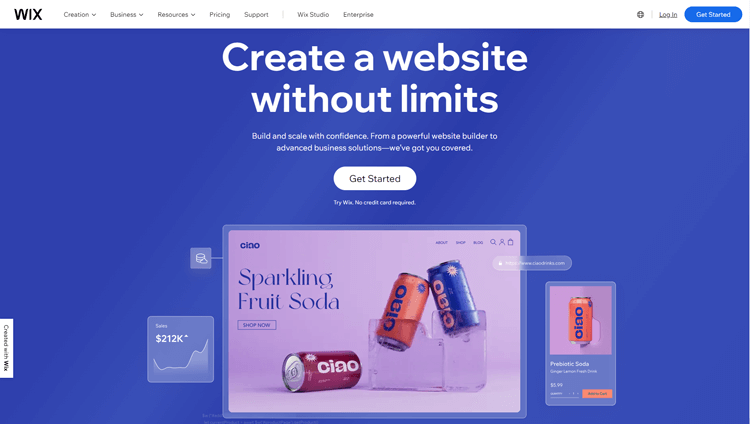 Features
Wix is a versatile website builder that enables individuals and businesses to create varity of websites, from simple blogs to complex eCommerce stores. It offers an array of features to make website creation and management accessible to users without advanced technical skills.
Drag-and-Drop Editor: Wix website builder's user-friendly drag-and-drop editor allows you to create and customize your website's layout, design, and content without needing to code.
Templates: Wix provides a vast collection of professionally designed templates for various industries and purposes. These templates serve as starting points for your website's design.
SEO Tools: Wix includes built-in SEO tools to help optimize your eCommerce website's visibility on search engines. You can customize meta tags, URLs, and more.
Mobile Responsiveness: Wix's templates are designed to be responsive, ensuring that your website looks and functions well on various devices.
Blogging: If you're interested in blogging, Wix offers features for creating and managing blog posts, including categories, tags, and comments.
Advantages
Ease of Use: Wix's intuitive interface and drag-and-drop editor make it accessible to beginners who want to create a website quickly.
Templates: The wide selection of templates covers various industries and styles, helping you start with a design that suits your needs.
App Integration: The App Market allows you to extend your website's functionality without needing to develop custom features.
eCommerce: Wix's eCommerce capabilities are user-friendly and suitable for smaller online stores.
Customer Support: Wix offers customer support through various channels, assisting users with technical issues and inquiries.
Limitations
Advanced Customization: While Wix website builder offers design flexibility, its customization options might be limited compared to platforms that allow direct code access.
Scalability: While Wix is suitable for smaller websites, it might face limitations as your website grows in complexity and traffic.
Ads on Free Plan: The free plan includes Wix ads on your website, which can affect its professional appearance.
Mavon Shopify Theme
Boost your online store's conversion rate with Mavon, the high-converting Shopify theme. Elevate your brand with its visually stunning design, flexible sections, and top-notch user experience.
Shopify vs Wix: Comparisons
When weighing the options Shopify vs Wix, two prominent websites and eCommerce platforms, several key factors come into play:
Performance
Shopify is designed specifically for eCommerce and excels in providing a robust and powerful platform for online sales. Its performance is tailored to handle the demands of eCommerce websites, particularly those with larger inventories or complex product offerings. Shopify's architecture and features are optimized to ensure smooth and efficient transactions, fast loading times, and a seamless shopping experience.
On the contrary, Wix offers solid performance, making it suitable for basic online stores. While it might not be as specialized in eCommerce as Shopify, Wix still provides good speed and responsiveness for simpler online businesses. It's an excellent choice for those who are looking to start with a more straightforward inventory and may not require all the advanced eCommerce features.
Plugins and integrations
When it comes to expanding the functionality of your online store through integrations, both Shopify and Wix offer options but with different scopes.
Shopify boasts an extensive library of over 8,000 apps and integrations, including big names like Google Analytics, Pinterest, and Kissmetrics. This array of options allows you to tailor your store's capabilities to your exact requirements, whether it's adding customer reviews to your products or adapting your store for global audiences. For larger eCommerce businesses aiming for scalability, Shopify's rich selection of plugins gives it an edge.
On the other hand, Wix offers around 500 integrations, including popular choices such as Google Analytics, Mailchimp, and Instagram. While the number might be smaller compared to Shopify, Wix still provides a substantial variety of tools to cater to your business needs. Whether you're seeking analytics insights or social media engagement, Wix's integration options offer flexibility to enhance your website's capabilities.
Design and Customization
When it comes to design and customization, Wix boasts an impressive library of over 800 design templates, granting users a remarkable level of creative freedom. Wix's drag-and-drop editor empowers users to craft their eCommerce websites precisely to their preferences. 
Alternatively, the Wix Artificial Design Intelligence (ADI) editor offers a seamless alternative – by answering a few fundamental questions about your site's purpose and visual preferences, the ADI designs a tailored website on your behalf.
In contrast, Shopify website builder offers a more curated selection with 10 free design templates, each presenting two to three variations for a modest degree of customization. While another 70+ premium themes can be accessed for additional design options, Wix remains the frontrunner in terms of sheer design variety and flexibility.
Payment
When it comes to payment options, both Shopify and Wix offer a variety of choices to cater to customer preferences. They support popular gateways such as PayPal and Stripe, as well as their proprietary solutions- Shopify Payments and Wix Payments, respectively. Additionally, businesses using either platform can accommodate alternative payment methods like bank transfers and cash on delivery, contingent on the chosen payment gateway.
However, a key distinction lies in the breadth of available options. Shopify stands out by providing access to over 100 payment gateways, giving businesses more flexibility to cater to diverse customer bases. Conversely, Wix's selection is more limited, and it lacks support for notable options like Apple Pay, Amazon Pay, and Klarna.
Product Inventory
When it comes to product and inventory management, Shopify takes the lead due to its dedicated focus on eCommerce. Shopify offers a robust inventory management system that can handle large amounts of stock.
Users can easily upload single or multiple products, utilize stock management tools, and access detailed revenue reports. This makes it an ideal choice for businesses with extensive product offerings and a need for comprehensive inventory tracking.
On the other hand, Wix is better suited for smaller online businesses. Its inventory management is more limited compared to Shopify. Additional functionality often requires the integration of third-party apps.
Despite this limitation, Wix remains a solid option for small to medium-sized eCommerce ventures, providing ample capacity for most online stores. For instance, if you're starting an online furniture store collaborating with multiple suppliers, both Wix and Shopify could work well.
However, for ambitious aspirations akin to becoming the next Wayfair or West Elm, Shopify's advanced inventory tools might offer a more suitable starting point.
Security
Shopify and Wix prioritize the security of their users' online stores through robust measures. Both platforms employ SSL encryption to safeguard sensitive information like credit card details provided by customers during transactions. Additionally, they integrate built-in security features, including fraud analysis tools, to mitigate potential risks.
A significant assurance of their commitment to security is the Level 1 PCI DSS compliance certification held by both platforms. This compliance ensures that the platforms adhere to stringent security standards for handling payment information.
As a merchant, you benefit from their compliance, which is vital for accepting debit and credit card payments securely. However, while Shopify and Wix offer a strong foundation for online store security, the effectiveness of these measures can also depend on your diligence in configuring and maintaining your website to prevent vulnerabilities.
SEO
Shopify boasts a well-organized and clean codebase, making it favorable for search engine crawling and indexing processes. It provides an array of features and tools explicitly designed to elevate your store's SEO, including automatic sitemaps and the flexibility to personalize page titles and meta tags.
Furthermore, Shopify's dedication to mobile responsiveness, coupled with its availability of Accelerated Mobile Pages (AMP) for product pages, can contribute to improved Google rankings. The platform's extensive app store includes various SEO-related apps catering to diverse needs.
While Wix also includes built-in SEO features, allowing customization of meta tags, alt text, and URL slugs, it falls slightly behind Shopify in terms of specialized eCommerce SEO tools.
Wix excels in keyword support and blogging features, offering potential advantages in aiding customers to discover your online store more easily. However, when the focus is on dedicated eCommerce SEO tools and an SEO-friendly codebase, Shopify takes the lead.
Pricing
Shopify
One of the cheapest website builders, Shopify offers 2 different types of plans.
Monthly plans
Yearly plans
The monthly plans are as follows:
Basic – $25/mo
Shopify – $65/mo
Advanced – $399/mo
The yearly plans(Save 25%) are as follows:
Basic – $19/mo
Shopify – $49/mo
Advanced – $299/mo
Wix
One of the cheapest website builders, Wix offers 3 different types of plans.
Website plans
Business and eCommerce plans
Enterprise plan
The Website plans are as follows:
Connect Domain – $4/mo
Combo – $8/mo
Unlimited – $12/mo
VIP – $24/mo
The eCommerce plans are as follows:
Business Basic – $17/mo
Business Unlimited – $25mo
Business VIP – $35/mo
The Enterprise plans are as follows:
Custom – Built for large-scale businesses
Customer Support
Shopify and Wix, two prominent eCommerce platforms, provide comprehensive customer support. Both offer knowledge bases, community forums, tutorials, guides, and responsive email and chat support. They go a step further by providing phone support ensuring direct assistance for users. Additionally, both platforms facilitate the integration of third-party apps and plugins, recognizing the importance of customized solutions.
Shopify boasts "Shopify Experts," allowing users to hire specialized freelancers or agencies for tasks ranging from technical issues to content marketing. Wix offers a similar service through the "Wix Marketplace." Though these services may come at an additional cost, Shopify and Wix vet professionals to ensure quality results. Overall, both platforms prioritize customer support to aid eCommerce businesses at every stage. 
The Winner
When considering the best eCommerce platform, Shopify unquestionably emerges as the ultimate choice, boasting a comprehensive range of advantages that cater seamlessly to businesses of all magnitudes. With an unwavering focus on eCommerce, Shopify provides a tailored environment that optimizes sales, inventory management, and customer engagement, setting it apart from competitors.
Its scalability and performance capabilities ensure that businesses can expand without encountering technical limitations, assuring smooth operations even during peak traffic periods. The extensive App Store empowers users with a plethora of plugins and integrations, enhancing functionality across all aspects of online retail. Notably, Shopify's customer support, available 24/7 through multiple channels, guarantees prompt assistance whenever needed.
The inclusion of Shopify Experts further amplifies its prowess, enabling businesses to access specialized professionals for diverse tasks. Emphasizing security and compliance, Shopify's commitment to safeguarding transactions and customer data solidifies its status as the unrivaled choice for businesses aspiring to excel in the competitive eCommerce landscape.
Frequently Asked Questions
Can I create a professional-looking online store on both platforms?
Yes, both Shopify and Wix provide professionally designed templates for creating visually appealing online stores.
Which platform offers better scalability for growing businesses?
Shopify is well-regarded for its scalability, offering plans suitable for businesses of all sizes. It has advanced features to support growth seamlessly.
Are there limitations to customization on either platform?
While Wix allows for creative design customization, Shopify's coding access offers more extensive customization possibilities, ideal for businesses with unique design requirements.
Can I integrate third-party apps on Shopify and Wix?
Yes, both platforms support third-party app integrations, but Shopify's extensive App Store offers a wider array of options, especially tailored for eCommerce needs.
Bonus: Recommended Shopify Themes
Mavon
Looking to take your business to the next level and create an online store that is both practical and visually stunning? Mavon is the platform for you! This reliable platform is user-friendly and doesn't require any coding knowledge. And the best part? With Mavon, there are no hidden costs or recurring monthly charges. Plus, it's optimized for speed to ensure a smooth shopping experience for your customers.
Mavon's customizable design and features, such as the size chart and color swatches, help you to create a visually appealing shopping destination that is sure to grab the attention of potential customers. Need help along the way? Mavon offers a dedicated support team on hand to resolve any issues. With Mavon, you can take your online business to the next level!
Highlighted Features:
20+ Flexible Sections
Size Chart
Lookbooks
Color swatches
High-resolution images
Price: Free trial version
Regular License: $280/ year
Lezada
Are you tired of endlessly scrolling through Shopify themes that just don't stand out? Look no further than Lezada! Its 220+ pre-made home versions and 11+ Revolution Sliders make it easy to create a one-of-a-kind storefront. With customization options galore, including 10+ header variations, multiple blog layouts, and an RTL version, this theme truly has it all.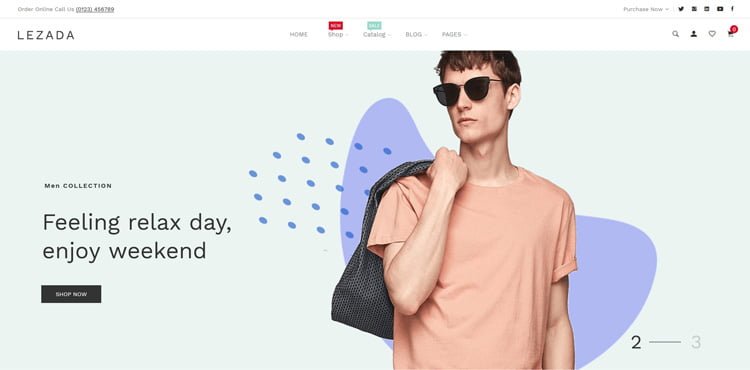 Plus, Lezada is fully responsive and supports multiple languages, ensuring that your shop can connect with a global audience. And with Google Analytics integration and well-commented HTML and CSS files, tracking your progress and making adjustments is a breeze. So why settle for a cookie-cutter shop? Lezada is the all-in-one solution for taking your storefront to the next level.
Highlighted Features:
Fully Responsive
RTL Version
Notification Bar
Multiple Currency
Breadcrumb banner
Price: Regular License: $79
Corano
If you're looking for a jewelry store Shopify theme that will set your online store apart, Corano is definitely worth checking out. This theme offers eight different homepage variations, including an RTL version, so you can choose one that best suits your brand and style. With all the must-have features you need to create a functional and beautiful online store, Corano has been updated to Shopify Online Store 2.0, so you can take advantage of all the latest and greatest advanced functions.
Plus, with the ability to add sections to all pages, you can create a custom and personalized shopping experience for your customers. With multi-color options, a newsletter popup, a notification bar, multiple currencies, and an Ajax popup cart, Corano is truly a comprehensive eCommerce solution for your online jewelry store needs.
Highlighted Features:
MegaMenu, sidebar menu
3 Types Header
Mega menu
Slideshow
Collection Banner
Multiple Banner
Price: Regular License: $59
LeArts
If you're an artisan looking for a way to sell your handmade crafts online effectively, LeArts is a Shopify theme that can take your eCommerce site to the next level. With its sleek and stylish design, this theme will make your products shine like never before. Not to mention, with 13+ home versions available, you're certain to find a layout that's perfect for you.
One of the standout features of this theme is the ability to use multiple currencies, allowing you to expand your customer base globally. With Google Analytics integration and well-commented HTML & CSS files, increasing profits and delivering a top-notch customer experience is a breeze.
At the end of the day, whether your art is classic or contemporary, LeArts is the ideal eCommerce platform to showcase it to the world.
Highlighted Features:
Multiple Currency
13+ Home Versions
Shopify Builder
Theme Colors
Unlimited Colors
Price: Regular License: $49
Hire Developers to Build Your Shopify Store (Recommended: Shopi Buffet)
Elevate your Shopify store journey with ShopiBuffet, the ultimate destination for unparalleled Shopify services that promise an unforgettable venture. At ShopiBuffet, a realm of excellence awaits, enabling you to effortlessly craft a fully operational dropshipping store guided by a team of adept professionals.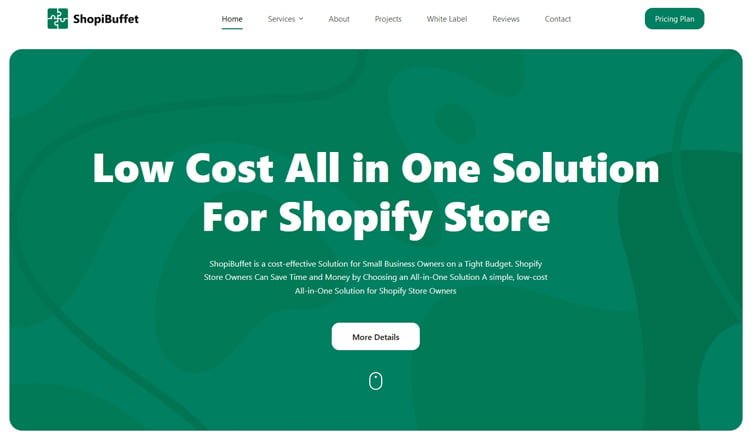 These experts manage product setup, guarantee smooth navigation, develop sales channels and expertly curate the perfect collections, all while expertly creating impressive themes. Every facet of your online business is artfully managed by their seasoned specialists.
Yet, ShopiBuffet's offerings extend far beyond store setup. Their dedication knows no bounds, extending steadfast support and guidance to ensure your triumphant presence in the digital market. Navigating the intricacies of eCommerce businesses are never a solitary endeavor with their unwavering customer assistance at your disposal.
Whether you're a novice or a seasoned veteran, ShopiBuffet adapts its services precisely to your distinct needs, simplifying the art of online retail. Discover ShopiBuffet's transformative solutions and embark on an expedition towards eCommerce success that transcends your skill level.
Final Words
As you wrap up your research on eCommerce platforms, you might be wondering which is the better choice: Shopify vs Wix? Both options have their own set of pros and cons, making it difficult to declare one as the clear winner. If you're looking for a more robust and scalable solution with advanced features, Shopify might be the better choice.
On the other hand, Wix is known for its user-friendly interface and more affordable pricing options. It ultimately boils down to your unique business needs and preferences. It's important to carefully weigh the pros and cons of each eCommerce platform before making your final decision.