Keeping your Shopify theme up to date is crucial for ensuring optimal performance, security, and compatibility with the latest features. In this comprehensive guide, we will walk you through the process of how to update Shopify theme.
Whether you're a beginner or an experienced Shopify user, this article will provide you with clear instructions and best practices to update your theme without any hassle.
Importance of updating your Shopify theme
Updating your Shopify theme is crucial for several reasons:
Security: New updates often include security enhancements, protecting your store from potential vulnerabilities and cyber threats. Outdated themes may lack these essential security features, making your store more susceptible to attacks.
Performance: Modern themes are optimized for speed and responsiveness. Regular updates can enhance your site's performance, leading to faster loading times and a seamless user experience. Slow-loading websites can deter visitors and impact your sales.
Compatibility: Shopify regularly introduces new features and functionalities. Themes need to be compatible with these updates to ensure your store functions correctly. Using an outdated theme might lead to compatibility issues with Shopify apps and features, hindering your store's capabilities.
Mobile Responsiveness: With the growing number of mobile users, having a responsive design is non-negotiable. Updated themes are designed to be mobile-friendly, ensuring your store looks and works well on various devices. Mobile optimization is essential for user engagement and search engine rankings.
SEO (Search Engine Optimization): Search engines favor websites with updated, mobile-responsive, and fast-loading themes. Outdated themes may lack modern SEO practices, impacting your site's visibility in search engine results. Regular updates ensure your store remains SEO-friendly, improving your chances of ranking higher.
Preparing for the Update
Backing up your current theme
Creating a backup of your current Shopify theme is an essential precaution before proceeding with an update. To safeguard your theme, adhere to these instructions on how to update Shopify theme:
Access your Shopify admin panel.
Navigate to "Online Store" and select "Themes."
Locate the "Actions" button adjacent to your current theme.
Choose "Duplicate" from the dropdown menu.
A duplicate theme will be generated, serving as your safety net.
🚀Boost Your Online Store Sales with Mavon Shopify Theme!
Mavon – Your ticket to success! 🚀 Boost revenue with conversion-focused features and intuitive design, turning visitors into loyal customers.
How to Update Shopify Theme
Manually Update:
The procedure of manually updating your Shopify theme is simple. These are what to do:
Check Current Theme Version: In your Shopify Admin, click on the theme you want to update. Under the theme details, find the version number. If the theme is up to date, a green check mark icon will indicate this.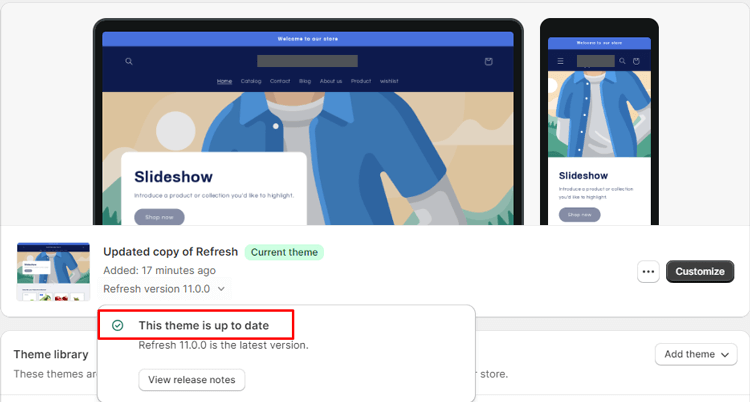 Receive Update Notification: When an update is available, a notification will replace the theme version number. Click on this notification to open the details pop-up.
Add Updated Theme to Library: Click "Add to theme library" to incorporate the updated theme version into your theme library. This step ensures you have access to the latest version.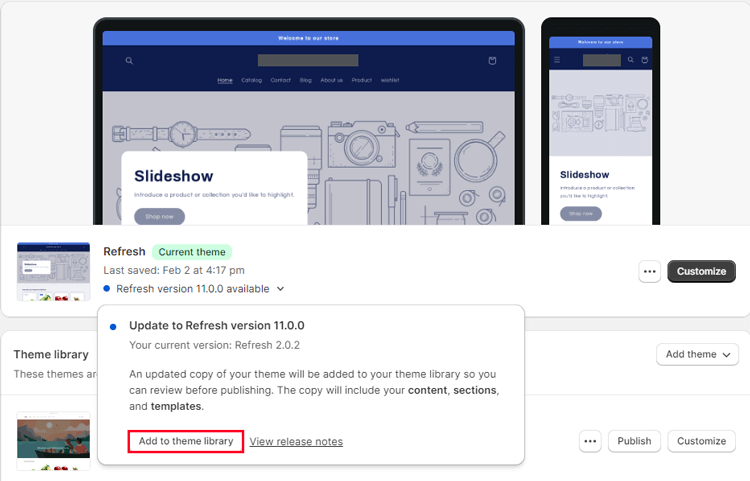 Review Release Notes: Read the release notes thoroughly to understand the modifications and improvements made in the updated version.
Test Your Online Store: Before publishing the updated theme, carefully review your online store. Ensure that it looks and functions as expected with the new theme version. Test various elements, such as layout, navigation, and functionality.
Publish the Updated Theme: Once you are satisfied that your store appears and behaves correctly with the updated theme, click on "Publish theme" to make the changes live. This action updates your live store with the new theme version.
Automatic Update:
Updating your Shopify theme via automated updates is a straightforward process. Here are the steps:
Notification in Shopify Admin: When Shopify applies an automated update to your theme, you will receive a notification in your Shopify Admin dashboard.
Check Theme Version: Look for the theme version number in your Shopify Admin. The automated update will replace the existing theme version number with the updated version.
Updates for Bug Fixes and Security: These automated updates are typically applied to fix bugs or address security issues in your theme. They are not intended to alter the appearance, content, or settings of your theme.
View Release Notes: If you want more information about what the update entails, you can click "View release notes" in the theme's status. This will provide you with details on the changes or fixes included in the update.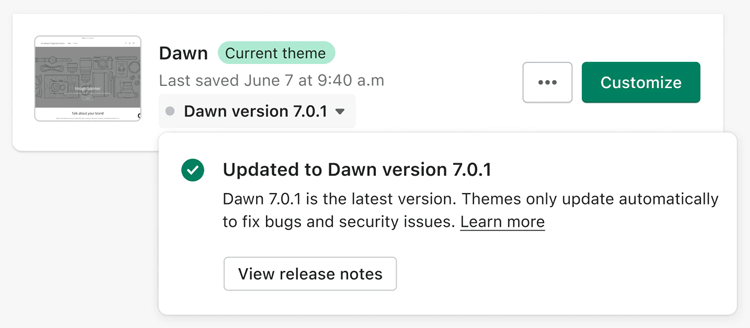 Paid Theme from third Party Update
If you're using a theme that does not support updates because it wasn't acquired from the Shopify Theme Store, follow these steps:
Check your theme's origin: Verify that your theme was acquired from the Shopify Theme Store. Only themes from the Shopify Theme Store can be updated directly through Shopify.If your theme was bought from a third-party designer, then reach out to the designer directly for any updates.
Identify the theme version: Determine if your current theme is a vintage version. If it is, this theme is no longer updated by Shopify, and you won't receive in-Admin updates.
Explore Online Store 2.0 themes: Consider upgrading to an Online Store 2.0 theme, which supports updates and takes advantage of the latest Shopify features. You can browse and select Online Store 2.0 themes from the Shopify Theme Store.
Seek Shopify Partner assistance: If you have a vintage paid theme and wish to upgrade to an Online Store 2.0 theme, consider working with a Shopify Partner. They can help you make the transition and become eligible for in-Admin updates.
Frequently Asked Questions
Q: What should I do if my installed apps are not compatible with the updated theme?
A: If your apps are not compatible with the updated theme, you may need to seek alternative compatible apps. Additionally, consider contacting the app developers for guidance on smoothly transitioning. Compatibility is essential to ensure your store functions as expected.
Q: Is it necessary to update my theme regularly?
A: Yes, it's recommended to update your theme regularly. The theme updates often include bug fixes, security enhancements, and performance improvements. Keeping your theme up-to-date ensures a stable and secure customer shopping experience.
Q: Can I customize my theme after updating it?
A: Yes, you can continue to customize your theme after updating it. However, retesting your customizations to ensure they work correctly with the updated version is essential. Some customizations may need adjustments to remain compatible.
Q: What should I do if I encounter issues during the theme update?
A: If you encounter issues during the theme update, you can contact Shopify's customer support or the theme developer's support team for assistance. They can provide guidance and solutions to resolve any problems you may face.
Hire Experts to Build Your Shopify (Recommended- ShopiBuffet)
Entrusting your Shopify store to experts can make a significant difference. ShopiBuffet stands out as a leading choice for individuals and businesses seeking to enhance their eCommerce ventures. With a skilled team of professionals, they offer comprehensive solutions, allowing clients to focus on growth while experts handle the technical intricacies.
ShopiBuffet provides a user-friendly platform, expert design, and marketing services, tailored to diverse budgets. The dedicated team at ShopiBuffet is responsive and committed to customer satisfaction, making them an ideal choice for anyone embarking on the journey to a successful online store.
What services they offer:
Theme Installation & Demo Setup
Dropshipping Activation + product
Shopify App development and customization
Shopify theme development and customization
Shopify migration service
Conclusion
When it comes to updating your Shopify theme, the conclusion is clear. It's an important task that should not be overlooked. By keeping your theme up-to-date, you ensure that your online store stays secure, runs smoothly, and functions at its best.
Whether you choose to update the theme yourself or enlist a professional's help, take the time to thoroughly test the changes and ensure that everything is working properly before going live.
With a little bit of effort, you can ensure that your online store is always looking its best and providing your customers with a top-notch shopping experience. So what are you waiting for? Get started on that update today.