In the competitive world of eCommerce, it's important for online store owners to provide a seamless shopping experience to their customers. One common challenge faced by Shopify store owners is how to handle sold out items effectively.
When an item sells out, it creates frustration for customers and can even result in lost sales opportunities. In this article, we'll explore effective strategies for how to hide sold out items on Shopify, ensuring a smoother user experience and maximizing your chances of making sales.
Understanding the Impact of Sold Out Items
Frustration for customers
When customers encounter sold-out items, it leads to frustration. They might have specific products in mind, and finding them out of stock can be disappointing. This frustration can tarnish the overall shopping experience, potentially leading to customer dissatisfaction.
Negative impact on sales and conversion rates
Sold-out items can directly impact sales and conversion rates. Customers who intend to make a purchase might abandon their carts or leave the website altogether if the desired items are unavailable. This results in immediate revenue loss and affects conversion rates, indicating a missed opportunity to convert visitors into buyers. Additionally, if this issue becomes recurrent, it can harm the reputation of online businesses, leading to long-term revenue implications.
Recommended Blog for You:
👉 What is SKU in Shopify?
👉 How to Send Invoice on Shopify Quickly: A Step-By-Step Guide
👉 How to Add a Digital Product to Shopify: Everything You Need to Know
👉 How to Reduce Bounce Rate on Shopify Store
Steps on How to Hide Sold Out Items On Shopify
There are several ways to hide sold-out items on Shopify, depending on your preferences and needs. Here are a few methods of how to hide sold out items on Shopify-
Setting automatic collection rules to hide out-of-stock products
In your Shopify admin, navigate to the "Product" section and select a product from the list.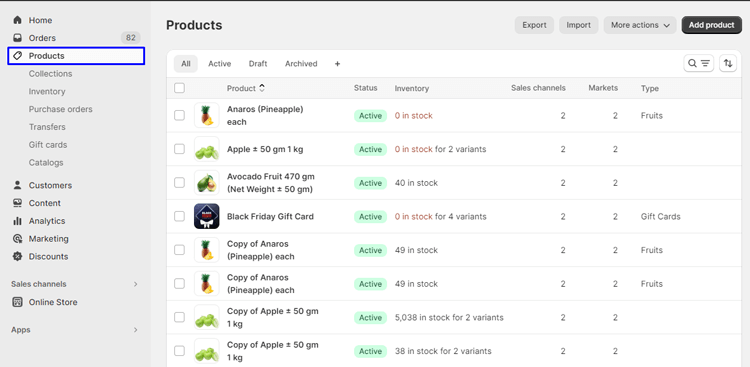 Scroll down to the "Inventory" section and ensure that the "Track quantity" box is checked. This setting allows Shopify to deduct sold items from your total inventory count automatically. Be sure to repeat this action for all remaining products.
Now, let's configure collection rules to automatically hide products sold out
Go to your "Collections" and click on the first collection you want to set rules for.
Scroll down within the collection settings until you reach the "Conditions" section.
Check all conditions. and from the Dropdown Menu option, select "Inventory Stock" and set the condition to "greater than 0." This rule ensures that only products with available inventory greater than zero will be displayed in the collection, automatically hiding sold-out items. Repeat this step for other collections as needed.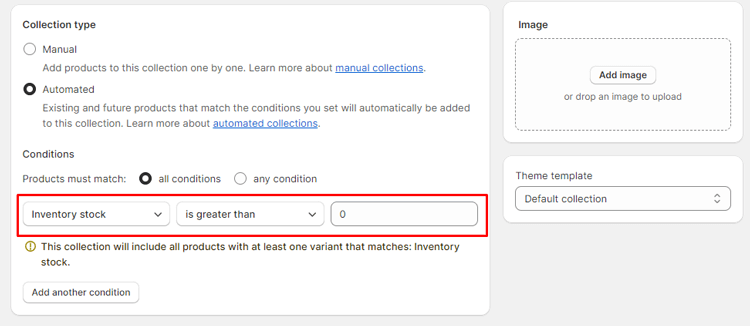 Unpublishing products from the sales channel
If you wish to completely hide a sold out product from your Shopify store, including site search and direct access, consider unpublishing it from the sales channels. Here's how to do it:
Access your Shopify admin and navigate to the "Products" section. Choose the product that you want to hide because it's sold out.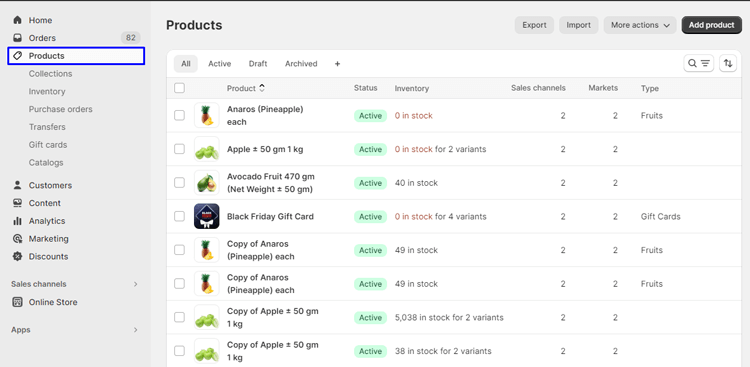 On the right-hand side, locate the "Publishing" section and click on "Manage sales channels"
A popup window will appear that allows you to select your active sales channels.
To unpublish the product, uncheck all the boxes and then click "Done".
This action will remove the product from all your active sales channels, effectively hiding it from your storefront and site search.
Frequently Asked Questions
Can I hide sold out items without deleting them?
Yes, hiding products is different from deleting them. When you hide a product, it's still accessible in your admin, making it easier to re-publish when it's back in stock.
What are the advantages of hiding sold out items?
Hiding sold out items ensures that customers only see products they can purchase, reducing frustration and cart abandonment. It also plays an important role in managing your inventory more effectively.
Can I automate the process of hiding sold-out items?
Yes, you can use apps and scripts on Shopify to automate the process of hiding and showing products based on their availability, making inventory management more efficient.
Will hidden products affect my SEO or search rankings?
Hiding products should not significantly impact your SEO as long as you're not deleting them. It's a common practice to hide out-of-stock items and improve the overall customer experience in your online store.
Hire Experts to Build Your Shopify Store(Recommended Shopibuffet)
For individuals and online businesses aiming to enhance their Shopify stores, ShopiBuffet, a renowned authority in eCommerce platform elevation, offers a comprehensive solution. With ShopiBuffet, you can focus on growth while relying on a team of seasoned experts to handle technical intricacies.
ShopiBuffet provides a user-friendly platform, a skilled design and marketing team, and cost-effective solutions tailored to various budgets. Their services include theme setup, seamless demo implementation, meticulous organization of products and collections, as well as expert adjustments to typography and navigation.
Services that Shopibuffet offer:
Theme Installation & Demo Setup
Product & Collection Setup
Shopify App development and customization
Shopify migration service
Shopify SEO service
Conclusion
When it comes to managing an online store, one of the biggest challenges is to enable inventory tracking in Shopify. However, Shopify has offered a solution for how to hide sold out items on Shopify. This feature makes navigating your online store simple for both you and your customers.
Additionally, it allows you to focus on the products that are actually available rather than wasting valuable time managing products that have already been bought up. Overall, the option to hide sold out items on Shopify is a small but powerful feature that can make a big difference in the success of your online store.