District is a popular Shopify theme that offers a clean and minimalist design. However, some users may find it too simple or lacking in features. Some options are available if you're looking for a more robust alternative. Several options are available if you want an alternative to the District Shopify theme.
In this article, we'll look at some of the best District Shopify theme alternatives on the market and compare their features. Of course, every store is different, so you'll need to evaluate which theme suits you based on your specific needs.
What is District Shopify theme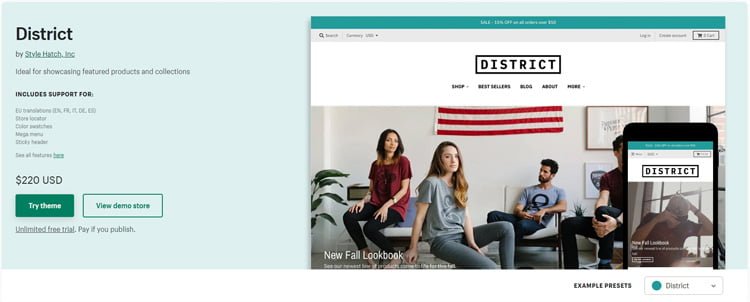 District is a responsive Shopify theme designed to provide businesses with a user-friendly shopping experience. The District Shopify Theme is built on the latest version of Shopify, so it's fast and easy to set up. This Shopify theme offers a clean and modern design optimized for mobile devices, making it easy for customers to browse and purchase products on the go.
List of best 5 alternatives district Shopify theme
There are many great Shopify themes available in the market. But if you're looking for alternatives to District Shopify theme, the mentioned Shopify themes are the best options. These alternative district themes are worth considering and customizable. Each theme has a unique style and set of features, so browse through them to find the perfect one for your store.
Here are five of the best alternative District Shopify themes:
Lezada – Fully Customizable Multipurpose Shopify Theme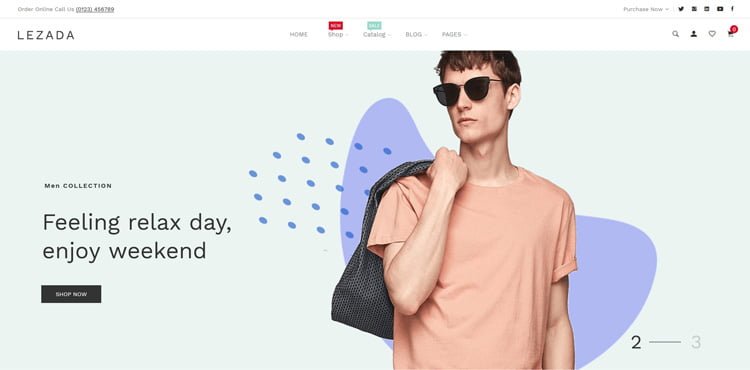 Lezada is a multipurpose Shopify theme that makes it easy to create a stunning website. This theme is perfect for selling electronics, digital products, fashion items, skincare products, and all kinds of retail goods.
This Shopify theme comes with ready-made pages, including 220 home versions, 11+Revolution sliders, 40+ drag and drop sections, RTL version, 10+ header variations, and 6+ footer variations. Lezada is also built with Bootstrap 4, CSS3, HTML 5, and W3C-validated markup. This Shopify theme is up to date and available on the latest Shopify store 2.0.
Feature List
Ajax Wishlist
Quickview
Newsletter Popup + Section
DropShipping
Affiliate
Contact map (google map API)
Shortcodes
15+ Preloader
Color Swatches,
Google Analytics
Helps to build websites like Amazon or AliExpress
Multilanguage Supported
Well Commented
HTML and CSS files
Neat, clean, and simple design
Creative and Modern Flat Design
Fully Responsive and mobile-first
Cross Browser Optimization,
SEO Optimized
Price: Lezada offers two license for users:
Regular License: $49
Extended License: $2850
Corano – Jewelry Store Shopify Theme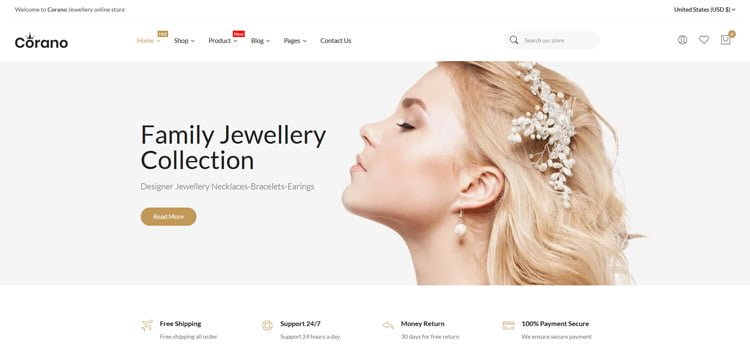 Corano is the perfect Shopify theme for online jewelry stores. It comes with 08 unique homepage variations, RTL support, and all the must-have features you need to adorn your e-commerce site.
Corano contains all the essential web pages for a standard e-commerce site, making it easier for you to manage your store without requiring code edits, elaborate work arounds with blocks, or custom apps to add sections to other pages.
With Corano, you'll get an About Us Page, Contact Page, Blog Page, Shop Page, Coming Soon Page, and more. You'll find all the features necessary to create a successful online jewellery store.
Feature List
Quick Install
Dark Version
Christmas Version
Shopify Sections
Multi Colors
Newsletter Popup
Notification Bar
Multiple Currency
Ajax Popup Cart
Ajax Wishlist
3 Types Header
Mega menu
Slideshow
Collection Banner
Multiple Banner
Custom Tab
Shortcodes
Coming Soon page
Preloader
Price: Corano offers two license for users:
Regular License: $48
Extended License: $1500
LeArts – Handmade Shop Shopify Theme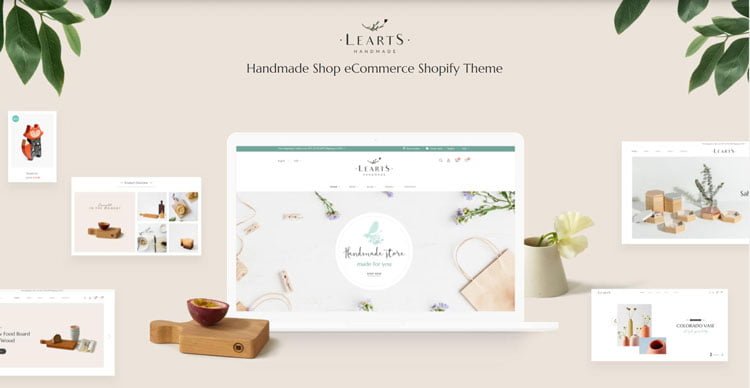 LeArts is a beautiful Shopify theme for online stores selling handmade gifts, furniture, and art design studio. The design of the LeArts theme is elegant and lively, perfectly capturing the creative spirit of craftsmanship.
This Shopify theme includes pre-made homepage layout options to find the perfect look for your store. LeArts is also packed with features that make running your store more accessible, such as product filtering and a user-friendly checkout process.
Feature List
13+ Home Versions
50+ Drag & Drop Section
RTL Version
Box Layout
13+ slider Variation
20+ Banner Variation
6+ Header Variation
6+ Footer Variation
19+ Preloader
Google Analytics
Well Commented HTML & CSS files
Ajax Popup Cart
Related product
Quick Install
Shopify Builder
DropShipping
Facebook comment
Disqus Comment
Product review
Custom Tab
Related product
Price: LeArts offers two license for users:
Regular License: $39
Extended License: $2250
Devita- Multipurpose Responsive Shopify Theme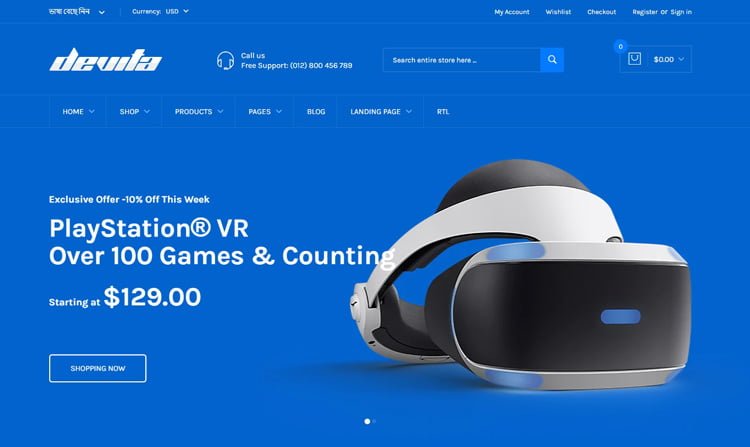 Devita is a great eCommerce website Shopify theme and has an excellent color palette. It's a massive and redundant Shopify theme with almost every feature you can imagine.
Using Devita eCommerce Shopify Theme you can sell Electronic Products, Gadgets, Watches, Fashion Products, Sunglasses, Shoes, Men and Women's under garments, Smartphones, Bicycles, Books, Movies, Construction Tools, Food Items, Ornaments, etc.
In addition, Devita exclusive Shopify Theme includes Ajax Cart, Google Font, Google Map, Icon Font, Short Code, Cross Browser Optimization, 15+ Pre Loader Well Documentation, Product Video, and many more options.
Feature List
Shopify Builder
Section Drag & Drop
Unlimited Color
Newsletter Popup
Top Notification Bar
Multiple Currency
Dropdown Menu
Custom HTML Section
Latest Blog
Ajax Cart
Ajax Wishlist
Shop Grid/List View
Collection Sorting
Shortcodes
15+ Pre-loader
Google Analytics
Responsive Design
User Friendly
Creative Design
Icon Font
Contact Form
Clean Markup
Free Updates
Real Support
Price: Devita offers two license for users:
Regular Licence: $39
Extended Licence: $2400
Makali – Multipurpose Shopify Theme OS 2.0
Makali is a perfect solution for all your eCommerce needs. This Shopify theme is immaculate and beautifully designed. It can be used to create any kinds of website for selling Electronics, Cosmetics, Furniture, Jewelry, Organic Products, Digital Products, Fashion Products, Handmade Products, Books, Toys, and any retail products.
Makali – General Purpose Your store Shopify Theme comes packed with some fantastic features. Some of its features include 60+ Home Versions, 40+ Drag and Drop sections, 14+ Header Variations, 4+ Footer Variations, and Support for RTL Version. With Makali, you can easily create a professional and sophisticated online store to impress your customers.
Feature List
Latest Blog
Ajax Popup Cart
Ajax Spinner Cart
Redirect Add To Cart
Newsletter Popup + Section
Product Share
RTL Version
Breadcrumb banner
Collection Sorting
Facebook comment
Disqus Comment
Product review
Custom Tab
Shopify Builder
Theme Colors
Unlimited Colors
DropShipping
Shortcodes
15+ Preloader
Google Analytics
Well Commented HTML & CSS files
Neat, clean and simple design
Creative and Modern Flat Design
Fully Responsive
Cross Browser Optimization
Price: Makali offers two license for users:
Regular License: $48
Extended License: $1750
FAQ about District Shopify theme
Can I use District Shopify theme for free?
You can use District Shopify theme free trial that is unlimited.
What is the main difference between district and other Shopify themes?
The main difference between the District Shopify theme and other themes is that it offers a more streamlined, professional design that is perfect for online stores. Different Shopify themes determine how your website looks and feels to customers visiting your store. They offer different styles and layouts. Also, each theme offers a different UX and customization. Some Shopify themes offer high customization, such as District Shopify Theme.
Which Shopify theme should I choose for my online store?
There are so many great Shopify themes available it can be challenging to choose just one for an online store. But if you're looking for a stylish and versatile theme, the District theme is a great option.
Final thought
The best alternative district Shopify theme meets your specific needs. Each business is unique, and therefore each store will have different requirements. Some themes may offer more features than others, so you must consider what you need before purchasing. Additionally, read reviews and compare prices to ensure you get the best value for your money. By considering these factors, you can be sure to find a theme that will help your business succeed.