Ready to take your dropshipping business to the next level? Then you need a Shopify theme that's optimized for eCommerce success. The right theme can help you dramatically improve your conversions and maximize your reach. To help you get off on the right foot, we rounded up the 10 best Shopify themes for dropshipping eCommerce stores.
The 10 Best Shopify Themes for Dropshipping eCommerce Sites
Mavon
For dropshipping website owners looking to stand out in the competitive world of eCommerce, Mavon Shopify Theme is the perfect solution. Designed with customization in mind, this Shopify theme allows store owners to create a unique storefront that puts their merchandise on full display. With over 20 adaptable sections to choose from, you have complete control over the look and feel of your store.
This theme boasts a variety of features such as product reviews, stock counters, and promo popups that are designed to increase your sales and help your business thrive. Whether you have a small dropshipping store or a larger enterprise, Mavon has all the necessary features to help you succeed. Plus, with the Theme promise, you can rest easy knowing that your website will always be updated and synced with the latest Shopify features.
Mavon is both speed and mobile-optimized, ensuring that your shoppers have a seamless experience no matter where they are or what device they're using. If you're serious about making an impact with your dropshipping website, Mavon Shopify Theme is an essential tool in your arsenal.
Key Features:
20+ Flexible Sections
Color swatches
High-resolution images
Lookbooks
Sticky Header
Breadcrumbs
Product filtering and sorting
Countdown timer
Cross-selling
Regular Price: $280
Lezada
When it comes to building a successful dropshipping website, the theme you choose can make all the difference. That's why many dropshippers turn to Lezada, one of the best Shopify themes for dropshipping. This multipurpose theme offers a wide range of features and customization options that can help you create a website that stands out from the crowd.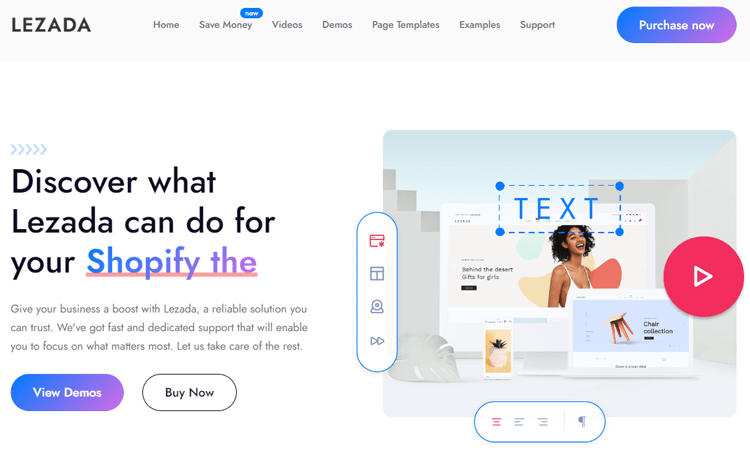 From easy-to-use navigation to eye-catching product displays, Lezada is designed to make your eCommerce site user-friendly and visually appealing. And with added tools like detailed documentation and Google Analytics, you can simplify your tasks and gain valuable insights to improve your overall performance.
If you're looking for a theme that can help take your dropshipping business to the next level, Lezada is one option that should be considered.
Key Features
Multi-language Supported
Well Commented HTML and CSS files
Neat, clean, and simple design
Creative and Modern Flat Design
Fully Responsive
Pricing: $79
LeArts
LeArts Handmade Shopify theme is considered one of the best Shopify themes for dropshipping, especially for those looking for a beautiful and inspiring design that is perfectly tailored to the creative and artistic nature of handmade crafts. This theme features multiple pre-made homepage layouts, which allow dealers to have a personalized website that enhances their branding and product presentation.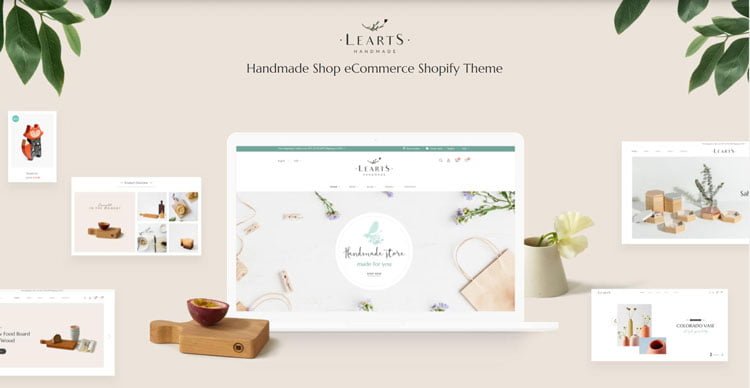 The design of this theme is elegant and lively, perfect for building online handmade gift shops, furniture stores, art design studios, and other creative businesses. With this theme, you can impress your audience with a beautiful website and increase your sales and profits. Try it out now and see the difference it can make!
Key Features
Services
Testimonial
Latest Blog
Instafeed
Ajax Popup Cart
Pricing: $49
Corano
When it comes to finding the best Shopify themes for dropshipping, Corano is definitely a top contender. Specifically designed for online jewelry retailers, it features 8 different homepage versions- including an RTL version – and all the essential features needed to run a successful online store.
Adding to the professional look are theme colors that are fully adjustable to match any branding. Plus, with a Newsletter Popup at your disposal, you can keep customers up-to-speed on the latest news and deals. With Corano, taking your Shopify store website to the next level is simple. What sets Corano apart from other themes, however, is fully adaptable and cross-browser compatible features.
These attributes ensure a seamless surfing experience for users on any device or browser, making it a smart investment for any dropshipper looking to build a professional and user-friendly site.
Key Features
Multi Colors
Newsletter Popup
Notification Bar
Multiple Currency
Ajax Popup Cart
Pricing: $59
Bardy
When it comes to starting a dropshipping business, having a clean and professional eCommerce theme is essential. That's why Bardy is one of the best Shopify themes for dropshipping, especially if you're selling beard oil. It's sleek design and strong features make it a standout option for displaying your company website and attracting potential buyers.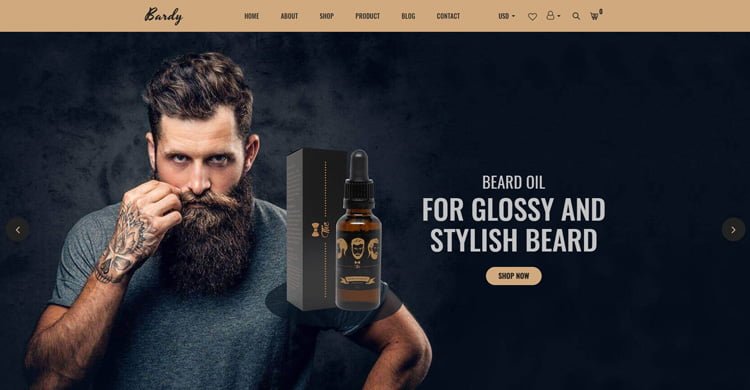 With Bardy's drag-and-drop capabilities, theme color options, newsletter popups, and support for multiple currencies, selling products online has never been more accessible. Plus, features like the dropdown menu and megamenu make it easy for customers to navigate your site and find exactly what they're looking for. And with a slider and featured product section, you'll be able to highlight your best products and drive sales.
So, If you're looking for a top-notch eCommerce theme for your dropshipping business, Bardy should definitely be at the top of your list.
Key Features
Dropdown Menu
MegaMenu
RTL Version
Slider
Featured Product
Pricing: $48
Plantmore
Plantmore – Flower Nursery Christmas Shopify Theme is an exceptional dropshipping theme that you will not regret implementing in your store. It boasts a responsive design and smooth animations that are sure to enhance your customers' browsing experience.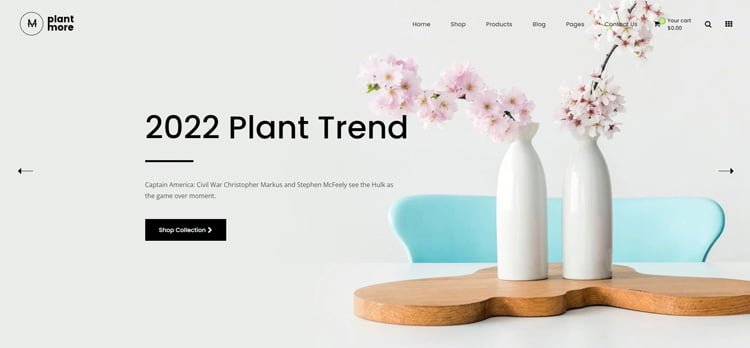 With a responsive Shopify theme that is as versatile as this, you can utilize it on your plant store, flower store, ornamental plant store, gardening or landscaping-related website. Its uniqueness and modernity are certain to make your online store stand out.
With its 9 home versions and single RTL versions, it's incredibly versatile. You'll also find useful features like a 404 page, 6+ unique sliders, and 15+ preloaders. Additionally, it includes Quick Install, Sections, Multiple Currency, Ajax Cart, Product Countdown, Color Swatch Option, Service Page, FAQ Page, Built Based on Bootstrap 4, and Contact Map.
All these features will give you a great experience and make your dropshipping business so much smoother with Plantmore.
Key Features
5+ Header
Sections
Drag & Drop
Theme Color Options
Newsletter Popup
Multiple Currency
Pricing:
Regular license: $48
Extended license: $2400
Naturecircle
Naturecircle is an exceptional dropshipping theme that has the power to transform your online business. With its extensive range of exclusive features, you can take your store to new heights and create a truly memorable user experience. With 6+ unique home variations, 3 header variations, and 2 slider variations, you can create a store that truly stands out from the crowd.
Naturecircle multipurpose Shopify theme also includes preloader options, variable product support, and a handy, frequently asked questions page to help your customers find the answers they need. With quick install options, Shopify Builder, support for RTL languages, and multiple currencies, this theme has everything you need to succeed. Whether you're just starting out or looking to take your store to the next level, Naturecircle is an excellent choice.
Key Features
Notification Bar
Ajax Popup Cart
Ajax Wishlist
Quickview
RTL Support
Slideshow
Multiple Currency
Pricing:
Regular license: $48
Extended license: $2400
Devita
Devita is a stunning dropshipping theme that manages to captivate its patrons with its plethora of features. The well-documented theme is both professional and colorful, with their drag and drop section and unlimited color options that allow businesses to customize their online stores according to their brand's identity. Devita also has numerous features that cater to a variety of needs, such as the newsletter popup, multiple currency options, and a fully-functional dropdown and mega menu.
With its Ajax cart, Google Map, and Icon Font that offer a smooth interface, Devita is sure to provide an exceptional customer experience for all its users. Its Cross Browser Optimization also allows businesses to reach a wider audience effortlessly. Devita is the perfect dropshipping theme that has everything businesses need to create a robust online store that stands out from the rest.
Key Features
Shopify Builder
Section Drag & Drop
Unlimited Color
Typography (Shopify Font Library)
Newsletter Popup
Top Notification Bar
Pricing:
Regular license: $39
Extended license: $2400
Phuler
If you are looking to create a professional-looking dropshipping website, the Phuler Shopify Theme is most definitely a wise choice. With its flexibility, it allows you to customize your online store to match your preferences, as well as cater to the needs of your target audience. What's more, the Dark Version, which is a recent addition, is perfect for creating a sleek and modern feel to your site.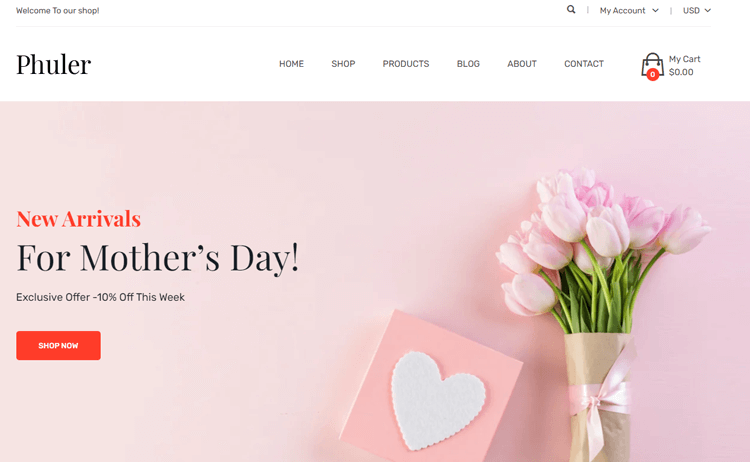 Leveraging on the extensive pre-designed Homepages, you can rapidly set up shop with the added benefit of Bootstrap4-based Phuler's intuitive features. With two unique and impressive Home Versions, you can enhance your users' shopping experience and offer them a slideshow highlighting the most charming flowers, new arrivals, hot deals, exclusive offers, and critical discount information.
Key Features
Header Style
Dropdown Menu
MegaMenu
MegaMenu With Image
Sections
Unique slider
Pricing:
Regular license: $48
Extended license: $2400
Airi
When it comes to creating a successful dropshipping website, having all the necessary requirements is crucial. This is where Airi comes in. This unique Shopify dropshipping theme not only supports you in fulfilling your demands and dreams, but it also comes with innovative features and animations that will make your website stand out.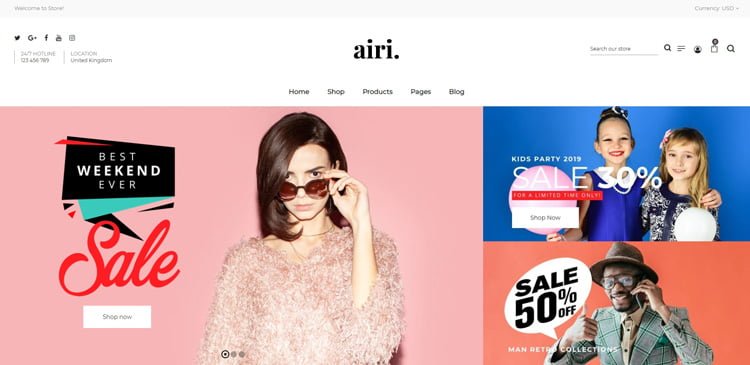 With over 24 home page layouts, 6 header styles, 6 footer styles, and 50+ sections, Airi allows for ultimate customization. It even offers preloaded features such as Newsletter Popups, Ajax Popup Carts, QuickView, and Multiple Banners. Additionally, this theme supports Google Analytics, Facebook Comments, Contact Maps, and more. Trust Airi to give your dropshipping website the professional edge it deserves.
Key Features
24+ Home Page
Revolution Slider
Box Style
Newsletter Popup
Notification Bar
Ajax Popup Cart
Pricing:
Regular license: $48
Extended license: $2400

How to Choose the Right Shopify Theme for Your Dropshipping Business
As an entrepreneur starting a dropshipping store, one of the key decisions you'll have to make is selecting the right theme for your Shopify store. It's important to keep in mind that your theme will largely influence the look, feel, and experience that your customers have on your site.
Choosing a Shopify theme dropshipping that is visually appealing, easy to navigate, and optimized for conversions can make the difference between closing a sale and losing a customer. It's critical to take the time to evaluate the available options and, whether by yourself or with the help of a Shopify expert, make an informed decision that aligns with your brand and business goals. Here are some considerations:
Determine the needs and goals of your dropshipping business, such as branding, product showcase, and sales conversion.
Look for features that are essential for a dropshipping business, such as easy navigation, product filtering and sorting, quick view option, and customer review integration.
Read reviews and ratings of the Shopify dropshipping store theme from other users, as it can help you gauge its reliability and effectiveness.
Consider the level of customization provided by the theme, as it can affect how well it matches your branding and business needs.
Look for themes that offer customer support and documentation, as it can help you troubleshoot any issues that may arise during setup or customization.
Check the dropshipping theme's pricing, as some themes may come with additional costs for updates or premium features.
Get Excellent Shopify Services from ShopiBuffet
ShopiBuffet is the perfect destination for those seeking excellent Shopify services for your eCommerce website that are sure to meet and exceed expectations. Whether you are launching your store for the first time or you need upgrades and optimizations for your existing store, ShopiBuffet has got you covered. With the help of their experts, you can rest easy knowing your eCommerce store is in good hands.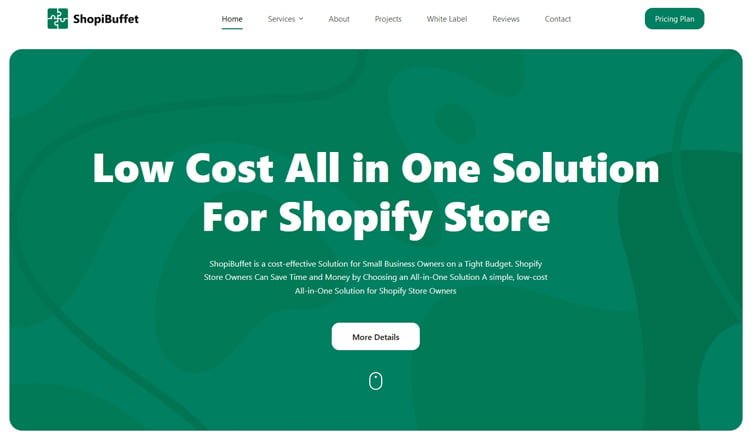 Their team offers a wide range of services such as custom Shopify design and development, app integrations, digital marketing, and more. They specialize in designing and developing multipurpose Shopify themes that effectively showcase your brand and products. Trust ShopiBuffet to provide you with unmatched services and watch your business grow.
Wrap Up
The journey towards launching a successful dropshipping eCommerce site can be daunting, but choosing the right Shopify theme can make all the difference. After doing extensive research and testing, we have compiled a list of the 10 best Shopify themes for dropshipping. Each theme offers unique features that cater to different needs and preferences, including user-friendly interfaces, customizable layouts, and sleek designs.
Our team has carefully evaluated each theme to ensure that it enhances the user experience and improves sales. From minimalist to bold, our top 10 picks are sure to elevate your dropshipping business to new heights. Investing in the right Shopify theme is a crucial step towards achieving long-term success in the competitive world of eCommerce.