Selecting the right theme is key to the success of any online store. Shopify offers numerous free and premium themes, but choosing the best one can be overwhelming, especially if you're looking for a premium one. In this article, we have compiled a list of the best premium Shopify themes that will help you create a professional-looking and high-converting eCommerce site quickly and easily.
What are premium Shopify themes
Premium Shopify themes are high-quality website designs that you can purchase to give your online store a professional image. These themes come with built-in features that make it easy for you to customize and personalize the look and feel of your online storefront.
Unlike free themes, premium Shopify themes often offer more customization options, giving you more control over the appearance and functionality of your store. With a premium Shopify theme, you can create a powerful and attractive eCommerce website that is sure to impress your clients and drive sales.
How premium Shopify themes differ from free themes
Premium Shopify themes differ from free themes in several ways:
Design and Customization Options:
Premium themes often offer more visually appealing and professional designs compared to free themes. They may have a wider range of customizable elements, such as header styles, color schemes, typography options, and layout variations. This fuctionalities allows you to create a unique and personalized online store.
Advanced Features and Functionality:
These themes typically come with advanced features and functionality that enhance the user experience and provide more robust eCommerce capabilities. These may include advanced product filtering, product image zoom, quick view options, built-in social media integration, product recommendation systems, and more. Free themes usually have more limited features and may not offer as many customization options.
Responsiveness and Mobile Optimization:
These paid themes are designed to be responsive, ensuring that your online store looks and functions well on different devices, including smartphones and tablets. They undergo rigorous testing and optimization to ensure a seamless user experience. Free themes may not have the same level of responsiveness and may require additional customization to optimize for mobile devices.
Support and Updates:
These Paid Shopify themes often come with dedicated support from the theme developers. This means you can reach out to them for assistance, troubleshooting, and guidance when setting up or customizing your theme. Additionally, premium Shopify themes tend to receive regular updates to address bug fixes, security patches, and compatibility with the latest versions of Shopify. Free themes may not provide the same level of support and updates.
Integration with Third-Party Apps:
Premium themes are often designed to seamlessly integrate with popular third-party apps and services, such as email marketing platforms, reviews and rating systems, analytics tools and more. This integration can enhance the functionality and marketing capabilities of your online store. While some free themes may offer limited integration options, premium themes tend to have broader compatibility with a wider range of apps.
🚀Boost Your Online Store Sales with Mavon Shopify Theme!
Mavon – Your ticket to success! 🚀 Boost revenue with conversion-focused features and intuitive design, turning visitors into loyal customers.
Key features to look for in a premium Shopify theme
When considering a premium Shopify theme, here are some key features to look for:
Pick a Premium Shopify theme that aligns with your brand and target audience, featuring a visually appealing, modern design. Seek out minimalistic layouts, attractive fonts, and high-quality imagery.
Make sure the Shopify theme you have chosen is completely responsive and suitable for mobile devices. It need to smoothly adjust to various screen sizes and offer a wonderful user experience on PCs, tablets, and smartphones.
Choose a Shopify theme that can be fully customized and provides a variety of customization choices. To complement your brand identity and create a distinctive online store, you can alter the colors, fonts, layouts, and other design aspects.
The theme should feature simple menus and easy-to-use navigation components, as well as intuitive navigation. To improve user experience and make it simple for customers to explore your store, take into account elements like dropdown menus, mega menus, sticky headers, and breadcrumbs.
Opt for a theme that effectively showcases your products, allowing you to display and highlight them in an engaging manner. Look for features such as multiple product image options, zoom functionality, product image galleries, and customizable product page layouts. By providing these elements, you can capture the interest and curiosity of customers, making them more inclined to explore and engage with your products.
10 Best Premium Shopify Themes in Our Pick
Mavon
Meet Mavon, the beauty Shopify theme that is about to change the game for your fashion business. Even if you're not in the fashion industry, Mavon's customizability will make it simple for you to create an online fashion store that truly represents your brand. With user-friendly eCommerce features and optimized properties, building your Shopify site with Mavon is a breeze.
Impressively, the flexible drag-and-drop sections make designing your store a piece of cake. And don't forget about the highlights – Mavon has over 20 flexible sections, a size chart, and lookbooks. It's time to make a change.
Highlighted Features:
20+ Flexible Sections
Size Chart
Lookbooks
Color swatches
High-resolution images
Price: Regular License: $280/ year
Lezada
Creating a stunning website to compete in the growing eCommerce market can seem daunting, but Lezada – Multipurpose Shopify Theme makes it easy. With its classic look demo, you can build a website that will catch the eye of shoppers and give your brand a quality online presence. Not only that, but Lezada offers 15+ preloader options, as well as color swatches and pricing tables.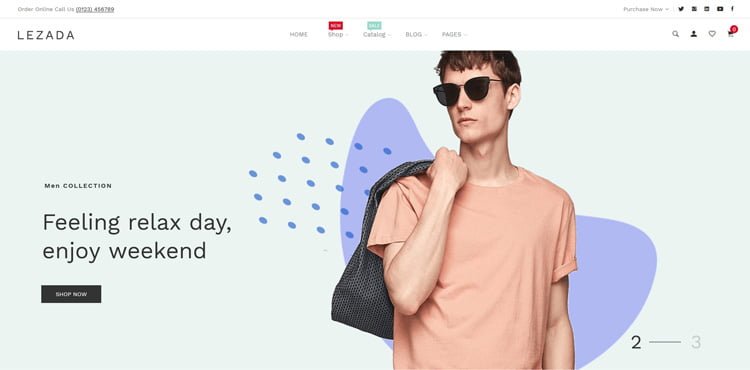 It also supports multiple languages and includes Google Analytics, ensuring that you have all the tools you need to succeed. Its well-commented HTML and CSS files and clean design make for an easy and seamless customization experience.
Highlighted Features:
220 Home Version
RTL Version
Notification Bar
Multiple Currency
Breadcrumb banner
Price: Regular License: $55
LeArts
Creating a website showcasing your handmade goods or art is exciting but daunting. That's where the LeArts Handmade Shopify theme comes in. Its elegant, lively, and creative design perfectly captures the essence of your craftsmanship. This fully customizable Shopify theme offers various pre-made homepage layouts, seamlessly allowing you to tailor your website to your unique brand and style.
Whether you are running an online handmade gift shop, furniture store, or art design studio, this Shopify theme has got you covered. What's more, you can easily customize your blog layout to share your ideas and communicate with your clients better.
Highlighted Features:
Multiple Currency
13+ Home Versions
Shopify Builder
Theme Colors
Unlimited Colors
Price: Regular License: $34
Corano
When it comes to creating a stunning jewelry store online, Corano – Jewelry Store Shopify Theme is the way to go. With 08 unique homepage variations, including the RTL version, you can rest assured that there is a look that will fit your brand perfectly. Plus, thanks to the migration to Shopify Online Store 2.0, you will enjoy all the advanced and updated functionalities that come with it.
This theme is beautiful and practical, as it is fully responsive and cross-browser friendly. Investing in Corano gives you access to amazing eCommerce features like the Shopify builder, theme colors, and Newsletter Pop. With all of these perks, there's no doubt that your customers will have a great browsing experience that will lead to more sales for your eCommerce store.
Highlighted Features:
Mega menu
Slideshow
Collection Banner
Multiple Banner
Banner with Collection
Price: Regular License: $41
Bardy
If you're an eCommerce business owner trying to sell varieties of beard oil, Bardy – Beard Oil Shopify Theme + RTL + Dropshipping is the solution for you. This modern and clean theme not only gives off a sleek and professional look but also eCommerce features efficient and unique options that will leave customers impressed at first glance.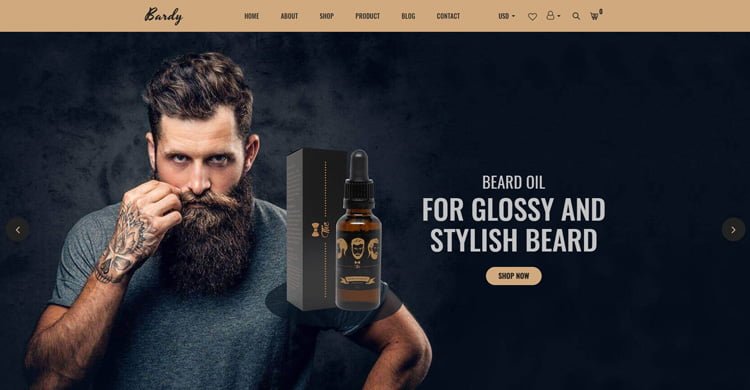 With features like 2 Home Pages and pagination, built based on Bootstrap 4, valid HTML5 & CSS3, and a creative and modern flat design, this theme is perfect for displaying your business and catching the viewer's attention. Furthermore, its neat, clean, and simple design makes showcasing your eCommerce store easy and successful.
Highlighted Features:
Creative and Modern Flat Design
Built Based on Bootstrap 4
Fully Responsive
Cross Browser Optimization
Well Commented HTML & CSS files
Price: Regular License: $48
Plantmore
Plantmore – Flower Shopify Theme is the perfect choice for anyone looking to add charm and elegance to their online store. With its dynamic design and unique animation, this theme is sure to impress customers with its smooth and sleek appearance.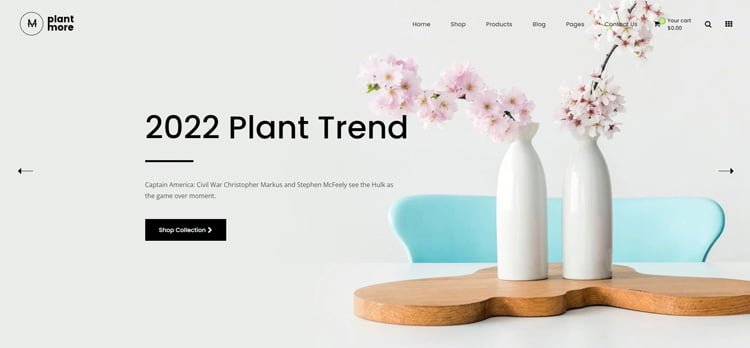 Whether you run a plant store, flower shop, or gardening website, the Plantmore Shopify theme offers a range of customizable options to suit your needs. Plus, features like the newsletter popup, dropdown menu, and multiple currency options make it easy to provide your customers with a seamless shopping experience.
Highlighted Features:
Creative and Modern Flat Design
Built Based on Bootstrap 4
Fully Responsive
Cross Browser Optimization
Price: Regular License: $48
Devita
If you're looking for a versatile and visually stunning Shopify theme, look no further than Devita. This eCommerce website theme boasts an impressive color palette and an abundance of impressive features such as Ajax Cart, Google Font, and Cross Browser Optimization.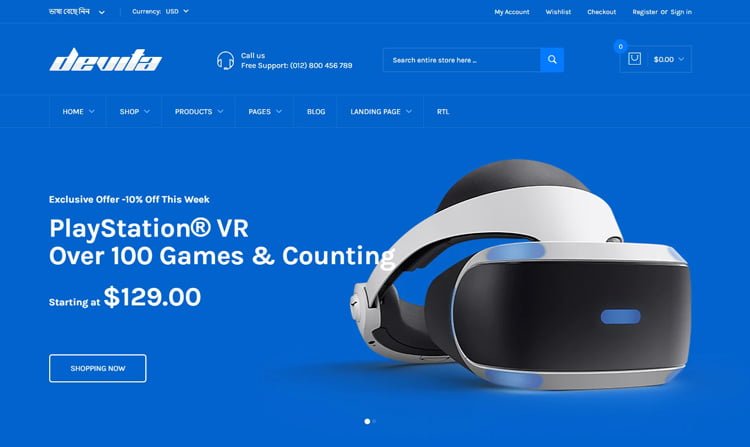 With 15+ preloader options and easy-to-follow documentation, you can create a seamless shopping experience that's sure to impress your customers. Whether you're a seasoned eCommerce pro or just getting started out, Devita is the perfect choice to bring your online store to life. So, let's start bringing your eCommerce dreams to reality!
Highlighted Features:
Custom HTML Section
Testimonial
Latest Blog
Ajax Cart
Price: Regular License: $39
Phuler
With its impressive range of features, Phuler Shopify Theme is an excellent choice for online store owners looking to make their websites stand out. This theme is built using Bootstrap 4, offering an unparalleled level of flexibility, and includes a dark version with a range of pre-designed homepages to choose from.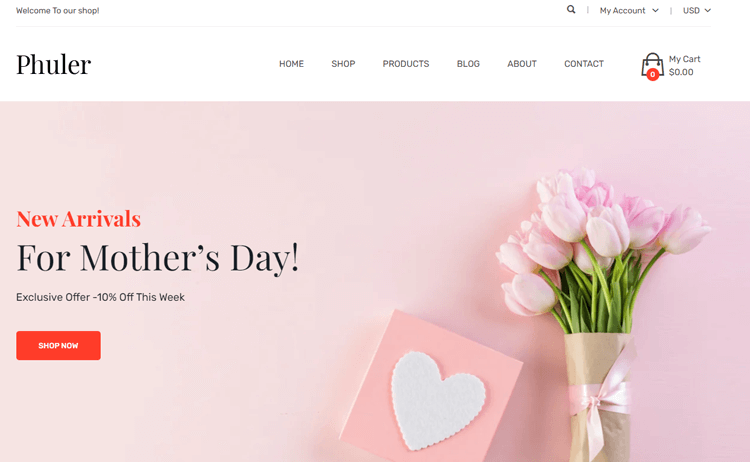 The two unique and impressive home versions are packed with intuitive features, and you can breathe easy knowing that your website will be fully responsive and optimized for cross-browser compatibility. The neat, clean, and simple Shopify store design is creative and modern, providing customers with an easy-to-use shopping experience. With its 15+ preloader options and integration with Google Analytics, Phuler is a one-stop shop for all your online store needs.
Highlighted Features:
15+ Preeloader
Google Analytics
Neat, clean, and simple design
Creative and Modern Flat Design
Fully Responsive
Price: Regular License: $48
Airi
Boost your online business with Airi – a sleek and minimalistic Shopify theme that will make your eCommerce website stand out. Created with responsive design, this theme looks beautiful on any device and offers a fresh, clean aesthetic that will captivate potential buyers. Whether you're new to website building or a seasoned pro, Airi is user-friendly and easy to install, meaning you can quickly start growing your online presence without any prior experience.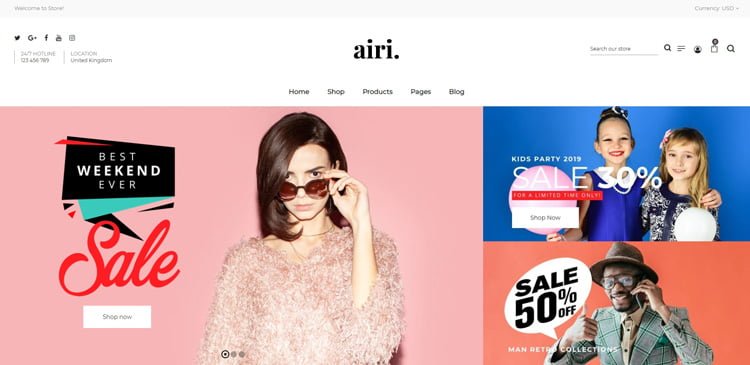 With helpful shortcodes, preloader options, and the ability to integrate Google Analytics, you're well on your way to building an online store that customers will love. Plus, with cross-browser optimization and detailed documentation, there's no question that Airi offers top-quality support for your eCommerce needs. Get started today and see how Airi can take your business to the next level.
Highlighted Features:
Testimonial
Latest Blog
Instagram
6+ Footer Style
Breadcrumb banner
Price: Regular License: $48
Sinp
Sinp is a Shopify theme that will catch your eye with its unique and stylish design. With 4+ homepage layouts and 5 sliders, you can customize your site just as you want. The mega menu adds extra convenience to your visitors when navigating through your site.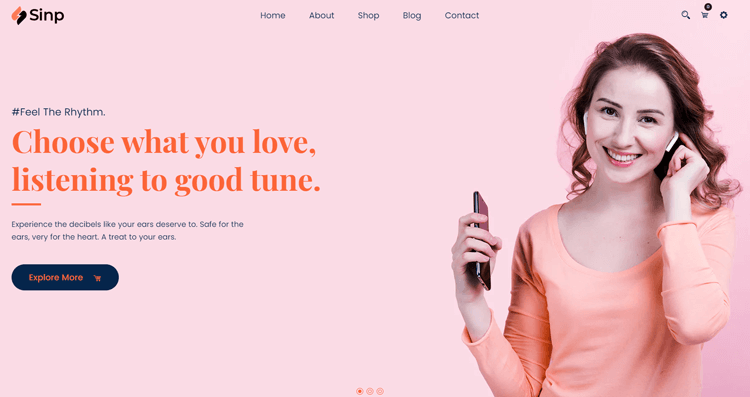 The owl carousel slider is a showstopper with its stunning images and clickable call-to-action button. On top of all that, the homepage features a product category block, a featured category block, a countdown timer, and even an excerpt from a blog post. With Sinp, you'll be able to showcase your Shopify store in a beautiful and effective way.
Highlighted Features:
Multiple Currency
Dropdown Menu
MegaMenu
5+ Unique slider
Featured Product
Price: Regular License: $39
Frequently Asked Questions
Why should I use a Premium Shopify Theme?
By using a Premium Shopify Theme, you can create a professional-looking online store with ease and without the need for extensive coding knowledge. The themes are designed to be visually appealing, user-friendly, and optimized for conversion, which can help increase sales and grow your business.
How do I choose the right Premium Shopify Theme for my store?
When choosing a Premium Shopify Theme, consider your brand's aesthetic and target audience. Look for Shopify themes that provide the necessary features and functionality, such as product filtering or advanced mobile optimization. Make sure the theme is compatible with any third-party apps you plan to use.
Can I customize a Premium Shopify Theme?
Yes, Premium Shopify Themes can be customized using the Shopify Theme Editor, which allows you to change your store's colors, fonts, and layout. You can also add custom code if needed.
Final Words
In conclusion, choosing a theme from the best Premium Shopify themes for your online store can make a significant difference in your business's success. With sleek designs, customizable options, and advanced features, these themes offer a professional look and feel that can help you stand out in a crowded eCommerce market.
Whether you're looking for a theme that prioritizes user experience or one that highlights your products' visuals, there's a premium option out there for everyone. Upgrade your Shopify store with a premium Shopify theme today!