Are you looking for an easy and affordable way to build an eCommerce business? Look no further! Shopify Free Themes offer an array of themes to choose from that will instantly elevate your website's look and feel. From clean and modern designs to creative color palettes, these Shopify Free Themes are sure to jazz up your online store. Read on for our top 7 picks of the best Shopify Free Themes.
Benefits of Using Shopify Free Themes
Using free themes on the Shopify platform offers several benefits for businesses:
Cost Savings
Cost savings is the most evident advantage of choosing free Shopify themes. These themes are offered without charge, enabling companies to launch an online store without having to pay upfront for a premium theme.
Quick Setup
Free Shopify themes are made to be intuitive and simple to install. They make it easier to launch your store quickly because they provide pre-designed themes and layouts. Simply select a theme that works for your brand and begin modifying it to meet your needs.
Mobile Responsiveness
Free Shopify themes are created with mobile users in mind, which means they will automatically adjust and present themselves correctly on various devices and screen sizes. This is essential in the mobile-first world of today since it ensures a
Design Customization
Free Shopify themes still include basic customization options, albeit possibly having more restrictions than paid themes. Colors, typefaces, and other visual components can be changed to reflect your brand identity better and give your online store a distinctive appearance.
Compatibility and Updates
Shopify itself creates and maintains the free Shopify themes. By doing so, compatibility with Shopify and other eCommerce platforms and its features is guaranteed, and frequent upgrades are made to fix any bugs or security holes. You may be sure that the theme will integrate seamlessly with Shopify and keep up with the most recent updates.
🚀Boost Your Online Store Sales with Mavon Shopify Theme!
Mavon – Your ticket to success! 🚀 Boost revenue with conversion-focused features and intuitive design, turning visitors into loyal customers.
How to Choose the Right Theme
When choosing the right theme for your website, consider the following steps:
Define Your Requirements
Start by clearly defining your website's goals and requirements. Consider the type of website you're building (e.g., blog, eCommerce, portfolio) and the specific eCommerce features and functionality you need. This will help you narrow down your options and focus on Shopify themes that align with your goals.
Consider Design and Visual Appeal
Evaluate the design aesthetics of the themes you're considering. Look for a design that matches your brand identity and appeals to your target audience. Consider factors like color schemes, typography, layout options, and overall visual appeal. Choose a theme that reflects the style and image you want to portray.
Responsiveness and Mobile-Friendliness
Ensure that the theme is responsive, meaning it adapts well to different screen sizes and devices. With the increasing use of mobile devices, it's essential to provide a seamless browsing experience for users on smartphones and tablets. Test the theme's responsiveness on various devices to ensure it displays correctly.
Customization Options
Look for Shopify themes that offer customization options. Check if you can easily modify the theme's colors, fonts, layouts, and other visual elements to match your branding and personal preferences. Themes that provide flexibility in customization allow you to create a unique and personalized website.
Features and Functionality
Consider the features and functionality included in the theme. Look for eCommerce features that are essential to your website, such as built-in page builders, portfolio layouts, eCommerce integration, blog post formats, social media integration, and more. Ensure that the theme provides the necessary functionality to achieve your website goals.

7 Top Shopify Free Themes
Mavon
Mavon is the revolutionary Shopify theme that will revolutionize your online fashion boutique. Even if fashion isn't your industry, you can't deny the appeal of Mavon's customizability. No more cookie-cutter online stores draining the life out of your brand. Mavon ensures your online presence represents your brand to the fullest, with easy-to-use eCommerce features and optimized properties.
You can try Mavon for free before making your store live. Mavon's drag-and-drop feature makes designing your store so intuitive your dog could do it. With 20+ flexible sections, a size chart, and lookbooks, Mavon is perfect for presenting your brand's personality. Give your online store a much-needed facelift with Mavon.
Highlighted Features:
20+ Flexible Sections
Size Chart
Lookbooks
Color swatches
High-resolution images
Price: Free trial version
Regular License: $280/ year
Spotlight
Welcome to the world of eCommerce with Shopify's Spotlight theme! It is one of the popular Shopify Free themes in this era. With its clean and efficient design, your products will take center stage. This stylish yet effortless free eCommerce design makes the shopping experience for your buyers streamlined and hassle-free. The best part? You can launch your store in mere minutes with its simple layout.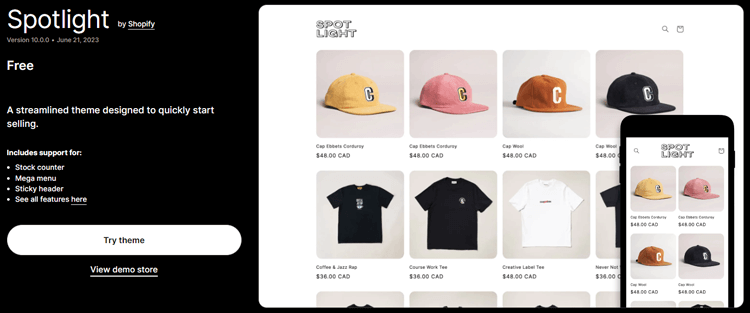 All it takes is a short brand description, and you're ready to start selling! And if you're looking for more advanced options, no worries – Shopify's Spotlight theme has got you covered. With flexible design and customization settings, you can achieve your desired vision without having to touch any code. It couldn't be easier to create an online store that's both beautiful and functional!
Highlighted Features:
Clean and efficient design
Advanced customization options
High-resolution images
Image galleries
Mega menu
Price: Free
👉 Check How to Backup Your Shopify Theme: Quick and Easy Ways
Refresh
With powerful headlines and a muted color scheme that place emphasis on your products, the Refresh Shopify theme allows you to make a bold brand statement for your business. Additionally, your clients will have all the information they need to make knowledgeable purchasing decisions by highlighting product specifics and exhibiting everything from user testimonials to unique eCommerce features and more.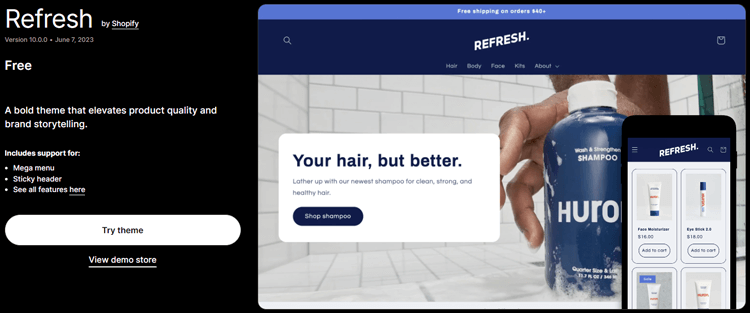 Additionally, versatile design and customization choices offered by extensive customization options will assist your store in maintaining a perfect alignment with your distinct brand vision. So go ahead and upgrade your store as it deserves to be updated – the options are unlimited!
Highlighted Features:
Clean and efficient design
Emphasize product details
Share testimonials
Mega menu
Sticky header
Price: Free
👉 Read How to Add Shipping Policy on Shopify
Sense
Sense Shopify theme is a fresh and vibrant design that will make your brand is sure to stand out from the competition. The soft gradients and curved elements add a touch of elegance, making it easy for buyers to navigate your virtual storefront.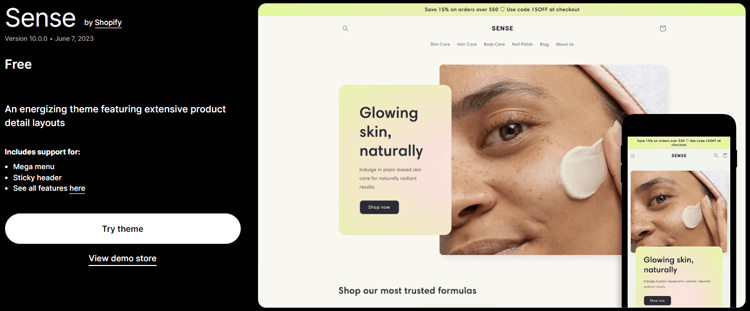 You can also establish trust with your customers through testimonials, videos, and detailed product descriptions. Don't worry about complicated coding – the advanced customization options allow you to adjust the design to your liking without any technical hassle. Energize your store and take it to the next level with Sense.
Highlighted Features:
Fresh and bright design
Enhanced product understanding
Advanced customization options
Cart notes
In-store pickups
Price: Free
👉 Learn How to Add Video on Shopify Product Page: A Comprehensive Guide
Ride
The Ride Shopify theme is the perfect solution for sports enthusiasts who want their merchandise to stand out. With its sleek and modern design, your sporting goods will pop on the page, catching the attention of potential customers.
What sets this theme apart is its innovative and flexible layout. With customization options aplenty, you can showcase not just your products, but also your team or anything in between. The best part? You don't need to know any coding or programming to achieve the desired look. The Ride free eCommerce Shopify theme offers advanced customization options, putting the power in your hands.
Highlighted Features:
Fresh and bright design
Mega menu
Sticky header
Cart notes
In-store pickups
Price: Free
👉 Read How to Add Notes Section on Shopify in a Few Simple Steps
Dawn
When it comes to showcasing your products online, you want a theme that puts them front and center. That's why Dawn, the Shopify theme, is the perfect solution for businesses looking for a minimalist yet chic design. With large imagery, crisp lines, and simplified fonts, this theme ensures that your products are the main attraction.
Plus, the media-forward product page features large images to help customers see and feel your products better. And if you want to customize the design to match your brand's vision, Dawn offers advanced customization options without the need to touch any code. On top of that, the mega menu and sticky header add extra practicality to the mix. So why not let Dawn be the beginning of your new online storefront?
Highlighted Features:
Chic and minimalist design
Mega menu
Sticky header
Advanced customization options
Media-forward product page
Price: Free
👉 Learn How to Create Subcollection in Shopify Via Navigation Menu
Studio
Looking for a theme to showcase your art collections? Look no further than the Studio Shopify theme. With its colorful accents and stylish typography, it's the perfect way to frame your products and give them that extra pop. But the Studio Shopify theme is more than just good looks – it's designed to inspire collectors with collection-based navigation, creator filters, and featured collections.
And if you need to adjust the layout and styling to better match your brand vision, the flexible customization settings make it easy. With the Studio Shopify theme, your art will look better than ever.
Highlighted Features:
Colorful accents
Sticky header
Adjust layout and styling
Cross-selling
Price: Free
👉 Do You Know What is SKU in Shopify?
Frequently Asked Questions
Can I customize a Shopify free theme?
Yes, Shopify free themes can be customized using the Shopify Theme Editor, which allows you to change the colors, fonts, and layout of your storefront. You can also add custom code if needed.
Are Shopify free themes mobile responsive?
Yes, all Shopify free themes are designed to be mobile responsive, meaning they are optimized for viewing on smartphones and tablets.
Are Shopify free themes SEO friendly?
Yes, Shopify free themes are designed to be SEO-friendly and come with built-in features such as meta tags and alt text for images.
What are some limitations of using a Shopify free theme?
Some limitations of using a Shopify free theme include limited customization options compared to premium themes, the risk of similar-looking storefronts, and the potential lack of support from the theme developer.
Hire Shopify Experts to develop your store
Starting an online business may seem daunting, but ShopiBuffet is here to make it as easy as pie for you. With a ton of exclusive Shopify services, you can sit back and relax while our experts handle everything from designing an attractive theme/ apps to setting up your Shopify store in compliance with your needs and preferences.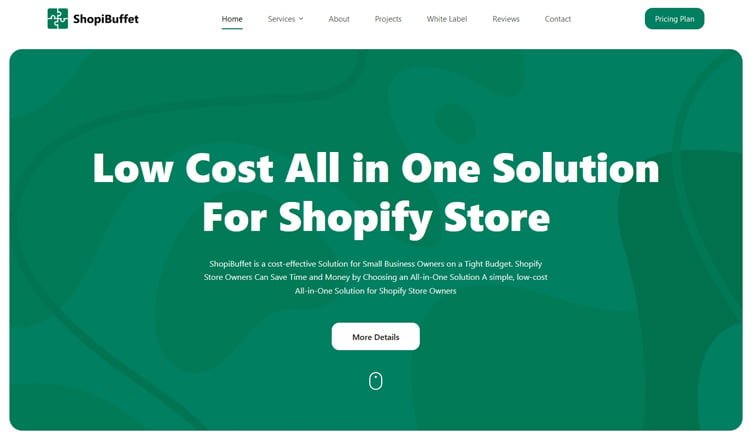 No need to stress out over technical details when you have us as your Shopify assistant. If you have any queries or need guidance, our customer service is always available to assist you. Even if you're a new business owner, we will help you set up a fully functioning eCommerce store and begin selling online with ease. Don't miss out on the opportunity to turn your Shopify store into reality with ShopiBuffet.
Conclusion
In conclusion, Shopify's free themes offer an easy and accessible option for businesses with a budget looking to create an online presence. With a variety of designs and layouts to choose from, businesses can easily customize their website to fit their brand and style.
Plus, the user-friendly interface makes it simple for even the most novice website builders to navigate and make edits. And the best part? It's completely free. So if you're looking for a hassle-free way to get your business online, Shopify's free themes are definitely worth considering.