Impulse is a popular Shopify theme that offers a clean and minimalist design. However, some users may find it too simple or lacking in features. Some options are available if you're looking for a more robust alternative.
Several options are available if you want an alternative to the Impluse Shopify theme. In this article, we'll look at some of the best alternatives to impulse Shopify themes on the market and compare their features.
What is the Impulse Shopify theme?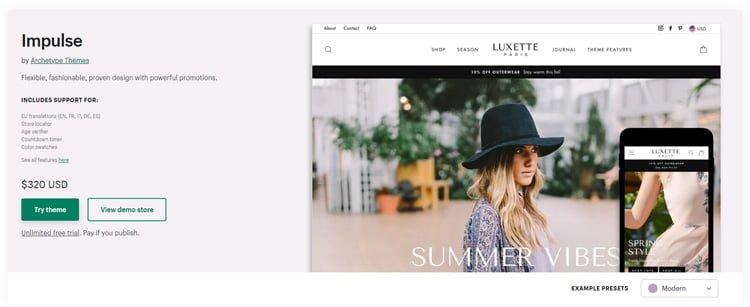 Impulse is a powerful Shopify theme that gives you everything you need to create a successful online store. With Impulse, you can easily promote your products with beautiful design tools, video support, and animations.
Impulse is also optimized for online shopping, so you can reach your customers wherever they are. With Impulse, you can easily create a modern and successful online store.
5 best alternative Impulse Shopify themes to consider
Impulse is an excellent Shopify theme designed specifically for online stores. However, if you are expecting an alternative Impulse Shopify theme, there are a few other options that you might want to consider. Here are five of the best Impulse Shopify themes to consider:
Lezada – Fully Customizable Multipurpose Shopify Theme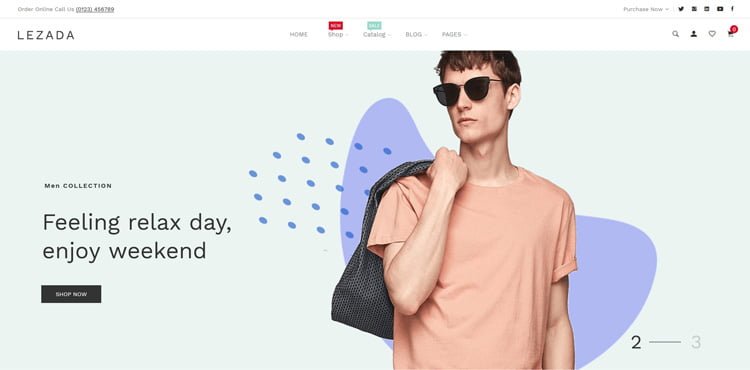 Lezada is a responsive, fast, and multipurpose Shopify theme that can be used for various purposes such as Electronics Industry Products, vendor marketplace websites, clothing stores, book stores, flower shops, makeup artist websites, camping product stores, and all kinds of retail products.
With 220+ home versions, 11+ Revolution Slider options, 40+ Drag and Drop Sections, RTL compatibility, and 10+ header and 6+ footer variations, Lezada has everything you need to create a beautiful and functional website.
Lezada has user-friendly features like Bootstrap 4 compatibility, CSS3 animations, HTML 5 support, and W3C validation. So whether you're looking to create an online store or just a simple website, Lezada is the perfect theme for you. This Shopify theme is available on Shopify online store 2.0. Try this latest version of multipurpose Shopify theme.
Corano – Jewelry Store Shopify Theme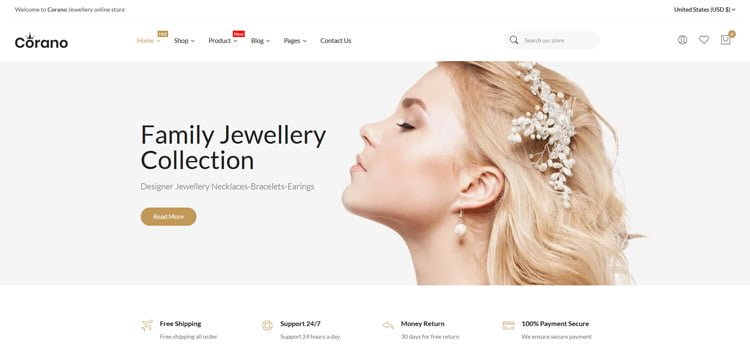 Corano is a sleek and modern Shopify theme designed specifically for online jewelry stores. It comes with 08 unique homepage variations, including the RTL version, and all must-have features.
Corano is a fully responsive and cross-browser-friendly Shopify theme ensuring a fantastic and smooth browsing experience for users of many devices and web browsers. It is everything you need to adorn your jewelry eCommerce site beautifully.
Besides, Corano will help you manage your store more efficiently without requiring code edits, elaborate workarounds with blocks, or custom apps to add sections to other pages.
LeArts – Handmade Shop Shopify Theme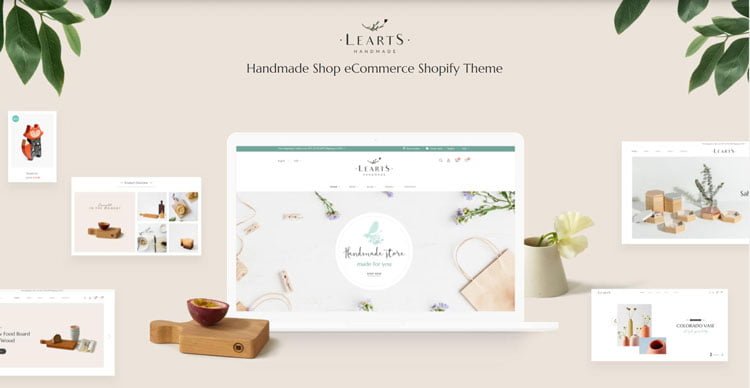 LeArts is a beautiful, modern & stylish Handmade Shopify Theme designed for any handicraft store, handmade shop, or artist's business. This theme includes various pre-made homepage layout variations. LeArts is the right choice for making online handmade gift shops, furniture stores, art design studios, etc.
With LeArts, you can easily create a professional-looking website that perfectly shows the elegant, lively and creative nature of craftsmanship and arts. In addition, the theme is packed with powerful features and options that allow you to customize every aspect of your website in just some clicks.
Airi – Minimal Shopify Theme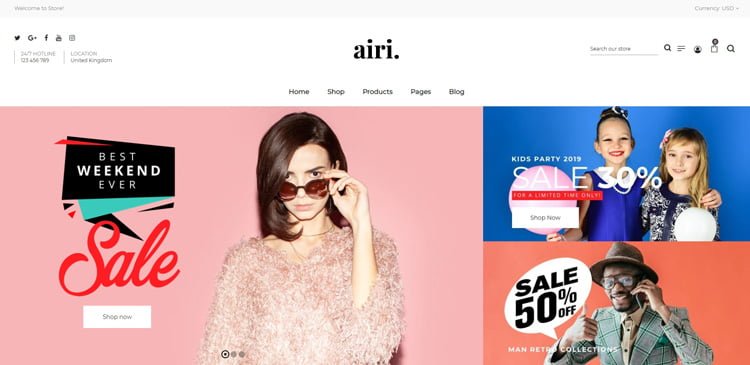 Airi is an excellent responsive eCommerce Shopify theme that has been purposely built to help you quickly create a beautiful online store. The Airi theme specializes in selling fashion items such as clothes, shoes, accessories, and jewelry.
It also offers 24+ home page layouts, 6+ header style options, 6+ footer style options, and 50+ sections that you can mix and match to create the perfect look for your store. In addition, Airi comes packed with features like multiple banners, newsletter popups, Facebook comments, quick view, contact maps, and more.
Bardy – Beard Oil Shopify Theme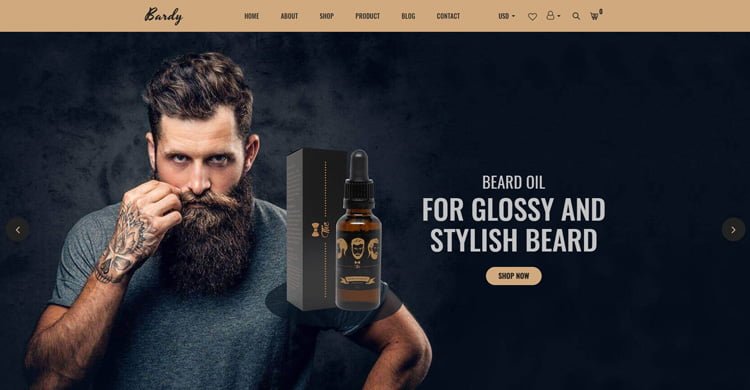 Bardy is a modern, clean, and professional eCommerce theme perfect for selling varieties of beard oil. It comprises smooth features such as 2 Home Pages along with a single RTL page, 404 page, Quick Install, Drag & Drop, RTL Version, Ajax Cart, Pagination, Built Based on Bootstrap 4, and Valid HTML5 & CSS3.
In addition, Bardy is compatible with all major browsers and devices. Therefore, Bardy is the ideal choice for those who are looking for an eCommerce theme that is both efficient and effortlessly stylish.
Frequently Asked Questions about Impulse Theme Alternatives
What are the best alternative themes to Impulse?
There are plenty of options available for alternative themes to Impulse. You can create a professional-looking website to impress your customers with any of these themes. Some of those are mentioned below:
What are the differences between Impulse and other Shopify themes?
While other Shopify themes may offer a similar look and feel, Impulse is designed to provide a unique shopping experience for your customers. Unlike other themes, Impulse is designed to be highly customizable, so you can create a unique look that matches your brand. In addition, Impulse includes a number of features that are designed to help you increase conversion rates and boost sales. In other words, Impulse is designed to help you maximize your sales and grow your business.

Which Shopify theme should I choose for my store?
Shopify is an excellent platform for anyone looking to set up an online store. However, there are a few things to consider when choosing a Shopify theme, such as the entire look and feel of the theme, the features and functionality it offers, and whether it is compatible with Shopify's checkout process.? Once you've decided on the general look and feel of your online store, you can start browsing Shopify themes to find one that matches your vision. With so many great options available, you're sure to find the perfect shopify theme for your business.
Final Thoughts
While many great Shopify themes are available, these five alternatives offer a different approach that can be just what you want to take your store to the next level. Each Shopify theme has unique features, so take a close look at each before making your final decision. With some research, you're sure to find the perfect Shopify theme for your store.