If you're looking for Shopify store design services, you'll want to check out Fiverr. A great place to locate talented Shopify designers who can assist you in building a stunning and valuable Shopify business is Fiverr. In this article, we'll go through some of the top strategies to find Shopify shop design services on Fiverr. We'll also offer advice on how to pick the ideal designer for your company. Therefore, these pointers will help you get the most out of your Shopify store design services whether you're just starting or have been selling online for a while.
What to look for in a Shopify designer
When it comes to Shopify designers, there are a few things you should keep an eye out for. First and foremost, they should have a good sense of aesthetics. After all, the whole point of hiring a designer is to make your store look more polished and professional. However, looks aren't everything.
A good eCommerce website design project designer will also be well-versed in the platform's functionality and features. They must be able to direct you through the process of setting up and managing your store and assist you in maximizing Shopify's features.
Lastly, a good Shopify designer will be patient and responsive to your needs. Things can often go wrong with many moving parts in setting up a store. A good designer will quickly troubleshoot any issues that arise and ensure that your store is up and running as smoothly as possible. When choosing a Shopify designer, keep an eye out for these traits, and you'll get an attractive and valuable online store.

How to find the right designer for your business
The importance of initial impressions cannot be overstated in branding. Finding the ideal designer for your company is crucial for this reason. But how can you choose the best option for you when so many are available? Here are some pointers:
Understand Your Specific Needs
To start, you must ascertain your needs. Concentrate on your unique selling points, why customers choose you, and the message you want to convey through your brand. Create a style guide that reflects the look and feel you intend to develop an eCommerce website for your project. This will make it easier for you to see exactly what you're looking for.
Finding a designer who can assist you in realizing your vision will be simpler if you have a clearer understanding of what you want.
Browse Shopify Experts from the Marketplace
When finding the perfect Shopify expert, there are plenty of marketplaces available. Browse through a wide range of experts, from those specializing in eCommerce design to those focusing on marketing and SEO. With so many experts to choose from, you're sure to find someone who can help you take your online store to the next level.
Check Portfolio
Once you've found them, how do you know if they're the right fit for your business? Viewing their portfolio is the ideal place to begin. This will help you get a clear understanding of their approach and determine whether it fits with your goals. Next, you want to make sure they understand your business. The last thing you want is a designer who doesn't understand your industry or target market.
Consider Your Budget
So, it's worth investing in a high-quality designer if you're looking to create a brand that will attract your ideal clients. A designer can help you develop a strategic approach to eCommerce design, defining your business's stand and who you want to attract. And, as we all know, time is money. So, hiring a professional who can get the job done right is worth hiring if you want to save time.
The benefits of using a professional Shopify designer
As any successful businessperson knows, first impressions are everything. That's why investing in a professional Shopify designer is wise for anyone serious about selling online. Not only will a designer create a unique and stylish eCommerce design for your store, but they can also help you to optimize your site for conversion.
In addition, a designer can offer valuable insights into the world of eCommerce design services, and they can guide how to best market your products. Working with a seasoned Shopify designer is a wise investment whether you're just starting or hoping to grow your company.
Tips for working with a Shopify designer
As any savvy shopper knows, one of the best ways to find unique items is to shop at small, independent stores. However, with the rise of eCommerce, finding these types of businesses can be difficult. That's where Shopify comes in. Shopify is a platform that allows small businesses to create their online stores. And while it's easy to use, it can be helpful to work with a Shopify designer when creating your store. Here are a few tips:
Establish your vision
Having a distinct vision for your Shopify store's design is crucial before working with a Shopify designer. Consider both the general look you want to achieve and the components you want to use (e.g., product images, customer testimonials, etc.).
Do your research
Once you know what you're looking for, take some time to research different Shopify designers. To get a sense of their work style and standard, check out their portfolios and read testimonials from previous customers.
Communicate clearly
Once you've found a designer you'd like to work with, you must communicate your vision. Be specific about what you're looking for and provide relevant examples (e.g., links to other stores you like). This will make it more likely that the outcome will be precisely what you expected.
Our Recommendations
There are several factors to consider when choosing the best Shopify designer for your company. With so many options, it can be tough to know where to start. But don't worry, we're here to help. Here are our top recommendations for finding the best Shopify designer for your business: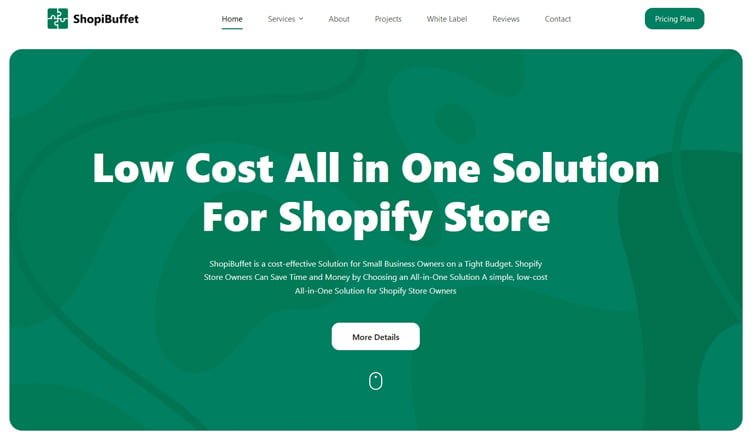 There's a lot to think about when setting up an online shop – from picking the perfect theme to creating beautiful product collections. Finding the time to complete everything oneself can be difficult, making it even harder to know where to begin. The solution is ShopiBuffet eCommerce design services. 
ShopiBuffet will handle the labor-intensive tasks so you can concentrate on operating your business, which is what you do best. We have a user-friendly platform, skilled designers and marketers, and a price that fits any budget. Additionally, we are available to assist you whenever you need us.
ShopiBuffet Fiverr Gigs
If you're looking for a truly unique shopping experience, look no further than ShopiBuffet. Here you'll find a fantastic selection of Fiverr gigs, all in one place. Here you'll find a fantastic selection of Fiverr gigs, all in one place.
Customize Shopify Store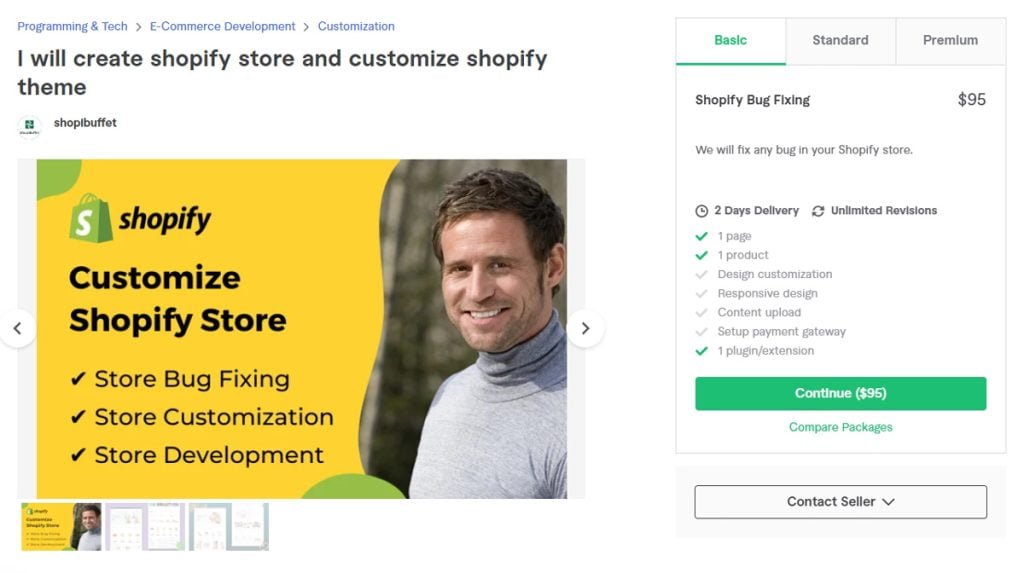 Are you looking for a Shopify Expert? If you are, then you've come to the right place! We can assist you with your Shopify requirements and have years of experience as Shopify developers, designers, and consultants. We'll be able to create a Shopify store tailored specifically for your needs and style and launch your online store in no time.
What will you get:
Create Shopify store
Shopify store setup
Shopify store design
Customize Shopify theme
Build Shopify website
Dropshipping Store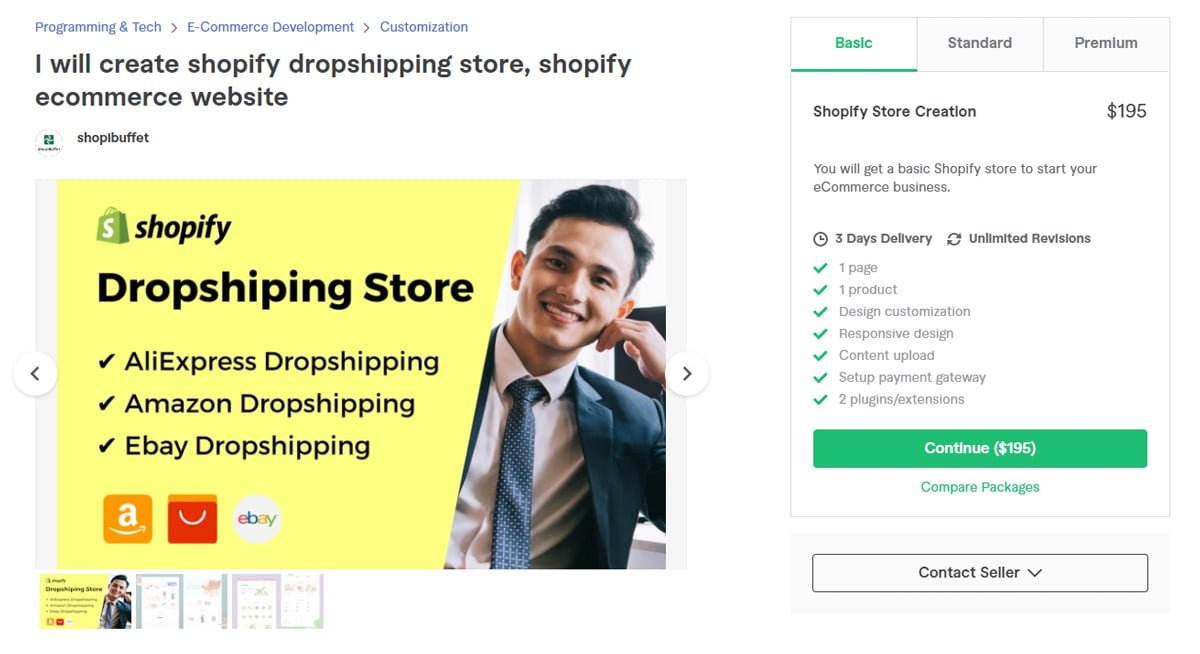 Dropshipping is a business strategy used by online merchants to sell goods without maintaining any inventory. The supplier has merely contacted after a consumer places an order, and the products are delivered right to the customer's door.
You'll be able to open your store quickly with our assistance. ShopiBuffet provides a wide range of services, such as establishing a dropshipping business, creating beautiful website designs, modifying Shopify themes, and many more.
Shopify online store
Build Shopify store
Shopify Dropshipping store
Shopify eCommerce website
Shopify with AliExpress Dropshipping store
Shopify Amazon Dropshipping website
Shopify Experts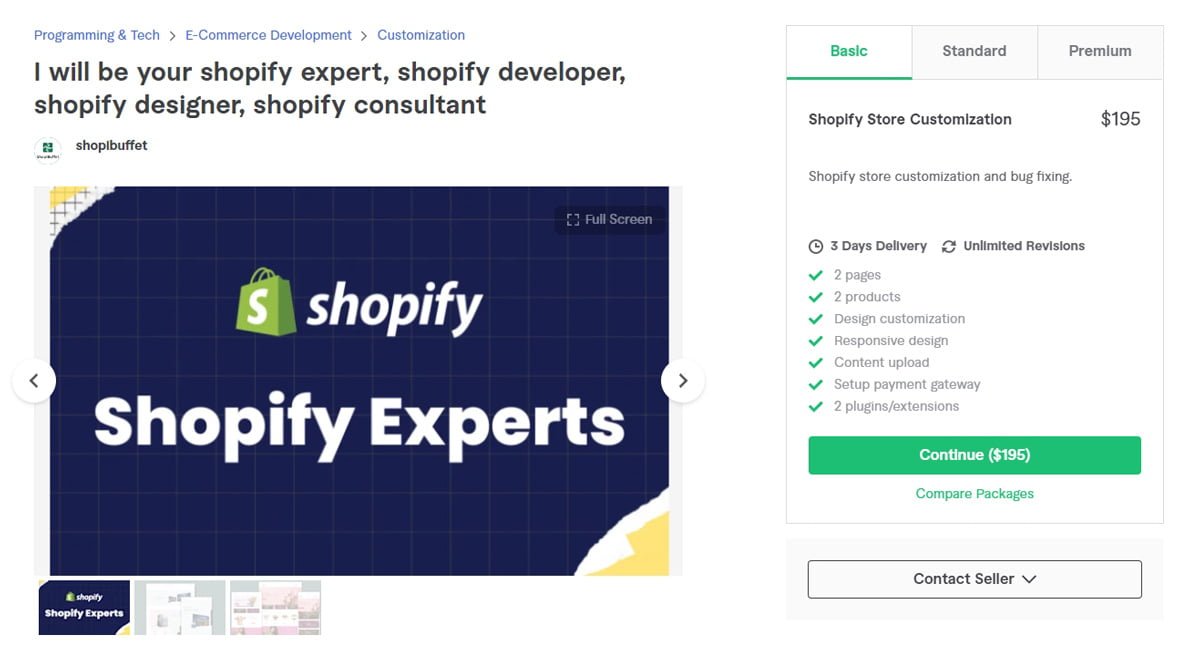 The different range of Shopify services that ShopiBuffet offers will help you launch and manage your Shopify store efficiently. Our services include designing a professional Shopify eCommerce website customizing your Shopify themes, configuring Shopify apps, setting up a dropshipping store, and many more.
What will you get:
Shopify expert
Shopify designer
Shopify developer
Shopify consultant
Shopify online store
Final Thoughts
There's no denying that Fiverr is an excellent resource for finding creative professionals to help with your business needs. And when it comes to beautiful website design, some genuinely talented individuals offer their services on the platform. However, as with anything else on Fiverr, it's essential to take some time to do your research before selecting a provider. Hopefully, these tips and tricks will guide you to selecting the perfect Shopify designer necessary for you.