Do you want to let your customers gift shopify cards? If so, you're in luck! In this blog post, we will show you How to Add Gift Card to Shopify store. It is a great way to increase sales and generate more revenue for your business.
Gift cards are a popular way to give someone the gift of choice. They can be used to purchase anything from your store, making them versatile gifts.
How do Shopify Gift Cards Work
Shopify gift cards are a great way to show your appreciation to your customers. They can be used easily and give shoppers the opportunity to bring happiness to their friends and family by allowing them to select their own products or services.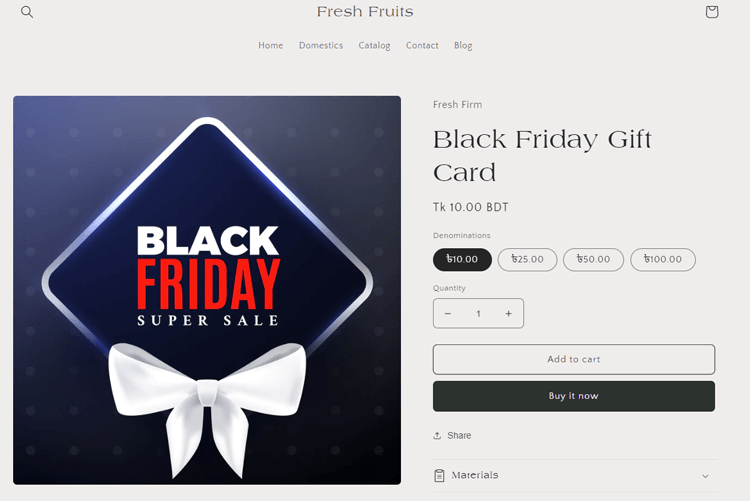 When someone has a gift card code, they just need to add a product to their cart and enter the card number during checkout. It is a quick and easy process that can help make special occasions even more memorable.
Benefits of Offering Gift Cards on Shopify
If you consider to buy physical gift cards, check out Shopify gift cards instead. There are numerous advantages of selling gift cards on Shopify for both businesses and customers, including:
Sales growth: Giving clients gift cards may persuade them to spend more money in your shop. Customers who receive digital gift cards on Shopify are more likely to spend more than the card's value, which boosts your company's sales.
Enhanced cash flow: Gift cards give businesses access to quick cash. The merchant has already paid for the gift card code, even though the buyer might not use it straight away.
Consumer loyalty: By giving customers a simple way to shop and motivating them to revisit your store, gift cards can help develop customer loyalty. Gift card recipients are also inclined to give them to friends and family, which could bring in new clients for your company.
Brand exposure is raised: When clients buy gift cards for relatives and friends, they are basically advertising your business to a larger audience. It might assist in spreading the word about your brand and draw in new clients for your company.
Reduced returns and exchanges: The gift card codes are a terrific option for customers who are confusing of what to buy for a friend or member of their family because they reduce the number of returns and exchanges. Merchants can lower the number of returns and exchanges by providing gift cards.

How to Add Gift Card to Shopify (Step By Step)
Here's a step-by-step guide on how to add gift card to Shopify. Just follow the steps and get started.
Log In
Now, you can create gift card products into any store built on Shopify! To do this, log in to your Shopify store and head over to
Products -> Gift Cards.
Once on the page, click 'Add Gift Card Product,' which will prompt you to provide the relevant product information.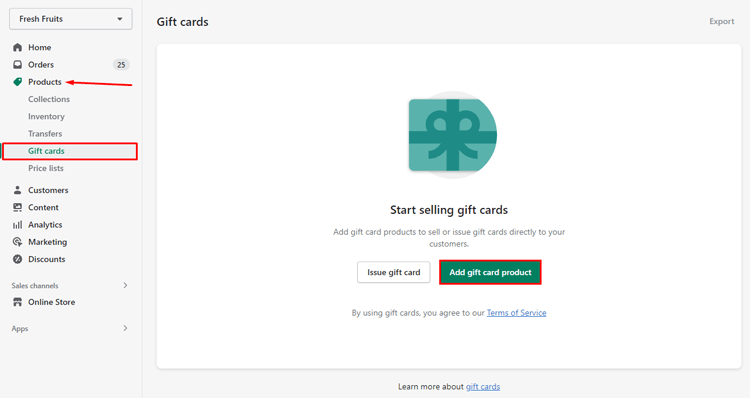 Shopify Gift Cards Dashboard Screen
In Step 2, enter the required product details on the Shopify Gift Cards Dashboard screen. It's likely that you've already uploaded a few items to your store, so this procedure should be rather simple. Give your product a name and a description that are both descriptive. A picture would also be very helpful.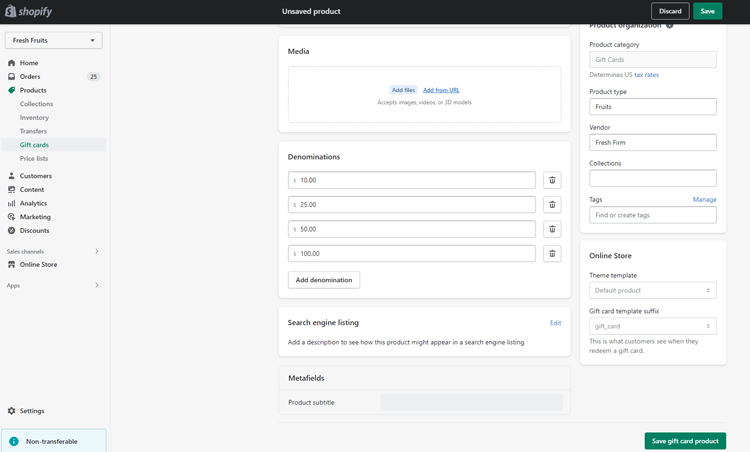 Creating a gift card on the Shopify screen
At this step, you'll have the option to choose which denominations will be available in your shop. The platform provides four default options ($10, $25, $50, and $100). However, if these don't fit your product range or pricing structure, then you'll be able to customize them accordingly.
While doing so, it can be beneficial to think about how people are likely to view the prices of individual items in comparison with those of nearby gifts – for instance, if most products are around $30, having a $60 option would give people a chance to buy two at once. No matter what you settle on, though, you can always come back later to make adjustments if needed.
Adding gift card value in Shopify
Once the create gifts step has been completed, and all details have been entered, it's time to make the product available for customers by setting the status to "Active."
To optimize visibility and sales, assigning an appropriate collection is important so the cards are displayed on relevant pages and can be easily found by shoppers.
Assigning a gift card to a collection in shopify
After creating and customizing a shopify gift card, the last step before making it available to customers is to assign it to a collection in shopify. All that is needed to do this is to click on Gift cards, select "View Gift Card Products," filter your products, and add the gift card you created earlier.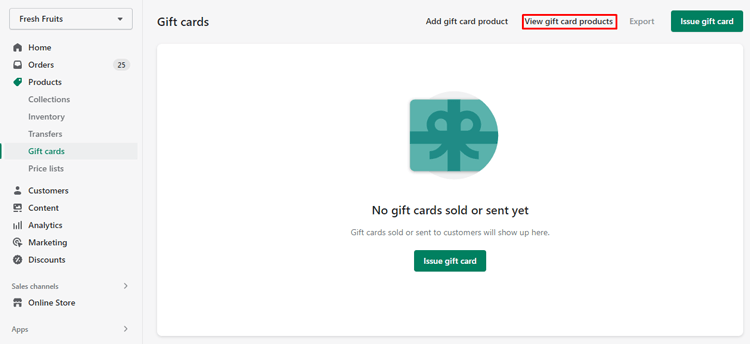 Gift card view screen page
Finally, once all changes are made, click save, and you will be directed back towards the "products" page, where you can review the newly created gift card. Making sure everything looks right, this is when your gift card is available for use among customers!
Shopify Products Dashboard
Finally, hit 'Save.' And assign this gift card product to the appropriate collection according to your preferences. It appears when customers browse that specific collection. With just a few clicks, you can attract more customers by offering unique gifting options that drive sales.
Frequently Asked Questions
How do I add a gift card to my Shopify store?
To add a gift card to your Shopify store, Go to the Settings tab in your Shopify admin panel and choose "Gift Cards" from the menu. Then select "Create Program" and fill out the fields with the details regarding your desired amount and duration for the card. Once you have saved your changes, the new gift cards will appear on your online checkout page.
How do customers redeem their gift cards?
Customers will be able to use their gift cards when they checkout by entering their code at the payment stage. The balance on their gift cards will then be deducted from their total order amount – if there isn't enough money left on the gift card, customers can pay for the remainder using another payment method like Apple Pay or PayPal.
Are there any limits to how often a customer can use a single gift card?
No, there are no limits on how many times a customer can use their gift cards – they can use them as often as they want until all their value has been spent!
Hire Shopify Experts to develop your store (Recommended: ShopiBuffet)
Supercharge your Shopify online store with ShopiBuffet – the ultimate solution for eCommerce success! We offer a range of exclusive services designed to captivate your audience and skyrocket your store's growth. From stunning website designs to effective marketing strategies, we provide all sorts of indispensable Shopify store services for your convenience.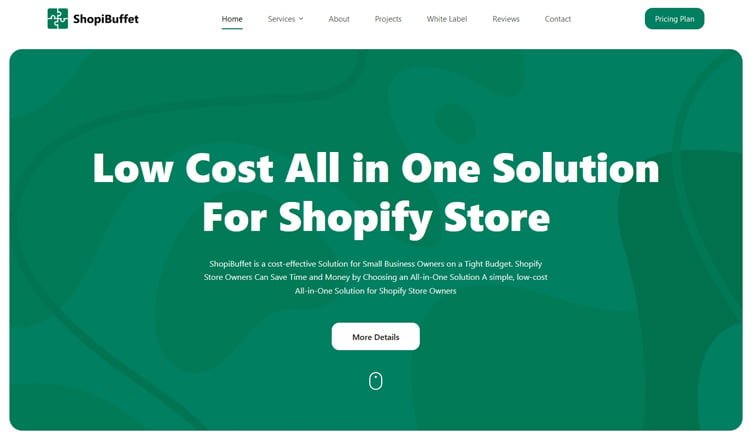 Our Top Services:
Shopify theme development and customization.
Shopify App development and customization.
Shopify store setup and customization.
Shopify SEO service.
PSD to Shopify theme or Figma to Shopify conversion.
Benefits of using ShopiBuffet Services:
Access to skilled Shopify experts and developers.
Time-saving solution for store setup and management.
Quick and easy store setup process.
Wide selection of 140 Shopify themes.
Customization options for personalized store design.
Store optimization for improved performance.
Conversion-focused approach with online tracking.
Ongoing support and assistance.
Affordable pricing plans.
Discover the difference our expert services can make for your business. Click below to explore our Shopify services and reach eCommerce greatness with ShopiBuffet. Your Shopify store deserves nothing but the best, and we're here to deliver.
Final Thoughts
Hopefully, this guide on How to Add Gift Cards to Shopify is helpful. However, it's important to take some time to plan out the details of your gift card program and consider all the available options. Next, consider the costs for purchasing and activating gift cards, printing them, managing them in-store, or allowing customers to manage them online. Finally, consider any design or customization needs you may have for making your cards attractive and eye-catching.