If you're looking for an easy way to offer your customers Afterpay as a payment option, then you'll love this guide on how to add Afterpay to Shopify! In just a few simple steps, you can add afterpay payment to Shopify and start processing payments. Plus, we'll show you how to set up automatic billing so that your customers don't have to worry about missing any payments. Let's get started!
What is Afterpay?
Afterpay payment method is gaining popularity by providing users convenience, flexibility, and ease of payment. With Afterpay, customers can shop and pay if off slowly afterwards. It's tailored to America's bi-weekly pay schedule, so after pay, customers don't have to worry about missing their due date or charges for late payments.
This makes splitting costs significantly simpler both for businesses and their customers. Afterpay is fast becoming an essential feature on Shopify stores all over the world as it meets the needs of business owners and customers alike.
Benefits of Adding Afterpay to Shopify
Adding Afterpay to your Shopify store is an excellent way to improve customer satisfaction, increase sales and maximize profits.
Flexibility: Afterpay offers customers more flexibility with their Afterpay payment methods by allowing them to make purchase and spread the cost over multiple installments. This presents customers with a convenient way to pay while keeping their cash flow manageable.
Less Cart Abandonment Rates: Research has indicated that adding Afterpay in Shopify can result in higher conversion rates as well as lower cart abandonment rates.
Increase Average Order Value: Furthermore, Afterpay increases the average order value of purchases made on your Shopify store, allowing you greater profitability. Adding Afterpay to your Shopify store makes perfect sense given the convenience it will provide your consumers and the extra revenue it will bring you.

Step-by-Step Guide How to Add Afterpay to Shopify
This step-by-step guide outlines how to set up Afterpay on Shopify as a payment method. Follow this simple process of how to add Afterpay to Shopify –
1. Choose Afterpay from the list of alternative payment options.
Firstly, creating an account in Afterpay as a Retailer is vital. Secondly, you must enable 'Afterpay' by logging into your Store and selecting it as an Alternative Payment Method. To do this, simply click on Settings, then Payment Providers, and select 'Afterpay' to start taking payments with them.
2. Configure Afterpay in the theme.liquid file
After setting up an account with Afterpay, you will get a merchant ID number and an Afterpay merchant portal key that must be entered into the respective fields.
To do this, start by editing the code in your Shopify theme, then add the script provided by Afterpay before saving the changes.
Finally, head to your product detail page, find the 'add to cart' button of your product template and insert the Shopify script. Once everything is complete, save and refresh the page to activate Afterpay on your Shopify store.
3. Verify that the Afterpay snippet appears on your product pages.
Once you have gone through the setup process, the final step is to add Afterpay logo in Shopify and check that the Afterpay snippet is properly displaying on your product pages.
4. Do a test buy
The fourth and final step to ensure everything runs smoothly is to do a test buy, making sure that the Afterpay logo appears at the Afterpay checkout page when you select that payment option.
Once you've verified all the information and details are correct, your business will be ready to benefit from this new way of payment processing!
👉 Learn Shopify Tags: What are tags on Shopify, and why are they important?
How does Afterpay work in Shopify
Afterpay has transformed the way shoppers make purchases on Shopify by offering an intuitive and seamless payment experience. Using Shopify with Afterpay is an excellent idea for everyone involved due to its simplicity of use and strong security. By opting for Afterpay at checkout, customers are given the flexibility to divide their payment into four equal installments, easing the financial burden for those who may find it challenging to pay the full sum upfront.
This payment method begins with customers making their first payment upon checkout, followed by automated deductions from their linked account for the succeeding three installments over a six-week period. Nonetheless, those who prefer more control over their payments can choose to halt Afterpay's automatic deductions, giving them the liberty to manage their finances on their terms.
Get premium Shopify services from ShopiBuffet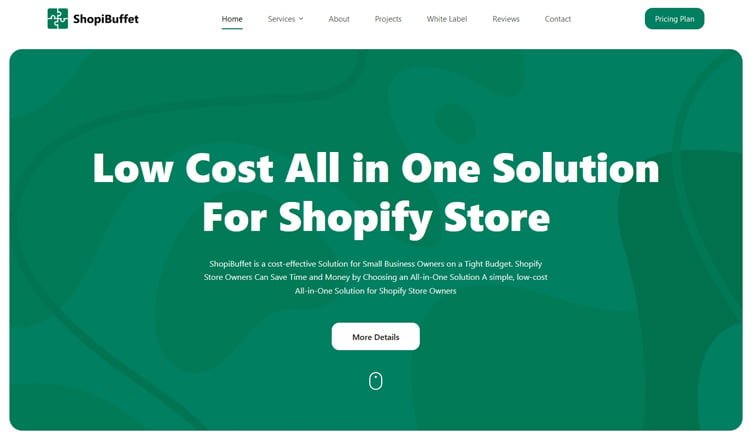 ShopiBuffet is the perfect solution for entrepreneurs who are looking to establish a successful online retail business. With their premium Shopify services, entrepreneurs can effortlessly achieve their business goals.
The team at ShopiBuffet is composed of experienced professionals who are always available to configure Shopify store themes, manage product configurations, streamline navigation and collections, and set up sales channels.
With their expertise and dedication, ShopiBuffet can help entrepreneurs create a seamless and efficient online store that is primed for success.
Frequently Asked Questions
What is the Afterpay widget Shopify?
Afterpay widgets are a great way to integrate this payment option into Shopify, as they provide a visual breakdown of how the costs will be paid. This helps customers take control over how often and how much they are paying, increasing their confidence when making the purchase.
With customizable scripts, you can remind customers of their payment choices on every product page and thumbnail they look at, so they don't forget that this convenient option exists.
How do I add Afterpay to my Shopify store?
To add Afterpay as a payment option on your Shopify store, you will need to sign up for an account with Afterpay and install the Afterpay app from the Shopify App Store. Once this is done, you can start accepting payments via Afterpay from customers who have registered with Afterpay.
Are there any differences between using PayPal or credit card payments instead of Afterpay?
Yes, there are some key differences between using PayPal or credit cards as opposed to using Afterpay. With PayPal and credit cards, customers are required to pay the full cost of the purchase upfront. While with Afterpay they can spread out their payments over four equal installments without incurring any interest charges.
Additionally, all payments made through PayPal or credit cards are immediately transferred into your bank accounts while after your customer pays off their installment plan with Afterpay, funds are transferred into your bank account two business days later.

Conclusion
Adding Afterpay to your Shopify store is a great way to give customers the flexibility of purchase financing and make checkout easier. With this essential guide on how to add Afterpay to Shopify, you've learned everything you need to know about setting up the payment gateway and taking advantage of its features. From integrating it with Shopify Payments to customizing the product-purchase options, there are plenty of ways to personalize your online checkout process.