Do you want to learn how to add products to featured collection on Shopify? If so, you have come to the right place! In this step-by-step guide, we will show you How to Add Products to Featured collections on Shopify that can help increase your sales and boost your business. It is a great way to get more exposure for your featured products and drive traffic to your store. So without further ado, let's get started!
Step-by-Step Guide for Adding Products to the Featured Collection
Follow these instructions on how to add products to featured collection on shopify and get started –
Creating a Featured Collection on Shopify
Follow this method to showcase your products elegantly by adding them to Shopify's highlighted collection.
Log into Admin Panel and Go to Customize Button
To create a featured collection on Shopify, the first step is to log into your Admin Panel. Once you have logged into your Admin Panel, making a featured collection on Shopify is simple.
Then go to Online Store, Click Themes, and then go for the Customize button. Here, you will find all of the collections that have been assigned featured products in the sidebar, and you must select the one that should be featured from here.
Choose Layout/Content Option
Now, choose the Layout/Content option. This is an important step in adding products to your featured collection on shopify. In this step, you will find your Customize theme section in the Shopify panel and you will have a plethora of options available when it comes to the design layout and features that you want to add.
You can choose between a modern aesthetic or even mix-match different color schemes. So be sure to take your time to move through this vital step and pick exactly what works for your featured collection!
Choose the homepage products collection option
When you open the Layout/content section, the next step of adding products to the Featured Collection is to select Homepage Products Collection. This section will provide the name for the Featured Products page on your Home page.
Once you have chosen this option, you'll be ready to add any featured products from your store's inventory so everyone can see what makes them unique and special. Make sure to check out all the features that your featured collection offers in order to get the most out of this feature!
Pick the collection you want
The next thing for you to do is select the exact collection that you want. You will find a drop-down menu on the Homepage Products Collection section, and from here, you can select the desired collection. Make sure that this is the one you want before moving forward – once it has been selected, any changes would need to be made manually. This step lets you curate an eye-catching Featured Products section on your homepage.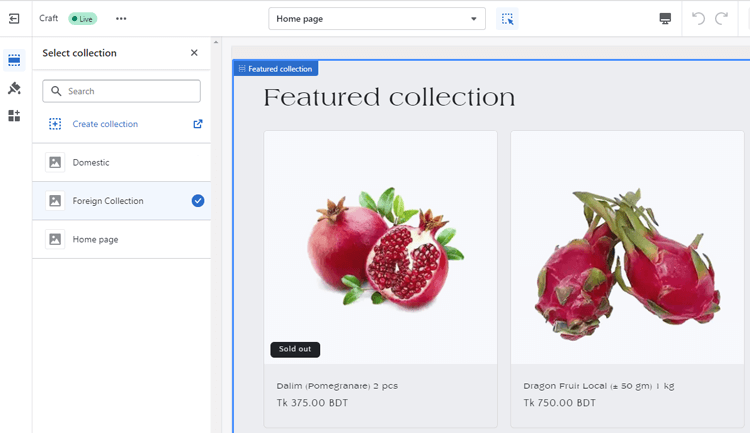 Select your favorite collection to show
click the drop-down menu to choose which collection you would like to feature on your site's homepage. The Customizer settings give you a way to preview your changes before making them permanent.
Click Save
Lastly, click save, and that is all it takes to create a featured collection!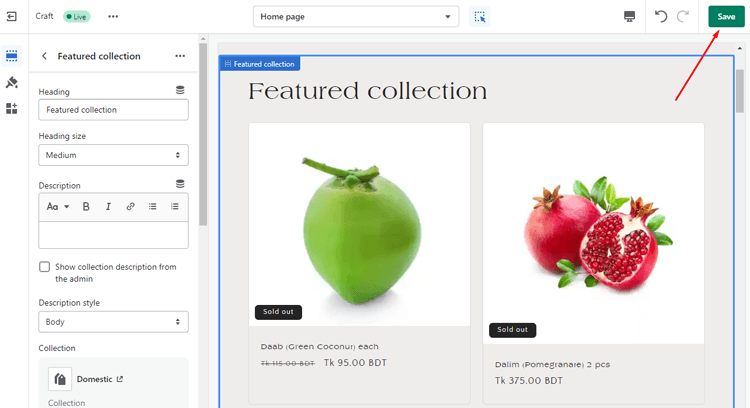 Adding Products to Featured Collection
Follow this guide on how to add products to a featured collection on shopify and feature your products beautifully –
Log in to Your Admin Panel and Pick the Products You Want to Edit
To begin with, you must log into your Shopify Admin panel. Proceed directly to Products. Once logged in, you can head over to Products and pick out the product that you would like to edit. By clicking on the title of the product, you are directed toward its page, where you'll carry out all the necessary modifications to make sure your product appears in the Featured products section as desired.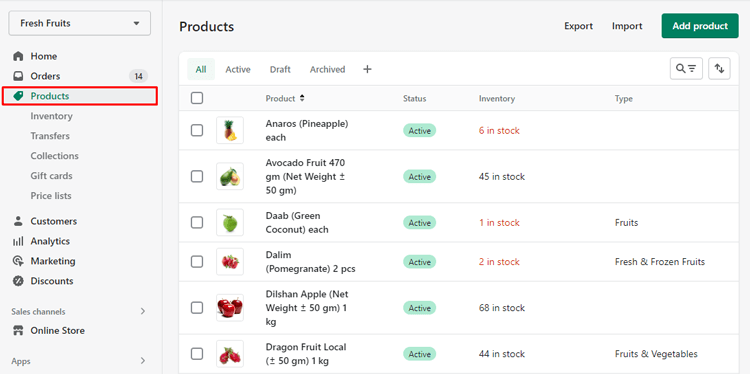 Choose the Frontpage Collection Section
Scrolling down to the Collection section on the page. From there, you will find an 'Add to collections' button. Click it and then select the Frontpage collection option from the drop-down list that appears. Once this is done, a list of all collections will appear on the right-hand side, including the Frontpage collection with your product attached.
Adjust Your List and Click Save
After selecting the product you want to add to your featured collection, you need to adjust the list accordingly by clicking the cross icon on the right corner of the product. When finished, click save at the bottom of the page, and your new featured collection should be ready for display.
Test and Double Check Your Work
Make sure to double-check that everything is correct before finalizing it as this will not only boost sales but also give your customers an overall better experience.

Benefits of Having a Featured Collection in Your Shopify Store
Having a featured collection in your Shopify store can be extremely beneficial.Some of these are —
Increased visibility: Featuring a collection prominently on your store's homepage can draw more attention to it and increase its visibility to visitors. This can lead to more clicks and ultimately, more sales.
Improved organization: By curating a specific collection of products as a "featured collection," you can create a more organized and intuitive shopping experience for your customers. This can make it easier for them to find featured products that they are interested in and ultimately make a purchase.
Higher conversion rates: When visitors land on your homepage, they are more likely to click on and browse through a featured collection that catches their eye. It can lead to higher conversion rates and, ultimately, more sales for your store.
Final Thoughts on How to Add Products to Featured Collection on Shopify
You have now learned how to add products to featured products collection on Shopify. This collection section can help attract customers and drive sales by highlighting featured products or deals they may otherwise not notice. As you make changes to the collection, consider featuring items with clear visuals and sales copy along with appropriate pricing that appeals to your target market.