Are you looking to make your Shopify store stand out? Customizing your Shopify theme is the best way to do this. With a few simple tweaks, you can create a unique look and feel that will help your store stand out from the competition.
In this step-by-step guide on how to customize Shopify Theme', we'll show you how to customize your Shopify theme with tips and tricks for making it look its best. We'll cover topics such as selecting the right theme, adding custom code snippets, creating menus and pages, changing fonts and colors, using third-party apps for extra features, optimizing images for faster loading times, and more. So let's get started!
How to Customize Shopify Theme in a Few Easy Steps
By following this step-by-step guide, you can easily customize your Shopify theme —
Selecting the Right Theme
When it comes to customizing a Shopify theme, the right choice is essential; this will determine how successful the website will be. The ideal theme should be simple to customize and flexible, with the ability to add features and products based on traffic.
To choose a good theme from the Shopify theme editor, look for high-quality graphics, clear navigation menus, and user-friendly content creation areas. Consider factors such as design compatibility across platforms and devices, scalability for future needs, and ease of customization after installation.
How to upload your Shopify theme
After selecting the suitable theme, all you have to do is to upload it. If it's a theme provided directly by Shopify, it will already be in the Theme Library of your Shopify dashboard. Just click 'Customize' and edit it to make it your own.
However, if you've gone with a third-party developer or downloaded it from somewhere else, you'll need to upload it manually before customizing.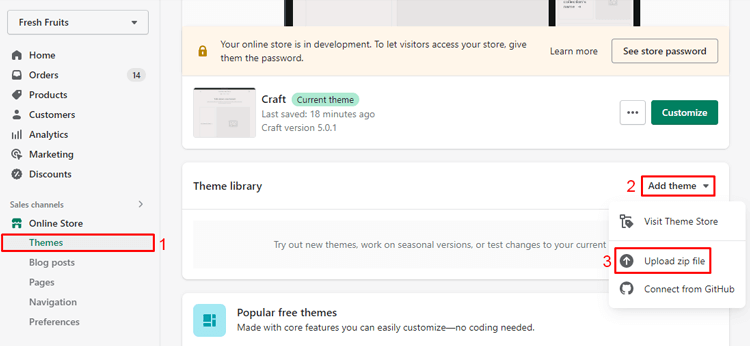 The basics of Shopify theme customization
Customizing your Shopify theme can give your store a more professional look. The two main ways to do this are through editing page templates and changing the general settings of the theme itself. By editing page templates, you will gain control over the layout of different pages and be able to reuse them throughout your store.
Furthermore, changing theme settings in the Shopify theme editor allows you to make global changes across your store, such as adjusting colors and typography or adding styles – making it easier to unify the look and feel of your entire shop. It's essential to start with customizing templates before setting up the overall theme settings; that way, you can build up nicely from the foundation blocks of pages.

Creating Menus and Pages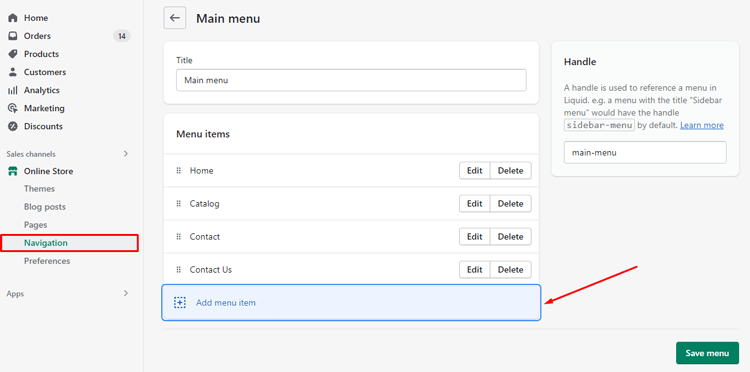 Taking control of your shop's customization can be daunting, but with the Shopify theme editor, it doesn't have to be. This user-friendly tool provides drag-and-drop flexibility to create the look you want for your store's home pages, product pages, FAQs, and collection pages.
Editing individual sections
Editing sections is an important part of customizing your page templates to make sure you can get your store pages to look just the way you want. You may have some fixed sections, like headers and footers, and movable sections that can go between the header and footer, such as featured collections and image blocks. Each section has its customizable settings, so you can make your store unique.
For example, if you want to personalize the header section, Click the Theme Customize button and select the "Section" option from Menu bar in the left side of the page.
From there, you can change how your Header section looks by adjusting every attribute like the text alignment, header size, background type, and more.
Then with, all of these changes will be applied across all pages in your store, making it easy to show off your unique style everywhere.
You can also customize further by adding sections and blocks to customize pages in your page template.
With just a few clicks, you can easily add almost any theme section with the available, large selection – no coding experience required!
Changing Fonts and Colors
Changing details such as fonts and colors is essential when it comes to making sure your store aligns with your preferred brand style. You will find the options for customizing your store's solid button labels, backgrounds, and color from theme settings. If you already have a set brand color palette, updating these settings with those particular hues will help ensure cohesiveness across your shop.
In case you're looking to up the game on the typography front, there is also an option to add custom or Google fonts to Shopify. Once added, you can select them from theme settings to define different font sizes used for headings and body text.
Using Third-Party Apps for Extra Features
Customizing a Shopify theme is simpler than you might expect. With a few easy steps, you can personalize virtually any aspect of your store's look and feel to make it unique to your brand. Plus, if you want to add more advanced features, Shopify offers plenty of high-quality third-party apps to extend the platform's functionality.
Whether it's adding customer reviews, adding analytics to track customer behavior, automated marketing tools, or even improved search functions, Shopify Apps can give your store that extra special touch that only comes from dedicated customization.
Optimizing Images for Faster Loading Times
One of the most important steps in customizing a Shopify theme is optimizing your store's images for fast loading times. Optimizing images involves resizing, compressing, and formatting them according to best practices for website loading speed. Additionally, you'll want to ensure that each image's file size is minimized and that the correct colorspace settings are applied.
Testing Your Site Before Going Live
Once the process to customize the Shopify store is over, the last step before you can launch it is testing. This involves trying out different devices to make sure all the features run smoothly on mobile and desktop. Then, after noting any minor mistakes that may be occurred during customization, make the corrections and use A/B testing to check if they are effective.
Additionally, check for loading times, page optimization, and search engine optimization, so your site looks great and works properly from start to finish. Once everything checks out well with no errors, you're ready to take off with your new customize Shopify theme.
Suggested Shopify Themes for a Professional Online Store
Here are some excellent, useful Shopify themes if you want to increase your internet visibility —
Lezada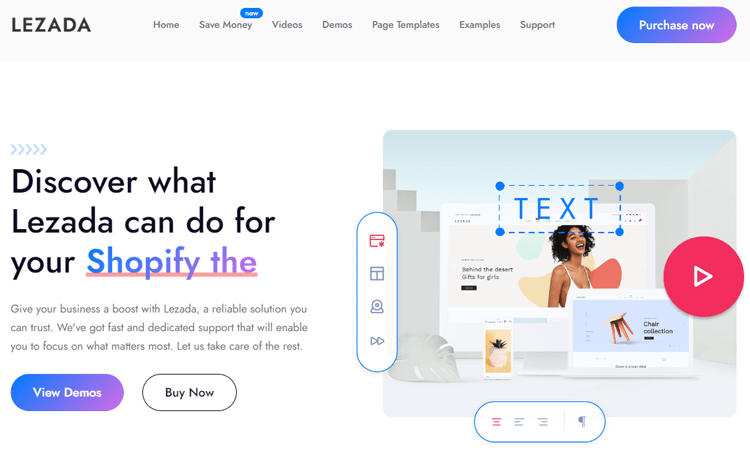 Lezada – Multipurpose Shopify Theme is the perfect choice for those looking to build an eCommerce or general purpose website. With this stunning classic demo look, it's certain to make your website stand out and offer users a unique experience.
This theme also offers a multitude of features to add banner image,15+ preloaders, color swatches, social media integration, pricing tables, Google Analytics, multilanguage support, and more – all of which will surely help you build a website on par with Amazon or AliExpress in no time.
Furthermore, the Shopify theme builder's HTML and CSS files are well-commented and organized for an easy development process. With Lezada – Multipurpose Shopify Theme you can be sure that your eCommerce website stays ahead of the competition.
Highlighted Features:
Fully Responsive
RTL Version
Notification Bar
Multiple Currency
Breadcrumb banner
Price: Regular License: $79
LeArts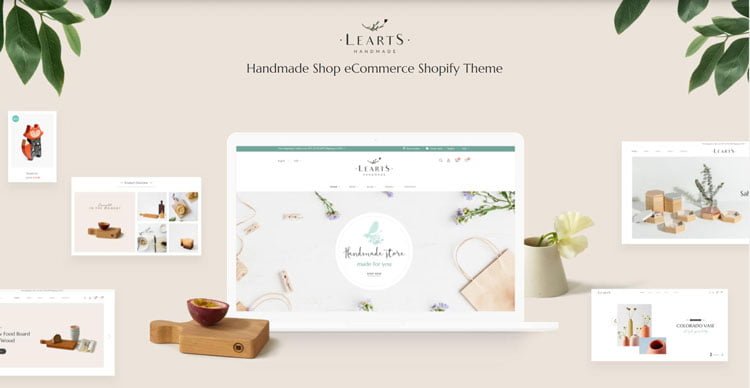 The LeArts Handmade Shopify theme is the perfect choice for all eCommerce sites that are focused on handmade goods and creative arts. With a beautiful design, it captures the lively and creative spirit of craftsmanship with ease.
With various pre-made homepage layout variations available, this theme store will empower users to create personalized websites for their shopify theme stores and increase profits with the help of 19+ preloaders, Google Analytic integration, well-commented HTML & CSS files and a neat, clean and simple design.
Whatever your unique niche of whimsical handmade pieces or stylish art designs may be, LeArts has the tools you need to make an eye-catching website to showcase all your wonderful creations!
Highlighted Features:
Multiple Currency
13+ Home Versions
Shopify Builder
Theme Colors
Unlimited Colors
Price: Regular License: $44
Corano
Corano – Jewelry Store Shopify Theme is perfect for showing off your stunning jewelry pieces. With eight unique homepages, a RTL version, and some of the most helpful features available in Shopify Online Store 2.0, Corano offers an exclusive classic look for any jewelry store.
Shopify sections, multi colors, newsletter popup, notification bar, multiple currency support for customers during checkout–all these features ensure an easier shopping experience for everyone. And to make it even better, Corano has Ajax Popup Cart and Ajax Wishlist options that make the process simple and fast. Create a memorable shopping experience with Corano today!
Highlighted Features:
Multiple Currency
13+ Home Versions
Shopify Builder
Theme Colors
Unlimited Colors
Price: Regular License: $59
Bardy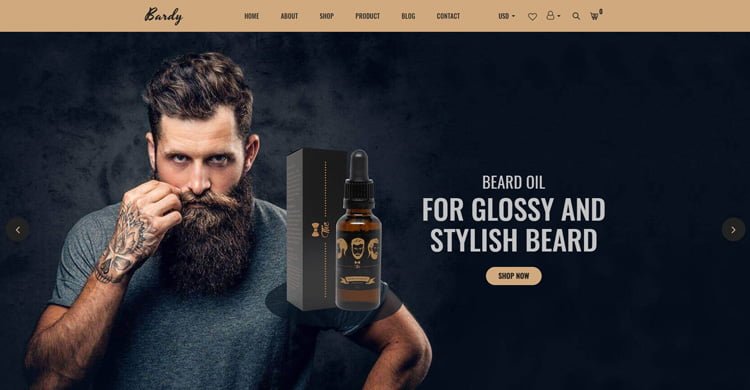 With the Bardy – Beard Oil Shopify Theme + RTL + Droppshiping, you can create the perfect website for selling beard oil. This clean and professional theme is sure to capture your viewers' attention.
In addition, you don't need to be a coding expert – this theme allows all of its amazing features, like 15+ Pre-loaders, valid HTML5 & CSS3 design codes, add google analytics codes integration and Creative Modern Flat Design to be operated with easy customization options.
All of this makes managing the website simple and makes getting a great-looking business site up and running quickly and easily.
Highlighted Features:
Creative and Modern Flat Design
Built Based on Bootstrap 4
Fully Responsive
Cross Browser Optimization
Well Commented HTML & CSS files
Price: Regular License: $48
Plantmore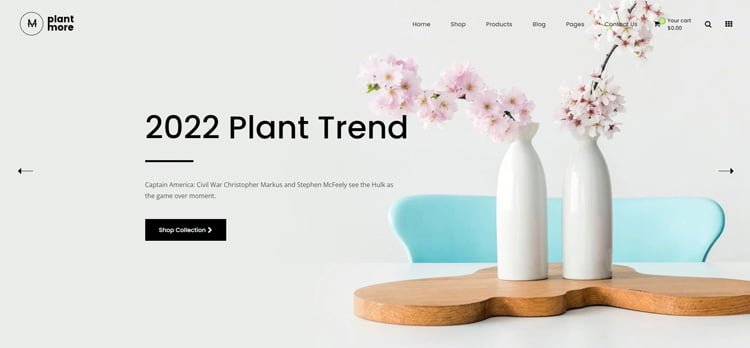 Plantmore is truly an amazing theme for any store that is related to plants, gardens, or landscaping and its capabilities are impressive. Responsive and mobile ready, it allows you to explore numerous possibilities and bring items from your store to life on the internet.
Its 9 home versions with single RTL versions and customizable pre-loader, sliders, currency selection, Ajax Cart Option make it stand out even more as a unique website decorations solution.
And while Plantmore was created to cater mostly to stores specializing in plants and gardening products, this Shopify theme contains so many features like 404 page, FAQ page and countdowns that can grant any store customization tools they need. With Plantmore, give your store exclusive look with the help of modern design options!
Highlighted Features:
Valid HTML5 & CSS3
Neat, clean and simple design
Creative and Modern Flat Design
Built Based on Bootstrap 4
Fully Responsive
Price: Regular License: $48
Get Exclusive Shopify Theme Customization Services from ShopiBuffet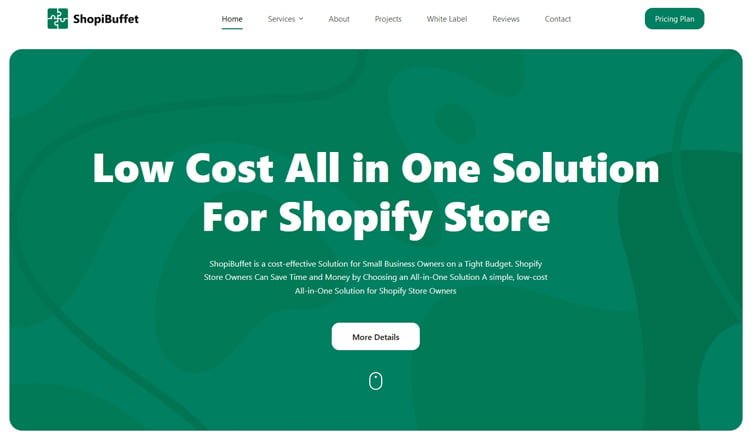 When it comes to setting up your Shopify store, customization is key. But doing this yourself can be time-consuming and expensive. That's why ShopiBuffet offers a simple and affordable solution for customizing your shop with its exclusive design services.
From installing themes and setting up demos to navigating product collections, the experts at ShopiBuffet take care of the hassle so you don't have to.
Plus, their 24/7 support is always on hand for when you inevitably have questions or run into problems. ShopiBuffet makes the process of getting your online store up and running fast and easy — so instead of spending countless hours (and dollars) building everything from scratch, you can focus on what matters most: running your business.
Frequently Asked Questions
How simple is it to edit Shopify themes?
All you have to do to launch is load your products, tweak your content, and add your store's admin details. With Shopify's default theme, you can make some basic adjustments, but your options are restricted if you want to give your store a more distinctive look.
Which Shopify theme is the easiest?
There are numerous free and pro Shopify themes available on the internet. Among them, if you consider a Shopify theme in terms of its ease of use, functionalities, check out Lezada Shopify Theme.
Can you customize the free Shopify themes?
Yes, you can change how Shopify looks. After selecting a free theme, go to the theme editor to change the settings, checkout, store design, and other features.
Conclusion
Customizing a Shopify theme doesn't have to be a difficult or time-consuming task – with a few simple steps, it's easy to create a stunning and unique Shopify store that sticks out from the crowd. By deciding which features you want, uploading images and your logo, editing colors and fonts, playing around with page layout as well as product page settings and review functionality, you will have put together your own specialized look.