In the world of eCommerce, trust is paramount. Shoppers rely on the experiences and opinions of others to make informed decisions about their purchases. This is where testimonials come into play, serving as powerful tools to build credibility and encourage conversion rates on your Shopify store.
Whether you're just starting your online business or looking to enhance your existing or create an online store, this article will walk you through the step-by-step process of how to add testimonials to Shopify site. From selecting the right Shopify testimonials to integrating them seamlessly, we'll cover it all. Let's dive in and boost your online presence with the trust of satisfied customers.
The Significance of Testimonials
Testimonials play a pivotal role in shaping the landscape of eCommerce, serving as powerful tools that bridge the gap between potential buyers and products or services.
Understanding the role of testimonials in eCommerce
Testimonials act as social proof, offering genuine insights into the experiences of previous customers. In the realm of eCommerce, where physical interaction is absent, these testimonials or social proof websites create a sense of trust and credibility. They provide prospective buyers with a tangible connection, allowing them to envision their own experiences through the eyes of others.
How testimonials influence customer trust and buying decisions
Testimonials significantly influence customer buying decisions and build trust. Positive testimonials build confidence, alleviating concerns and hesitations that buyers might have. When customers read about others' satisfaction, it fosters trust in the brand or product. This trust, in turn, translates into increased conversion rates and sales.
Conversely, negative testimonials offer opportunities for businesses to identify areas of improvement, showcasing transparency and a commitment to customer satisfaction. In essence, Shopify testimonials serve as beacons guiding consumers, enhancing trust, and ultimately shaping their purchasing choices in the dynamic world of eCommerce.
Recommended Blog for You:
👉 How to Use Tags in Shopify: A Step-by-Step Guide
👉 How to Reduce Bounce Rate on Shopify Store
How to Add Testimonials to Shopify Store
Adding testimonials to your Shopify store plays a vital role to build trust and credibility with potential customers. Here's a step-by-step guide on how to add testimonials to Shopify:
Step 1: Access Your Shopify Dashboard
Once logged in, access your Shopify dashboard. On the left-hand sidebar, under the "Sales Channels" section, click on "Online Store." Within the "Online Store" section, select "Pages" to view your Shopify site's existing pages.
Step 2: Create a New Testimonial Page
To add a new testimonial page, click on "Add Page."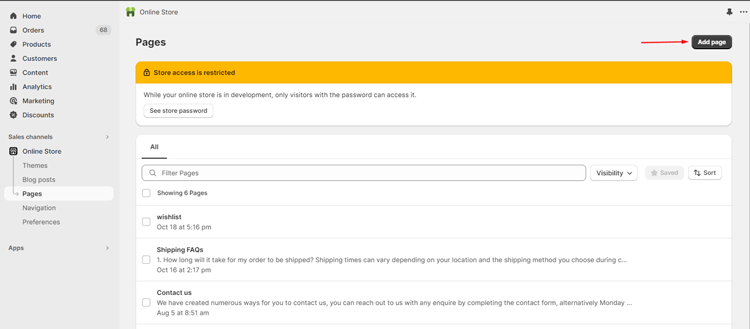 Step 3: Title and SEO Information
On the page creation screen, provide a title for your testimonial page, such as "Testimonials".
Additionally, add a brief meta description for Search Engine Optimization (SEO) purposes.
Step 4: Save Your Changes
After setting the page's title and SEO information, click "Save" to create your new testimonial page. This page will serve as a platform for showcasing customer testimonials on your Shopify store.
🚀Boost Your Online Store Sales with Mavon Shopify Theme!
Mavon – Your ticket to success! 🚀 Boost revenue with conversion-focused features and intuitive design, turning visitors into loyal customers.
Frequently Asked Questions
Should I only display positive testimonials in my store?
It's a good practice to showcase a mix of positive and constructive testimonials. Negative feedback, if handled well, can show authenticity and demonstrate your commitment to improving your Shopify products or services.
How do I collect testimonials from customers?
You can collect testimonials by sending follow-up emails to customers after their purchase, asking for their feedback. You can also incentivize them with discounts or other rewards for leaving a testimonial.
What should a good testimonial include?
A good testimonial should include the customer's name, a brief description of their experience, and specific details about what they liked about your Shopify products or service. A photo of the customer can also add authenticity.
Should I get permission from customers before using their testimonials?
Yes, it's important to get explicit permission from customers before using their testimonials. This helps maintain transparency and ensures you're following any applicable data privacy regulations.
Hire Experts to Build Your Shopify Store [Recommended- ShopiBuffet]
ShopiBuffet is a dependable option for Shopify store owners looking to improve their offerings. The holistic strategy offered by this eCommerce expertise enables people and companies to concentrate on growth while leaving the technical details in the hands of their knowledgeable professionals. The appeal of ShopiBuffet resides in its user-friendly Shopify storefront, which is supported by a talented design and marketing staff that can accommodate a range of budgets.
The quick-acting ShopiBuffet crew is committed to responding to client requests as soon as possible, displaying an unshakable dedication to satisfaction. ShopiBuffet stands out as the best option as you set out on your quest to create a successful Shopify store, setting the way for your road to success.
What Services We Offer:
Theme Installation & Demo Setup
Product & Collection Setup
Navigation Setup
Shopify SEO Services
Shopify migration service
Shopify stores regular updates and maintenance service
Final Words
To effectively incorporate testimonials into your Shopify store and enhance credibility, consider utilizing Shopify apps like Yotpo or Loox. These app streamline the process of collecting customer reviews and allow for easy display in formats like carousels or grids.
Alternatively, you can manually gather testimonials from customers via email or social media and showcase them in a dedicated section on your site. Regardless of your chosen method, ensure you feature a diverse range of testimonials that emphasize the positive experiences customers have had with your products or services.
This strategic approach can serve as a potent marketing tool to bolster sales and cultivate a devoted customer base. So, learn how to add testimonials to Shopify for a trust-building boost.