Are you searching for answers to the question, "What Does Shopify Cost?" Look no further! In this ultimate guide, we will provide you with a detailed overview of Shopify's features and pricing, helping you navigate the world of eCommerce with confidence. Whether you're a small business owner or an aspiring entrepreneur, understanding the costs involved in using Shopify is crucial.
What is Shopify?
Shopify is a comprehensive eCommerce platform designed to empower individuals and businesses in initiating, expanding, overseeing, and expanding their ventures. Using Shopify, businesses can set up and personalize their own online stores. They can do special marketing to reach customers and easily handle payments from different places, all in one simple platform.
Shopify's authority in the field of eCommerce is underpinned by the diverse experiences of countless business owners who have harnessed the platform's capabilities. Whether they are stand-alone or large enterprise brands, these business achievements inform Shopify's ongoing development of features and products designed to meet the evolving needs of today's businesses.
Shopify's commitment to innovation and its dedication to shaping the future of commerce stems from its deep-rooted understanding of the ever-changing landscape of online business.
Why Should You Know What Does Shopify Cost?
Understanding Shopify costs is crucial for several reasons, whether you're starting a new online business or optimizing an existing one:
Budget Planning: Knowing Shopify's pricing structure helps you budget effectively. It ensures you can set aside the right amount of money for your online store without any unexpected financial shocks. This is crucial for maintaining the financial well-being of your business.
Cost Management: Understanding the costs involved in using Shopify enables you to manage expenses more efficiently. You can identify areas where you can save money and make informed decisions about which features and plans best align with your business needs.
Profit Margins: The eCommerce businesses need to balance costs against revenue. By knowing the costs, you can accurately calculate your profit margins on each sale and ensure that your business remains profitable.
Scalability: As your business grows, you may need to upgrade your Shopify plan or invest in additional features. Understanding the costs involved in these upgrades is essential for planning your business's expansion.
Shopify Pricing Plans
Shopify Cost
One of the cheapest website builders, Shopify offers 2 different types of plans.
Monthly plans
Yearly plans
The plans are as follows:
Basic – $25/mo (billed monthly) & $19/mo (billed yearly)
Shopify – $65/mo (billed monthly) & $49/mo (billed yearly)
Advanced – $399/mo (billed monthly) & $299/mo (billed yearly)
There are some alternative plans as well. These are:
Starter – $5/mo
Retail – $89/mo
Shopify Plus – $2000/mo
Additional Shopify Costs
Transaction fees:
There are no transaction fees using Shopify Payments. If you choose a third-party payment provider on the Basic Shopify plan, you will be charged a 2.9% transaction fee and an additional $0.30 per transaction fee. Meanwhile, in the Advanced Shopify plan, the transaction fee is slightly reduced, coming in at 2.4%, along with the same $0.30 per transaction fee.
Credit card fees
Basic Shopify Plan – 2.7% + 30 cents per transaction
Shopify Plan – 2.5% + 30 cents per transaction
Advanced Shopify Plan – 2.4% + 30 cents per transaction
App fees and integration expenses
In the online Shopify app store, housing a vast collection of over 6,000 apps, numerous third-party providers offer diverse applications designed to complement Shopify websites. These apps come with a wide range of prices and functionalities, showcasing significant variations.
Custom domain and SSL certificate costs
Shopify offers domain name registration starting at $14 for a one-year registration period. To check the availability of your business name, you can visit Shopify's domain name page.
Theme costs
Shopify provides a collection of a few free themes and over 80 paid themes. For the remaining themes, a one-time fee is applicable, with prices ranging from $140 to $180.
🚀Boost Your Online Store Sales with Mavon Shopify Theme!
Mavon – Your ticket to success! 🚀 Boost revenue with conversion-focused features and intuitive design, turning visitors into loyal customers.
Choosing the Right Shopify Plan
In this thorough discussion of what does Shopify costs, we will discuss a few factors to consider when choosing a plan-
Budget:
When selecting a Shopify plan, your budget is a foundational consideration. Your initial startup budget plays a significant role, especially if you're just venturing into the world of eCommerce. It's often wise to start with a more affordable plan that aligns with your available funds and upgrade as your business gains traction.
Additionally, closely examine your monthly expenses, which include not only the plan cost but also other essential outlays such as inventory, marketing, and operational expenses. This holistic view will help you determine the right balance between your available budget and the features and capabilities offered by the plan.
Business Needs:
Tailoring your Shopify plan to your specific business needs is vital. First, take stock of the products you intend to sell and their variations. The number of products and variants you plan to list will dictate which plan can adequately accommodate your inventory size. Furthermore, consider where you want to sell your products.
Shopify's integrations with various sales channels can be a game-changer, so ensure that your chosen plan supports the sales channels that align with your business strategy. Finally, delve into the features offered within each plan to ensure that they align with your operational requirements and long-term goals.
Growth Potential:
As your business evolves, it's essential to select a Shopify plan that grows with you. Scalability is a critical factor here. Your chosen plan should allow for an increase in the number of products, website traffic, and transactions without causing disruptions.
If international expansion is in your future, look for a plan that supports multiple currencies and languages, enabling a seamless shopping experience for customers from various regions. Additionally, consider performance enhancements that come with higher-tier plans.
Tips for Saving Money on Shopify
To maximize your cost-efficiency on Shopify, consider these money-saving tips:
Utilizing Free Apps and Themes:
Leverage the wide array of free apps and themes available in the Shopify App Store and Theme Store. Many of these tools can boost your store's functionality and aesthetic without incurring additional expenses. From marketing to inventory management, there are numerous free resources to help enhance your store.
Negotiating Credit Card Fees:
Credit card processing fees can consume your profits. Explore negotiation options with your payment processor, or consider using Shopify Payments, Shopify's integrated gateway, which may offer competitive transaction rates. Negotiating with external processors for reduced fees can lead to substantial savings over time.
Choosing the Right Plan for Your Business:
Select a Shopify plan that aligns with your current needs and growth projections. Avoid overcommitting to costly plans with features you won't use immediately. Shopify's tiered pricing allows for easy scaling as your business expands. Continuously assess and adjust your plan to align with your evolving requirements to optimize cost-effectiveness.
🚀 Ready to skyrocket your Shopify store to success?
🚀 Unlock the secrets to success and boost your sales 📈 with ShopiBuffet's expert services. Don't miss out, get started now!
Shopify Features
Shopify offers a comprehensive suite of features to support your eCommerce business. Here are three key features:
Online Store Builder:
Shopify's online store builder allows you to create a professional and customized eCommerce website without extensive technical knowledge. It offers a variety of responsive themes, a user-friendly drag-and-drop editor, and the ability to customize the design to build an online store. You can add products, manage inventory, and optimize your site for search engines, making it a robust platform for establishing and managing your online store.
Payment Processing:
Shopify simplifies payment processing by offering its own payment gateway called Shopify Payments, as well as integrations with other popular payment providers. It ensures secure and smooth transactions for your customers. You can accept various payment methods, including credit cards and digital wallets, providing a seamless checkout experience. This feature helps you manage your revenue efficiently and securely.
Shipping and Fulfillment:
Shopify streamlines the shipping and fulfillment process for your business. You can set shipping rates, print shipping labels, and track orders from within the platform. It also offers integrations with major carriers, simplifying order fulfillment. With features like order tracking and automated order management, you can provide reliable and efficient shipping services to your customers, enhancing their overall shopping experience.
Marketing and SEO
Shopify's SEO services encompass page optimization through proper titles and meta tags. The platform also provides a suite of plugins that identify and rectify issues on your site to enhance sales. Shopify automatically generates sitemap.xml files for your products and posts.
Additionally, its swift loading and response times grant your site a competitive advantage, aligning with Google's preference for faster-loading websites. Moreover, Shopify seamlessly integrates your site and mobile app with major social network platforms like Facebook, Twitter, and Instagram, expanding your reach and bolstering your marketing efforts.
Customer support
One of Shopify's standout gifts is its provision of a 24/7 customer service hub, ensuring rapid and responsive assistance for its clientele. The company offers an array of support options, including community forums, chat, and voice support, all geared towards promptly addressing customer concerns. In addition, Shopify maintains an extensive repository of FAQs, empowering users to independently address their inquiries efficiently.
Easy payment integrations and options
Shopify simplifies payment integrations with an extensive array of options through partnerships with numerous gateways like PayPal, Stripe, and Apple Pay. Tailor your choice based on your specific requirements. The platform also offers Shopify Payments, enabling seamless acceptance of credit cards, debit cards, and PayPal payments.
Many merchants favor Shopify Payments due to its top-tier security and robust fraud protection. With these versatile payment solutions, Shopify ensures a secure and convenient transaction experience for both you and your customers.
Shopify Dropshipping
Shopify provides versatile options for selling products. It serves as a retail platform, enabling the sale of physical items online. Alternatively, Shopify supports dropshipping, where you don't stock inventory. Instead, suppliers directly ship orders to customers upon purchase. With a dependable supplier, setting up a Shopify dropshipping store is straightforward.
This approach allows entrepreneurs to manage an online business without the hassle of inventory handling, streamlining the process of reaching customers and fulfilling orders efficiently.
Shopify POS
Shopify POS offers seamless management for small businesses, online and offline. As an integrated point-of-sale system, it synchronizes effortlessly with Shopify stores. This enables in-store payment processing, inventory addition, and store management directly from the Shopify dashboard. The system facilitates the smooth handling of multiple locations and staff members.
It provides real-time sales tracking through comprehensive reports, offering a clear insight into your business performance. Shopify POS simplifies the complexities of business operations, making it the fastest and easiest solution for entrepreneurs aiming for efficient online and in-person retail experiences.
Frequently Asked Question
What does Shopify do?
Shopify is an eCommerce platform allowing businesses to create and manage online stores. It provides tools for designing, selling products, processing payments, and tracking sales and inventory.
Is Shopify trial free?
Yes, Shopify offers a free trial period for new users to explore and set up their online stores.
How long is the free trial with Shopify?
Shopify's free trial typically lasts for 3 days, and then you can enjoy $1/month for 3 months. During this period of time, you can test and build your online store.
Can I cancel Shopify after 3 months?
Yes, you can cancel your Shopify subscription at any time, even if you've been using it for three months. Shopify's pricing is typically on a monthly basis, so you can discontinue it when you wish.
How do I get an unlimited free trial on Shopify?
Shopify's standard free trial lasts for 3 days. There's no official way to get an unlimited free trial. If you need more time, you can consider reaching out to Shopify's support to discuss your specific situation, but this isn't a guaranteed option.
Recommended Shopify Themes
Mavon
Are you ready to start your own online business but unsure where to begin? Look no further than Mavon. The user-friendly platform offers affordable options for anyone looking to create a practical and visually stunning online store.
With customizable design options and features like size charts and color swatches, creating a visually appealing shopping destination has never been easier. Plus, Mavon's dedicated support team ensures a stress-free experience.
Optimizing your site for speed is simple, so watch your business grow with Mavon. Ready to take the next step? Make the switch to Mavon today and start building the online business of your dreams.
Highlighted Features:
20+ Flexible Sections
Size Chart
Lookbooks
Color swatches
High-resolution images
Price: Free trial version available.
Regular License: $280/ year
Lezada
Are you tired of generic Shopify themes that leave your online store lost in a sea of sameness? Then check out Lezada! With over 200 pre-made home versions and more than 11 Revolution Sliders, this Shopify theme is designed to make your storefront stand out from the crowd. Plus, with 10+ header styles, a variety of blog layouts, and an RTL version, Lezada allows for immense customization.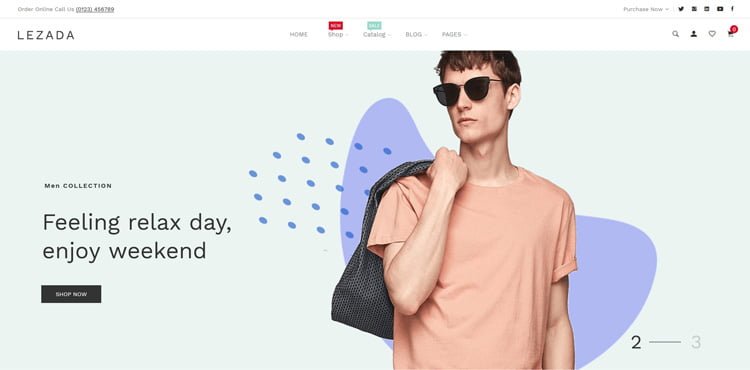 This theme boasts full responsiveness, making it an ideal choice for businesses seeking to reach a global audience. It offers comprehensive support for multiple languages and enables a seamless display of various currencies, further enhancing its suitability for international markets.
But it's not just about the looks. Lezada is also equipped with Google Analytics integration and well-commented HTML and CSS files, making it easy to track your progress and make important adjustments.
Highlighted Features:
15+ Preloader
Neat, clean, and simple design
Creative and Modern Flat Design
Fully Responsive and mobile first
Cross Browser Optimization,
Price: Regular License: $71
Recommended Shopify Apps
Pixee
Running an eCommerce store is not an easy feat. From managing inventory to customer service, it can all be a little overwhelming. That's why Pixee is here to help. This innovative app removes the headache of tracking your Facebook pixel and provides valuable information about your visitors.

By tracking important events like product views and completed purchases, you can create targeted ads that are sure to increase your sales. And now, with the integration of Server Side Event (Conversion API), Pixee is even more powerful. Say goodbye to complicated marketing strategies and hello to Pixee. It's the tool you need to take your eCommerce game to the next level.
Key Features:
Collect essential data about your store's visitors
Tracks events
Integrates Server Side Event
Price: Free of cost
HelpZenith ‑ Ticket & HelpDesk
Customer service is of utmost importance for any business, and HelpZenith provides a comprehensive support solution to help deliver exceptional support to your customers. With its effortless ticket management, you can streamline customer inquiries and manage them in a centralized system. Plus, with email-to-ticket conversion, you can ensure that no customer query goes unanswered.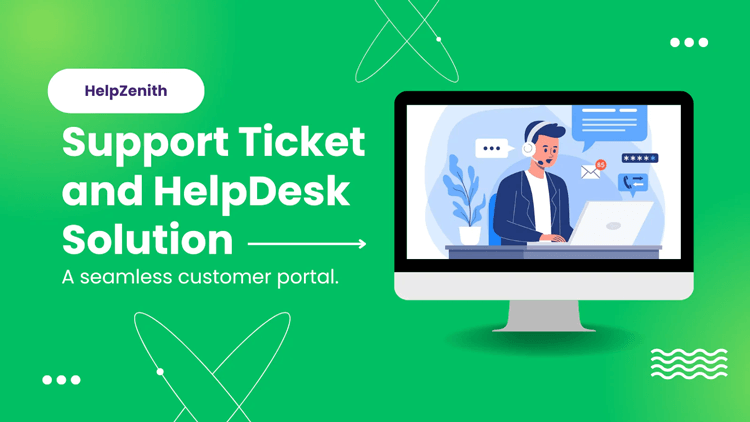 The detailed reports provided by HelpZenith give valuable insights into support activity, which can help businesses understand their customer's pain points and address them better. With workflow automation, businesses can automate assignments, categorization, and responses, making the process even more efficient.
Key Features:
Effortless Ticketing
Transform incoming emails t
Access insights with comprehensive support
Workflow Automation
Price: Free of cost
Get Exclusive Shopify Services from ShopiBuffet
Discover exceptional Shopify services at ShopiBuffet. Our team specializes in enhancing Shopify stores, allowing individuals and businesses to focus on growth while we handle technical complexities. With a user-friendly Shopify storefront supported by skilled design and marketing experts, our services are adaptable to various budgets.
ShopiBuffet prides itself on prompt customer support, ensuring utmost satisfaction. Our services include theme installation and demo setup, product and collection setup, and navigation configuration. Choose ShopiBuffet as your partner in establishing a thriving Shopify store, paving the way for your journey to success.
What Services We Offer:
Theme Installation & Demo Setup
Product & Collection Setup
Navigation Setup
Shopify SEO Services
Shopify migration service
Shopify stores regular updates and maintenance service
Conclusion
After taking a closer look at what does Shopify costs and the associated costs, it's safe to say that the platform is worth the investment for any eCommerce business looking to take their online presence to the next level. While costs are involved, the benefits of having a customizable and user-friendly website, access to numerous apps and integrations, and top-notch customer support make it a solid choice for entrepreneurs.
Plus, the ability to choose from several pricing plans means a Shopify option is suitable for businesses of any size and budget. In summary, the cost of Shopify is an investment that can pay off in the long run, helping businesses establish an online presence that strengthens their brand and drives sales.