Are you looking to spice up the look of your Shopify store? Changing the background color is a simple yet effective way to make your Shopify online store stand out and draw in customers. In this blog post, we'll show you how to change background color on Shopify in a few easy steps, so you can take control of your design and create an eye-catching Shopify online store.
🚀Boost Your Online Store Sales with Mavon Shopify Theme!
Mavon – Your ticket to success! 🚀 Boost revenue with conversion-focused features and intuitive design, turning visitors into loyal customers.
Why changing the background color is important
Changing the background color on a Shopify website is important for several reasons:
Branding and Aesthetics: The background color of your Shopify site contributes significantly to its overall look and feel. It's a key element of your brand's visual identity. By choosing the right background color, you can align your Shopify website's appearance with your brand's color palette and style, ensuring a consistent and appealing design.
Readability and Contrast: Background color affects text and content readability. Choosing a background color that provides good contrast with text ensures that your content is easily readable. This is especially important for maintaining a user-friendly and accessible Shopify website.
Highlighting Key Elements: Background color can be used strategically to highlight specific elements on your Shopify website, such as call-to-action buttons, product images, or important information. A contrasting background color can draw visitors' attention to these elements, encouraging engagement and conversions.
Emotional Impact: Colors have psychological and emotional effects on visitors. Different background colors can evoke specific emotions or convey certain messages. For example, a calming blue background may be suitable for a wellness Shopify website, while a bold red background might be used to create a sense of urgency on a sales page.
Seasonal and Promotional Changes: Changing the background color allows you to adapt your website's design to seasonal themes or promotional campaigns. For example, you might use a festive background color scheme during holidays or a limited-time sale background for promotions.
Detailed Steps on How to Change Background Color on Shopify
Here's a comprehensive guide on how to change Background color on Shopify:
Step 1: Sign Up for Your Shopify Account
If you don't have a Shopify store yet, you must first sign up for a Shopify account (which is free).
Once registered, log in to your online store using your email and password.
Step 2: Choose a Theme to Customize
Access your Shopify admin panel, select "Online Store," and then click on "Themes."
From the available theme settings, choose the one that includes the section you wish to modify and click "Customize."
Step 3: Modify the Default Color Scheme
On the theme's customize page, locate and click on "Theme Settings." You will find "Colors" option.
When you click on "Colors," you'll see a list of all the colors associated with your theme. You can now adjust these colors to your preference.
Step 4: Adjust the Background Color of the Section
Once you've adjusted the color settings, Go to the particular section you wish to modify the background color for. Within the Rich Text Editing window, locate and click on "Color Scheme." From here, choose the color you established in Step 3.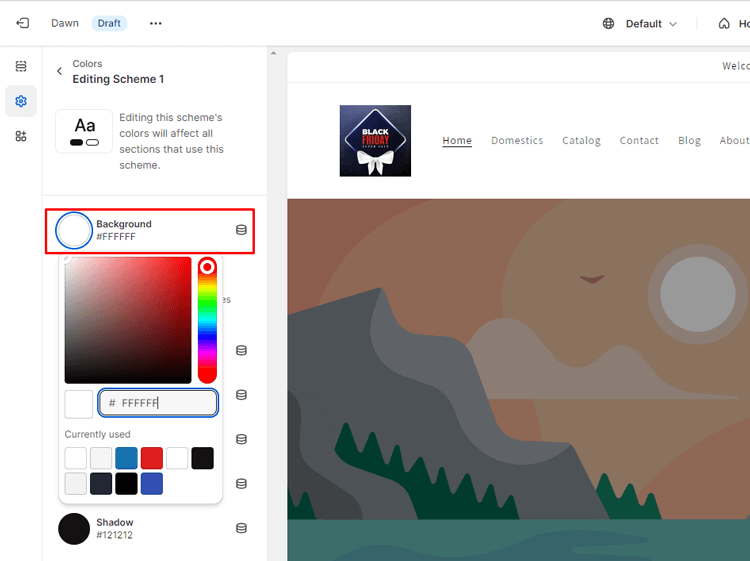 Step 5: Save Your Changes
Don't forget to click on "Save" to finalize the editing process.
🚀 Ready to skyrocket your Shopify store to success?
🚀 Unlock the secrets to success and boost your sales 📈 with ShopiBuffet's expert services. Don't miss out, get started now!
Frequently Asked Questions
Is it possible to have different background colors for different sections of my website?
Yes, many online store themes offer the option to set different background colors for various sections or elements on your Shopify website. You can usually configure this within the theme customization settings.
Will changing the background color affect the overall design of my Shopify store?
Yes, changing the background color can have a significant impact on your Shopify online store's design. It can affect readability, aesthetics, and the overall user experience. It's essential to choose a background color that complements your branding and maintains a cohesive design.
Can I schedule background color changes for specific occasions or promotions?
Shopify doesn't offer built-in scheduling for background color changes. However, you can manually change the background color Shopify when needed, such as for seasonal events or promotions, by following the same customization steps.
 Are there any best practices for choosing background colors on Shopify?
Yes, it's advisable to select background colors that align with your brand's color palette and provide good contrast with text and other content. Consider the emotional impact of changing colors and ensure that the chosen background color enhances your website's aesthetics and usability.
Hire Experts to Build Your Shopify Store [Recommended: ShopiBuffet]
For individuals and organizations looking to enhance their Shopify stores, ShopiBuffet, a renowned authority in elevating eCommerce platforms, offers a comprehensive solution. With ShopiBuffet, you can focus on growth while entrusting the technical intricacies to a team of seasoned experts.
ShopiBuffet presents a user-friendly platform, a skilled design and marketing team, and cost-effective solutions tailored to various budgets. Their services encompass theme setup, flawless demo implementation, meticulous organization of products and collections, as well as expert adjustments to typography and navigation.
The responsive team at ShopiBuffet is always ready to promptly address any requests, demonstrating an unwavering commitment to customer satisfaction. When embarking on your journey to establish a successful Shopify online store, ShopiBuffet stands out as the ideal choice, ensuring your path to success.
Conclusion
Exploring the various theme options available on Shopify can be an exciting venture, and customizing your store to align with your brand is crucial for standing out in the online market. Among the many design features Shopify offers is the option to Change the Background Color.
Whether you want to know how to change background color on Shopify or opt for a simple, clean background, Shopify makes it easy to customize your store's appearance. Not only can a unique background color help your brand remain memorable to customers, but it can also convey a sense of professionalism and creativity.