Have you ever wanted to know the secret to putting sold out on Shopify? Look no further! This step-by-step guide will provide you with all the information you need on how to put sold out on Shopify – quickly, efficiently, and, most importantly, accurately.
With just a few clicks of a button, you'll be one step closer to running your successful online store. So, let's get started learning how to put sold out on Shopify!
Step-by-Step Guide on How to Put Sold Out on Shopify
Here is a step-by-step guide on how to put sold out on Shopify-
Access the Shopify Dashboard.
Log in to your Shopify account to access the Shopify Dashboard, which serves as the central hub for managing your business operations. Upon logging in, you will be directed to the "home" page, where you can oversee various aspects of your business, such as inventory management, pricing adjustments, report generation, and store setup.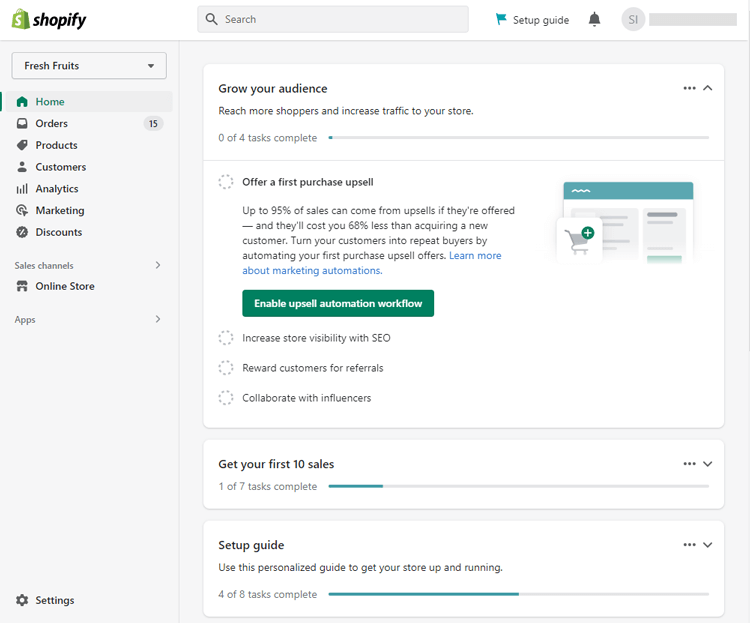 Choose "Products"
Navigate to the "Products" section. Within the Shopify Dashboard, locate and select the "Products" option. This section provides you with various functionalities to manage your products, such as adding new ones, modifying existing ones, and removing products that are no longer in stock.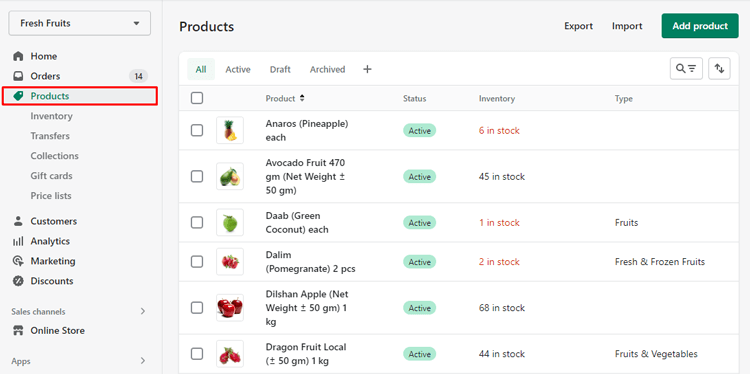 Select the product you want to edit.
When you access the product screen in Shopify, you will see a list of all the Shopify products currently in your store. From there, you can select the specific item you want to update. Once you've chosen the correct product, various editing options will be available.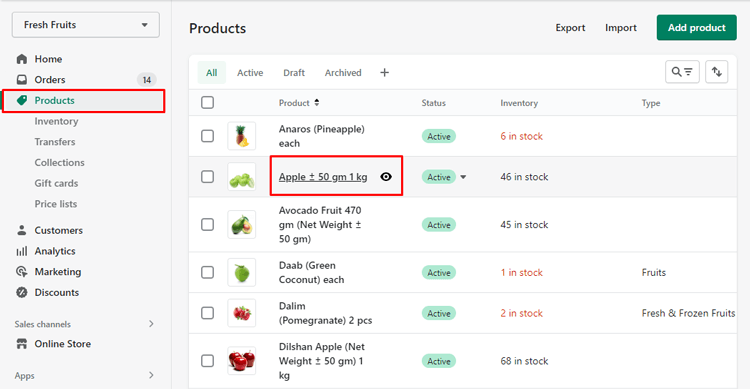 In this case, navigate to the "Inventory" section to make the necessary changes. If your product has variants, you will need to go to the variant section and select the specific variant you want to mark as "Sold Out."
Scroll down to the "Inventory" section.
You can find the part titled "Inventory" by scrolling down the page. It is the sole focus of this part to manage inventory levels. You can alter the number of products that are readily available, but you can also create reports to track current inventory levels and examine previous inventory adjustments. To avoid overselling and learn when to replenish your inventory, tracking these indicators is essential.
Select the number in the "Available" column.
Click on the number in the "Available" column and locate the "Available" column on the product screen and click on the number displayed in that column.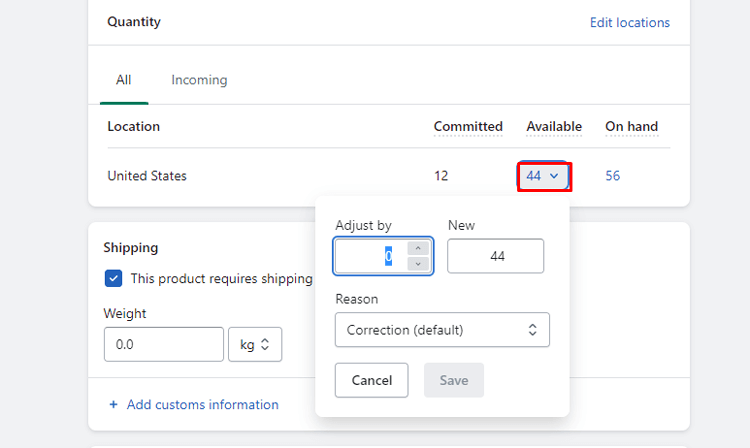 Adjusting the quantity available on Shopify will open an editable modal where you can make changes to the quantity. You can add, subtract, or completely reset the available number to indicate that the product is sold out.
Enter 0 to indicate that no products are available.
Select "Save" after changing the value to "0". "Selecting "Save" will bring the process to an end. If any staff members need to revisit the issue, make sure they are informed of your decision's justification. Since your Shopify product is no longer available, enter 0.
Check the updated quantity and then click Save.
After updating the quantity to 0, ensure that the displayed quantity reflects the correct amount. On the Shopify inventory screen, in the "Quantity" field, it should show 0 products available. Double-check the entered number for accuracy, then click "Save" to save the changes.
Mavon Shopify Theme
Boost your online store's conversion rate with Mavon, the high-converting Shopify theme. Elevate your brand with its visually stunning design, flexible sections, and top-notch user experience.
Frequently Asked Questions
How do I indicate that a product is sold out on Shopify?
To indicate that a product is sold out on Shopify, you can simply edit the sold products listing and change the enable inventory tracking Shopify status to "Sold Out". This will automatically update the product page to show that the item is no longer available for purchase.
Can I customize the "Sold Out" message on my Shopify store?
Yes, you can customize the "Sold Out" message on your Shopify store by editing the language settings in your theme. You can change the wording and styling of the message to match your brand's tone and aesthetics.
What happens when a customer tries to purchase a sold out item on my Shopify store?
When a customer tries to purchase a sold out item on your Shopify store, he/she will see a message indicating that the product is no longer available for purchase. Depending on your store settings, he/she may also have the option to sign up for an email notification when the product comes back in stock.
Can I still display sold out products on my Shopify store?
Yes, you can still display sold out products on your Shopify store by using a "Sold Out" label or badge. This can help create a sense of scarcity and encourage customers to sign up for back-in-stock notifications.
Hire Shopify Experts to develop your store
Introducing ShopiBuffet, the ultimate destination for exclusive Shopify services. With ShopiBuffet, entrepreneurs can enjoy the ease and convenience of setting up a fully-functional eCommerce store. Their team of highly experienced professionals is dedicated to managing all aspects of your online business, from creating captivating themes and configuring products to maintaining seamless navigation and establishing effective sales channels and collections.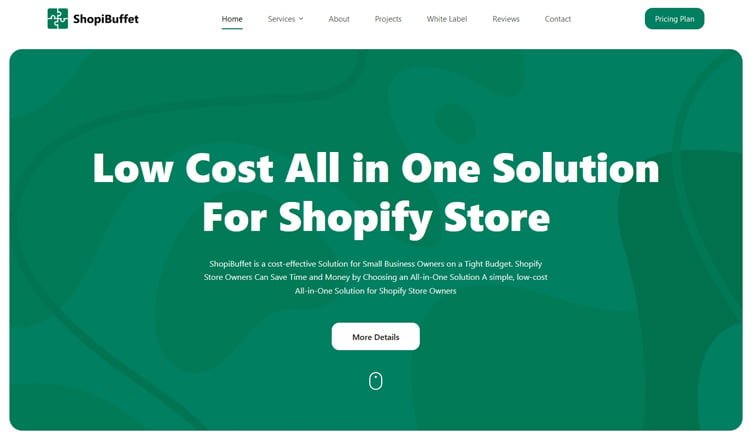 ShopiBuffet doesn't stop at just store setup. They provide ongoing guidance and support to ensure your success. Their exclusive customer support ensures that you never have to navigate the challenges of running your online business alone. Whether you're a beginner or a seasoned professional, ShopiBuffet's services are designed to cater to your unique needs, helping you start selling online effortlessly.
Experience the quick and easy solution with ShopiBuffet. They offer a comprehensive one-stop solution to get your Shopify store up and running in no time. Don't hesitate any longer – let ShopiBuffet take care of your Shopify needs and discover the convenience of confidently launching your online business.
Wrap-Up
In conclusion, how to put sold out on Shopify store can be an easy and effective way to manage your inventory and create urgency for your customers. By indicating sold products, you can prevent disappointment and frustration for potential buyers who may have had their hearts set on that item. Additionally, when shoppers see that items are selling out quickly, it can create a sense of urgency and encourage them to make a purchase before that product is gone for good.