Are you looking for a fast and easy way to remove a sales channel from your Shopify store? Don't worry. We have you covered with this quick and easy guide on how to remove sales channel on Shopify.
Whether you're new to eCommerce or just need a refresher, this guide will provide all the info you need to quickly and effectively delete unwanted online sales channels from your store. Keep reading to learn more about how to remove sales channel on Shopify.
Benefits of Removing Unused Sales Channels
Removing unused sales channels from your eCommerce platform can bring several benefits:
Simplified Management:
You can simplify the management of your eCommerce platform by eliminating any unused sales channels. It clears the way for you to concentrate on the active channels that drive sales and demand your attention.
Improved User Experience:
Eliminating inactive online sales channels makes it easier for your clients to use your website in a seamless and simple way. It lowers complexity and removes pointless alternatives, making it easier for customers to move around your online store.
Enhanced Performance:
Each sales channel Shopify makes your eCommerce platform more complex, which could have an impact on performance. You can decrease system load and enhance your website's overall performance and responsiveness by deleting any unneeded channels. Better user experience and more customer satisfaction result from this.
Savings on expenses:
Depending on your eCommerce platform, certain sales channels on Shopify could have extra expenses like subscription fees or transaction fees. These costs can be reduced by removing useless channels, which will free up more money for active channels or other company endeavors.
Strategic Focus:
You may allocate your resources and efforts more effectively if you concentrate on the online sales channels that bring in the most money or are consistent with your company's objectives. This enables you to harness the potential of the active channels, boosting growth and generating revenue.
Recommended Blog for You
👉 How to Create Subcollection in Shopify Via Navigation Menu: Simple Steps
👉 How to Add Video on Shopify Product Page: A Comprehensive Guide
👉 10 Best Premium Shopify Themes for Professional Online Stores
Mavon Shopify Theme
Boost your online store's conversion rate with Mavon, the high-converting Shopify theme. Elevate your brand with its visually stunning design, flexible sections, and top-notch user experience.
Steps on How to Remove Sales Channel on Shopify
Here are the step by step guide on how to remove sales channel on Shopify:
Step 1: Select Sales Channels
Log in to your Shopify admin panel using your credentials. Once you're in the admin dashboard, locate and click on the "Settings" tab at the bottom left corner of the screen.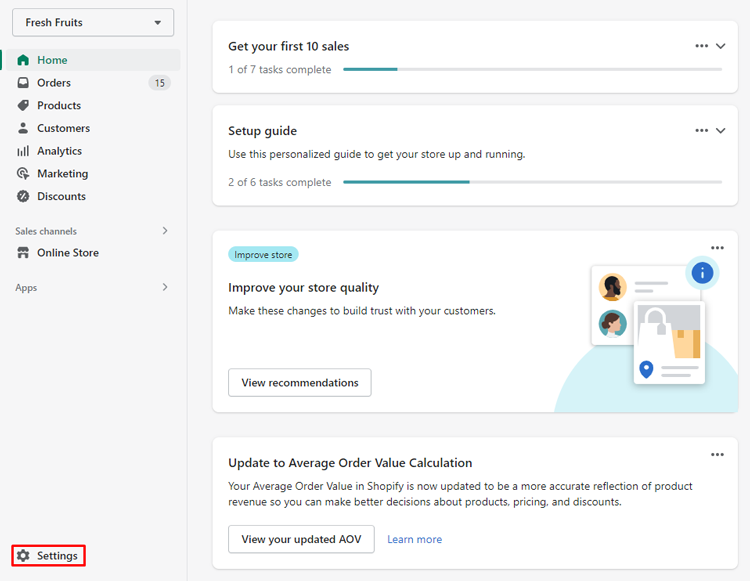 From the dropdown menu, select "Apps and Sales Channels."
Step 2: Select the trash icon
In the Sales Channels section, you will see a list of all the sales channels currently added to your Shopify store. Find the sales channel you want to remove and locate the corresponding row. Within that row, you'll find an Uninstall button. So that, you can click the Uninstall button to Remove Sales Channel.
Or, you'll see a small trash icon (usually represented by three dots). Click on the trash icon to initiate the removal process for that sales channel.
Step 3: State the reason for removal
After clicking on the trash icon, a pop-up window will appear, asking you to confirm the removal of the sales channel.
In the pop-up window, you'll be prompted to state the reason for removing the sales channel.
Provide a brief explanation for the Remove Sales Channel(optional) to help you remember the context behind the decision. This reason is for internal reference only and will not affect the removal process.
Step 4: Select Remove
Once you've stated the reason (if desired), review the information in the pop-up window to ensure you are removing the correct sales channel.
If you're certain you want to proceed with the removal, click on the "Remove" button.
Shopify will then initiate the removal process, which may take a few moments.
Once the removal is complete, you will receive a confirmation message indicating that the sales channel has been successfully removed.
After completing these steps, the sales channel will be removed from your Shopify store. To confirm the removal, you can go back to the Sales Channels section under the Settings menu. The removed sales channel should no longer be listed there.

Frequently Asked Questions
Can I remove a sales channel on Shopify without deleting my products and orders?
Yes, you can remove a sales channel on Shopify without deleting your products and orders by first making sure that the products and orders associated with that channel have been transferred to another sales channel. Once the process of removing sales channel on Shopify is done, you can safely delete the sales channel without losing any data.
What happens to my customers' information when I remove a sales channel on Shopify?
When you remove a sales channel on Shopify, any customer information associated with that channel, such as orders and contact details, will be deleted from your Shopify admin account. It is important to make sure that you have a backup of this data before removing the channel.
Can I re-add a sales channel on Shopify after removing it?
Yes, you can re-add a sales channel Shopify after removing it by going to the "Sales Channels" section of your Shopify account and clicking on the "Add Sales Channel" button. From here, you can select the channel you want to add and follow the prompts to set it up.
Will removing a sales channel affect my inventory and pricing on other channels?
No, removing a sales channel on Shopify should not affect your inventory and pricing on other channels. However, it is important to regularly review your inventory and pricing settings to ensure that they are consistent across all channels.
Wrapping Up
Wrapping up your Shopify store can feel like a daunting process, but removing a sales channel is actually quite simple. First, head over to your Shopify dashboard and navigate to the "Sales Channels" section. From there, locate the sales channel you want to remove and click the "Delete" button.
Shopify will prompt you to confirm the action, and once you do, the sales channel will be removed from your online store. Easy peasy! With this quick step-by-step guide on how to move sales channels to Shopify, you'll have your Shopify store up and running in no time..