If you're looking to enhance the alternative payment options for your Shopify store, understanding "how to add Sezzle to Shopify" is a pivotal step. Sezzle is a popular buy now, pay later (BNPL) platform that offers customers the flexibility they desire.
In this comprehensive guide provides readers with a detailed exploration of Sezzle, its benefits, and step-by-step instructions on how to add Sezzle to Shopify store, ensuring they can offer their customers a seamless and flexible payment experience.
What is Sezzle
With Sezzle, users can opt for a "buy now, pay later" option whereby their purchase is divided into four equal installments. The first payment is made at the moment of purchase, and the following three are stretched out over two weeks. Customers who wish to budget by breaking up the expense of large purchases or several things into manageable installments are drawn to this service.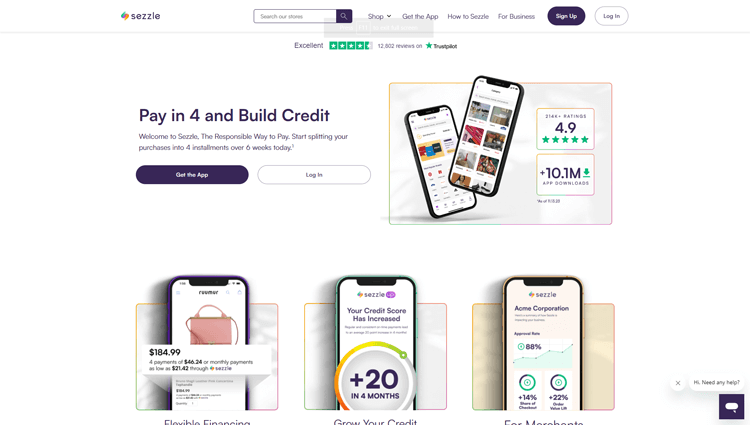 It's a payment platform that allows customers to make a purchase and pay for it in interest-free installments, promoting convenience and financial flexibility. Customers can spend more online and pay later in smaller, budget-friendly payments, making it an appealing option for shoppers and businesses that accept online payments.
Why Should You Add Sezzle to Your Shopify Store?
Adding Sezzle to your Shopify store can have several benefits:
Boost Sales Growth: Sezzle provides a convenient payment method, making it easier for customers to complete large transactions. This convenience can attract more customers to your store, leading to increased sales and revenue.
Assist with Financial Challenges: Buy Now, Pay Later (BNPL) options like Sezzle can be instrumental in helping customers build credit and improve their financial well-being. By offering this Sezzle payment option, you contribute to resolving financial challenges for your customers.
Attract Potential Customers: By providing a Sezzle payment option, you enhance the overall shopping experience for your customers. This positive shopping experience can attract more potential customers to your store and influence their buying behavior, ultimately driving more sales.
Recommended Blog for You
👉 What Does Shopify Cost? The Ultimate Guide to Shopify Pricing and Features
👉 Maximizing Sales: How to Hide Sold Out Items on Shopify
👉 How to Add Testimonials to Shopify: Building Trust and Boosting Sales
👉 How Much is Shopify Worth: Shopify's Current Valuation
👉 Best 5 Alternatives to District Shopify theme
Benefits of adding Sezzle to your Shopify store, including increased sales and customer loyalty
Adding Sezzle to your Shopify store offers several benefits, enhancing both customer experience and your business's bottom line:
No Interest or Fees: The sezzle payment option on Shopify allows customers to pay in installments without incurring interest or additional charges. This transparency encourages shoppers to make purchases without the worry of hidden costs, promoting trust and repeat business.
Increased Average Order Quantity: By splitting payments into manageable installments, Sezzle encourages customers to buy more. Shoppers are more likely to add higher-priced items or additional products to their cart when they know they can pay in smaller, interest-free increments.
Reduced Cart Abandonment: Complex checkout processes or high order totals often lead to cart abandonment. Sezzle simplifies the payment process and makes larger purchases more affordable, reducing the likelihood of customers abandoning their carts before completing the purchase.
Easy Setup and Use: Sezzle integration with Shopify is seamless. Setting it up is user-friendly and requires minimal effort, providing businesses with a powerful tool without the hassle of complicated implementation.
🚀Boost Your Online Store Sales with Mavon Shopify Theme!
Mavon – Your ticket to success! 🚀 Boost revenue with conversion-focused features and intuitive design, turning visitors into loyal customers.
How to Add Sezzle to Shopify in 3 Easy Steps
Here is the process of how to add Sezzle to Shopify store, which involves several steps:
Step-1: Sign Up
Visit the Sezzle website and click on "Sign Up" to create your Sezzle account.
Fill in the required information to complete the sign-up process. Ensure you select Shopify as your eCommerce platform.
Verify your account via email and log in to your Sezzle account.
Step-2: Install Sezzle Payment on your Shopify store
Access the "Setup Checklist" in your Sezzle account, then click on "Get the Payment App" to open the Shopify app store.
Click "Add App" and install Sezzle Payments.
Provide your Shopify store information and public and private API keys, making sure the "Live" button is selected.
Save your settings.
Select "Active Sezzle Payments" to link Sezzle to your Shopify store.
Step 3: Add the Sezzle widget to your store
Click on "Add Widgets" to add Sezzle sales widgets to your Shopify store.
Go to your product page and verify that the widgets have been added there.
If they are not available immediately, the Sezzle team will work on adding them within 2-4 business days.
Pros and Cons of Sezzle
Sezzle Pros:
Zero-Interest Loans: Sezzle allows users to make purchases without incurring interest charges, making it an attractive payment option for Shopify for budget-conscious shoppers.
Free Payment Rescheduling: Sezzle allows users to reschedule payments without additional charges, accommodating changes in their financial situations.
Credit Reporting Option: Borrowers can opt to have their Sezzle payment history reported to credit bureaus, potentially helping them build or improve their credit scores.
Avoids Collections: Sezzle doesn't send borrowers to collections, offering a more forgiving approach if payment issues arise.
Sezzle Cons:
Not available in all countries: Sezzle may not be available in all countries, limiting its accessibility for international merchants or customers.
Failed or rescheduled payment fees: Sezzle may charge fees for failed or rescheduled payments, which can be a disadvantage for customers who encounter difficulties in meeting their payment obligations.
Lower credit limits: Some users have reported lower credit limits compared to other buy now, pay later providers, which could limit the purchasing power of customers.
Frequently Asked Question
Does Sezzle have a Credit limit?
Yes, Sezzle sets individual credit limits for users based on various factors, including their repayment history and other criteria. These limits determine the maximum amount users can spend using Sezzle.
Is Sezzle Payment available worldwide?
Sezzle is primarily available in the United States and Canada. However, it has started expanding its services to other countries, so availability may vary depending on your location.
In what countries can I use Sezzle?
Sezzle is available in the United States and Canada. It has also expanded its services to several other countries, including Australia, Hong Kong, Belgium, Indonesia, Germany, the United Kingdom, and Austria. Availability in specific countries may change, so it's advisable to check Sezzle's official website for the most up-to-date information on supported regions.
Conclusion
After careful consideration and evaluation, it seems apparent that adding Sezzle to Shopify is a game changer. For both the consumer and the shop owner, this payment platform opens up doors and opens wallets.
With the bonus of boosting sales, increasing cart sizes, and even speeding up checkout times, it's no wonder why so many Shopify store owners are choosing to integrate.
Sezzle functions as a buy-now-pay-later service, allowing consumers to make affordable payments over time while still receiving their desired products. In the end, Sezzle seems like the perfect addition to any Shopify store looking to increase conversions and improve the overall customer experience.