If you are running a Shopify store that is looking to expand into markets, then you will need to find a good translation app. There are many different translation apps on the market available, but not all of them are created equal. In this blog post, we will recommend the best Shopify translation app among our top picks. We will also discuss the features of each app and how they can benefit your business.
Why finding a good translation app is important for Shopify stores
When managing a Shopify store, finding a reliable translation app is essential for success with an international audience. Translation apps can help any store gain a global reach, as they allow customers to get the products they want in the language they want. What is the best Shopify translation app for your store? It depends on your business objectives and budget, but consider both usability and price when making your decision.
Ultimately, the best translation solution for you may depend on various factors, such as technology compatibility, budget constraints, and functionality needs. However, it's worth investing in a good Shopify translation app – translations provide a way for potential customers who don't speak English to access quality products from around the world, helping stores expand their customer base and grow as global businesses.
The Best Shopify Translation Apps
Weglot
Weglot is the one of the best Shopify translation apps available on the market today. It's an ideal choice for any eCommerce store looking to tap into an additional global customer base. With Weglot, you can have a fully translated store running in less than five minutes, giving you time and energy to focus on other areas of your business.
Not only that, but this comprehensive solution features a first layer of machine translation for speed and automation, post-editing features to control translation quality, automatic indexing on search engines, and even SEO optimization for improved customer acquisition. All in all, Weglot makes it easy and fast to take your store global.
Key Features
Integrates seamlessly with your Shopify store
Automatic translation in more than 100 languages is possible
Powerful SEO optimization
Pricing
Free Plan: Free
Starter Plan: $15/month
Business Plan: $29/month
Pro Plan: $79/month
Rating: 4.7
👉 Check 5 Best Alternatives to Icon Shopify theme for your Online store
🚀 Ready to skyrocket your Shopify store to success?
🚀 Unlock the secrets to success and boost your sales 📈 with ShopiBuffet's expert services. Don't miss out, get started now!
AI Translate Language LangShop
With LangShop, you can access the best Shopify translation app with amazing features that provide a seamless shopping experience. Powered by AI technology, this app allows you to easily translate your store's content – from third-party apps and dynamic range to Shopify Checkout and images – as well as adapt your merchant's currency to align with cultural differences.
Incorporated into every store, LangShop's automated process results in greater accuracy of translations and more efficient use of merchants' resources. Plus, it works with multiple currencies and integrates effortlessly into any Shopify store in order to fully capitalize on your global reach.
Key Features
Machine, agency, pro (Google, DeepL) & manual translation with in-built glossary
Up-to-date currency conversion with auto rounding system for prices
Organic search boost with multilingual SEO. RTL languages (Arabic/Hebrew)
Custom language/currency switcher. Geolocation-based redirect
Pricing
Free Plan: Free
Basic: $10/month
Standard: $34/month
Advanced: $68/month
Rating: 4.7
👉Explore 140+ Shopify Themes
G | Translate Shop Translator
With the G | translate translation app for Shopify, you have the capacity to translate your content into multiple languages effortlessly. This app Shopify understands that store designs vary and offer different customizable language selectors to match whatever look you may have on your site.
Automatic translation is also available, which provides instant results. However, you can even further perfect the translation quality by editing it yourself or having a professional translation team do so.
And with this translation editor's in-context translation feature, you can change made to your translation will be showcased directly on the page. That way, anyone across the globe searching the internet in any language would be able to discover any product you are selling–great for multilingual SEO.
Key Features
Customizable lightweight language switcher to match your store design
Translation proxy technology which can translate most third-party app content
URL translation to boost your multilingual SEO
Unlimited automatic translations help to get instant results
Pricing
Free Plan: Free
Bilingual Plan; $9.99/month
StartUp: $19.99/month
Business: $29.99/month
Rating: 4.7
👉 Do you know How to Get the Best Shopify Store Design Services on Fiverr?
Transcy: AI-Language Translate
Shopify stores can now be easily internationalized to tap into global markets with Transcy's powerful translation and currency conversion solutions. This intelligent AI-driven system allows for quick and accurate translations of Shopify content, providing shoppers not only with a native shopping experience but also with an aggressive pricing strategy due to its real-time updating of multiple currencies at the exchange rate.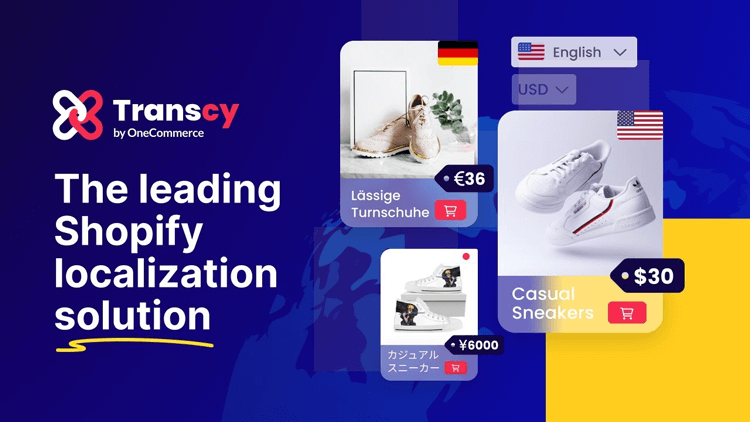 Transcy helps you localize your store to multiple languages with content translation and currency conversion – providing the unique, seamless native shopping experience that customers demand.
With unlimited word translation at high quality and naturalness, along with built-in multilingual SEO optimizations, you can confidently increase organic traffic and boost sales across every market you target. And best of all, it's all automated – allowing more effortless management of Shopify stores in multiple languages and currencies.
Key Features
Increase organic traffic with multilingual SEO optimization
Improve the user experience by geolocation-based language & currency switching
Auto-Translate to native language & convert currency by real-time Exchange Rate
Develop brand identity with stunning, customizable language & currency switcher
Pricing
Free Plan: Free
Basic: $11.90/month
Growth: $29.90/month
Premium: $59.90/month
Rating: 4.9
👉 Learn How to Write Shopify Product Descriptions That Sell: Tips and Tricks
Language Translate‑Langwill
Shopify stores that are looking for a convenient and fast way to expand into other markets should consider using Langwill. This easy-to-use platform provides Shopify stores with a fully localized, multiple-language store in minutes. Utilizing advanced AI machine translators combined with manual edit features, Shopify owners can easily break the language barriers and access new markets quickly.
With this innovative tool, Shopify store owners no longer need to manually keep track of translations on their site any time changes are made – the solution takes care of that for them automatically. In addition, shopify stores can also benefit from switching languages based on visitors' browser language preferences, thus providing a better shopping experience for all.
Key Features
Translate with AI machine translator in minutes
Auto-update translations for any changes in your store
Switch language based on visitors' browser language
Rating: 4.9
Frequently Asked Questions
Does Shopify offer a built-in translation feature?
Yes, there is a built-in translation feature in the Shopify platform. This allows merchants to upload language files and have their store automatically translated into a range of different languages.
Is it possible to integrate third-party translation apps with Shopify?
A: Yes, many third-party translation apps are compatible with the Shopify platform and can be easily integrated with your store.
How do I get started with a Shopify translation app? 
You need to install the apps directly from the Shopify App Store and then configure settings such as language selection and currency preferences.
Conclusion – Which Is The Best Translation App for Shopify Stores?
Shopify is a powerful and popular platform for setting up stores but it often has limited translation capabilities. Finding the correct translation app to power Shopify stores can be a challenge, as many great options are available.
Ultimately, which one is the best Shopify Translation App for Shopify stores comes down to how reliable, user-friendly, and reasonably priced it is. Many solutions offer quality translations while making it easy to integrate with Shopify's platform so that you can easily support multiple languages in your store.
Researching the features of different translation apps will help you decide which is best suited to your Shopify store needs and goals.