If you're running an online store on Shopify, then you've probably heard the term "tags." But what are tags on Shopify, and why are they important? In this article, we'll explain what tags are and why they're an important part of your eCommerce business. We'll also show you how to add tags on Shopify products so that you can start taking advantage of them.
What are tags on Shopify, and what do they do
Tags on Shopify offer a great way to help organize and group items in a store. Through them, merchants can assign products with additional pieces of information that can be used later for sorting and filtering. For example, if you have many different colors available for a dress, you can add tags such as "red," "black," "blue," etc., so customers can easily filter the items they are interested in.
Additionally, Shopify tags are helpful when it comes to analytics. Merchants can use tags to track customer-specific behaviors and gain valuable insights into which types of items their target audience prefers. In a nutshell, tags on Shopify help make your store more organized and efficient from both the business and customer perspectives.
Why are tags important for your online store?
Tagging products in your online store is essential for helping customers find what they are looking for. Shopify tags offer a concise descriptor of the product or its features, allowing customers to quickly search and browse through a selection of items that match their needs.
Well-labeled tags can increase sales by introducing potential customers to products they may not have considered initially or simply by making your store's navigation more accessible and more enjoyable. Ultimately, investing in a sound tagging system will benefit both you and your consumers with improved search capabilities and visibility.

The Different Types of Shopify Tags
Products
Shopify offers a unique range of tags for various purposes to enhance the user experience when customers search for products. For example, product tags allow users to customize their selection process on the Products and Inventory pages by filtering items according to their personal preferences.
Automatic collections can be built more accessible with product tags acting as tailored filters; while the tags do not display in a customer's search result, they still make sure that only the most relevant items appear at the top of the list. As a result, Shopify product tags provide everything a user needs to maximize store functionality while adding an element of expertise to product categorization.
Transfer
Shopify offers a wide range of tags to help organize and optimize your business. Among the different types of tags available, one interesting type is transfer tags. With these tags, you can conveniently tag any transfers you make with vendors or locations to track them better.
Additionally, the transfer details page can be tailored to your needs by adding or removing tags as desired, and even the Transfers page can be filtered by whatever tags you've chosen. This makes it much easier for shop owners to maintain an organized record of their transfers and ensure everything remains up-to-date and easy to access.
Customer
Shopify tags provide customers with various tags to help them organize their customers. On the details page of a specific customer, you can add and delete tags to help categorize customers and keep track of various actions associated with them. Furthermore, all the tags associated with that customer can be seen on any customer details page. 
This is especially useful for creating personalized marketing campaigns or segments of customers who can receive scheduled emails and SMS based on the particular tag they've been assigned. Using these tags provides an efficient way to manage Shopify customers while providing tailored communication tailored for each customer.
Blog Post
Blogging is a great way to grow your eCommerce business, but staying organized and consistent can take time and effort. One way to keep control over your blog posts is by tagging them on the blog page. In addition, the blog posts Shopify makes it easy to quickly find exactly what you're looking for and helps ensure that each post resonates with readers.
You can add tags to organize posts and help reach potential new customers as they search for specific content. So take advantage of tagging. It's an invaluable tool for creating engaging content that helps expand your business's reach.
Order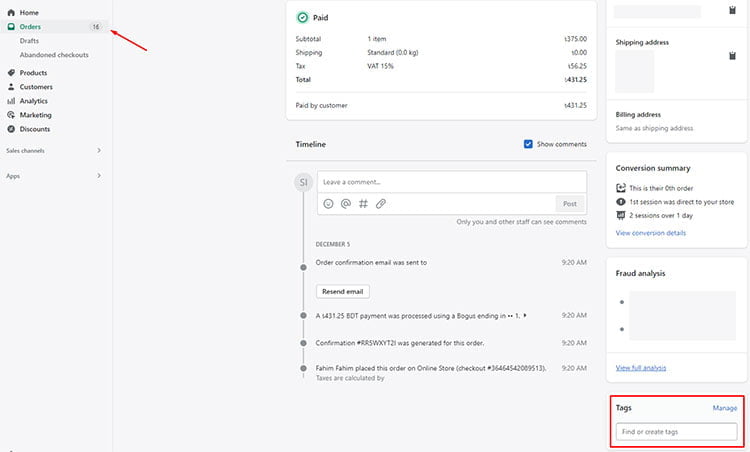 Utilizing order tags is an invaluable tool for streamlining order management tasks and ensuring accuracy in order fulfillment processes. When organizing a backlog of orders, you can use tags to group orders by delivery status, expected delivery dates, and fulfillment region. This allows shipping and logistics teams to become more efficient while fulfilling customer orders on time and with the correct items included.
Without proper order tagging in place, it's easy for things to get lost in the shuffle or fall through the cracks. Having detailed tags affixed to each order can significantly impact delivering a seamless experience for customers.
How to add tags to Shopify products
Adding tags to Shopify products is a great way to help customers navigate their store and discover new products. It's an easy 4-step process that can significantly impact your customer experience.
First, go to your Shopify admin and pick which type of tag you want to use.
Second, select the product you want the tags added.
Third, enter the tag name in the Tags section or select one from the list already provided.
Finally, save your changes with a simple click of "Done," and you're finished!
Following these steps will not only better organize Shopify products for customers but make discovering them more accessible too.

Tips for using tags effectively in your shop
Understand How They Work
Understanding how tags work is the first step in using them effectively when setting up your shop. Tags are essential tools that act as keywords and labels to help visitors find the right products quickly. They can be composed of individual words or phrases, which must be chosen carefully to increase the visibility of items on Search Engines and platforms such as Etsy.
Research popular terms and trending topics to ensure that your tags are optimized for maximum results. Double-check spelling if you create elaborate tags so customers can find your goods quickly. Lastly, remember not to overload your items with too many tags – try to pick no more than 5-10 relevant words for each item. Using these strategies, you'll get the most out of each tag to draw customers in.
Be consistent
Consistency is key to generating successful tags, allowing shoppers to identify and find the items they're interested in quickly. So when creating tags, take time to review the list regularly. Make sure each tag follows a consistent format – for example, all names of products are spelled the same way – and ensure you highlight any essential attributes such as color or size in easy-to-understand terms.
This attention to detail will help customers find what they want faster, driving up customer satisfaction and boosting sales.
Don't Use Too Many
Regarding tags, like in an online store, less can often be more. Therefore, it is essential to narrow the list of tags to only the top keywords that accurately describe your shop's offer. By doing this, shoppers can quickly and easily find what they are looking for rather than being bamboozled by a congested set of options.
Additionally, using fewer tags allows those associated with the products to stand out rather than getting lost in a swarm of irrelevant information. In other words, take your time when choosing which tags you will include; if possible, try not to have more than five or six at a given time.
Keep it relevant
When it comes to good tag usage, relevance is key. Take time to think about how each of your tags can best describe the items in your shop – don't just throw some words together. Also, consider what shoppers are likely looking for when they search a particular word and ensure that you have clearly described the item so they can quickly and easily find what they need.
Utilizing overarching tags such as color or style is helpful, too; this way the customer will be shown all of the options with that particular descriptor. Effective tagging will help make your shop easier to navigate and ensure customers get exactly what they want.
Want to Hire Experts to Develop Your Shopify Store? (Recommended: ShopiBuffet)
ShopiBuffet is your ultimate destination for Shopify store development. We specialize in creating exceptional online stores that drive sales and capture attention. With ShopiBuffet, you'll experience the benefits of increased conversions and a seamless shopping experience.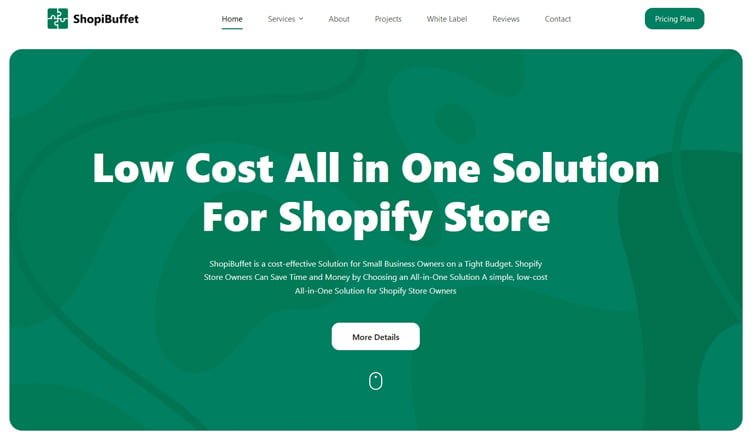 Our Top Services:
Shopify theme development and customization.
Shopify App development and customization.
Shopify store setup and customization.
Shopify SEO service.
PSD to Shopify theme or Figma to Shopify conversion.
Benefits of using ShopiBuffet Services:
Access to skilled Shopify experts and developers.
Time-saving solution for store setup and management.
Quick and easy store setup process.
Wide selection of 140 Shopify themes.
Customization options for personalized store design.
Store optimization for improved performance.
Conversion-focused approach with online tracking.
Ongoing support and assistance.
Affordable pricing plans.
Ready to launch your dream Shopify store? Let ShopiBuffet handle the heavy lifting while you focus on growing your business. Don't miss out on the opportunity to stand out in the competitive eCommerce world. Take action today and unleash the full potential of your Shopify store with ShopiBuffet!
FAQs about tags and Shopify
Can I use tags on Shopify?
The listings on the Products, Transfers, Blog posts, Orders, and Draft orders pages can be filtered using tags. Additionally, you may filter the list of variants on the Inventory page using product tags.
Do Shopify tags aid with SEO?
The title tag and meta description are two of the most crucial SEO components. People looking for things relevant to your products might learn more about them by viewing them in search engine results.
What makes tags so crucial on Shopify?
Tags sort your Shopify store's products and information to make management easier. You can organize significant information using custom tags in particular sections of your store.
Final Thoughts
In conclusion, tags are a powerful tool for improving and streamlining Shopify stores. With a simple addition to the system code and the ability to assign multiple tags for products, brands can create an organized hierarchy of items that can be easily filtered, searched, and displayed. Tags give store owners greater control over their inventory and better customer experience, allowing shoppers to quickly navigate the store while providing personalized selections related to their interests.