Do you want to refresh your business logo on Shopify but don't know where to start? Changing a logo can be a daunting task, but it doesn't have to be! With this comprehensive guide on how to change your logo on Shopify, you'll be able to quickly and easily update your logo design with a few clicks of the mouse. Follow our step-by-step instructions, and you'll learn how to change your logo on Shopify in no time.
Preparation for New Shopify Logo
Are you concerned about how to change your logo on Shopify? Creating a new logo for your Shopify store is an exciting endeavor that requires thoughtful preparation. Here are the steps to effectively prepare for a new Shopify logo:
Considerations for designing a new logo.
Brand Identity: Your logo should reflect your brand recognition and values. Consider what message you want to convey to your target audience and how your logo design can communicate that.
Simplicity: Keep your logo design simple and easy to recognize. A cluttered or overly complex logo can be difficult for customers to remember.
Versatility: Ensure your logo is visually appealing and is legible at various sizes. It should work just as well on a small website icon as it does on a large billboard.
Color Scheme: Choose a color scheme that aligns with your brand's colors. Consistency in color helps with brand recognition.
Typography: If your logo includes text, select fonts that are legible and complement your brand. Typography can greatly influence the overall feel of your professional logo.
Uniqueness: Aim for a professional logo that stands out from your competitors. A distinctive logo can leave a lasting impression.
Scalability: Your logo should look good, whether printed on a business card or displayed on a high-resolution screen.
Relevance: Make sure your Shopify store logo is relevant to your industry or niche. It should resonate with your target audience.
Timelessness: Avoid trendy elements that may become outdated quickly. A timeless logo can maintain its relevance for years.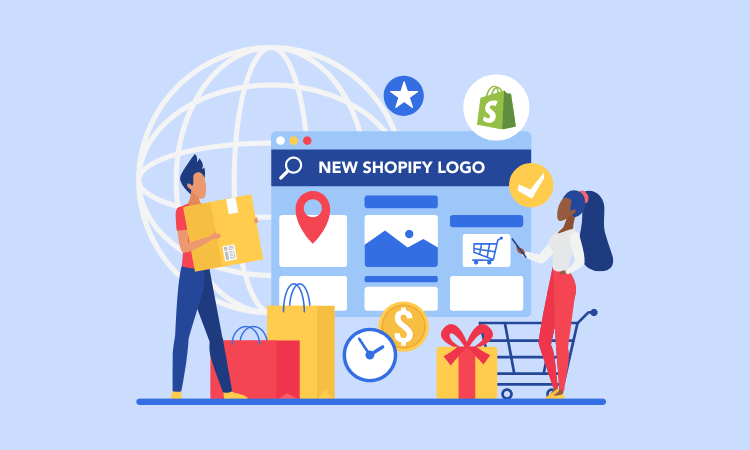 Where and how to source a new logo if you're not designing yourself.
Hiring a Professional Designer: If you're not confident in your design skills, it's wise to hire a professional logo designer. Look for designers with experience in eCommerce and branding. Platforms like Upwork, Fiverr, and Behance can help you find freelance designers.
Online Logo Maker Tools: There are various online logo design maker tools available that allow you to create a logo without design expertise. Shopify's own logo maker, as well as services like Canva and LogoMakr, are user-friendly options.
Crowdsourcing Design Contests: Websites allow you to run a logo design contest where multiple designers submit logo concepts based on your brief. You can then choose the one you like the most.
Stock Logo Marketplaces: Some websites offer pre-designed logos that you can purchase and customize to fit your brand. Be cautious to ensure the logo you choose is unique and not overly used.
In-House Design Team: If you have an in-house logo design team, collaborate with them to create a visually appealing logo that aligns with your brand's vision.
Feedback and Iteration: Regardless of the source, be prepared for a few rounds of feedback and revisions to refine the company logo until it perfectly represents your brand.
Mavon Shopify Theme
Boost your online store's conversion rate with Mavon, the high-converting Shopify theme. Elevate your brand with its visually stunning design, flexible sections, and top-notch user experience.
Steps on how to change your logo on Shopify
Changing your logo on Shopify is a straightforward process. Here's a step-by-step guide to help you through the process of how to change your logo on Shopify:
Step 1: Log in to Shopify
Access your Shopify account by entering your unique login credentials.
Once logged in, you'll be directed to the backend of your store, where you can perform various powerful edits, such as altering the favicon or adjusting the image aspect ratio on Shopify.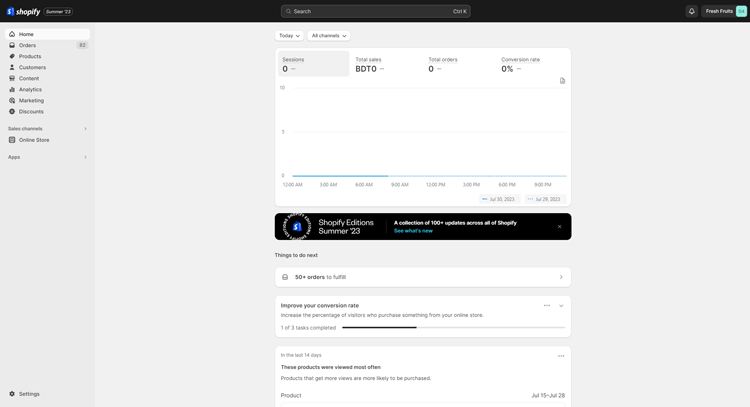 Step 2: Go to the Theme Customize Section
From the Shopify Merchant Dashboard, locate the left-hand side menu.
Scroll down and click on the "Online Store" option.
Under the "Online Store" dropdown, select the "Themes" tab. This will lead you to the themes library, where you can explore different themes and review the image sizes within the Debut Shopify theme.
Identify your currently active Shopify theme and click on it. This is the theme that's currently active in your store.
To the right of the theme, adjacent to the "Actions" button, you'll find the "Customize theme" button. Click on "Customize theme."
Step 3: Manage Your Shopify Logo from Theme Setting
Go to your Shopify Admin Panel and open the "theme customization" options.
Inside the Shopify theme customization area, locate the "Theme Settings" option.
Within this section, you will find two choices: "Select Image" and "Explore Free Images."
In the logo section, you can change your logo. Upload an image from your device or choose a free image from the logo library.
Opting for the "Select Image" selection permits you to pick any Image stored on your device or in your store's library. This process also involves a simple drag-and-drop action into the designated box.
Alternatively, you have another choice to explore an array of pre-designed free images and designate one as the logo for your Shopify store.
You also have the option to tweak the "Custom Logo Width" setting. Make adjustments to this logo on the shop page until the size of your logo appears optimal.
Finally, save your Logo by clicking on "Save" button in your Shopify store settings.
Furthermore, in certain themes, you'll find the logo customization option within the Theme Customizations page.
Locate the "Header" category situated on the left-hand side.
Inside the header section, you'll come across a pair of choices: "Logo" and "Home Page Logo."
To update the logo for your entire store, simply click on the "Select" button alongside the "Logo" section.
If you wish to modify the logo exclusively for your homepage, utilize the "Home Page Logo" option.
This is also the area where you can make adjustments to the Shopify banner image.
Frequently Asked Questions
Will changing the logo affect my website's design?
Changing the logo itself shouldn't drastically affect your website's design. However, it might influence the visual balance, so minor logo design adjustments could be necessary.
Do I need technical skills to change my logo?
No advanced technical skills are required. Shopify's user-friendly interface makes it simple to upload a new logo. If you're comfortable with basic computer tasks, you should be able to handle it.
Can I use different logos for different pages?
Most themes use a consistent logo across your entire website. If you require different logos for specific pages, you might need a custom solution or specific theme that supports this feature.
Will my old logo be saved for future use?
Shopify doesn't automatically save your previous logo. It's a good practice to store a copy of your old logo in case you decide to revert to it.
Hire Developers to Build Your Shopify Store (Recommended- Shopi Buffet)
Engage Experts to Design Your Shopify Store (Recommendation: ShopiBuffet)
Discover ShopiBuffet, the go-to place for outstanding Shopify services that guarantee an unforgettable experience. With ShopiBuffet at your disposal, you can quickly and easily build a fully functional dropshipping store under the supervision of a group of knowledgeable professionals.
They can set up products, ensure smooth navigation, maximize sales channels, perfect collections, and create attractive themes. Their skilled professionals skillfully handle every aspect of your web business.
However, ShopiBuffet provides more services than merely opening an Internet store. Their commitment goes even further, offering constant help and direction to guarantee your successful presence in the online market. You won't ever feel alone while navigating the complexities of managing an internet business thanks to their committed customer assistance.
No matter your skill level. Whether you're a newcomer or a seasoned veteran, ShopiBuffet tailors its services precisely to your unique needs, simplifying the art of online selling.
Final Thoughts
The steps of how to change your logo on Shopify can be a daunting decision. Your logo is an essential piece of your brand identity, and it needs to reflect your company's values and mission. However, sometimes a logo update can breathe new life into your business and attract new customers. It's important to consider the impact of a new logo on your existing customers and the message you want to convey with your brand.
If you're feeling unsure about whether to change your logo or not, take the time to research your options and consult with professionals to make an informed decision. Remember, a logo is more than just visually appealing. It's a representation of your business and what it stands for.