Are you looking to expand your payment options on Shopify? If so, you'll be glad to know that adding more payment methods is easy. With the right tools and knowledge, you can give customers plenty of ways to pay for their purchases.
Adding payment options to Shopify will not only help make checkout easier and faster for customers but also helps build trust in your brand. After all, shoppers are more likely to purchase when they have various payment choices available.
In this guide, we'll explain how to add more payment methods Shopify so that customers can choose from a range of secure and reliable options during checkout. Let's get started!
Why You Should Add Multiple Payment Options
There are several reasons why adding multiple payment gateways to your Shopify business can be beneficial:
Improving user experience: By offering multiple payment gateways to Shopify, you can cater to a wider range of customers, making it easier for them to complete transactions in a way that is most convenient for them.
Backup for data: If one payment gateway experiences technical difficulties or undergoes maintenance, having an alternative payment gateway can ensure you don't miss out on sales and revenue.
Boosting conversion rates: By providing customers with more payment options, you can increase the likelihood of them completing a purchase, leading to a higher conversion rate and, ultimately, more revenue for your business.
How to Set up Multiple Payment Methods on a Shopify Store
Setting up multiple payment methods on your Shopify store can increase customer convenience and help boost sales. Multiple payment methods on a Shopify store are given below:
Ways to Allow Third-Party Providers (Stripe, PayPal, Cashfree)
There are different ways how to add more payment methods to Shopify. To enable third-party providers such as Stripe, PayPal, and Cashfree, follow these instructions:
Go to the Settings → Payments section.
Select Third Party Providers.
Click on Choose Third Party Provider.
Pick the desired provider from the list.
Finally, click Activate to confirm your selection.

Ways to Allow Third-Party Providers (SPayU, RazorPay, Paytm)
To enable alternative payment providers such as PayU, RazorPay, and Paytm, follow these steps:
Go to Settings and select Payments.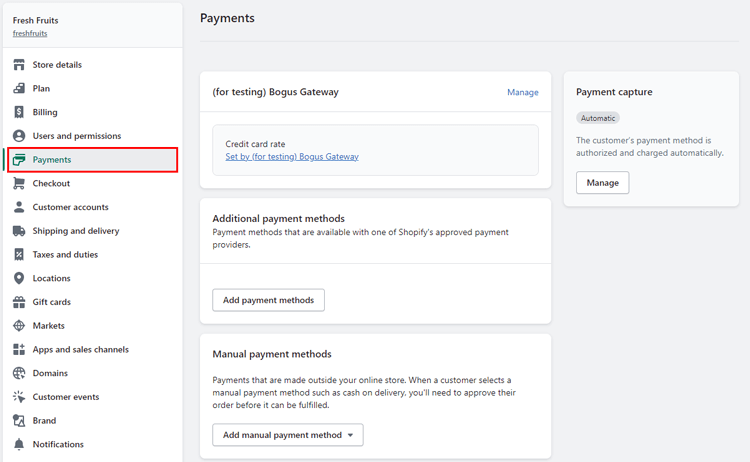 Choose Alternative Payment Methods.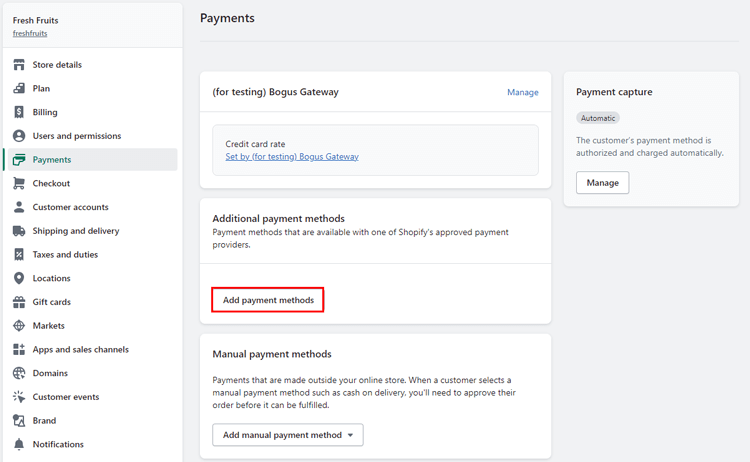 Select your preferred provider from the list and enter the relevant account credentials.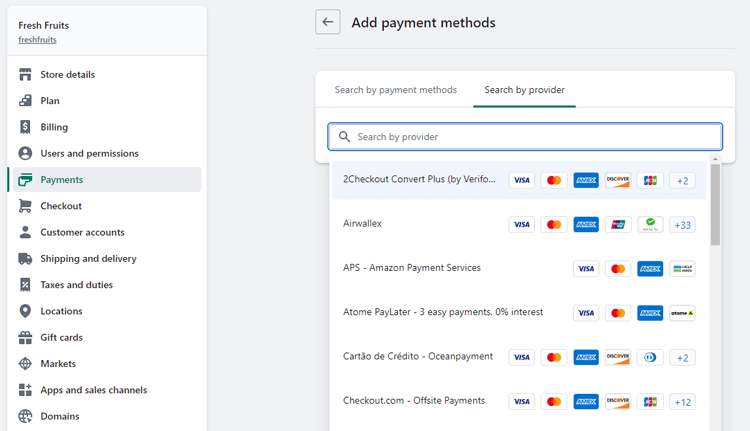 Click on Activate to enable the provider.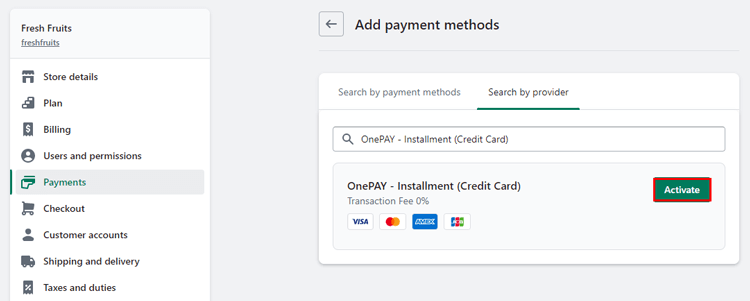 Top Recommended Blog Post for You:
👉 How to Add Afterpay to Shopify: The Essential Guide
👉 How to Add a Pricing Table to Your Shopify Store
👉 Shopify Integration with eBay: How to Use Shopify to Sell on eBay
👉 How to Sell ebook on Shopify: Everything You Need to Know
👉 How to Add an About Us Page on Shopify: The Essential Guide
Tips for Improving Your Checkout Process and Increasing Conversions
As a Shopify store owner, you probably know that a smooth checkout process is crucial for converting visitors into customers. However, not everyone knows how to achieve this, here are some tips for you —
Incorporate multiple, clearly labeled checkout buttons
if you want to add payment options to Shopify, you must provide customers with easy access to your checkout page. The checkout buttons should be clearly labeled and placed in prominent locations on your website. This will help ensure that customers can easily navigate the checkout page and complete their purchase without any confusion.
Ensure a secure checkout process
Security is a top priority for any eCommerce site. Customers who don't trust your site won't feel comfortable making a purchase. With almost half of US residents affected by credit card fraud in the past 5 years, it's critical to take the necessary steps to secure your checkout process. Two-factor authentication, SSL encryption, and other security protocols can increase customers' trust in your site.
Simplify the checkout process by reducing form fields
Long and complicated checkout processes can lead to cart abandonment. Therefore, it is essential to eliminate unnecessary steps and reduce the number of form fields. This will make it easier for customers to complete their purchases, leading to higher conversion rates.
Optimize for mobile shopping
With the growing trend of mobile shopping, ensuring that your checkout process is optimized for mobile devices is essential. This includes having a mobile-responsive site, easy navigation, and a simplified checkout process that is easy to use on smaller screens.
Allow customers to view their shopping cart while shopping.
Customers need to be able to see what they have in their shopping carts as they shop. It allows them to keep track of their purchases and make informed decisions about what they want to buy. By enabling this feature, you can increase the chances of customers completing their purchases and reduce cart abandonment rates.

Frequently Asked Questions
Can I pay with multiple cards on Shopify?
Multiple payment gateways Customers can use two credit cards or a card and PayPal with shopify. Shared payment uses emails to transmit payments to several recipients. Make the "Split Payment" button and popup fit the appearance and feel of your online store. Customers will receive emails reminding them of the split payment deadline.
Can you have 2 payment gateways on Shopify?
It is easy for online store owners to add more payment gateways, such as secondary gateways, like Paypal Express, Amazon Payments, or Bitcoin. Or the manual payment choices such as a Money Order or cash delivery payment method.
Which payment gateway is best for Shopify?
PayPal. PayPal is the most popular Shopify third-party payment gateway for shopify store owners. PayPal is simple and quick to set up and has free and paid options for merchant accounts.
Which payment gateway is best for Shopify?
PayPal. PayPal is the most popular Shopify third-party payment gateway for Shopify store owners. PayPal is simple and quick to set up and has free and paid options for merchant accounts.
Final Thoughts on How to Add More Payment Methods Shopify
How to Add More Payment Methods Shopify store can greatly improve your customer's shopping experience. Not only does it provide convenience, but it also gives them more options to choose from. With the increasing popularity of mobile payments and digital wallets, it's crucial to keep up with the trends and offer diverse payment options.
By adding Shopify's multiple payment gateways, you're not only opening doors for new customers but also increasing customer retention. In today's world, people want everything fast and easily accessible, and In today's world, people want everything to be accessible quickly and easily and make sure to provide multiple payment options.