If you're looking for a comprehensive guide on how to sell on Walmart with Shopify, you've come to the right place. In this blog post, we'll walk you through the entire process step-by-step. We'll start by discussing why selling on Walmart is a smart move for your business, and then we'll provide an overview of the process of Shopify Walmart integration.
Next, we'll show you how to create a Walmart account and set up your Shopify store. Finally, we'll give you some tips for driving traffic to your store and increasing your sales.
Benefits of Selling on Walmart with Shopify
Selling on Walmart with Shopify can provide several benefits for Shopify sellers, including:
Reaching a wider audience
With a sizable client base, Walmart is one of the biggest merchants in the world. In addition, Shopify allows retailers to sell on Walmart Marketplace, which gives them access to a much wider customer base and potentially higher sales.
Revenue growth
Selling at Walmart might be an excellent method to increase revenue. Selling on this platform can assist businesses in reaching the network's millions of active clients who are interested in purchasing goods.
Increasing brand awareness
By selling at Walmart, retailers can also increase brand awareness. Customers know and trust the platform, and having a connection to Walmart can give a merchant's brand more legitimacy.
Overview of the Process
Here is the step by step process on how to sell on Walmart with Shopify-
Requirements for selling on Walmart
If you're thinking of selling your products on Walmart, there are a few requirements you need to meet first for Shopify Walmart integration. Firstly, you need to have a Shopify store where you can manage your Shopify inventory, orders, and shipping. Once you have that setup, you can create a Walmart account and register your store. Finally, consider integrating with Walmart through third-party apps that can help streamline the process.
Setting up Shopify
Setting up Walmart with Shopify is easier. The first step in the process is to create a Shopify store. With Shopify, you can get started without any technical knowledge. The platform offers everything you need to set up a fully functional online store, from customer engagement to payment capabilities.
Whether you're a small business owner or a large corporation, Shopify is the perfect solution for selling your products online. It's a one-stop shop that makes the process of setting up an online store easy and stress-free.
Create your Walmart Marketplace Store
Before you begin on the process of how to sell on Walmart with Shopify, note that there are specific requirements for international vendors to set up a Walmart Shopify Integration, including:
Establishing a company registered in the United States with a US W9 tax ID and mailing address.
Ability to ship products from a warehouse located in the United States (excluding FBA).
Valid product identifiers, such as barcodes, for each product listed.
A return address for foreign mail.
Once you have met these requirements, follow these steps:
Proceed to the "Product and Integration" section on your Shopify dashboard after completing the above criteria.
Complete the "Shipping and Operations" section by providing your shipping rates and policies for Walmart Marketplace customers.
Review and finalize your setup process. Walmart Marketplace will review your seller registration, and it typically takes a week to be approved. You can now sell your Shopify products on Walmart Marketplace by completing these steps.
🚀Boost Your Online Store Sales with Mavon Shopify Theme!
Mavon – Your ticket to success! 🚀 Boost revenue with conversion-focused features and intuitive design, turning visitors into loyal customers.
Detailing the Process
Connect the Walmart Marketplace App as a Sales Channel with Shopify.
Next, if you want to connect Shopify store with Walmart, here are the steps to integrate the Walmart Marketplace App with your Shopify store as a sales channel:
1. Go to the Shopify App Store and search for the Walmart Integration app. Add the App and provide your Shop's URL to log in.
2. Once you're logged in, click on the Install App option.
3. After the App is installed, you can start configuring it. The registration process is simple and requires a Client ID and Client Secret.
4. You can start importing products to Walmart once the App has been configured. There are three import choices available to you:
All items available
Products that are published, and
Products that are filtered.
5. In your Shopify backend, the Walmart Dashboard is where you can manage your Walmart sales channel.
Add the Final Touches to Your Walmart Dashboard
The dashboard setup is just the beginning. Integrate it effortlessly into your business management process to get the most out of it. Please take the time to complete the profiling form in the "Profiling" section to ensure trustworthiness.
Your Walmart Shopify integration will be fully configured once you've submitted the form. Congratulations! Your Shopify shop and the Walmart app have been linked successfully.
🚀 Ready to skyrocket your Shopify store to success?
🚀 Unlock the secrets to success and boost your sales 📈 with ShopiBuffet's expert services. Don't miss out, get started now!
Tips for Driving Traffic to Your Store
If you're looking to drive traffic to your Shopify shop on Walmart Marketplace, here are some tips that can help:
Optimizing your product listings
Make sure your product listings are well-written, educational, and have excellent photographs. Customers may make more informed decisions and boost the likelihood of a sale by using clear and succinct product descriptions.
Using keywords and tags
Use pertinent keywords and tags to increase your product listings' visibility on the Walmart Marketplace. When people search for products comparable to yours, this will help your products show up in search results.
Utilizing social media
Utilize social media sites like Twitter, Facebook, Instagram, and Pinterest to promote your products and increase customer traffic to your shop. Use captivating images, hashtags, and captions to draw potential clients to your products.
Offering promotions and deals
Consider running specials and discounts on your goods because customers love to feel like they're receiving a fantastic deal. You can provide bundle deals to persuade people to buy several things or develop coupons or discount codes to attract them to make a purchase.
Frequently Asked Questions
What requirements must I meet to sell on Walmart using Shopify?
You must meet the requirements of Walmart Marketplace and have a US-based Shopify store in order to be eligible for Sell on Walmart with Shopify. A Walmart Marketplace seller account is also required.
Is Dropshipping Allowed at Walmart?
Yes, Walmart offers three options for dropshipping:
Join the Walmart Drop Ship Vendor program.
Resell Walmart goods on online marketplaces like Amazon or eBay.
Sell the products on the Walmart marketplace.
How much does it cost to sell on Walmart using Shopify?
Except for the referral and subscription fees associated with the Walmart Marketplace, there are no other costs associated with using Sell on Walmart with Shopify. These charges range from 6 to 15% of the item price and depend on the category of the product.
Bonus: Suggested Shopify Themes for Your Store
Mavon
Looking to build an online store for your fashion business? The Mavon Shopify theme might just be the perfect fit for you. With its flexible sections and excellent user experience, Mavon will give customers an enjoyable and streamlined shopping experience.
But don't let the fashion focus deter you – this customizable theme can work for any niche with just a few tweaks. Whether you're a drop shipper, a high-volume store, or just in a hurry to get your store up and running, Mavon's drag-and-drop sections and optimized mobile and speed features make building your Shopify site a breeze.
Highlighted Features:
20+ Flexible Sections
Size Chart
Lookbooks
Color swatches
High-resolution images
Price: Regular License: $280/ year
Lezada
Lezada – Multipurpose Shopify Theme is one of the perfect solutions for anyone looking to build a functional and stylish online store. Lezada boasts a timeless design that is sure to make your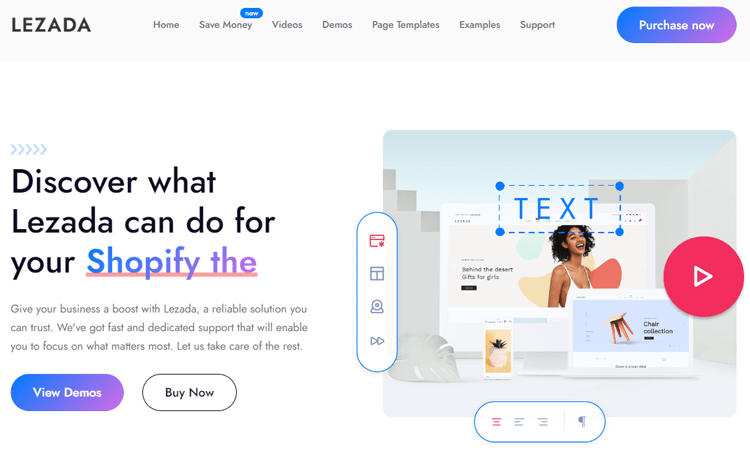 Shopify site stands out from the competition.
And it's not just about looks – Lezada offers a range of features that will make your website as user-friendly as possible. With features like banner images and support for multiple languages and currencies, you'll be able to create a website that caters to a global audience with ease.
Highlighted Features:
Fully Responsive
RTL Version
Notification Bar
Multiple Currency
Breadcrumb banner
Price: Regular License: $55
LeArts
If you're looking for a Shopify theme that's both visually appealing and functional, look no further than LeArts. With multiple homepage layouts to choose from, you can easily create a website that reflects your unique style.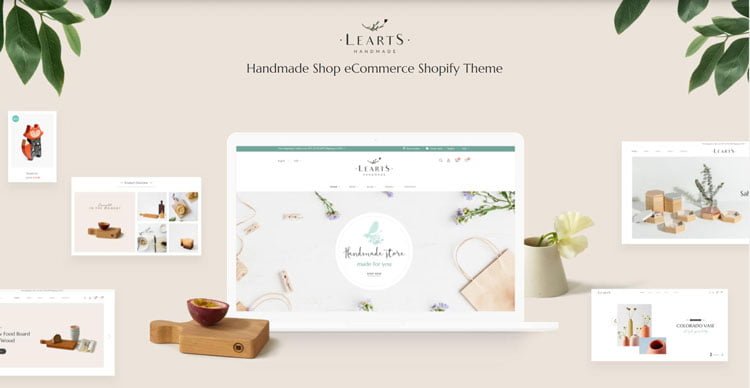 But there's more to LeArts than just aesthetics. The theme's features are designed to improve customer satisfaction and profits, from Google Analytics integration to pre-loaders. And, with multiple currency options, you can easily cater to your international customers.
Highlighted Features:
Multiple Currency
13+ Home Versions
Shopify Builder
Theme Colors
Unlimited Colors
Price: Regular License: $34
Corano
Corano is the online store theme that's perfect for making your jewelry business stand out from the crowd. With eight different homepage options and an RTL version, your store will have a stylish and exclusive look that's sure to capture the attention of potential customers. Corano also comes loaded with some of the most helpful features available on Shopify Online Store 2.0, including multi-colors, multiple currency support during checkout, and Shopify sections.
And when it comes to creating a seamless customer experience, Corano has you covered with both Ajax Popup Cart and Ajax Wishlist options. So, whether you're just starting out or looking to take your existing jewelry store to the next level, Corano is the perfect choice for businesses that are serious about making a statement online.
Highlighted Features:
Mega menu
Slideshow
Collection Banner
Multiple Banner
Banner with Collection
Price: Regular License: $41
Get Exclusive Shopify Services by ShopiBufftet
Creating a successful online store can be a daunting task for entrepreneurs, especially when it comes to configuring store themes, managing product configurations, and setting up sales channels. Fortunately, ShopiBuffet offers premium Shopify services that make it easy to achieve your business goals.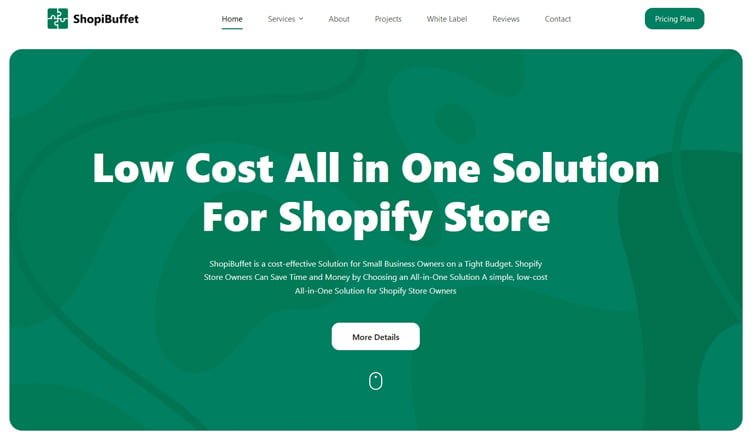 Their team of experienced professionals is dedicated to streamlining navigation and collections, ensuring that your online shop is seamless and easy to use. With ShopiBuffet's help, you can establish a successful online store that is primed for success. Don't let the complexity of creating an online store hold you back. Instead, let ShopiBuffet's expertise guide you to success.
Conclusion
We hope this guide on how to sell on Walmart with Shopify was helpful. With Shopify's user-friendly platform and Walmart's wide customer base, the process of expanding your business has never been easier. By integrating your Shopify store with Walmart's marketplace, you can reach millions of potential customers and increase your sales significantly. The integration also allows for Shopify inventory and order management in one central location, making it easy to keep track of orders and ensure timely delivery.