Are you looking for a way to add a digital product to your Shopify store? You're in the right place! In this blog post, we'll provide an easy-to-follow guide on how to add a digital product to Shopify so you can start selling digital products to Shopify online quickly and easily. With our simple instructions, you'll be well on your way to mastering the process of adding digital products and running a successful digital products store.
Examples of Digital Products
With the rise of eCommerce platforms like Shopify and digital marketplaces, creators and businesses can now monetize their expertise and creativity by offering a wide array of digital products to customers worldwide. Here are some examples of Digital Products on Shopify:
Online Course: Sell online courses on Shopify to offer valuable educational content to your audience and provide them with valuable insights and skills.
Membership Site: Utilize the Bold Memberships app to create and sell membership subscriptions on Shopify, providing exclusive content and benefits to subscribed members.
Service Website Set-Up: Offer web-setup services on Shopify, helping customers establish their online presence by designing and launching their websites.
Blogging About Product Reviews: Sell digital products to Shopify, such as virtual product review guides or compilations, on Shopify, catering to audiences interested in informed buying decisions.
Ebook: Publish and sell ebooks on Shopify, offering readers valuable knowledge and information on various topics.
Stock Photos or Videos: Provide a platform to sell stock photos or videos on Shopify, offering a diverse range of visual content to content creators and businesses.
Graphic Templates: Sell digital goods like graphic templates on Shopify, catering to designers and creatives seeking customizable artwork for their projects.
Photo and Video Editing Service: Offer photo and video editing services on Shopify, providing customers with professional-level enhancements and retouching for their visual content.
Overview of How to Add a Digital Product to Shopify
Shopify offers a simple and profitable approach to market to a worldwide audience by selling digital goods. Using Shopify's user-friendly platform, sellers may easily display and sell digital products, including ebooks, software, music, and more.
In order to provide smooth consumer experiences, the process entails setting up online digital product listings, establishing digital downloads, and utilizing built-in email notifications.
Additionally, Shopify's broad app connections and secure payment gateways offer a solid basis for selling digital goods. Businesses can get into the booming digital products store, increase their reach, and maximize revenue prospects by utilizing Shopify's robust tools and capabilities.

Setting Up Your Shopify Store for Digital Product Sales
Setting up your digital products Shopify store sales is a straightforward process that allows you to offer and distribute your digital products Shopify efficiently. Follow these steps on how to add a digital product to Shopify to get started:
Step 1: Disable Shipping
If you're selling digital download products or services on your Shopify store, it's essential to disable shipping for those specific items. Here's how to do it:
Access Your Shopify Admin:
Log in to your Shopify account and navigate to the admin dashboard.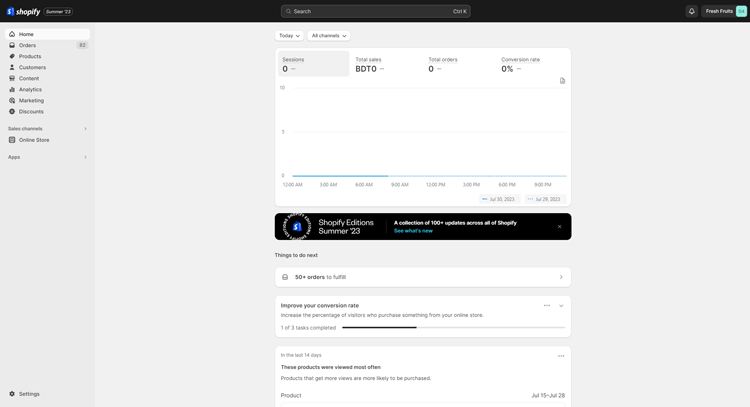 Go to Products:
From the left-hand sidebar, click on "Products".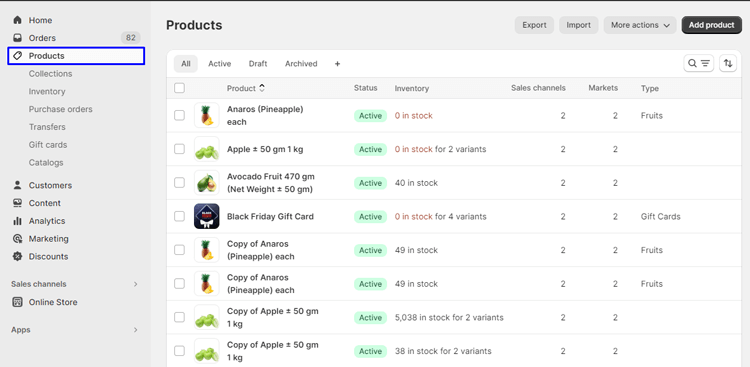 Select or Create the Product:
Choose the digital product for which you want to disable shipping. If the product is already listed, click on it to edit. If not, click on "Add Product" to create a new one.
Disable Physical Product Option:
Scroll down to the "Shipping" section on the product page. Uncheck the box next to "This is a physical product." This action tells Shopify that the product does not require shipping.
Save Changes:
After disabling the physical product option, click the "Save" button to save your changes.
Step 2: Install and Set up Shopify Digital Download app.
To efficiently sell digital products on your Shopify store and provide a seamless download experience for your customers, follow these steps to set up the Shopify Digital Downloads app: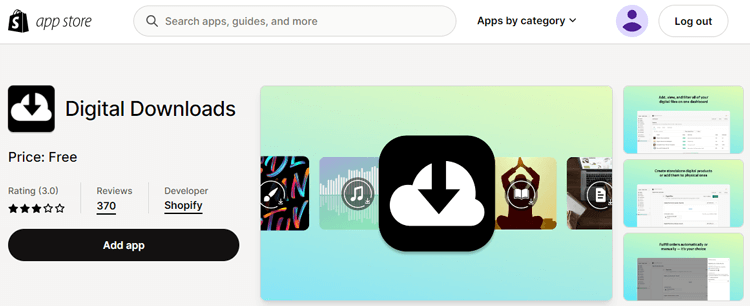 Open Your Product Settings and Choose "Digital Downloads":
Navigate to your Shopify admin dashboard and open the product settings for the digital product you want to sell. In the product details, select "Digital Downloads" to enable the functionality for this specific product.
Add Attachment to Your Product:
Once you've enabled "Digital Downloads" for the product, you can now add the digital file as an attachment. Upload the digital file associated with the product, whether it's an ebook, software, audio, or any other digital content.

Configure Emails:
The Shopify Digital Downloads app offers two email templates to keep your customers informed throughout the download process. The first email is sent to notify customers when their purchased product is ready for download. The second email is triggered in case there are any updates to the current attachment.

Step 3: Place a test order
To place a test order for your digital products on Shopify, follow these steps:
Activate Testing Payments:
Within your Shopify admin dashboard, go to "Settings" and then "Payment Providers." Under the Payment Provider section, find the payment gateway you want to test and click on "Edit." Look for an option to enable testing or sandbox mode for that payment gateway. Activate the testing mode to simulate a purchase without using real payment information.
Buy the Products as a Regular Customer:
Visit your storefront and navigate to the product page of the digital product you want to test. Click "Add to Cart" and proceed to the checkout page. At this stage, change the product price to $0 (if possible) so that you don't need to enter credit card details. Follow the regular customer flow for the checkout process.
Check the Emails in Your Inbox:
After completing the test order, check your email inbox associated with the Shopify store. If you receive the email notification confirming the purchase and providing a download link to the digital product, then Verify. Additionally, check if any updates to the attachment trigger the corresponding email notification.
Mavon Shopify Theme
Boost your online store's conversion rate with Mavon, the high-converting Shopify theme. Elevate your brand with its visually stunning design, flexible sections, and top-notch user experience.
Tips for Optimizing Your Digital Product Listings
Optimizing your digital product listings is crucial to attract potential customers and increase sales. Follow these tips to optimize your digital product listings effectively:
Clear and Compelling Titles: Craft descriptive and attention-grabbing titles that accurately represent your product's value proposition.
Detailed Product Descriptions: Provide comprehensive product descriptions that highlight features, benefits, and potential use cases.
High-Quality Visuals: Include clear and appealing images or videos that showcase your product's appearance and functionality.
Accurate Categorization and Tags: Use relevant categories and tags to improve searchability and discoverability.
Pricing Strategy: Set competitive prices that align with the product's value and your target market.
Strategies for Promoting and Selling Your Digital Products
Promoting and selling digital products requires a well-planned strategy to attract potential customers and convert them into paying customers. Here are some effective strategies to help you promote and sell your digital products successfully:
Create High-Quality Digital Products
Start by creating high-quality digital products that offer real value to your target audience. Whether it's ebooks, online courses, software, or digital templates, ensure that your products are well-researched, well-designed, and deliver on their promises.
Identify and Understand Your Target Audience
Know your target audience inside out. Conduct market research to understand their needs, pain points, and preferences. Tailor your marketing messages and profitable digital product offerings to resonate with your ideal customers.
Leverage Social Media
Promote your digital products on social media platforms where your target audience is active. Engage with your followers, respond to comments, and run targeted advertising campaigns to reach potential customers.
Content Marketing
Utilize content marketing to attract and engage your audience. Create valuable and relevant content such as blog posts, videos, and social media posts related to your digital products. Position yourself as an expert in your niche to build trust with potential customers.
Offer Free Samples or Trials
Provide free samples, trial versions, or previews of your digital products. This allows customers to experience the value you offer, making them more likely to purchase the full online digital products.
Implement Effective SEO
Optimize your website and online digital product pages for search engines to improve your online visibility. Use relevant keywords, meta tags, and descriptive URLs to rank higher in search results.
Hire Experts to Build Your Shopify Store
Starting an online business can seem daunting, especially when it comes to setting up your eCommerce store. But worry no more! ShopiBuffet makes the process quick and easy. Their team of Shopify experts is dedicated to taking care of everything from creating captivating themes to establishing effective sales channels. With exclusive customer support, you never have to go it alone on your entrepreneurial journey.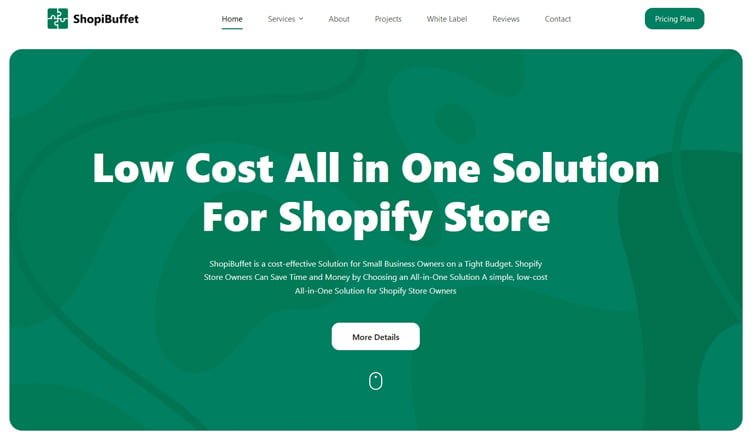 Whether you're a beginner or a seasoned professional, ShopiBuffet offers a comprehensive one-stop solution to get your Shopify store up and running in no time. ShopiBuffet experts can help you with the process of how to add a digital product to Shopify. So why not make things easy and let the experts handle it? Check out ShopiBuffet today!
Wrapping Up – The Benefits of Selling Digital Products on Shopify
As your digital product business comes to a close, it's important to reflect on the benefits of utilizing Shopify. From the ease of setting up your online store to the seamless integration with various payment methods, Shopify streamlines the sales process for online entrepreneurs. Additionally, the platform offers analytics and reporting tools to help you track customer behavior and optimize your marketing strategies.
The ability to customize your store's design and features also allows for a personalized and professional touch. Overall, selling digital products on Shopify offers numerous advantages that can help your business thrive in the ever-evolving digital space.