Are you exploring the options on how to link GoDaddy domain to Shopify? The process can be daunting but don't worry, we have created an easy step-by-step guide for you that will make it easy to understand how to link GoDaddy domain to Shopify. Follow this guide and get your store up and running in no time!
Importance of linking a GoDaddy domain to Shopify
Linking a GoDaddy domain to Shopify is essential for several reasons:
Brand Consistency
Linking your GoDaddy domain to Shopify ensures consistent branding across your online presence. A custom domain that matches your business name reinforces professionalism and brand identity. It helps customers recognize and remember your brand, building trust and credibility.
Customer Trust and Confidence
A custom domain creates a sense of trust and legitimacy in the minds of your customers. It demonstrates that you have invested in your online store and are committed to providing a reliable shopping experience. Customers are more likely to make purchases from websites with custom domains, leading to increased sales and conversions.
Improved SEO and Online Visibility
Having a custom domain linked to your Shopify store can positively impact your search engine optimization (SEO) efforts. Search engines tend to prioritize websites with custom domains, considering them more trustworthy and relevant. A well-optimized custom domain can help improve your website's boost search engine rankings and visibility, driving organic traffic to your store.
Professional Email Communication
GoDaddy Shopify integration allows you to create professional email addresses using your custom domain. This reinforces your brand image and enhances communication with customers, suppliers, and business partners. Professional email addresses contribute to professionalism and credibility in your business interactions.
Seamless User Experience
When you link your GoDaddy domain to Shopify, customers can easily access your online store without complex or confusing URLs. A custom domain provides a user-friendly experience and makes it simple for customers to find and remember your website. GoDaddy Shopify integration contributes to seamless navigation and enhances the overall user experience.
Mavon Shopify Theme
Boost your online store's conversion rate with Mavon, the high-converting Shopify theme. Elevate your brand with its visually stunning design, flexible sections, and top-notch user experience.
How to Link GoDaddy Domain to Shopify: Steps
You can easily learn about how to link GoDaddy domain to Shopify by just following a few easy steps. It can be done in two ways: automatically and manually. Here's an overview of both methods. To connect your third-party domain to Shopify, follow these steps:
Automatically Connection:
Go to your Shopify admin dashboard. Navigate to "Settings"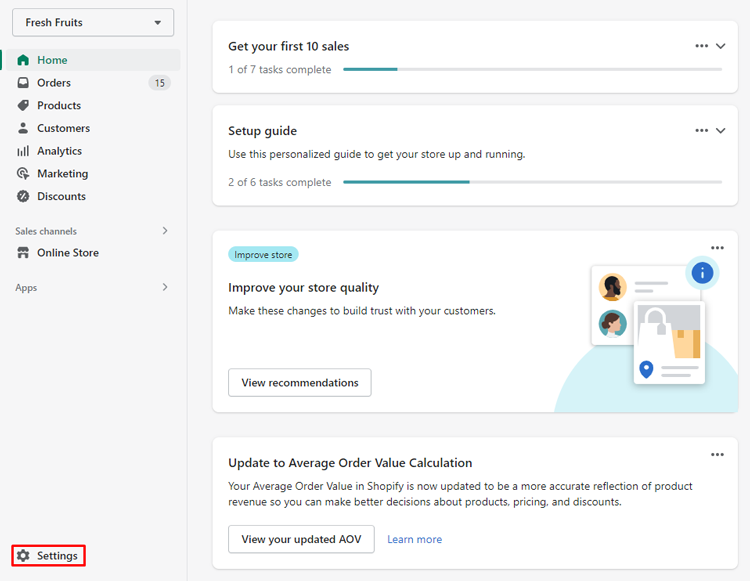 Click on "Domains." On the "Domains" page, select "Connect Existing Domain."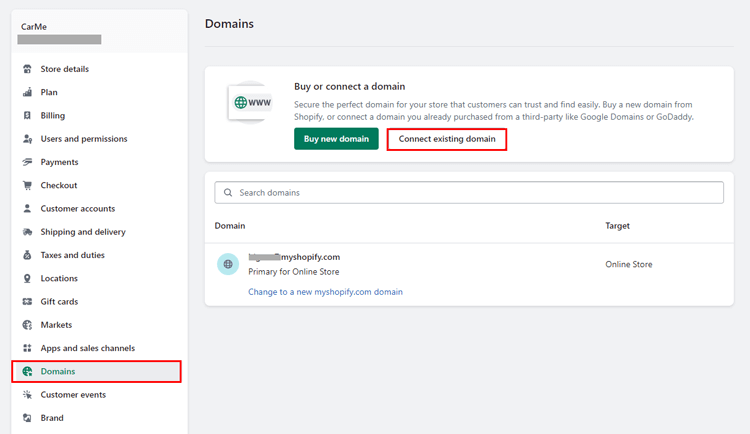 Enter the domain you want to connect in the text box (e.g., domain name.com) and click "Next."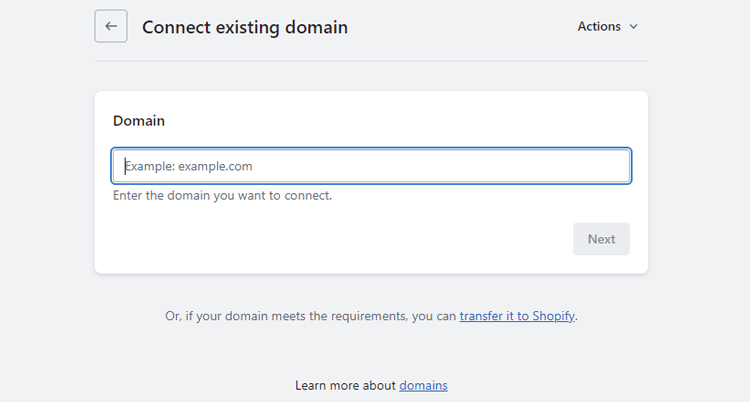 Click on "Connect Automatically."
A pop-up window will open, redirecting you to your domain provider's website.
If you're not already signed in to your domain provider account, sign in.
Click on "Connect" and then "Close" to complete the process. (It may take up to 48 hours for your third-party domain to be verified and listed)
To set the connected domain as the primary domain, click on the domain from the top of the domains list and click "Set as Primary Domain."
Finally, Click "Save" to complete the process.
Manual Connection:
To manually connect your third-party domain to Shopify, follow these general steps:
Log in to your account with your domain provider and locate the DNS settings. This is usually found under "Manage DNS" or a similar option.
Find the DNS settings in your account.
Look for the "www" CNAME record and change it to point to "shops.myshopify.com." (If there is a default TTL (Time to Live) record, you don't need to update it).
Locate the "A Record" and change it to Shopify's IP address (refer to Shopify's documentation for the specific IP address).
Set the hostname to the "@" symbol.(Some domain providers require setting a hostname with the A record)
Confirm your settings and save the changes in your domain provider's platform.
Log in to your Shopify admin, click on "Settings," and then select "Domains."
Choose "Connect Existing Domain" and enter your custom domain.
Click "Next" and then "Verify Connection."
Once the domain is connected, set it as the primary domain in Shopify to ensure customers see it when visiting your store. (If the domain doesn't connect within 48 hours, contact your domain provider for assistance.
Please note that the specific steps may vary depending on your domain provider, but these instructions provide a general guide for changing the domain on Shopify.
Recommended Blog for You:
👉 How to Change Shop Name on Shopify: Quick and Easy Guide
👉 How to Choose a Shopify Theme: A Beginner's Guide
👉 How to Add Sections to Pages in Shopify: Quick and Easy Way
👉 How to Put Sold out on Shopify: Step-by-Step Guide
Hire Shopify Experts to develop your store
Shopify can be expensive and time-consuming to learn and manage. However, with ShopiBuffet, you can enjoy a range of benefits that simplify the process and allow you to focus on your business. Our service offers an easy-to-use platform, experienced designers, and marketers who handle the design and marketing aspects of your store.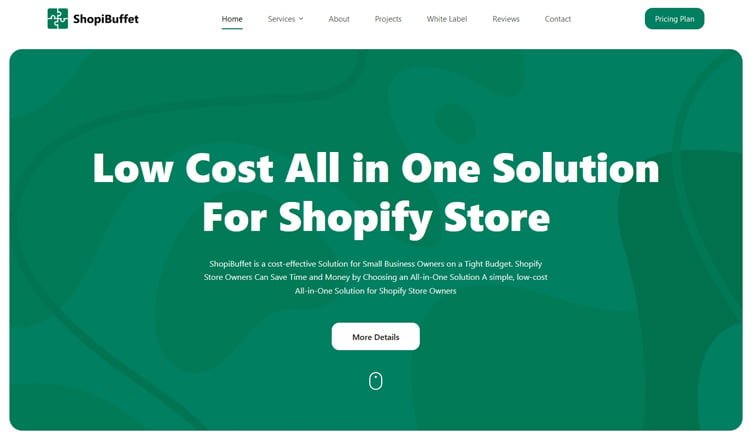 The best part is that our service comes at a low cost that fits any budget. We understand that running an online store can be challenging, so we're always available to provide the assistance you need.
One of the key features of ShopiBuffet is our theme installation and demo setup. Our team of professionals will set up your store, ensuring that it matches the design and style you choose. ShopiBuffet offers a selection of 140+ Shopify themes and connects the domain Shopify, allowing you to find the perfect one for your business without any additional charge.
Additionally, we'll take care of setting up your products and categories based on the list you provide. This saves you time and ensures that your store is organized and ready to go.
When it comes to navigation, we ensure that it aligns with the theme you installed. Whether you need dropdown menus, mega menus, or any other menu configuration, our team will set it up for you. With ShopiBuffet, you can have a professional-looking eCommerce store with a cohesive design and seamless navigation, all without the hassle of doing it yourself.
Final Thoughts
Connecting GoDaddy domain to Shopify is a straightforward process that can be done in a few simple steps. Once completed, you'll have a professional and reliable website that's easy to manage and ready to showcase your products or services to the world. With Shopify's user-friendly platform, you'll be able to customize your online store to suit your needs and preferences, giving you complete control over its design and functionality.