As an online retailer, providing excellent customer support is crucial for maintaining customer satisfaction and increasing sales. One effective way to address common customer queries and concerns is by adding a Frequently Asked Questions (FAQ) page to your Shopify store. In this article, we will walk you through the process of how to add a FAQ page on Shopify.
Benefits of having a FAQ page on your Shopify store
Having a well-crafted FAQ (Frequently Asked Questions) page on your Shopify store provides a host of benefits that elevate the overall customer experience and streamline the operations of your online business:
Customer Self-Service: FAQ pages provide customers with quick access to answers to common questions, enabling them to find solutions without having to contact customer support. This enhances the convenience of shopping on your site.
Reduced Support Workload: By addressing Frequently Asked Questions on the FAQ page, you can reduce the volume of customer inquiries, allowing your support team to focus on more complex issues. This can result in reduced expenses and increased operational efficiency.
Improved User Experience: Clear and informative FAQs can help customers navigate your site and understand your products or services better. This may result in increased customer satisfaction and repeat business.
Increased Sales: FAQs can address potential concerns or objections that might prevent customers from making a purchase. When these concerns are resolved on the FAQ page, it can lead to higher conversion rates and increased sales.
SEO Benefits: Frequently asked questions often contain relevant keywords related to your products or industry. Optimizing your FAQ page for search engines can improve your site's visibility and attract organic traffic.
Identifying Common Customer Questions
Analyzing customer inquiries and feedback
One of the most direct ways to identify common customer questions is by analyzing the inquiries and feedback received from customers. This involves reviewing emails, support tickets, chat transcripts, and social media comments to identify recurring online store themes and questions.
Conducting market research
Conducting market research provides valuable insights into target audience. Surveys, focus groups, and online forums can help uncover common pain points and questions related to your products or services.
Gathering insights from customer service interactions
Customer service interactions, including phone calls, live chats, and support tickets, are a goldmine of information. Customer service representatives often handle common queries and issues. Regularly reviewing transcripts and reports from these interactions can help identify frequently asked questions and areas where customers need assistance.
Recommended Blog for you
👉 How to Find Your Shopify URL: An Easy Guide
👉 How to Create a Shopify Coming Soon Page: The Ultimate Guide
👉 How to Change Address on Shopify- A Step-by-Step Guide
👉 How to Add Gift Card to Shopify: Follow These Steps to Get Started
Implementing the steps of How to Add a FAQ page on Shopify
Implementing a FAQ (Frequently Asked Questions) page on your Shopify store is a straightforward process. Here's a step-by-step guide on how to add a FAQ page on Shopify :
Step 1: Click 'Add Page' in Your Shopify Dashboard
Log in to your Shopify admin panel.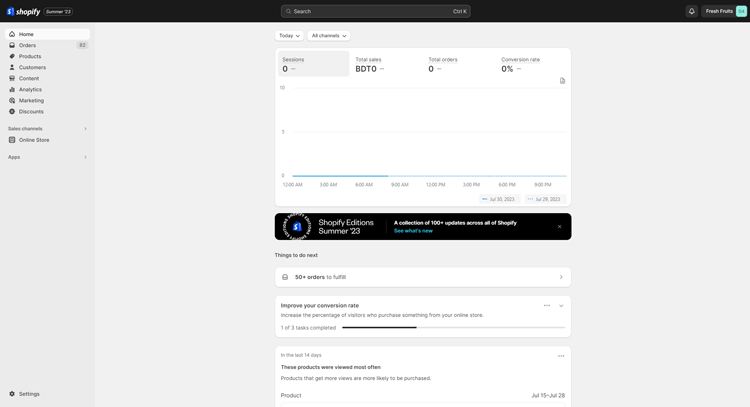 Navigate to "Online Store" and click on "Pages."

At the top right corner of the screen, click the "Add page" button. This action will take you to the "Add page" screen, where you can start creating your new Shopify FAQ page.

Step 2: Add the FAQ Page's Title and Content
Begin by adding a clear and engaging title for your Shopify FAQ page that accurately represents its content. For instance, if your FAQ page focuses on shipping-related questions, title it "Shipping FAQs."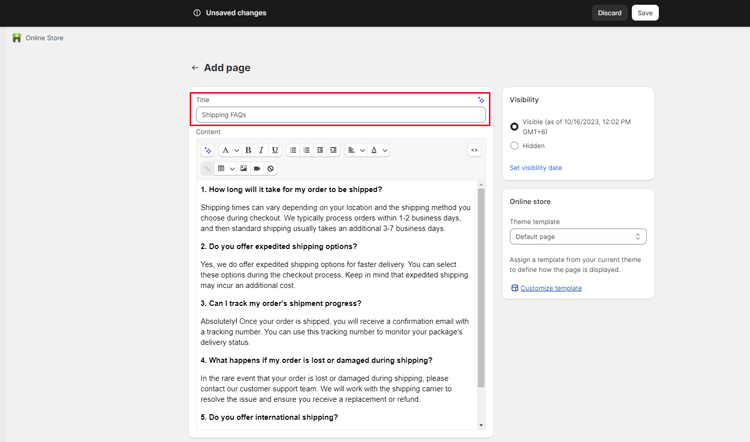 In the content editor, add FAQs along with their corresponding answers. If you have numerous questions, consider grouping them by related topics to improve the user experience.
After adding your content, click the "Save" button located at the bottom-right side of the screen.
Step 3: Add the FAQ Page to Your Store's Navigation
To ensure that your existing customers can easily find your FAQ page, you'll need to add it to your store's navigation.
Navigate to "Online Store" and select "Navigation."
Update your "Main menu" by including a link to your newly created FAQ page. If your store has other navigation menus (e.g., footer menus), consider updating those as well to include a link to the Shopify FAQ page.
Lastly, click "Save Menu".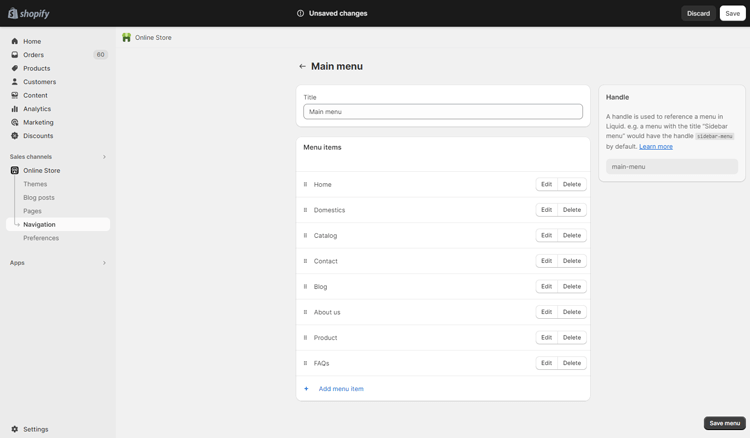 🚀 Ready to skyrocket your Shopify store to success?
🚀 Unlock the secrets to success and boost your sales 📈 with ShopiBuffet's expert services. Don't miss out, get started now!
Frequently Asked Questions
How can I organize my FAQs for better readability?
To improve readability, organize your FAQs into categories or sections based on common themes. Use headers and subheadings to separate different topics. You can also include a table of contents at the beginning of the FAQ page, allowing users to quickly jump to the section they are interested in.
 Can I add links from my product pages to specific FAQs?
Absolutely, you can add hyperlinks from your product descriptions or other pages to specific FAQs. Simply grab the URL of the FAQ you want to link to and insert it into the anchor text or button on the relevant product page.
How can I encourage customers to check the FAQ page before reaching out to customer support?
You can encourage customers to visit the FAQ page by placing a prominent link to it in your website's navigation menu and footer. Additionally, include a message on your contact or support page suggesting customers check the FAQ section first for quick answers to common questions.
Is it important to regularly update the FAQs on my Shopify store?
Yes, regularly updating your Shopify store's FAQs is vital to provide accurate and relevant information ensuring excellent customer service. It establishes trust with your customers and shows that you are dedicated to their fulfillment.
Bonus: Recommended Shopify Themes for a Professional-looking Shopify Store
Mavon
Mavon Shopify theme is a game-changer for dropshippers seeking a seamless and efficient platform. Additionally, this theme is tailored to meet the needs of various online businesses, including fashion, electronics, health, and beauty stores. It is a comprehensive solution for every online store, offering a unique, responsive, and attractive design that instantly captivates visitors.
One of Mavon's standout features is its cost-effectiveness. By providing a quick setup and an unlimited free trial it enables businesses to reduce expenses while still achieving professional-grade results. This level of customization and a top-notch user experience set Mavon apart as a must-have tool for any aspiring dropshipper looking to elevate their eCommerce venture.
In a nutshell, Mavon is more than just a Shopify theme – it's a high-converting, user-friendly, and customizable solution designed to elevate your online store to new heights.
Highlighted Features:
20+ Flexible Sections
Lookbooks
Color swatches
High-resolution images
Price: Free trial version
Regular License: $280/ year
Lezada
In the realm of online store themes, Lezada stands out as a versatile gem, offering boundless customization options paired with a clean and sophisticated minimalist design. With an expansive library of over 220+ pre-made home versions, the canvas for your imagination is boundless. Lezada provides an arsenal of tools including 11+ Revolution Sliders and 40+ Drag and Drop sections, allowing you to fashion a storefront that commands attention effortlessly.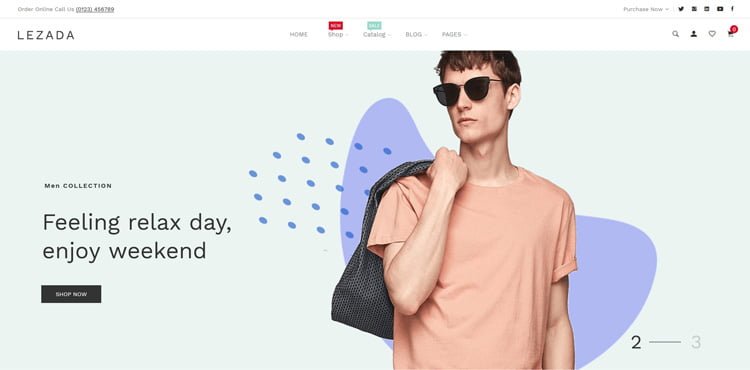 However, Lezada doesn't merely prioritize aesthetics; it's highly functional too. Its full responsiveness ensures a seamless experience for a global audience, complemented by multi-language support for broader accessibility. Integrated Google Analytics grants invaluable insights to track your progress and refine your strategies.
Plus, the well-commented HTML and CSS files make customization a breeze, empowering you to tailor your online presence with ease. With Lezada, your online store transcends the ordinary, becoming a dynamic and engaging platform that leaves a lasting impression.
Highlighted Features:
Fully Responsive
RTL Version
Notification Bar
Multiple Currency
Breadcrumb banner
Price: Regular License: $71
Corano
Corano – Jewelry Store Shopify Theme is the ultimate solution for online jewelry retailers aiming to flaunt their distinctive style with an exclusive, timeless aesthetic. Boasting 8 captivating homepage variations, including an RTL (Right-to-Left) version, it caters to a diverse range of tastes and preferences.
This theme incorporates essential features that empower you to craft a visually stunning and highly functional online store that is sure to captivate your customers. What sets Corano apart is its seamless integration with Shopify Online Store 2.0, unlocking a plethora of advanced functionalities. You can now effortlessly add sections to all pages, granting unparalleled flexibility to curate a bespoke shopping experience.
Highlighted Features:
MegaMenu, sidebar menu
3 Types Header
Mega menu
Slideshow
Collection Banner
Multiple Banner
Price: Regular License: $59
LeArts
Elevate your handmade product business with LeArts, the ideal Shopify theme designed for artisans. Offering a versatile selection of 13 pre-made homepage layouts, LeArts empowers you to tailor your website to showcase your unique crafts beautifully. Beyond its aesthetic appeal, this theme boasts a plethora of incredible features to propel your business to new heights effortlessly.
From convenient blog sidebar widgets to the flexibility of multiple currency options, LeArts simplifies customer interaction and broadens your global reach. The clean, well-commented HTML and CSS files ensure your site operates seamlessly, guaranteeing swift loading times for an optimal user experience.
Highlighted Features:
Multiple Currency
13+ Home Versions
Shopify Builder
Well Commented HTML & CSS files
Neat, Clean, and Simple Design
Price: Regular License: $49
Hire Developers to Build Your Shopify Store [Recommended-ShopiBuffet]
For those looking to enhance their Shopify stores, ShopiBuffet stands out as a reliable solution. This eCommerce authority offers a comprehensive approach, allowing individuals and businesses to focus on growth while entrusting the technical complexities to their experienced professionals.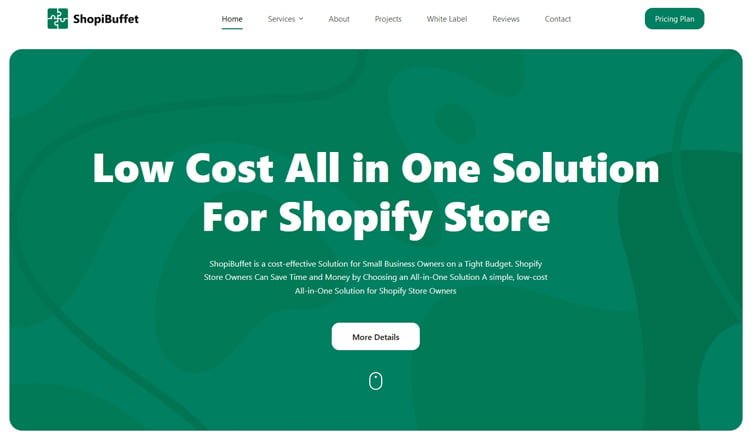 The responsive ShopiBuffet team is dedicated to swiftly addressing customer needs, demonstrating an unwavering commitment to satisfaction. As you embark on your journey to establish a thriving Shopify store, ShopiBuffet emerges as the ideal choice, paving the way for your path to success.
What Services Shopibuffet Offers:
Theme Installation & Demo Setup
Product & Collection Setup
Google Search Console Setup
Shopify SEO Services
Shopify migration service
Shopify stores regular updates and maintenance service
Final Takeaways
This guide on how to add a FAQ page on Shopify can make a significant difference in how customers view your store and the level of trust they have in it. A well-constructed FAQ page can provide your customers with valuable information and answers to frequently asked questions, saving them time and solidifying your position as a reliable online store.
This FAQ page can also help reduce the number of customer support inquiries as shoppers can find solutions to common issues themselves. So, if you're looking to enhance the customer experience on your Shopify store, adding a well-crafted FAQ page might be just the solution you need.