Are you new to Shopify and wondering how to find your Shopify URL? Look no further! In this article, we'll walk you through the process of locating your Shopify URL, helping you establish a strong online presence for your business. Whether you're just starting or already have a Shopify storefront, understanding your Shopify URL is essential for promoting your brand and reaching out to potential customers.
Importance of a Shopify URL
The importance of a Shopify URL for your online store cannot be understated. Here are several key reasons why your Shopify URL is significant:
Branding: Your Shopify URL is an essential component of your brand's online identity. It's the web address that customers will use to access your store. A clear, memorable, and brand-consistent URL reinforces your business identity and makes it easier for customers to recognize and remember your Shopify site.
Professionalism: A custom domain name (e.g., www.yourstore.com) rather than a generic subdomain (e.g., yourstore.myShopify.com) conveys professionalism and trustworthiness. Customers are more inclined to trust and interact with a company that has its own custom domain, which can enhance the legitimacy of your Shopify storefront.
Search Engine Optimization (SEO): The structure and keywords in your Shopify URL can influence your Shopify website's search engine ranking. Search engines like Google consider URL relevance and readability when determining rankings. A well-optimized URL can improve your Shopify site's visibility in Google search console results, driving organic traffic.
User Experience: A user-friendly URL provides visitors with a clear idea of what to expect when they click a link. A concise and descriptive URL helps users navigate your Shopify website with confidence, reducing bounce rates and enhancing the overall user experience.
Marketing and Promotion: Your Shopify URL is what you share on social media, in email marketing campaigns, and on printed materials like business cards or flyers. A memorable and easy-to-share Shopify store URL can boost your marketing efforts, driving more Google search console traffic and conversions.
Recommend Blog for You:
👉 How to Lock Your Shopify Store: The Definitive Guide
👉 How to Do an Exchange on Shopify: Step-by-Step Guide
👉 How to Export Images from Shopify: A Step-By-Step Guide
Accessing your Shopify Admin
Accessing your Shopify Admin is a straightforward process that allows you to manage and customize your online store. To start the steps on how to find your Shopify URL you need to access your Shopify admin dashboard. To do this, follow these steps –
Logging into your Shopify account
To access your Shopify admin, start by opening your web browser and visiting the Shopify login page.
Enter the password linked to your Shopify account along with your registered email address.
If you have two-factor authentication enabled, you may need to complete that process to log in securely.
Navigating to your Shopify admin dashboard
After successfully logging in, you will be redirected to your Shopify admin dashboard. Here, you can manage your online store, products, orders, customers, and various settings.
The dashboard provides an intuitive interface with menu options and widgets, allowing you to navigate different aspects of your eCommerce business easily.
Locating your Shopify URL
How to Find Your Shopify URL on the Shopify Admin Panel
If you prefer using the admin panel, locating your store URL is straightforward.
After logging in, go to the bottom left corner of the screen and select the "Settings" tab.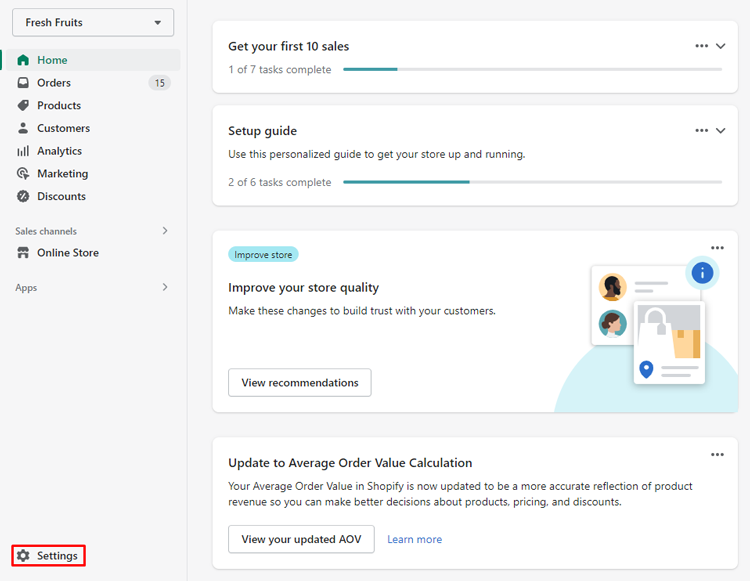 From the Settings panel, navigate to the "Domains" section. There you can see the primary store URL of your Shopify store. In general, it is in a format like your-store.myshopify.com, where "your-store" is the name of your store.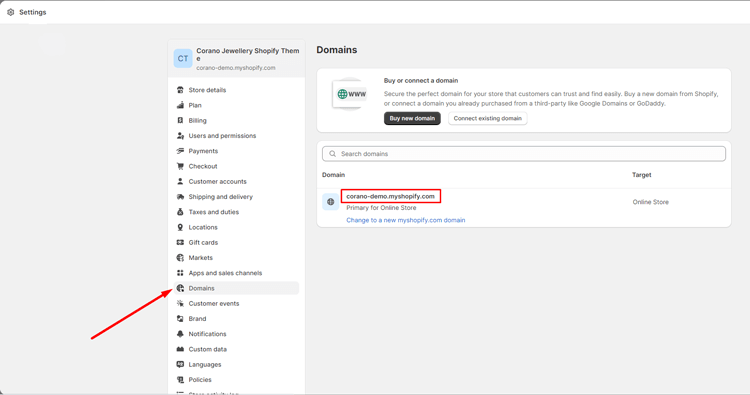 To further strengthen your brand's online visibility, you can also set up custom domains or buy domain names through Shopify.
How to Find Your Shopify URL on a Mobile App
For on-the-go management, the Shopify mobile app provides a convenient method to find your store URL.
Start the app, sign into your account, and select the "Store" link in the bottom navigation. To find your store URL, choose "Settings" and go to the "Domains" section.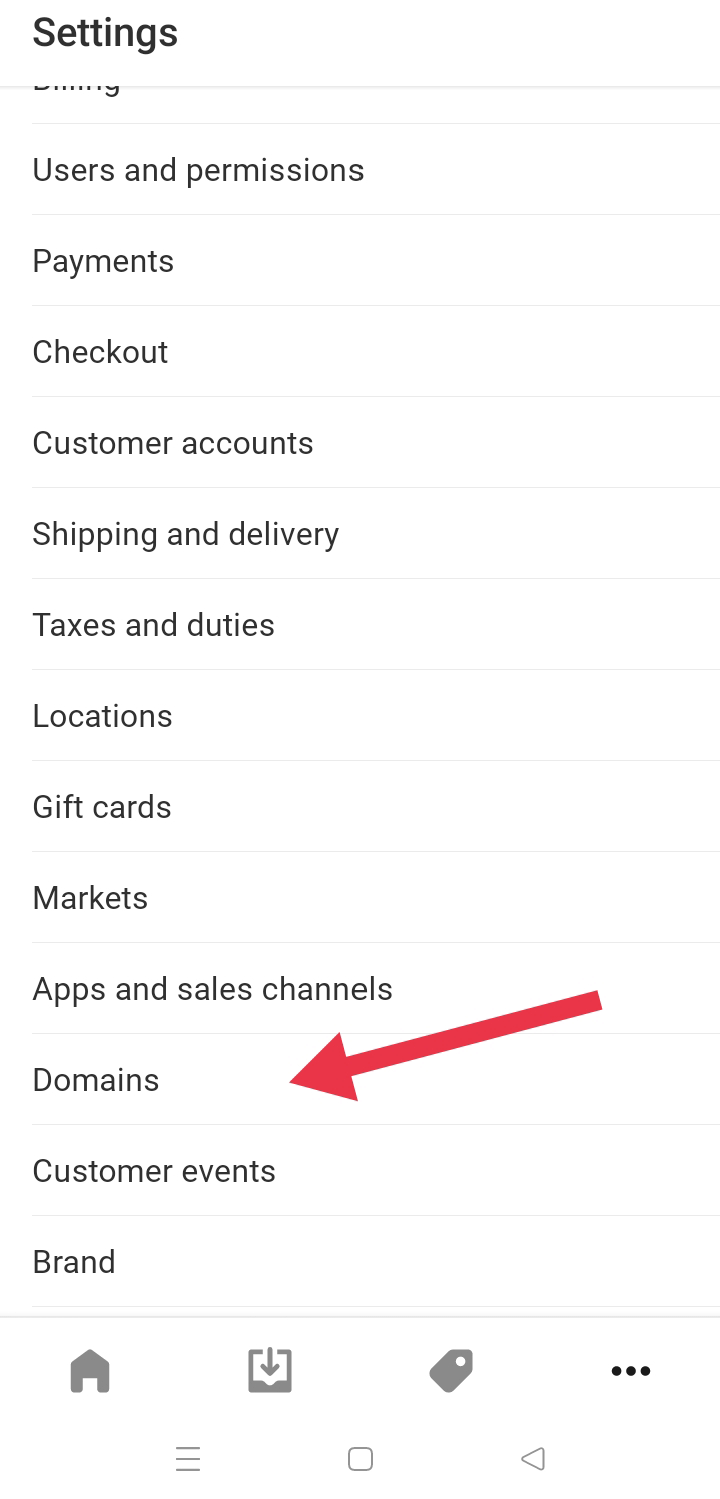 There you can locate the primary store domain, And, also set up custom domain for your store.
Hire Experts to Build Shopify Store [Recommended- ShopiBuffet]
For those seeking to elevate their Shopify stores, ShopiBuffet emerges as a trusted solution. This eCommerce authority offers a holistic approach, enabling individuals and businesses to concentrate on growth while leaving the technical intricacies to their seasoned experts. ShopiBuffet's appeal lies in its user-friendly Shopify storefront, supported by a proficient design and marketing team and adaptable to various budgets.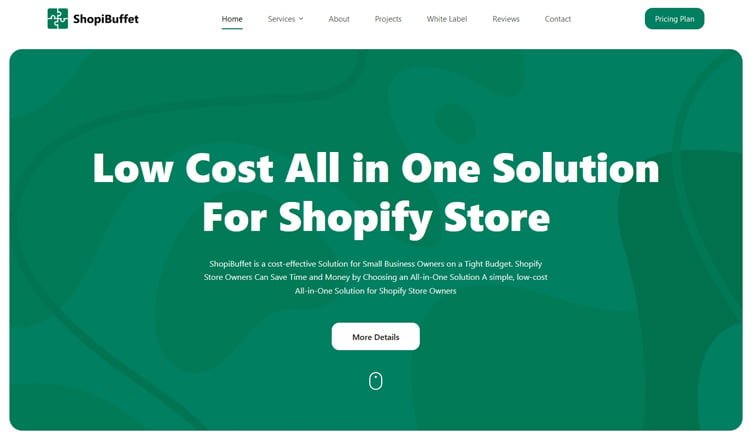 The responsive ShopiBuffet team is dedicated to promptly addressing customer requests, exemplifying an unwavering commitment to satisfaction. As you embark on your journey to establish a thriving Shopify store, ShopiBuffet emerges as the optimal choice, paving the way for your path to success.
What Services Shopibuffet Offer:
Theme Installation & Demo Setup
Product & Collection Setup
Navigation Setup
Shopify SEO Services
Shopify migration service
Shopify stores regular updates and maintenance service
Final Thoughts
Finding your Shopify URL can be a difficult procedure, especially for those using the site for the first time. However, by following a few straightforward procedures, you may quickly find this crucial bit of information. You may start promoting your Shopify URL to prospective clients and developing your internet presence as soon as you have it. With Shopify's user-friendly interface and powerful eCommerce tools, the sky's the limit when it comes to growing your business.