Changing your address on Shopify is a crucial task to ensure that your customers have accurate information for shipping and contact purposes. Whether you're moving your business to a new location or simply need to update your shipping address on Shopify, this comprehensive guide will walk you through the process step by step.
By following these instructions on how to change address on Shopify, you can seamlessly update your address on Shopify and maintain a smooth operation for your online store.
Why it's important to update your address on Shopify
Updating your address on Shopify is important for several reasons, including:
Ensuring Accurate Shipping and Delivery:
When you change your shipping address on Shopify, you provide an accurate location for your business operations. This is crucial for the shipping and delivery of orders to your customers. If your address is outdated or incorrect, it can lead to shipping errors, delayed deliveries, and even lost packages. Accuracy in your address details ensures that your customers receive their orders on time and in the right place, enhancing their overall shopping experience and satisfaction.
Maintaining Reliable Customer Communication:
Your business address is often a point of contact for customers who have inquiries, need support, or wish to return products. An updated address ensures that customers can confidently reach out to you, knowing they are communicating with the correct business location. Effective customer communication is essential for building trust and resolving issues promptly. An outdated address can lead to confusion, frustration, and customer dissatisfaction, harming your brand's reputation and customer relationships.
Recommended Blog for you:
👉 Shopify Integration with eBay: How to Use Shopify to Sell on eBay
👉 How to Put Sold out on Shopify: Step-by-Step Guide
👉 How to Link GoDaddy Domain to Shopify: Step-by-Step Guide
👉 How to Create Barcode in Shopify – A Step-by-Step Guide
How to Change Address on Shopify- Step by Step
Change shipping address on Shopify with a straightforward process. Here's a step-by-step guide to how to change address on Shopify:
Login to Your Shopify Admin Account: Begin by logging in to your Shopify admin account using your login credentials.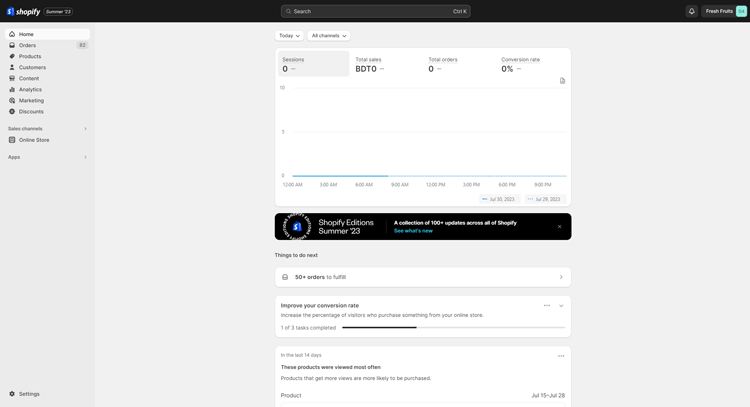 Access the "Settings" Tab: Once logged in, you'll find yourself in the Shopify dashboard. On the left-hand sidebar, locate and click on the "Settings" tab.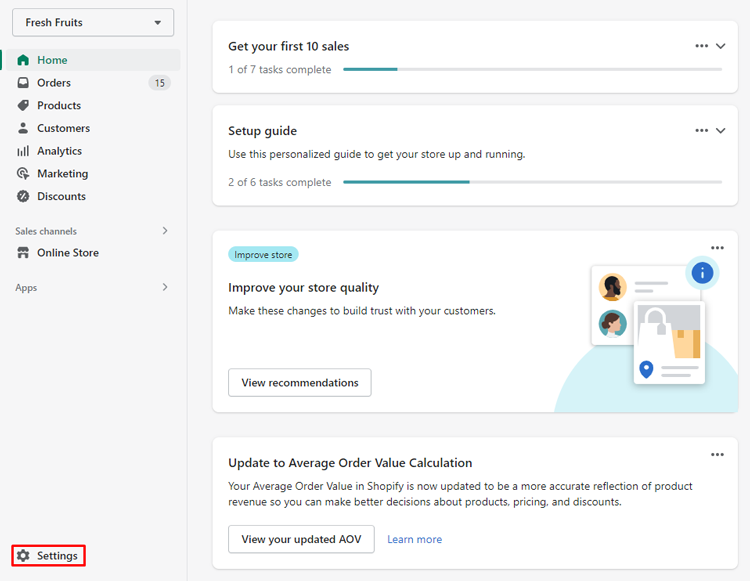 Navigate the Store Details: "Store details" section. There you will find billing information.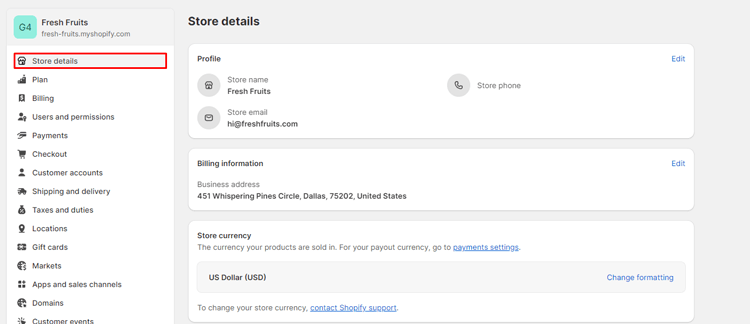 Edit Billing Information: Click on the "Edit" button and Fill in the fields with the accurate information, including your country, new street address, city, postal code, and any other pertinent details.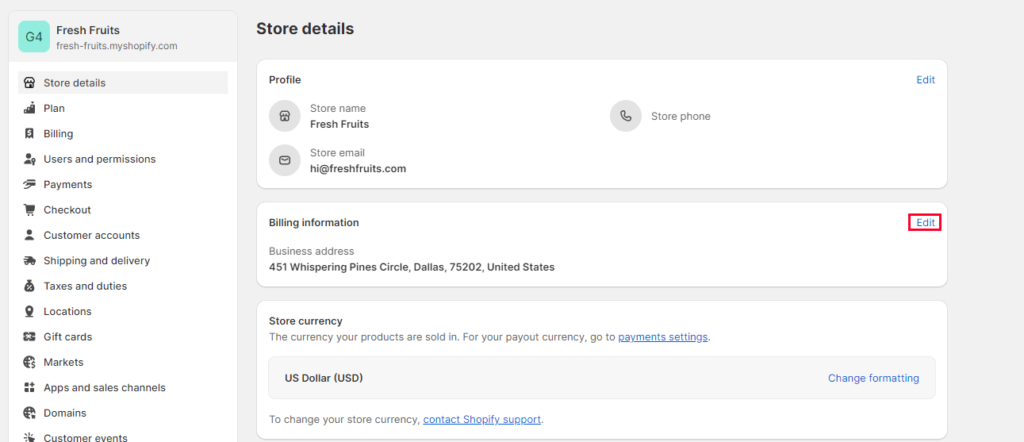 Save Your Changes: After entering your new address details, click the "Save" button to confirm and save the changes you've made.
🚀 Ready to skyrocket your Shopify store to success?
🚀 Unlock the secrets to success and boost your sales 📈 with ShopiBuffet's expert services. Don't miss out, get started now!
Informing customers about the address change
Informing your customers about an address change is crucial to maintain transparency and ensure a smooth transition. Here are two effective methods to do so:
Sending Out Email Notifications:
Sending email notifications to your customers is a proactive way to inform them about the address change. Craft a clear and concise email explaining the reason for changing the shipping address, the new Shopify store address, and any relevant details. Include a prominent subject line that grabs their attention, such as "Important: Update Regarding Our Address."
Be sure to highlight the date when the change will take effect and reassure customers that this update is intended to improve their experience. Encourage them to reach out if they have any questions or concerns. Also, consider sending follow-up reminders as the effective date approaches to ensure all customers are aware of the change.
Updating Your Website's Footer and "About Us" Page:
Update the footer of your website to display the new address prominently. The footer is a common location where customers look for contact information, so ensuring the current address is essential. Additionally, revise your "About Us" page to reflect the address change and provide context for the update.
Explain the reasons behind the change, whether it's a relocation, expansion, or any other relevant details. Use clear and concise language to communicate this information. Include a contact link or form for customers who may have questions or need further assistance. Consistency across your website helps build trust and ensures customers can easily access the latest information.
🚀Boost Your Online Store Sales with Mavon Shopify Theme!
Mavon – Your ticket to success! 🚀 Boost revenue with conversion-focused features and intuitive design, turning visitors into loyal customers.
Additional considerations and tips
Changing the shipping address on Shopify is an essential task that requires careful attention to detail. Here are some additional considerations and tips to keep in mind:
Verify Accuracy: Double-check all the details when entering the new shipping address. Even a minor error can lead to delivery problems. Ensure that the street address, city, postal or ZIP code, and country are accurate and up-to-date.
Notify Customers: If you're changing your Shopify store address, consider notifying your customers in advance, especially if you anticipate orders being fulfilled during the transition. Communication is key to preventing misunderstandings or delays.
Update Third-Party Services: If you use third-party shipping or fulfillment services, ensure that they are informed about the address change. This coordination is crucial to avoid misrouted packages and delivery issues.
Check Shipping Zones: If you are changing your business location significantly (for example, moving to a different country), review your Shopify shipping zones. Ensure that the new location is correctly added to the appropriate shipping zones to avoid complications with shipping rates and methods.
Update Return Addresses: Besides the shipping address, update your return address details as well. This is particularly important if your return address differs from your business address. Correct return information is vital for customers returning products.
Inform Customer Support: If you have a customer support team, inform them of the address change. They should be aware of the new store address in case customers inquire about it. Consistent information across all customer touchpoints is essential for trust and credibility.
Conclusion
By following this step-by-step guide on how to change address on Shopify, you can easily change your Shopify store address and ensure that your customers have accurate information for shipping and contacting your business. Keeping your address up to date is essential for a seamless customer experience and maintaining a successful online store. Remember to verify the changes, update your contact information, and inform your customers about the address change to avoid disruptions in your operations.