Every business needs an efficient system in place to manage orders on Shopify, and Shopify is a great place to start when it comes to setting up an online store. Its convenient, intuitive platform gives you all the tools necessary to fulfill Shopify orders quickly.
This step-by-step guide on how to fulfill orders on Shopify will help you get organized and make sure that you complete customer orders promptly. In addition, you'll learn how to process payments, monitor stock levels, and automatically update customers on dispatch status as their orders are fulfilled.
With this guide, the order fulfillment process can be fast, easy, and accurate – giving your business the best chance for success.
What is Order Fulfillment?
Order fulfillment is a process that happens after an order has been placed and accepted. It includes receiving goods, processing the Shopify order, and packing and shipping the product to the customer. It involves strategies such as inventory management, warehousing, distribution, and transportation. Order fulfillment can be done in-house or outsourced to third-party logistics providers.
Companies use order fulfillment services to free up valuable time from their personnel so they can focus on operations and customer service instead. By having experts take care of everything related to processing orders, Shopify store owners can reduce errors and have faster delivery times, resulting in better customer satisfaction.
Benefits of Fulfilling Orders on Shopify
Shopify is a versatile and powerful tool for businesses of all sizes to create an e-commerce presence. By automating and streamlining the order fulfillment process, Shopify can take a lot of the heavy lifting out of managing customer orders.
Order fulfillment on Shopify allows shopkeepers to quickly print shipping labels for orders from their dashboard, monitor inventory levels in real-time, create automated follow-up emails, and easily track shipments.
Access to all these features makes it easier to satisfy customers by ensuring that orders arrive at their destinations on time and as expected.
Not only does this simplify the Shopify store owners' end of fulfilling Shopify orders, but it can also help build relationships with shoppers and keep them coming back for more.
No doubt implementing the Shopify order automatic fulfillment process into your e-commerce workflow will ultimately lead to increased profits and happy customers.

How to Fulfill Orders on Shopify in Different Methods
If you're concerned about how to fulfill orders on Shopify, then don't worry. There are different methods. Let's check out which one suits your need the most.
How To Automatically Fulfill Orders
Setting up automatic fulfillment on Shopify doesn't have to be a tedious task. Follow these easy steps, and you'll be ready to go in no time!
1. First, log into your account and navigate to the Shopify admin dashboard. Click "Settings"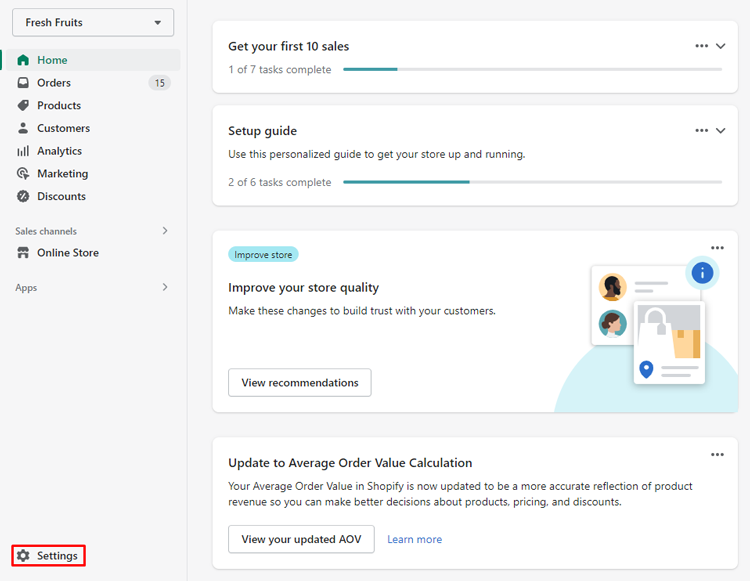 2. Inside the Settings feature, click "Checkouts and accounts" and then look for Orders Processing. 
3. Click on the "After an order has been paid" section and select "Automatically fulfill all of the order's line items" to enable automatic fulfillment in your store.  Finally "Save" your settings
For extra convenience, you can also activate the Notify customers of their shipment via email, which will send automated emails to them once their orders have been shipped out.
If you need more advanced features, an array of third-party shipment software in the Shopify app store can offer higher levels of customer service, such as answering queries and addressing concerns.
Finally, save your settings by clicking the "Save" button to finalize your settings and take full advantage of automated order processing on Shopify!
How To Manually Fulfill Orders
Once you've switched back to manual fulfillment for your Shopify orders, it is essential to follow these order fulfillment instructions to ensure customer satisfaction.
1. To begin, log into your Shopify admin dashboard and head to the "Orders" tab on the left side of the panel. 
2. From there, you'll see all fulfilled and unfulfilled items at a glance, making it easier to spot any missing orders. Then go ahead and click on the "Unfulfilled" section
3. Select the order number associated with an unfulfilled item, and hit "Fulfillment item". 

4. Double-check your product and shipment details and input a tracking number, then choose a tracking carrier from the drop-down menu if needed. 
Don't forget to send a notification email to your customer informing them of their order's new status.
Lastly, please mark the item as Fulfilled in the Fulfill items section, and that's it!
Following these simple steps will save you time while ensuring customer satisfaction at all times.
Frequently Asked Questions
What does Shopify's term "fulfill an order" mean?
When you finish an order in Shopify, the process of shipping it to the customer begins. The order's fulfillment status is shown on the Orders page as fulfilled, and the customer receives an email informing them that their item has been shipped.
Are given and fulfilled the same thing?
If your order is shown as "in fulfillment," it has likely already been processed and is being prepped for shipping. An order has been sent to the customer, and the procedure is completed after the fulfillment service is finished.
Can orders be automatically filled on Shopify?
You may set up automatic or manual fulfillment for orders and order archiving from Shopify's checkout settings page. When you finish an order in Shopify, the process of shipping it to the customer begins.
Exclusive Shopify Web Design Services by ShopiBuffet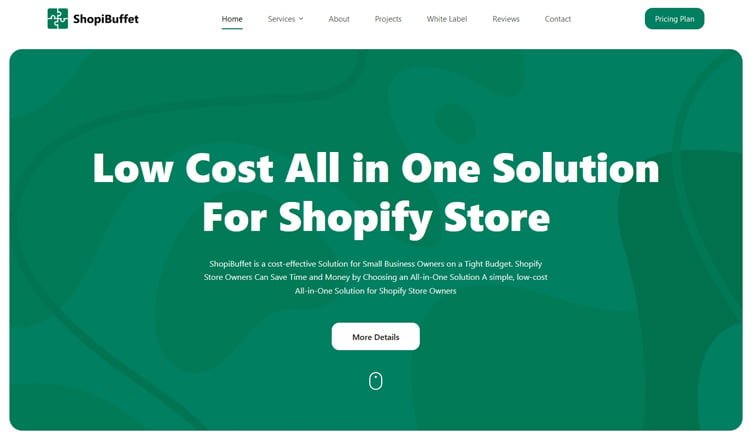 ShopiBuffet offers entrepreneurs a unique and convenient approach to building an efficient Shopify store. Their exclusive web design services ensure businesses have everything they need to create the perfect shop right from the start.
Worried about how to fulfill orders on Shopify? Don't worry; Shopibuffet provides a comprehensive suite of end-to-end solutions that take care of every aspect of setting up a Shopify store.
From installation and demo setup to product and collections setup, navigation setup, digital marketing, and more—ShopiBuffet has experienced designers and marketers to manage every project. In addition, their competitive pricing ensures customers get the most value for their money.
For those looking to open their online store without going through all the tedious steps, partnering with ShopiBuffet is an effective and convenient way.
Conclusion
In conclusion, it is crucial to follow the aforementioned instructions on "how to fulfill orders on Shopify." From tracking incoming orders and shipping labels to completing transaction paperwork, you must have a system in place to ensure the delivery of goods as promised.
Managing client expectations is also key, as they want their ordered items delivered when promised. Having a great order fulfillment process will reduce complaints, ultimately leading to an improved customer experience – which should be your ultimate goal.