Opening an online store and selling products has never been easier, thanks to Shopify. It provides a user-friendly platform for entrepreneurs of all levels to get their businesses up and running in no time.
With Shopify, you can design a beautiful website with advanced features, add payment processing, and successfully publish your store quickly and conveniently. In this step-by-step guide on How to Publish a Shopify Store, you'll learn the necessary steps to complete this process proficiently so that customers can start buying your products right away.
What is Shopify?
Shopify is a leading eCommerce platform providing businesses with all the tools necessary to set up and manage their own successful online stores. With Shopify, businesses have access to a range of features such as integrated payment processors, analytics, marketing tools, and even customer support that make operating an online store easier and more efficient than ever before.
Shopify also offers numerous third-party applications that enable companies to customize their eCommerce stores according to their individual needs. All in all, Shopify is the ultimate solution for businesses looking to take their products and services into the digital world without having to worry about creating everything from scratch.
Benefits of Using Shopify
Shopify is an excellent e-commerce solution for those looking to transport their business online. Its wide range of features, tools and applications makes it possible for anyone to build a professional online store quickly and efficiently. With Shopify, users can produce effective marketing campaigns and track performance in real-time. Plus, with integrated payment systems, it makes it easy for customers to purchase products online with ease!
Overall, Shopify provides all the essentials you need to create a successful e-commerce business from start to finish. In addition, its robust security protocols keep customer data secure and your business safe from cyber threats. As such, Shopify is an invaluable tool that helps aspiring entrepreneurs take the leap into the digital world confidently.

Requirements to Publish a Shopify Store
Worried about how to publish a Shopify store? Here's what you need to do to get your Shopify store live –
Create and add a domain name
To launch your Shopify store and make sure customers can easily access it, domain names are must-have. You can also try to connect existing domain to your store. The good news is that once you've decided on your store's domain names, Shopify will provide you with an online address so they can find it – all without having to spend extra time dealing with web hosting. With this in place, customers will be able to locate your business and get what they need.
Update DNS records
Updating your DNS records is a necessary step when publishing a Shopify store. It's important to point your domain name to the correct physical IP address so visitors can find you online. However, this process can be daunting if you are not familiar with how backend systems work.
But luckily, Shopify provides clear and concise training materials on navigating this task. So read up and make sure all of your settings are in place, and then hit publish to enter the world of eCommerce!
Erase any storefront passwords
To protect your store's security, it is recommended to remove any storefront passwords prior to launching your Shopify store. This may be easy for some shop administrators to overlook as they can still access the store when logged in.
Taking a few minutes to double-check that you have disabled your storefront password can help safeguard against potential malicious actors trying to access the store without permission. In addition, doing so can save valuable time and energy in dealing with any unexpected problems or negative publicity resulting from a possible breach.
Set Primary Domain
Once you have registered your domain, it is important to set the primary one. This will ensure that this is the one used by default for all links your customers click on from search engines. To make this easier, add the domain Shopify to the Domains section within their control panel, which can be accessed through the online store menu. All you have to do there is choose your domain and set it as the primary one. Otherwise publishing a Shopify store takes a lot of hard work and time.
Add Other Necessary Domains
Shopify allows shoppers to type any version of your domain into their address bar, and they will automatically be redirected to the primary domain. For additional customization, you can change the primary domains at any time by selecting the ' Set as Primary' option next to each domain name listed in your account. Doing this is especially helpful if you want certain subdomains like .biz or .community to direct customers to a specific page in your store.
Get Your Store Live
It's important to make sure the features are easy to navigate, the payment process is secure and simple, and, most of all, ensures that your products are displayed in categories that are clear and well-defined. Once you're happy with everything, hit the 'Publish' button to make your online store live officially! Then, you can finally promote your Shopify store and start selling your products or services.
Get Exclusive Shopify Services from ShopiBuffet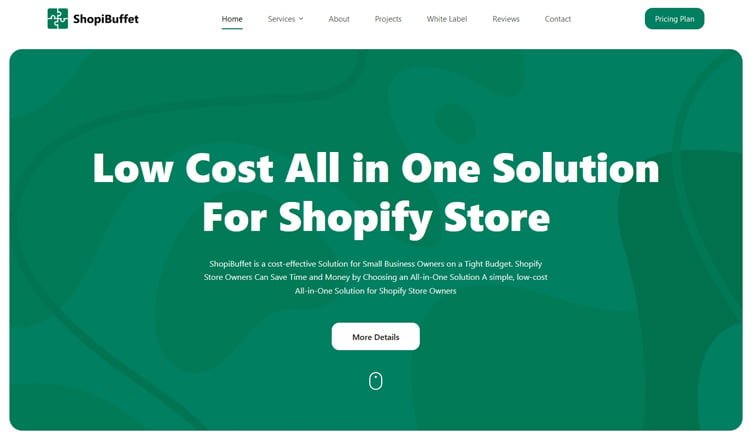 With ShopiBuffet, you can get premium Shopify services and feel the ease of setting up a fully-functional eCommerce store. From creating a theme and configuring products to maintaining navigation and creating sales channels and collections, ShopiBuffet's highly experienced professionals are here to help manage all your related activities.
Not only will their team set up your store, but they'll also always be available to provide guidance through questions and answers. They also offer exclusive customer support, so your online business never has to run without supervision. With all that ShopiBuffet has to offer, any entrepreneur, beginner, or professional can benefit from their services and start selling online. So why wait? And publish your Shopify store live with ShopiBuffet.
Recommended Shopify Themes to Get Your Store Started
For new businesses developing their signature style, one of these sleek templates is the perfect way to get started – you can jump right in with minimal effort! With drag-and-drop elements, you can easily adjust the look of your website without needing any coding expertise. Here are some Shopify's recommended themes that have all been professionally crafted —
Lezada – Fully Customizable Multipurpose Shopify Theme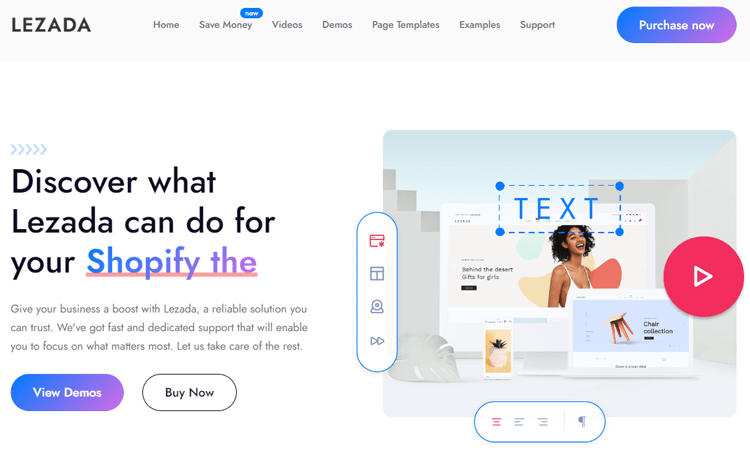 Lezada is a feature-rich multipurpose Shopify theme that offers 220 Home Versions, 11+ Revolution Slider, 40+ Drag and Drop Sections, RTL version and 10+ Header Variation. All the components of this theme are designed with Bootstrap 4, CSS3, HTML 5, and W3C validated markup for better user experience. Its responsive layout makes it user friendly on mobile devices as well.
Cross-Browser compatibility lets users access the website from multiple browsers without any compatibility issues. To make things even better, Lezada also includes Discuss Comment section, Facebook Comment along with detailed documentation and Google Analytics to help you customize the theme easily. Its fully customizable features make Lezada an excellent choice for creating stunning eCommerce websites.
Highlighted Features:
MegaMenu, sidebar menu
Slick slider
Featured Product
Tab With Product
Isotope Filtering Product
Price:
Regular License: $49
Corano – Jewelry Store Shopify Theme
The Corano – Jewelry Store Shopify Theme is an impressive classic-look Shopify theme that offers jewelry stores the latest advanced features with a fully responsive design. In addition, you can choose from 8 unique homepage variations, including RTL compatible versions, to customize your website and give it that perfect look.
Furthermore, Corano provides plenty of extra features such as Shopify Builder, Theme Color, Newsletter Pop and Ajax Wishlist, Quickview, and much more. With all these perks in just one theme package, there's no reason not to try it and see the results!
Highlighted Features:
MegaMenu, sidebar menu
3 Types Header
Mega menu
Slideshow
Collection Banner
Multiple Banner
Price:
Regular License: $59
Minimal Shopify Theme – Airi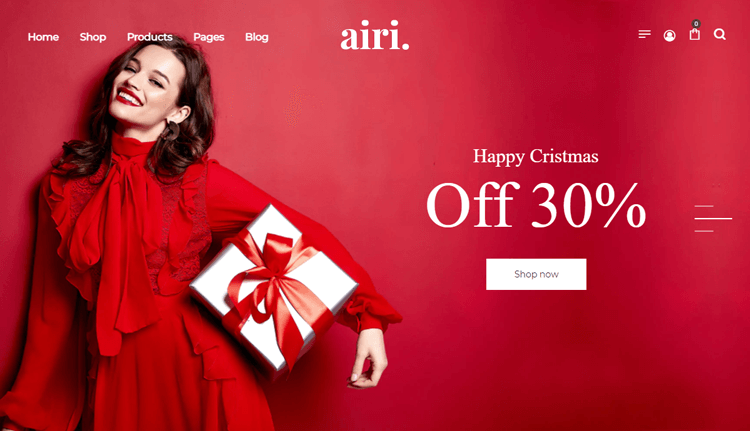 Airi – Clean, Minimal eCommerce Shopify Theme is a revolutionary new theme that helps you build an online store quickly and easily. Featuring a modern design that looks flawless on any device, Airi will give your store the professional edge it needs to stand out and encapsulate your customers. From multiple currency options to 6+ header styles, including Dropdown and Megamenu with image capabilities, you'll be able to make sure that your store looks exactly how you envisioned it. With Airi's simple yet powerful design, selling fashion, clothing, and other goods has never been easier.
Highlighted Features:
15+ Preloader
Google Analytics
Fully Responsive
Cross Browser Optimization
Well Documentation
Price:
Regular License: $48
Bardy – Beard Oil Shopify Theme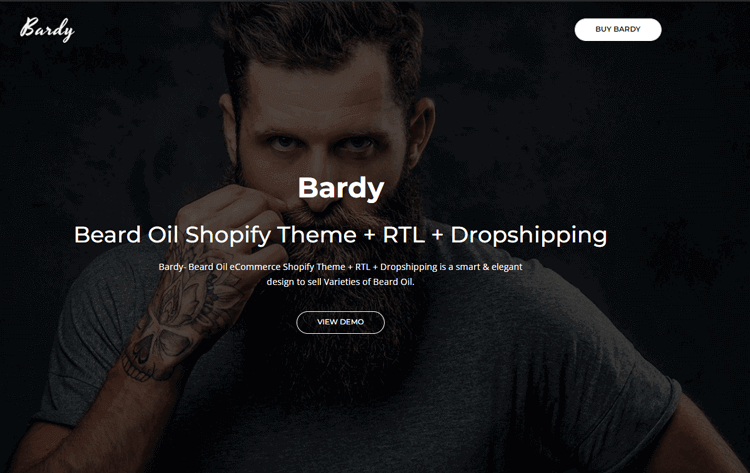 Bardy – Beard Oil Shopify Theme + RTL + Dropshipping is the perfect solution for businesses looking to launch a modern, professional eCommerce website. From its pristine design to its incredible wealth of features – including 2 Home Pages, single RTL page, Ajax Cart, and so much more.
This Shopify theme has everything you need to make your store stand out from the competition. With an easy-to-navigate interface and multiple options available for customers, any visitor will be impressed by what Bardy has to offer. Perfect for selling varieties of beard oil, this is one Shopify theme that can help you take your business to the next level!
Highlighted Features:
Theme Color Options
Newsletter Popup
Multiple Currency
Dropdown Menu
Mega Menu
Price:
Regular License: $48
Ezone – Multipurpose eCommerce Shopify Theme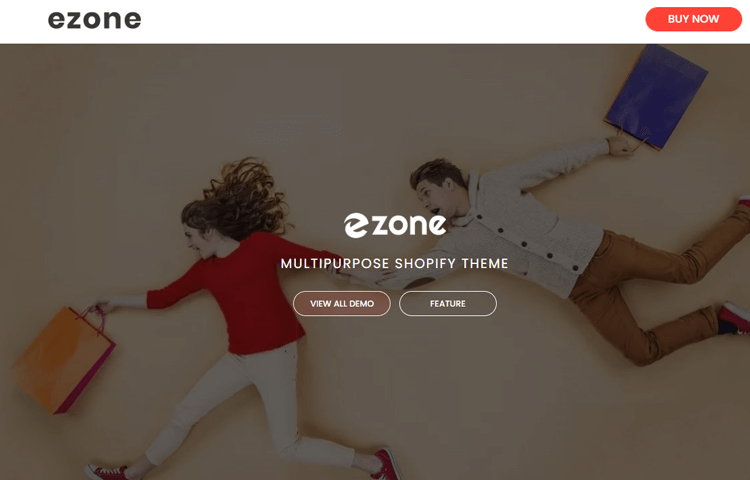 The Ezone Shopify theme offers a unique and stylish solution for you to create an online store. Boasting a modern, clean design, the theme is fully responsive and perfect for creating elegant stores.
Easily customize your website with its color switcher for unlimited options and 10+ sliders for beautiful visual slides. You can also make use of multiple sorting options like featured product view, tab product with carousel, grid product view, or product carousels. Create the perfect website design and tailor it to meet your individual requirements – Ezone has you covered!
Highlighted Features:
Theme Color Options
Newsletter Popup
Multiple Currency
Dropdown Menu
Mega Menu
Price:
Regular License: $48
Frequently Asked Questions
What is published on Shopify?
Visitors to your e-commerce store will view published themes as they arrive. On your "Themes" page, the published theme is identified as a "Live Theme." It's simple to launch a new theme if you wish to change your current one.
How do I know if my Shopify store is live?
Your store is live if you can log in to your Dashboard. Check the settings in your store. There should be a toggle for "Online status" in the "General" section of your shop's settings. Your shop is open if this is set to "Yes."
Do Shopify stores ever expire?
If the automatic renewal is not enabled for your domain, you must do it before the registration period expires in order to keep your domain from expiring.
Conclusion
Now that you know everything you need to know about 'How to Publish a Shopify Store' and have taken major steps towards realizing your entrepreneurial dreams, you should be proud. Now that your store is ready for customers, it's important to keep up with maintenance and upkeep. As you update and refine your store, you will see growth in customer base, product satisfaction, and revenue – all great signs of success.