Adding Shopify store can be a great way to break into e-commerce and sell products online. However, after all the hard work you've put in to customize the look of your online store and adding the products you intend to sell, getting your shop 'live' may seem like a daunting task. Fear not; With just a few quick steps of how to make shopify store live, it is simple to bring your Shopify store to life for the world (or web) to see! Follow these simple tutorials and tips, and with no time at all your business will be thriving—it's that easy!
Overview of Shopify and eCommerce
Shopify is a powerful and user-friendly platform to create online shopping websites. With its cutting-edge design capabilities, Shopify allows business owners to easily set up storefronts that provide detailed information about their products or services. This deep level of customization makes Shopify ideal for selling a broad range of merchandise, from handmade jewelry to complex software.
In addition, Shopify includes tools to automate many aspects of the eCommerce process, such as Shopify payments, processing payments, calculating taxes, fulfilling orders, promoting products and managing customers' accounts. All these components combined make Shopify one of the best solutions available for anyone looking to start an eCommerce business and create an online shopping website.
Benefits of Launching a Shopify Store
Launching a Shopify store has the potential to allow businesses to explode their online sales and reach a wider audience. Shopify is a powerful eCommerce platform that provides numerous advantages associated with structure, formatting, creating product listings, setting up payment options, and customizing design elements.
Shopify also simplifies managing sales and inventory by providing real-time updates of products sold and insights into what customers purchase the most. Additionally, users can quickly adjust their pricing, discounts or limited-time offers to increase sales. And if companies want to promote their online store globally, they can easily translate their site into multiple languages without needing any professional help. Shopify makes it easier for businesses of any size to get their products visible on the Web.

Setting Up Shopify A Registering an Account
Choosing Your Domain
Prior to learning how to make the Shopify store live,
You must first select a domain.
Setting up a Shopify account is the first step in managing your online business.
After registering your account, you will need to pick the primary domain name for your store.
Think of a relevant and memorable name that accurately represents your online store and brand, both of which are important factors when it comes to building recognition with your customers.
Choosing the primary domain name can be tricky, but the Shopify admin panel provides several helpful tools to make sure you make the right decision quickly and easily.
Once you have reserved your domain, simply follow the steps provided by Shopify to set up the rest of your store and start selling!
Designing Your Storefront
The next thing,
You'll need to register your account to begin the process.
Once that's complete, crafting your Storefront is a breeze.
You'll have full control over layout and design elements and the ability to integrate third-party apps for more customization options.
With so many options available, creating an eye-catching storefront with Shopify can be done in no time.
Adding Products to Your Shopify Store
You need to take a few crucial steps when adding products to your Shopify store.
Step– 1. Creating Product Descriptions and Variants
First and foremost, you'll need to create compelling product descriptions and variants that will draw customers in and make them want to purchase. Whether you're selling digital goods, physical goods, or services, Shopify has flexible settings that can be tailored to suit your needs. To begin, you'll want to start by creating detailed descriptions for each product as well as any variants that apply.
Step– 2. Adding Digital Goods, Physical Goods, and Services
Next, you'll have the option of adding digital, or physical goods, or services to your shop. Shopify organizes all types of products under one roof: digital goods like artworks and music albums, physical products, and services such as accounting advice can all be found easily on Shopify's platform.
Step– 3. Shipping Settings for Your Products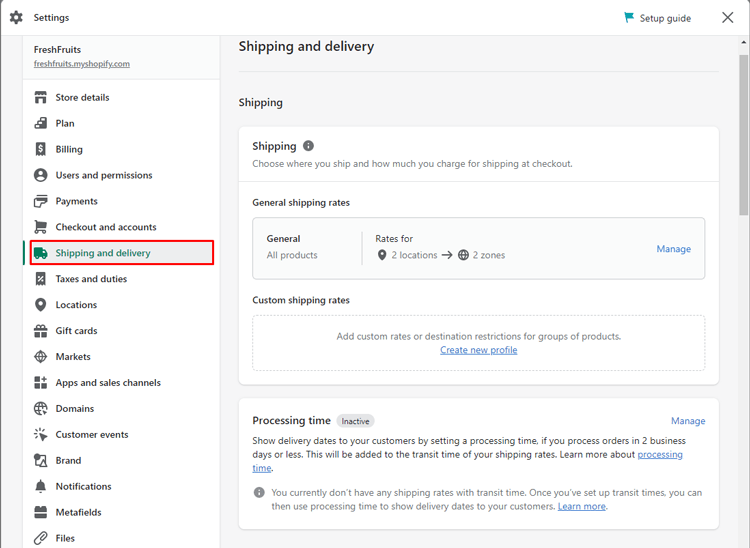 Finally, it's important to understand the necessary shipping settings for your chosen products so your online store customers get their items without any interruption. with their integrated Shipping settings generator, several carriers can ship global orders quickly and efficiently from origin to destination. Take the stress out of online sales channels by automatically generating shipping settings and focusing on selling amazing products!
Payment Options for Your Store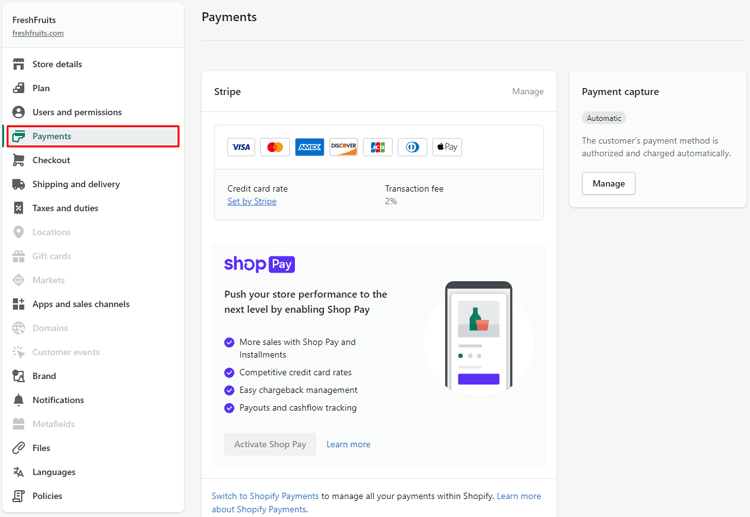 Setting up an online shop with Shopify is a breeze, but then comes the tough decision of which Shopify payment options to offer your customers. Fortunately, most of the heavy lifting is already done for you – Shopify includes both PayPal and accept credit card payment processing integration.
Regardless of what type or types of sales channels you decide to offer, setting up either PayPal or cards through Shopify is as easy as completing a few simple steps that can be done in minutes. Plus, no matter how your customers choose to pay you, Shopify helps keep their information safe and secure!
How to Make Shopify Store Live
Finalizing Settings for Your Ecommerce Site
Once the design, products, and content of your Shopify store have been finalized, it's time to take some steps to ensure everything is in working order. It's important to thoroughly check all your links to ensure that customers won't be met with error codes such as 404s.
Additionally, it's important to look through both the text and images on your website a couple of times since first impressions are everything. Finally, if you had any promotional discount codes active on your old store, make sure those are copied into the new online store as well. With these little touches taken care of, you'll be ready to launch your eCommerce site for success!
Launching the Storefront
How to make the Shopify store live now that has been worked on? Opening a Shopify store is very easy because customers can now purchase your products by opening a storefront. Verify that your store's settings and configurations are set up to activate Shopify.
Exclusive Shopify Store Design Services by ShopiBuffet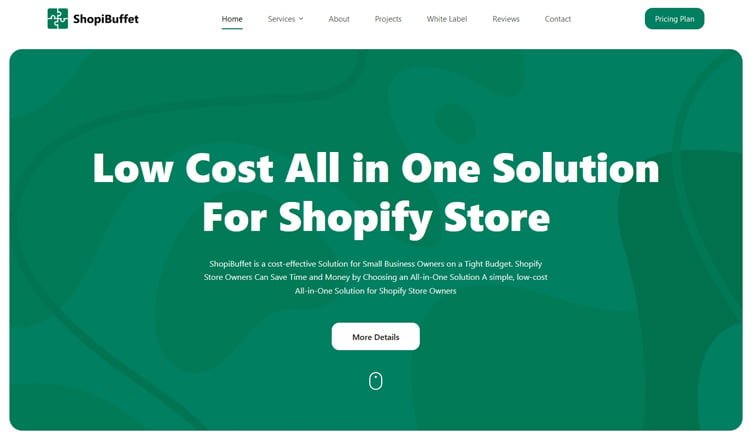 With ShopiBuffet, there's no need to search for a reliable developer or agency to build and launch your Shopify store. You must create your account, pick the services you need, and ShopiBuffet will take care of the rest. Their experienced team of designers and marketers can quickly get your online store up and running with their turnkey solution.
Not only will they handle theme installation and demo setup, but they can also manage product and collection setup and navigation setup so you can focus on what matters most – running your business. Plus, their experts are available 24/7 if you have questions or concerns. With ShopiBuffet's flexible services, you'll be able to go live with your shop in no time.
Conclusion
Taking the plunge and going live with your Shopify store can be exciting and nerve-wracking. Planning and dedicating ample time to setting up a strategy to ensure a successful website launch is essential. This allows you to take the stress out for the Shopify store live because the hard work is already done.
Once your online store is ready for launch, it's time to share the news with customers and start taking orders. A solid online presence is an invaluable asset for any business, so going live with your Shopify store can bring many great opportunities worth taking advantage of. Why wait for the launch of your Shopify store when you already know how to make Shopify store live?