If you're looking for a place to sell your goods, you could be debating Shopify vs Teespring. Choosing which platform is best for your company can be challenging because each has advantages and disadvantages. To help you choose the best print demand platform, we will compare and contrast Shopify vs Teespring in this article.
What is Shopify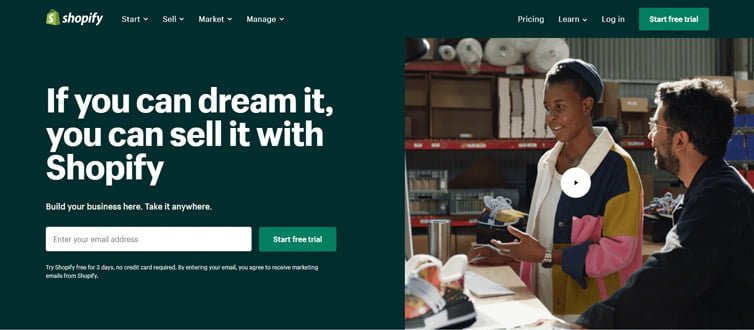 Shopify is an e-commerce platform that enables entrepreneurs to start their online businesses. It offers a comprehensive set of features for building and managing your business, from creating products to controlling inventory to calculating shipping rates and taxes.
Users can customize their website, handle payments securely, and access robust tools for managing inventory and shipping through Shopify, which offers everything they need to get started. Additionally, Shopify has many features and connectors that may be utilized to streamline further and optimize the eCommerce experience. Shopify is a great platform to consider whether you're just starting in e-commerce or hoping to grow your company.

What is Teespring
Teespring is a print-on-demand service that helps people create and sell custom products online. What sets Teespring apart from other similar print-demand companies is the range of selling tools integrated into users' account dashboards. This includes tech integrations with sites like YouTube and Twitch and top brand collaborations with companies like Champion.
All products are made on print demand, so no upfront costs or risks are involved. This makes Teespring an excellent option for anyone looking to start their own online business. Whether an aspiring entrepreneur or an established YouTuber looking to expand your brand, Teespring can help you turn your ideas into reality.
How do compare Shopify vs Teespring
Setup
You must create an account with Teespring print demand companies, then use the dashboard to create and publish products for your store. Go to Start Designing and choose the kind of product you want to design. Before adding designs to your online store, you can create them or upload them using the product launcher.
The all-in-one eCommerce solution Shopify is comparatively simple to use. After opening your Shopify account, you must set up your store, connect with product suppliers, and begin selling. Shopify does not have its product suppliers; instead, it solely uses applications to link with some print demand platforms and vendors.
As a result, you must pick the best POD platform to connect product providers. Alternatively, you might contact vendors who provide print-on-demand (POD) services.
Templates and Apps
Teespring offers a wide range of sizes for products for both men and women. As a result, users can create unique products tailored to individual styles. For example, a user could create a shirt with a specific design and color scheme for a man and then create an entirely different shirt with different colors and sizes for a woman.
This flexibility helps users to create products that are truly unique and personal. In addition, the wide range of sizes means that users can find the perfect fit for their needs. As a result, Teespring is an excellent choice for those who want to create custom-made products.
On the other hand, Shopify lets you create all the pages you need to display to your customers, starting from the landing page to the homepage and product page. However, the good thing about building a Shopify store is its drag-and-drop editor. It offers you complete control over customization coupled with unique features and advanced tools, so it is not as complicated as it may sound.
The Shopify Theme Store offers many free and premium themes. You may select from a wide variety of free or premium themes to give your online store a distinctive appearance and feel and provide your consumers with a positive shopping experience. You can create individual pages using Shopify's page builder tools.
Ease of Use
Teespring's simple Shopify web design makes it easy for non-tech users to find their way around the platform or application. Navigation is smooth, and it does not take long to get familiar with all the features and functionalities. This makes it much easier for everyone to create a print on demand storefront, as opposed to Shopify, which can appear complicated, especially for those who are new to building online stores from scratch. However, for those with the required knowledge, Shopify presents less challenge and allows full control over Shopify store customization.
Marketing Support
There are numerous venues to pick from for online affiliate marketing job. However, Shopify and Teespring are two of the most widely used choices. Both systems have benefits and drawbacks, so it's crucial to consider your alternatives before selecting one.
Teespring is a marketplace for people to sell POD products. Customers can find other alternatives easily on Teespring. You may have to own hundreds of designs to get a single order. However, you still have to do your marketing activities yourself. You can sell on multiple platforms, including TikTok, Instagram, Facebook,, and Pinterest.
Additionally, you'll still need to do all your marketing, which can be time-consuming and expensive. If you're willing to put in the work, Teespring can be a great way to reach a broad audience and make some good sales.
Shopify affiliate marketing is more expensive, but it offers several features that can help you optimize your store for conversion and traffic. With the Shopify app store, you can access an analytics dashboard and a range of free apps that can help with SEO, social media marketing, email marketing, and more. However, you must be comfortable with coding to take full advantage of the platform.
Monthly Fee
You choose the selling price, and you keep all of the revenue. It's crucial to remember that the base price of print demand products on Teespring can change. For instance, if a T-shirt costs $10 at retail and you sell it for $24, you will make a $10 profit. Your design's product costs or the number of products sold per listing are unaffected by the number of colors, and you might even receive a pricing discount.
Contrarily, Shopify offers a 14-day trial period before requiring a $29 to $229 monthly subscription cost. So, if you intend to use Shopify to launch an online T-shirt shop, you might anticipate paying:
Basic Shopify Plan – $29 per month
Shopify Plan – $79 per month
Advanced Shopify Plan – $299 per month
Both Teespring and Shopify offer discounts for volume orders, so if you're planning on selling a large number of shirts, it's worth considering both platforms to see which one offers the better deal. Ultimately, pricing will be one of several factors you'll need to consider when choosing a platform for your online T-shirt business.
Support
Regarding customer support, both Teespring and Shopify offer extensive options. Teespring's customer service agents are available during business hours, and Shopify provides a 24/7 support team.
In addition, Shopify has developed an extensive support system that includes the Shopify Community, where users can ask questions and receive help from other Shopify users, and Shopify Compass, a series of online courses designed to help businesses grow.
Whether you need assistance during business hours or want to learn more about how to grow your business, both Teespring and Shopify offer ample support options.
Which platform is right for you
When starting an online business, it can be difficult to decide which platform to use. Two popular options are Shopify and Teespring. Both have their advantages and disadvantages. Shopify is better for those who want a long-term business with a brand development strategy. It offers a wider range of features and an expanded marketplace.
However, it can be more expensive than Teespring. Teespring is more suitable for those on a tight budget who want to generate short-term income. It is also easier to use than the Shopify eCommerce platform. However, it has fewer features and a more miniature marketplace. Ultimately, deciding which platform to use depends on the individual's needs and goals.

Frequently Asked Questions
Does Teespring integrate with Shopify?
Sadly, Teepsring and Shopify cannot be integrated.
Is setting up a store on Teespring simple?
Setting up your store on Teespring is easy. You can open an account, set up everything, and upload your first design in minutes.
Utilizing Teespring is an intelligent move because it spares you from having to worry about any financial hazards. Using Teepsirng is reliable because no prior payment is necessary.
Final thoughts
Choosing between Shopify and Teespring can be challenging. They're both great eCommerce platforms with a lot to offer. But in the end, it comes down to what you need.. Ultimately, the best way to decide is to try both platforms and see which works better for you.