It's one of the biggest debates in the eCommerce world: Shopify vs WooCommerce. Which platform offers the best opportunities for businesses in 2023? With so many features to consider, like security, cost, scalability, and ease of use, it's not an easy decision to make – but one that is essential if you want to start or expand your online store Shopify!
In this blog post, we'll provide a comprehensive comparison of Shopify vs WooCommerce so you can make an informed decision on which eCommerce platform is right for you.
Overview of Shopify and WooCommerce
Shopify
Shopify is a popular e-commerce platform that allows businesses to build and manage online stores. It provides a user-friendly interface and a range of tools to help small businesses create and sell products online. With Shopify, users can customize the design of their store, manage inventory, process payments, and track orders.
Over its 17 years of operation, Shopify has amassed an impressive track record, generating more than $700 billion in sales. In 2022, the company reported total revenue of $5.6 billion, showcasing a 26% increase from the previous year on a constant currency basis. Furthermore, Statista data indicates that Shopify achieved over $900 million in subscription solutions and approximately $2 billion in merchant solutions during the fiscal year 2020.
WooCommerce
WooCommerce is the most popular and renowned open-source e-commerce platform that is built for WordPress-based websites. It is designed to help merchants and developers create and manage online stores with ease. WooCommerce provides a range of features and functionalities, allowing businesses to sell products and services online.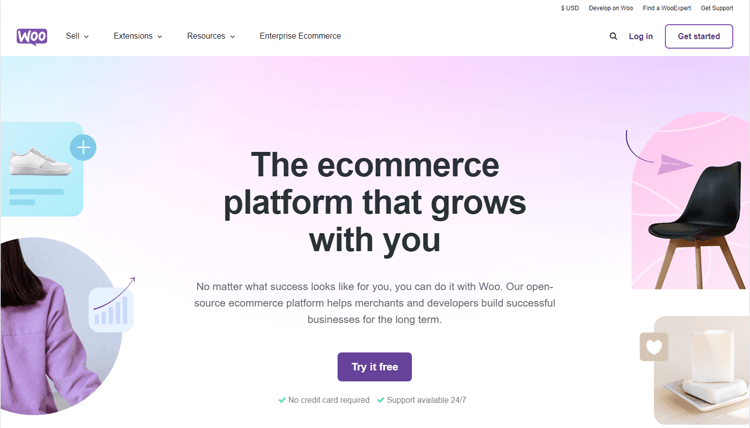 According to a review by Automattic, WooCommerce powered nearly 40% of all online store in 2016, indicating its widespread adoption and popularity among businesses. The WooCommerce plugin itself has been downloaded more than 211 million times to date, further highlighting its significant usage and impact in the eCommerce industry.
In terms of market share, the WooCommerce platform leads the way with a commanding 36.68% share worldwide. This places it ahead of competitors such as Squarespace eCommerce stores and Woo Themes, which hold 14.49% and 14.42% of the market share, respectively.

Comparison of Features between Shopify and WooCommerce
Shopify and WooCommerce are two popular eCommerce platforms, each offering distinct features to cater to different user needs. Here's a comparison of Shopify vs WooCommerce features:
Ease of Use
Shopify is known for its user-friendly interface and simplicity, making it ideal for beginners.
WooCommerce, on the other hand, operates within WordPress and requires some technical knowledge but offers greater flexibility and customization options once you're familiar with it.
Design and Customization
When comparing the design and customization features of Shopify and WooCommerce, both platforms offer robust options. Shopify provides a range of professionally designed eCommerce store themes that can be easily customized using their built-in editor. On the other hand, WooCommerce, taps into the vast WordPress theme ecosystem, offering virtually unlimited customization possibilities.
If you have specific design requirements or seek greater design flexibility, WooCommerce may be the preferred choice due to its seamless integration with WordPress. With access to the extensive collection of WordPress themes and plugins, you can tailor your online store to match your vision and brand identity precisely.
eCommerce Features
In summary, Shopify offers a comprehensive, all-in-one solution for eCommerce with built-in features and secure hosting. WooCommerce plugin, provides flexibility by allowing you to select and install specific features and extensions based on your needs. Both platforms have their advantages depending on the level of customization and control you require for your online store.
Scalability and Performance
In terms of scalability and performance, Shopify offers a robust and scalable infrastructure, taking care of hosting and server management. This ensures that your online store remains fast and reliable, even during periods of high traffic.
On the other hand, WooCommerce, being self-hosted, relies on the performance of your chosen hosting provider. While this provides more control, it also means that you need to invest in a reliable hosting solution to handle increased traffic effectively.
Pricing and Cost
When it comes to pricing and costs, Shopify operates on a subscription-based model, offering different plans with varying features and transaction fees.
In contrast, WooCommerce is free to use as a WordPress plugin. However, additional costs such as hosting, domain registration, and premium themes or extensions should be considered. The overall cost will depend on your specific requirements and budget.
Support and Community
When it comes to support and community, Shopify offers 24/7 customer support through multiple channels, along with a strong community forum and extensive documentation.
On the other hand, WooCommerce store benefits from the extensive WordPress community, but official support is limited to documentation and community forums, although premium support options are available.
Mavon Shopify Theme
Boost your online store's conversion rate with Mavon, the high-converting Shopify theme. Elevate your brand with its visually stunning design, flexible sections, and top-notch user experience.
Recommended Shopify Themes
Mavon
Looking to take your business to the next level? Then Mavon is the perfect solution for you! Our reliable platform is designed to meet the needs of users of all levels, without requiring any coding knowledge. With one-time payment and free lifetime updates, there are no hidden costs or recurring monthly charges. Mavon is also optimized for speed, ensuring your customers have a seamless shopping experience.
Plus, with its customizable design and a variety of features, you can create a stunning online store that catches the eye of potential customers. And if you ever need any assistance, Mavon has a dedicated support team on hand to help. When it comes to building a professional store, Mavon has it all.
Highlighted Features:
20+ Flexible Sections
Lookbooks
Color swatches
High-resolution images
Price: Free trial version
Regular License: $280/ year
Lezada
Lezada – the all-in-one solution for your Shopify needs! This fully customizable multipurpose theme is designed with high quality and minimalist aesthetics. With over 200 readymade home versions, you'll have endless options to choose from.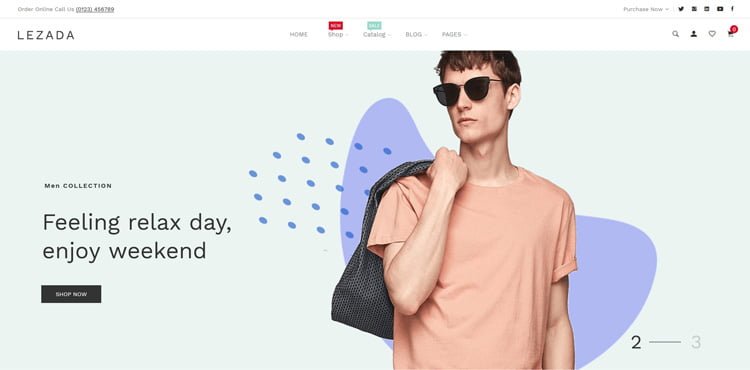 Plus, with 11+ Revolution Sliders and 40+ Drag and Drop sections, you can easily create a storefront that stands out from the crowd. And that's not all – Lezada features 10+ different header variations, multiple blog layouts, and even an RTL version for those who need it. With Lezada, the possibilities are truly endless.
Not only that, but this theme is fully responsive and supports multiple languages, allowing you to connect with a global audience. Adding to that, Google Analytics integration ensures that you have everything you need to track your progress. With its well-commented HTML and CSS files, customization is a breeze. So, leave your worries behind and try out Lezada – the ultimate solution for eCommerce success.
Highlighted Features:
Fully Responsive
RTL Version
Notification Bar
Multiple Currency
Breadcrumb banner
Price: Regular License: $79
Corano
Corano – Jewelry Store Shopify Theme OS 2.0 is the perfect solution for online jewelry stores who want to showcase their unique style with an exclusive classic look. With eight stunning homepage variations, including an RTL version, there is something to suit every taste and preference.
This theme has all the must-have features that will help you create a beautiful and functional online store that your customers will love. One of the best things about Corano is that it has been updated to Shopify Online Store 2.0, which means that you can take advantage of all the advanced functions available in the new version.
You can now add sections to all pages, giving you even more flexibility to create a custom and personalized online shopping experience for your customers. With Corano, you can showcase your jewelry in style and take your online store to the next level.
Other features include multi-colors, a newsletter popup, a notification bar, multiple currencies, and Ajax popup cart. With Corano, you can customize your online store to stand out from the crowd!
Highlighted Features:
MegaMenu, sidebar menu
3 Types Header
Mega menu
Slideshow
Collection Banner
Multiple Banner
Price: Regular License: $59
Recommended Shopify Apps
Analyzely – Google Analytics 4
If you're running an online store, you know that tracking visitor behavior and understanding your store's metrics is key to a successful eCommerce strategy. That's where Analyzely – Google Analytics 4 comes in. With this easy-to-use app, you don't need to be a tech guru to access important data about your store's performance.

The automatic measurement ID integration means you can start tracking right away, without having to worry about coding or complicated setup. And with comprehensive event tracking and standard & eCommerce reports, you can quickly identify trends and make informed decisions for your store. With Analyzely, you have all the tools you need to elevate your eCommerce strategy.
Highlighted Features:
Seamless integration
Improve your eCommerce strategy
Fast and accurate analysis
Event tracking
Price: Paid plan starts from $19 per month.
Shopify Email
Elevate your email marketing game with the Shopify Email app, designed to make crafting personalized and branded emails a breeze. Its drag-and-drop editor puts you in control, allowing you to effortlessly create eye-catching emails that resonate with your audience.
Say goodbye to generic emails and hello to sales-focused templates that truly showcase your products. With the Shopify Email app, you can now display product images, prices, and even add convenient checkout links directly from your store, turning your emails into powerful sales drivers.
But it also offers a range of pre-built automation templates that can be customized to send emails at the optimal moments.
Highlighted Features:
Email Templates
Result Tracking Option
Email Creation with drag and drop.
Branded Email Sending Option
Price: Free
GroPulse Rich Snippets
If you are looking to boost your store's online presence, GroPulse Rich Snippets for SEO is the app for you. By utilizing JSON LD, this app provides rich results or snippets on Google, improving your store's search engine ranking.
This app makes it easier for websites to generate machine-readable data, promoting your store in search results. With the increased visibility on Search Engines like Google, you'll see a higher click-through rate and gain more organic visitors. So, sit back and watch your online traffic grow with GroPulse Rich Snippets for SEO.
Highlighted Features:
Increases the click-through rate.
Get more organic visitors.
SEO Optimization
Reduces your marketing cost to promote your site.
Price: Paid plan starts from $8.99 per month.
TikTok
Tap into the immense potential of TikTok's vast and highly engaged consumer base with the TikTok App on Shopify. This powerful integration allows you to effortlessly showcase your business to billions of active users who are not just browsing but actively making purchases – a trend highlighted by the popular hashtag #TikTokMadeMeBuyIt.
With the TikTok App, the process is seamless and efficient. Easily synchronize your product catalog, ensuring that your offerings are displayed to the right audience at the right time. Take advantage of the user-friendly interface to create compelling and captivating creatives that resonate with TikTok's vibrant community, driving interest and engagement like never before.
Highlighted Features:
Syncing Products Option from Shopify to TikTok
TikTok style video creation option
Price: Free
GroPulse GTM & Data Layer
GroPulse GTM & Data Layer is the ultimate solution for integrating your eCommerce store with Google Tag Manager without the need for coding expertise. With its user-friendly interface, managing all your website's tags becomes a breeze. Say goodbye to coding complexities and hello to more time for growing your business. This app allows you to effortlessly track conversions, analytics, and remarketing in one convenient platform, ensuring accurate data tracking.
With GroPulse GTM & Data Layer, bid farewell to the tedious and time-consuming coding process. Now, you can redirect your focus towards growing your business and achieving your goals. No more wrestling with lines of code; this app makes tag management a breeze!
Enjoy the convenience of tracking conversions, analytics, and remarketing, all within a single, user-friendly platform. Experience the accuracy and precision you need to make informed decisions and optimize your business strategies.
Highlighted Features:
Easy to setup
No manual code is required
Track data accurately
Price: Paid plan starts from $9.99 per month.
Recommended WooCommerce Plugins
ShopLentor
Creating a unique and visually-appealing online store can be a challenge, especially when using the default page templates of WooCommerce. However, with ShopLentor, designing a customized Shop and Product details page is a breeze. The plugin is equipped with a powerful WooCommerce page builder for Elementor that lets you create all WooCommerce pages from scratch.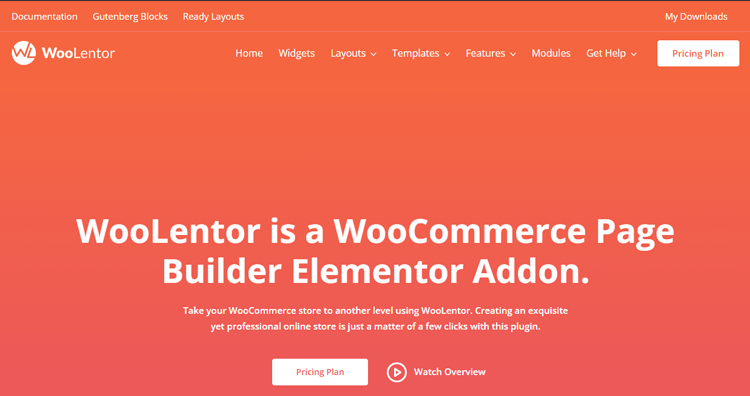 Plus, with the extensive customization options offered by ShopLentor's Elementor widgets, you can tailor your store to your exact liking. From 100+ WooCommerce Elementor Widgets to 29 WordPress Gutenberg Blocks, the possibilities are endless. Upgrade to the pro version to unlock even more customizable pages. Say goodbye to boring default WooCommerce pages and hello to a unique online shopping experience for your customers.
Highlighted Features:
100+ WooCommerceWidgets
Product Grid
Responsive Grid
Email customizer
Support
Pricing: There are 2 different pricing Yearly and One time plans for ShopLentor:
Yearly Plans:
Plus Plan: $59/ Year
Elite Plan: $159/ Year
Agency Plan: $299/ Year
Bundle Plan: $499/ Year
One time Plans:
Plus Plan: $149/ one time
Elite Plan: $259/ one time
Agency Plan: $599/ one time
Bundle Plan: $699/one time
Whols
If you are looking for a simple way to set wholesale prices for your online store, then Whols is the right WooCommerce Wholesale Prices Plugin for you. With this plugin, you can easily show special wholesale prices to your wholesalers. One of the best features of this WooCommerce plugin is that you can give different pricing to different types of wholesalers, making your business more attractive to different types of clients.
Plus, registration is a breeze with the set default wholesaler role and registration fields manager, making it easy for your customers to purchase products at a discounted price. If you want a hassle-free and reliable registration form field for your wholesalers, look no further than Whols.
Highlighted Features:
Registration Fields Manager
Wholesaler Request Management
Default Wholesaler Role
Category-Based Product Pricing
Restriction of Wholesale Store Access
Pricing: There are 2 different pricing Yearly and One time plans for Whols:
Yearly Plans:
1 Website Plan: $79/ Year
5 Website Plan: $149/ Year
Unlimited Website Plan: $249/ Year
One time Plans:
1 Website Plan: $199/ one time
5 Website Plan: $299/one time
Unlimited Website Plan: $499/one time
Pixelavo
Discover the power of Pixelavo, the ultimate solution for effortlessly managing pixels on your WordPress website. With Pixelavo's user-friendly interface, tracking pixels has never been simpler. Experience the convenience of adding multiple pixels, gaining a comprehensive view of your website's analytics and audience insights.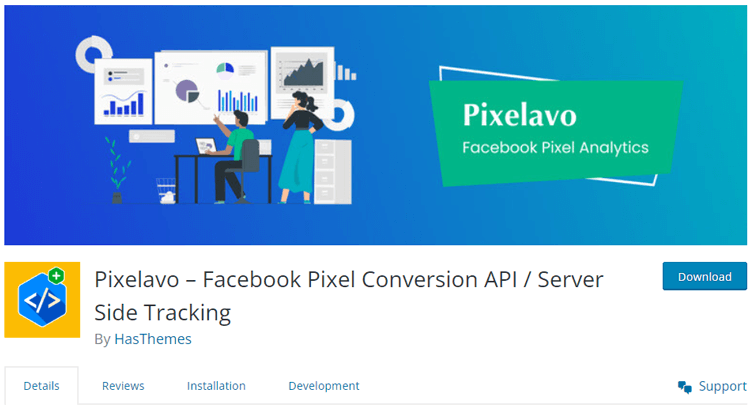 The innovative "Exclude Bouncing Visitors" feature ensures that only engaged visitors are included in your tracking data, providing you with more accurate results and actionable insights. With Custom Event Tracking, you can easily monitor specific user events on your website, allowing for better understanding and optimization of user behavior.
Pixelavo's seamless integration with the Conversion API sends server-side events directly to Facebook, enhancing the accuracy of your ad tracking and performance analysis. And for WooCommerce users, Pixelavo's "WooCommerce Integration" effortlessly tracks purchases, cart additions, and checkouts, enabling you to optimize your ad campaigns effectively.
Highlighted Features:
Custom Event Tracking
Additional User Information
Conversion API
Seamless Integration
Additional User Information
Pricing: There are 3 different pricing plans for Pixelavo:
1 Website Plan: $99/ Year
5 Website Plan: $149/ Year
25 Website Plan: $299/ Year
MultiCurrency Pro
With Multi-Currency Pro for WooCommerce, your online store visitors can easily switch to their preferred currency or their country's currency. This plugin offers unlimited currencies, giving customers the convenience they need to shop from anywhere in the world. Additionally, Currency Wise payment methods ensure a streamlined checkout process, making it easy for customers to complete their purchase with their preferred payment method.

What's more, increasing website sales has never been easier with this amazing plugin. By presenting your products and prices in your customer's preferred currency, you can boost your store's credibility and customer engagement, leading to increased sales and profit.
Highlighted Features:
Unlimited Currency
Currency-Wise Payment Method
Increase Website Sales
Pricing: There are 3 different pricing plans for MultiCurrency Pro:
Personal Plan: $39/ Year
Developer Plan: $99/ Year
Expert Plan: $199/ Year
Email Candy
Email Candy is a fantastic WordPress plugin that lets you customize the default WooCommerce email templates with ease. You can simply drag and drop to create beautiful and professional-looking emails that reflect your brand's personality and style. In no time at all, you can create and deliver remarkable and engaging emails to your customers.
Furthermore, thanks to the plugin's built-in WooCommerce email template customizer, you won't have to worry about any complicated coding. With Email Candy Pro, you can sit back and watch as your email marketing strategy flourishes.
Highlighted Features:
Several styling options
Display social icons on the footer.
No coding knowledge is required.
Order on Hold email template.
Processing Order email template.
Pricing: There are 3 different pricing plans for Email Candy:
1 Website Plan: $19 (Yearly)
1 Website Plan: $39 (Lifetime)
Unlimited Website Plan: $99 (Lifetime)
Hire Shopify Experts to develop your store (Recommended- ShopiBuffet)
If you're looking to build a Shopify store, look no further than ShopiBuffet, your ultimate destination for exclusive Shopify services. With ShopiBuffet, creating a fully-functional online store becomes effortless, thanks to their team of highly experienced professionals. From crafting captivating themes to configuring products, ensuring seamless navigation, and setting up effective sales channels and collections, their experts handle every aspect of your online business with finesse.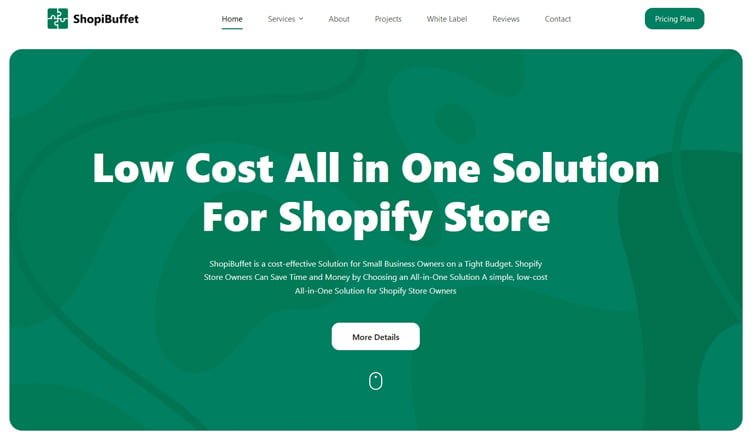 But that's not all – ShopiBuffet doesn't stop at just store setup. They offer ongoing guidance and support, ensuring your success in the competitive online marketplace. With their dedicated customer support, you'll never feel alone in navigating the challenges of running an online business. Whether you're a beginner or an experienced pro, ShopiBuffet tailors its services to cater to your unique needs, making online selling a breeze.
Experience a quick and easy solution with ShopiBuffet, as they offer a comprehensive one-stop solution to launch your Shopify store in just 72 hours. Their services extend beyond development, including ongoing maintenance services to keep your store running smoothly.
Don't hesitate any longer – entrust ShopiBuffet with your Shopify needs, and embark on your online business journey with confidence. With ShopiBuffet's expertise and support, you'll have all the tools you need to thrive in the dynamic world of e-commerce.
Frequently Asked Questions
Which platform is better for small businesses?
A: Both Shopify and WooCommerce are suitable for small businesses. Shopify is a good choice for those who want an all-in-one solution with minimal setup and maintenance required. Businesses that currently have a WordPress website and wish to add eCommerce capabilities should use WooCommerce.
Can both platforms integrate with third-party apps and tools?
A: Yes, both Shopify and WooCommerce offer integrations with a wide range of third-party apps and tools, such as Shopify payments gateways, marketing platforms, and shipping providers.
Which platform offers better SEO capabilities?
A: Both Shopify and WooCommerce offer good SEO capabilities, but WooCommerce has an advantage as it is built on WordPress, which is known for its strong SEO capabilities.
Can both platforms be customized and branded?
A: Yes, both Shopify and WooCommerce offer customization options and allow users to brand their stores with their own logos, colors, and fonts.
Final Verdict – Which Platform is Best for Your Business in 2023 ?
When it comes to choosing eCommerce platform Shopify vs WooCommerce, it ultimately depends on your individual needs. Both are robust eCommerce platforms with their own unique strengths. Shopify is more user-friendly and has a hosted solution, making it a great option for beginners or those who want to focus on their business rather than the technical aspects of running a website.
On the other hand, WooCommerce is open-source and highly customizable, allowing for more flexibility and control over your online store. Consider your specific requirements and preferences when making the decision between these two top contenders in the eCommerce world.