Starting a Tshirt dropshipping business is a great way to get into the e-commerce game. In this guide, we will walk you through all of the steps that you need to take to start your own dropshipping business with Shopify. We'll cover everything from choosing a niche and designing your store, to setting up shipping and payment options. By the end of this guide, you'll have all the knowledge you need to start a Tshirt business online.
What is Dropshipping?
Dropshipping is a type of business model in which e-commerce entrepreneurs sell products without having to carry or keep any kind of inventory. When a store owner receives an order from a customer, they simply contact the supplier, who will then ship the product directly to the customer's doorstep. Dropshipping businesses are easy to set up and manage and can be run with little up-front investment.
According to Statista, The global market for dropshipping e-commerce is expected to be worth 128.6 billion US dollars in 2020. The market size is expected to increase to 476.1 billion US dollars over the six-year period 2021-2026.
How Does Dropshipping Work?
In a typical dropshipping business model, the store owner would create a store and populate it with products from a number of different suppliers. Whenever a customer places an order in the store, the store owner would contact the supplier and pay for the product.
The supplier would then ship the product directly to the customer's doorsteps. The store owner would keep the difference between the wholesale price and the retail price as their profit margin.
Benefits of Dropshipping
Dropshipping is a great business model for entrepreneurs who are looking to set up their own businesses with little up-front investment. If you're interested in starting a dropshipping business, you should learn more about Shopify and dropshipping. Then this article will teach you step by step how to start your dropshipping Tshirt business online.
The benefits of dropshipping are as follows:
Lower start-up costs: With dropshipping, you don't need to invest in inventory or storage space, reducing your initial costs.
No need to handle shipping and handling: With a dropshipping business model, your supplier handles all shipping and handling, saving you time and energy.
Greater flexibility: As a dropshipper, you can work from anywhere with an internet connection, giving you greater flexibility and freedom.
Wide range of products: A dropshipping business allows you to offer a wide range of products without having to purchase inventory upfront.
Low overhead costs: Without the need for inventory and storage space, your overall operating costs are lower, leaving more room for profit.
Scalability: Dropshipping allows you to scale your business quickly and efficiently, as you can easily add new products and suppliers to your portfolio.
Reduced risk: With no inventory to purchase upfront, a dropshipping business carries less risk than a traditional retail business.
More time to focus on marketing: With the operational aspects of the business taken care of by your supplier, you can devote more time and resources to marketing and growing your business.
How to Start a Dropshipping T-Shirt Business, Step by Step Guide
Selling tshirts online is not as easy a business as it might first appear. To start selling tshirts online through a successful dropshipping store you can follow the 7 easy-to-remember steps given below.
1) Find the perfect niche for your online T-shirt business
It is very important that you find the perfect niche for your tshirt business. This will help you have a strong branding for your products and will help you in differentiating your tshirt business in order to achieve higher sales and increase profits.
When it comes to tshirt businesses there are many niches available like tshirts for doctors or lawyers or college students who love programming or coding. You can choose the perfect niche for your online tshirt business with custom design tshirts catering to that particular niche.
2) Create unique designs for your online T-shirt business
You need to create unique designs for your online T-shirt business. You can do so by hiring a designer or buying t-shirt designs online. You can also create your own custom design from sketches as well as customize the T-shirt designs that you have bought online.
🚀Boost Your Online Store Sales with Mavon Shopify Theme!
Mavon – Your ticket to success! 🚀 Boost revenue with conversion-focused features and intuitive design, turning visitors into loyal customers.
3) Mock up your T-shirt designs
Once your T-shirt designs have been finalized then it is time to get some mockup images that will help your clients to decide which design to choose and how a particular design will look printed on a T-shirt.
There are also many great places online where you can find T-shirt mockups and templates like Graphic River and Printful.
4) Choose the right type of printing method
There are many different types of printing methods available when it comes to printing custom designs on your tshirts when you start to sell tshirts online. Some of the most common methods for printing in order to sell tshirts are given below.
Direct to Garment Printing (DTG)
Direct-to-garment printing, or DTG, is a unique method of printing through which ink is directly applied to the garment. During direct-to-garment printing, your custom designs are downloaded to a computer, and ink is directly sprayed on your t-shirts using a special printer. Think of it as like printing on paper.
Since it requires little setup time, it's easy to print one-offs in case, if you want to get a sample of your t-shirt before taking the decision for mass printing. DTG printing also gives you a wide range of color choices, allowing you to come up with detailed designs and custom images.
Screen Printing
Screen printing is a type of printing technique where ink is applied to the fabric in layers using different stencils for different colors. It is best used for printing items in bulk due to the longer setup time compared to direct-to-garment printing.
Screen printing is a great choice for graphics that don't have small details and the final price is usually based on the number of colors needed for the print. It can be used on a variety of garments including t-shirts, hoodies, and more.
Heat Transfer Printing
Heat transfer printing is a relatively new printing method that has become increasingly popular in recent years. The process involves printing an image onto heat transfer paper, cutting it out, and then transferring the design onto a garment by heating it to a high temperature.
Heat transfer printing offers a number of benefits over traditional methods such as screen printing. It is a cheaper and more efficient way of printing small quantities of garments, and the designs can be easily changed or updated.
5) Choose the best print-on-demand companies
In this step, you need to choose the best print-on-demand (POD) companies for your online T-shirt business. There are a couple of points that you should consider before choosing a print-on-demand service. You should look at how much time it takes for production after your customer has ordered a particular t-shirt and as well as their printing method and shipping fees.
6) Set up the Price
At this stage, you need to fix the price for your different custom printed tshirt products. This depends on the quality and fabrics used to make your tshirts as well as your geographical location. Your shipping cost also has to be considered when you set up the final price.
Build your online Shopify dropshipping store for selling tshirts
Now you need to set up an online store with Shopify. Shopify startup cost is zero dollars with its 14-day free trial plans that give you enough time to start your t-shirt dropshipping business for free.
To do so Visit shopify.com and enter your email address to start a free trial. Then set up an online e-commerce store on Shopify using Shopify store builder or free Shopify themes. Once your store is set up, connect it with a dropshipping supplier like DSers. After that, market your products and your Shopify-based dropshipping store through paid ads, influencer marketing, content marketing, etc.
Finally, start selling! By following these simple steps, you can get your own Shopify T-shirt dropshipping business up and running quickly and with little investment.
Things to consider when starting your t-shirt online store
There are several critical elements involved in starting a successful online shirt-selling business. Each of these elements needs to be considered properly before moving forward.
First, you need to decide what printing techniques you will use. There are many different ways to print designs on a t-shirt, and choosing the right one can help you save money and make smarter business choices.
Second, you need to focus on design. The majority of people purchasing graphic tees are looking for designs, graphics, and slogans that connect with them on a personal level and reflect their opinions and personality.
Third, you need to ensure that the quality of the shirts you use and of the print job are both top-notch.
A fourth and final consideration is building a strong brand. In the t-shirt industry, a strong, interesting brand is vital.
These are just a few of the key factors to keep in mind when starting your t-shirt online store. With careful planning and consideration, you can set your store up for success.
Recommended Shopify Theme for Dropshipping
Mavon
If you're in search of a Shopify theme that can cater to all your dropshipping needs, look no further than Mavon! This highly versatile theme is designed to suit a wide range of eCommerce businesses, from fashion and clothing to electronics and much more.
Equipped with 20+ flexible sections, size charts, lookbooks, and color swatches, Mavon is the ultimate tool for creating an engaging and visually stunning online store. What's more? The theme is incredibly easy to
FAQs About Dropshipping
How to start a T-shirt business with no money?
The best way to go about starting a t-shirt business is through dropshipping. With this business model, you don't need to keep any inventory, you only pay for your products once someone orders them from your Shopify online store. This means that you can start your business with very little upfront investment.
The success of your t-shirt business will depend largely on your marketing efforts. You will need to create a strong branding strategy and use effective marketing channels to reach your target audience. If you are able to effectively promote your t-shirts, then you will be well on your way to starting a successful t-shirt business.
What is print on demand businesses?
Print-on-demand businesses are those in which you create your own design. It can also be used as a service to produce and fulfill your orders. You only pay once a customer orders your product, so it's a great business model if you don't want to invest a lot of money. Some of the most popular print-on-demand products are t-shirts, coffee mugs, and hoodies for online stores.
Hire Shopify Experts to develop your store (Recommended: ShopiBuffet)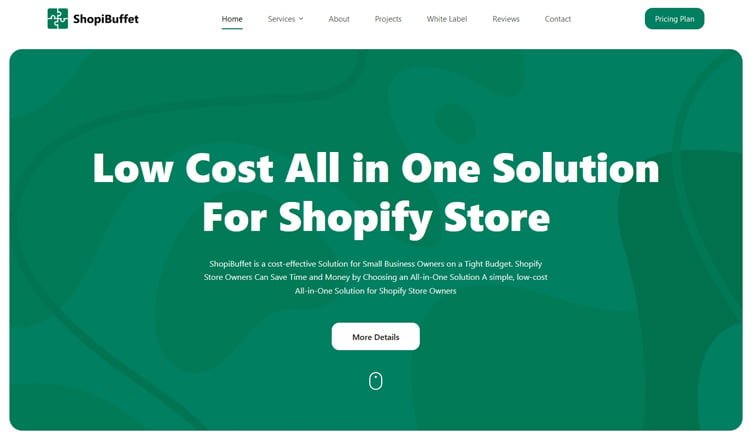 Unlock the true potential of your Shopify online store by enlisting the expertise of ShopiBuffet, a team of dedicated Shopify experts. With our comprehensive range of services, we can transform your store into a thriving eCommerce powerhouse that captivates your audience and drives unprecedented success. From stunning Shopify website designs to strategic marketing solutions, we provide the essential tools and resources necessary for the growth and prosperity of your business.
Explore Our Premier Services:
Shopify Theme Development and Customization:
Our skilled team specializes in creating and customizing visually striking and highly functional Shopify themes tailored to your brand's unique identity and requirements.
Shopify App Development and Customization:
Enhance your store's capabilities and streamline operations with custom-built Shopify apps that cater specifically to your business needs.
Shopify Store Setup and Customization:
We offer seamless store setup and meticulous customization services to ensure your Shopify store reflects your brand's personality and delivers an exceptional user experience.
Shopify SEO Service:
Boost your store's visibility and organic traffic with our expert SEO strategies, designed to optimize your Shopify site for higher search engine rankings and increased customer engagement.
PSD to Shopify Theme or Figma to Shopify Conversion:
We possess the expertise to seamlessly convert your design files, whether in PSD format or Figma, into pixel-perfect, fully functional Shopify themes that align with your brand's vision.
Final thoughts on Shopify T-shirt Dropshipping
Now that you know how to start a T-shirt dropshipping business on Shopify, it's time to get started. Just remember to choose a niche market for your custom design t-shirts that you're passionate about, find a supplier who can provide high-quality products at a reasonable price, and market your store using paid ads, influencer marketing, and content marketing.
If you follow these steps, you'll be on your way to t-shirt dropshipping success.
Thanks for reading!