Are you considering hiring a Shopify Expert to help you build your online store? With the right expertise, you can create an eCommerce experience that is customized to fit your business's needs. But how much does a Shopify expert cost? That's an important question, and the answer may surprise you. In this post, we'll provide a complete analysis of how much it costs to hire a Shopify expert for your online store.
What Does a Shopify Expert Do?
A Shopify expert, also known as a Shopify professional, is a skilled individual who specializes in developing, designing, and optimizing online stores on the Shopify platform. They are proficient in setting up websites, customizing templates, and integrating various payment gateways and shipping methods.
Additionally, they possess a deep understanding of Shopify's features and capabilities, allowing them to offer invaluable advice and guidance to merchants looking to expand their online business.
Their primary objective is to ensure that online stores are user-friendly, visually appealing, and optimized for conversions. With their expertise, you can stay ahead of the competition and achieve your business goals. Whether you need assistance with theme customization, app integration, or SEO optimization, a Shopify expert is your go-to resource.
Factors That Influence the Cost of a Shopify Expert
When you're looking to create or optimize your online store on Shopify, one of the most important considerations is the cost of hiring an expert to help you. While there is no one-size-fits-all answer to the question of "How much does a Shopify expert cost," there are certain factors that can influence the price.
Experience and expertise level
One of the most important factors that influence the cost of a Shopify Expert is their level of experience and expertise. An expert with years of experience and deep knowledge of the Shopify platform will generally charge more for their services.
While this may seem costly, it can be worth it in the long run, as their experience and expertise can lead to better results for your Shopify store. When considering a Shopify Expert, it's important to consider their level of experience and expertise as a key factor in determining the cost of their services.
Nature and complexity of the project
The type and complexity of the project are one of several variables that might affect the cost of hiring a Shopify specialist. Each Shopify store is unique, and some require more intricate work than others. For instance, custom coding and app development are complex tasks that can significantly increase the cost of hiring an expert.
Conversely, if a store only needs minor updates or optimizations, the cost may be lower. Shopify experts can provide detailed quotes based on the project's specific requirements, ensuring that you have a clear idea of the cost before moving forward. Ultimately, the cost of hiring a Shopify expert should be viewed as an investment in the success of your store.
Location of the Shopify Expert
When finding the perfect Shopify expert to elevate your online store, another factor influencing their cost is their location. While there are talented experts spread across the globe, their rates may vary depending on their proximity to your location.
A Shopify expert located in a major city with a higher cost of living may charge more for their services compared to someone in a smaller town. It's also important to consider other factors, such as the level of experience and expertise of the expert, as well as the specific services they offer for your Shopify store.
So, whether you're looking for a local expert or are open to working with someone remotely, carefully research their rates and qualifications to find the best fit for your business.
Mavon Shopify Theme
Boost your online store's conversion rate with Mavon, the high-converting Shopify theme. Elevate your brand with its visually stunning design, flexible sections, and top-notch user experience.
How Much does a Shopify expert Cost: Average Cost of Hiring a Shopify Expert
For anyone considering creating an online Shopify store, it's important to keep in mind the potential cost of hiring a Shopify developer. Most specialists in this field charge an hourly rate, which can depend on their level of experience and location.
If you're looking to hire a Shopify developer in the US or Canada, you can expect to pay anywhere between $50 to $150 per hour, depending on their level of expertise. However, if you're willing to look beyond these countries, you may find some significant cost savings. For example, a skilled developer from Asia may only charge $25 to $50 per hour, making it a cost-effective option for those on a tight budget.
Regardless of the region you choose to look in, it's crucial to vet your potential developer thoroughly to ensure that they have the necessary skills and experience to deliver a high-quality online store.
Additional Costs to Consider
Ongoing maintenance costs
When considering hiring Shopify experts, it's important to keep in mind the ongoing maintenance costs that come along with it. While the initial cost of hiring an expert may seem like the biggest expense, it's important to consider how much it will cost to keep your online store up and running smoothly in the long term.
Ongoing maintenance costs can include things like updates, security checks, and regular backups, which help ensure that your website not only looks great but functions properly as well. By factoring these costs into your budget from the outset, you'll be better prepared to work with your Shopify expert to create a plan that keeps your site healthy and profitable for years to come.
Costs for additional services such as SEO, Content Creation, etc.
When it comes to hiring a Shopify professional, it's important to consider all the costs that come with their expertise. Beyond the initial fee for their services, there may be additional costs for services such as Search Engine Optimization (SEO), Content Creation, or other specialized skills. These extra services are often necessary for a successful eCommerce store and can make a big difference in the overall success of your business.
However, it's important to have a clear understanding of the full scope of costs before making a decision on hiring a Shopify expert. Be sure to ask about any additional services or fees upfront and factor them into your budget to avoid any surprises later on.
Best Places to Find Shopify Experts
ShopiBuffet
As a Shopify user, finding a professional who can help with all aspects of your online store can be daunting. That's why it's essential to know where to turn for expert assistance. ShopiBuffet is the perfect solution for anyone looking for experienced professionals.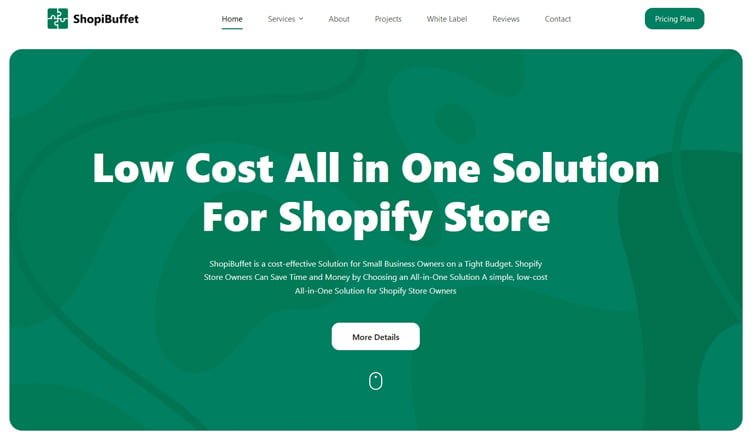 With an easy-to-use platform, affordable pricing, experienced designers, and marketers, you can focus on your business while they handle all the tech and design issues. ShopiBuffet's skilled team is always ready to help you with anything you need, making the Shopify experience easier and more efficient. So don't hesitate to start your store today with ShopiBuffet!
Pricing:
Basic- $199
Advanced- $399
Shopify Experts
If you're looking for the best Shopify experts to help take your business to the next level, there are a few great places to start your search. One of the most obvious places is on the Shopify platform itself. Here you'll find a curated list of designers, developers, and consultants who have been chosen for their deep knowledge and successful track record in working with Shopify.
These experts aren't Shopify employees, so you can be assured that their advice will be impartial and based on their own experiences working with the platform. And the best part? Without the cost and commitment of a full-time employee, hiring a Shopify expert is a cost-effective way to add the skills you need.
So if you're ready to unblock your business on a budget, consider reaching out to one of these professionals today.
👉Check How to Lock Your Shopify Store: The Definitive Guide
Upwork
When it comes to finding Shopify expert services, Upwork is one platform worth considering. This global freelancing website allows you to post a job and attract proposals from talented professionals around the world. With Upwork's Talent Marketplace, you can connect with experts who understand your needs and can help bring your online store to life.
Once you've posted your job, Upwork's advanced algorithms can help you shortlist candidates who are the best fit. You can also check out candidates' profiles, portfolios, and reviews before making a final decision. Whether you need help with design, development, or marketing, Upwork can help you find the Shopify expert services you need to succeed.
👉Learn How to Export Images from Shopify: A Step-By-Step Guide
Fiverr
When it comes to finding the best Shopify developer, Fiverr is a great place to start. The platform offers project-based pricing, so you can easily stick to your budget without worrying about hourly rates. Plus, Fiverr has freelancers with a range of expertise, allowing you to find the right service for every price point.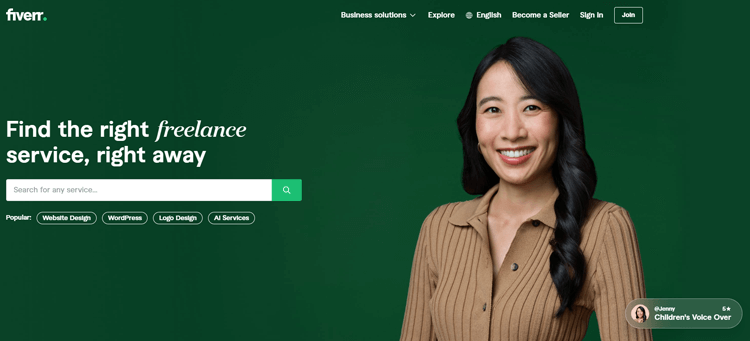 And the best part? Everything is done quickly and efficiently, with talented developers ready to start working on your project in minutes. With upfront quotes and 24/7 support, Fiverr ensures that you get high-quality work that you can be happy with. Overall, Fiverr is a reliable and affordable option for finding the best Shopify experts.
👉Read How to Add a Digital Product to Shopify: Everything You Need to Know
Toptal
Finding the right Shopify developer for your business can be a daunting task, but Toptal makes it easier. Toptal, an exclusive network of the best independent software developers, can help you grow and expand your Shopify business. You can be confident that your project is in good hands as you access the top 3% of freelancing talent worldwide.
From design and development to finance and project management, Toptal's experts have the skills and expertise to take your Shopify store to the next level. Top companies have already relied on Toptal's freelancers for their most important projects, and now it's your turn to benefit from their exceptional services.
👉Check Best Shopify Freelance Web Designers: How to Find and Hire One
Final thoughts on the cost-effectiveness of hiring a Shopify Expert
Before hiring a Shopify expert, it's crucial to evaluate both the expenses and potential advantages. The cost of a Shopify expert can vary, ranging from a few hundred to a few thousand dollars, depending on the extent of their services. However, it's important to remember that a Shopify expert can help to increase sales and improve the overall functionality and design of your online store.
This can lead to long-term cost savings through increased customer satisfaction and loyalty. It's also important to consider the time and effort saved by hiring an expert to handle the technical aspects of your website. In the end, while there is a cost to hiring a Shopify expert, the potential benefits and cost savings, in the long run, make it a cost-effective investment.