Are you wondering how to test your Shopify store and make sure it's running smoothly? Look no further. This step-by-step guide will show you exactly how to test your Shopify store with ease. From testing shipping fees to verifying that checkout is working properly, this comprehensive guide covers all the aspects of how to test your Shopify store. So get ready to take your store testing knowledge to the next level!
How to Test Your Shopify Store
Testing your online store is a crucial step in guaranteeing its success, allowing you to identify and resolve any potential issues before they reach your customers. Let's Check the step by step guide How to test your Shopify store.
Setting Up Your Test Environment
The first step to testing your Shopify store is setting up the appropriate test Shopify environment. This involves creating a duplicate of your live store, known as a staging environment, where you can conduct tests without impacting your actual customers.
To create a duplicate store, you can use Shopify's built-in duplication feature. Once your clone is set up, you'll want to ensure it's properly configured to mirror your live store. This includes setting up similar shipping rates, taxes, payment gateways, and adding similar products. Remember, the closer your test environment is to your actual store, the more accurate your testing results will be.
Testing Your Product Catalog
After setting up your test environment, the next step involves thoroughly testing your product catalog. Ensuring that all product information is accurate and up-to-date is critical for maintaining a high-quality user experience.
Start by verifying that all product descriptions, images, and prices are correctly displayed. Make sure the product images are clear and load quickly. Check if the prices are accurate and consistent with your live store.
Next, test the search functionality. Are the search results accurate and relevant? Make sure the filters and sorting options are working as expected.
Also, validate the functionality of your product variants, if any. Check if customers can easily select different sizes, colors, or other option types and that the corresponding price adjustments are accurate.
Finally, test the process of adding items to the cart from the product page. Does it work smoothly? If your store offers product customization, test this feature to ensure it's functioning correctly.
Stop concerning about how to test your Shopify store and start by meticulously examining each of these elements, and you can ensure your product catalog is functioning optimally, enhancing customer satisfaction and increasing the likelihood of successful transactions.
🚀 Ready to skyrocket your Shopify store to success?
🚀 Unlock the secrets to success and boost your sales 📈 with ShopiBuffet's expert services. Don't miss out, get started now!
Testing Checkout and Payment Processes
Ensure your customers have a smooth and seamless checkout experience by thoroughly testing the checkout and payment processes. Test different Shopify payment methods, such as credit cards and digital wallets, to verify that transactions are processed correctly. Check for any errors, delays, or issues during the Shopify payments test process and ensure that customers receive proper confirmation of their orders.
Before conducting payment tests on your live Shopify store, set up a test environment to avoid real transactions. Enable test mode in your Shopify admin settings to simulate transactions without charges.
In the Shopify admin, navigate to 'Settings' and 'Payment Providers.' Choose the payment gateway you want to test, such as Shopify Payments. Configure the bogus gateway settings for the test environment by entering test API credentials provided by the payment gateway.
Using the test mode, place dummy orders in your store to simulate transactions. This helps you assess the checkout process without involving actual money. Complete each order as if you were a customer, selecting the test payment gateway.
Execute test Shopify transactions by selecting the test payment gateway during checkout. The Shopify payments test allows you to see how orders are processed, payment confirmation emails are sent, and whether the correct test order status is displayed in your admin panel.
Testing Shipping and Delivery
Test your Shopify store's shipping and delivery functionality to confirm that shipping options, rates, and estimated delivery times are accurate. Place test orders with different shipping addresses and verify that shipping costs are calculated correctly. Additionally, simulate the tracking process to ensure customers can monitor their test orders in real time.
Testing Discount Codes and Promotions
If you offer discount codes or promotions, thoroughly test their functionality. Apply various discount codes to check if they are correctly applied to the cart and if the final price reflects the discount. Make sure any conditions or limitations associated with the codes are properly enforced.
Testing User Experience
Conduct comprehensive testing to enhance the overall user experience of your Shopify store. Test the responsiveness of your Shopify website on different devices and browsers to ensure consistent performance. Verify that all links, buttons, and navigation menus are working correctly. Check the loading speed of your pages and optimize images and content if necessary to improve load times.
Mavon Shopify Theme
Boost your online store's conversion rate with Mavon, the high-converting Shopify theme. Elevate your brand with its visually stunning design, flexible sections, and top-notch user experience.
Frequently Asked Questions
Can I test my store without publishing it?
Yes, you can use Shopify's "Preview" feature to test your store without making it publicly accessible. This allows you to make changes and see their effects before going live.
What is A/B testing, and should I use it?
A/B testing involves comparing two versions of a page (A and B) to see which performs better. It can be beneficial for optimizing elements like product descriptions, images, and call-to-action buttons.
How can I test mobile responsiveness?
Use different mobile devices and screen sizes to ensure your store looks and functions correctly on smartphones and tablets. Shopify's responsive design should adapt your store's layout accordingly.
Should I test third-party apps and integrations?
Absolutely. Third-party apps can impact your store's performance. Test their functionality, especially those related to checkout, Shopify payments processing, and inventory management.
Hire Experts to Build Shopify Store (Recommended- ShopBuffet)
ShopiBuffet is your ultimate destination for premium Shopify services. With ShopiBuffet at your side, you can effortlessly create a fully operational online store guided by a team of seasoned professionals. From crafting captivating themes to configuring products, ensuring smooth navigation, and optimizing sales channels and collections, their skilled experts manage every facet of your online enterprise.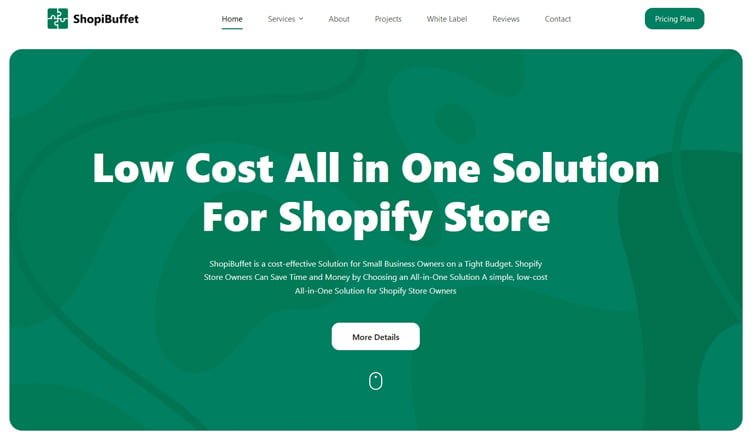 But ShopiBuffet is more than just an online store setup service. They provide continuous guidance and unwavering support, ensuring your triumph in the digital marketplace. Their committed customer support ensures you're never alone in tackling the intricacies of online business management. Regardless of your expertise level, whether you're a newcomer or a seasoned veteran, ShopiBuffet tailors its services to align with your distinct requirements, simplifying the art of online selling.
Discover a swift and uncomplicated solution with ShopiBuffet. Their all-inclusive, streamlined approach empowers you to launch your Shopify store with ease and speed. Delay no further – entrust your Shopify aspirations to ShopiBuffet and embark on your online business journey with absolute assurance.
Conclusion
After testing out your Shopify store, it's natural to feel a mix of emotions. Maybe there were some aspects that went smoothly, while others left you feeling frustrated. Perhaps you weren't sure how to test your Shopify store or felt like you were missing out on potential sales. But regardless of what feedback you receive, remember that this is just the beginning. Your store is like a living, breathing entity that will continue to evolve and grow over time.