Are you trying to figure out how to add Stripe to your Shopify store quickly and easily?
Well, look no further – this comprehensive step-by-step guide will show you exactly how to add Stripe to Shopify.
By following the instructions in this guide, you'll have your Stripe integration fully up and running in no time at all. So, let's get started and learn How to Add Stripe to Shopify.
Why Choose Stripe?
Opting for Stripe payment gateway offers businesses a strategic advantage in managing their payment processes, particularly for platforms and marketplaces. Stripe's appeal lies in its robust suite of programmable APIs and versatile tools designed to simplify payment facilitation and global seller payouts.
Whether it's verifying seller identities or efficiently routing payments, Stripe payment gateway empowers businesses to navigate the complexities of payment gateways while ensuring adherence to compliance standards. With Stripe, platforms, and marketplaces can seamlessly orchestrate their financial operations, enhancing user trust and satisfaction while focusing on growth and scalability.
Prerequisites for Integrating Stripe with Shopify
Here are the 4 most important prerequisites for integrating Stripe with Shopify:
Active Shopify and Stripe Accounts: Ensure you have an active Shopify account and a verified Stripe account. Both accounts are essential for setting up the integration.
Supported Country: Verify that your Shopify store and Stripe account are registered in supported countries where Stripe operates, as availability may vary by region.
SSL Certificate: Have an active SSL certificate for your Shopify store's domain to secure customer data during payment transactions.
Legal Business Entity: Your business should have a legal structure, such as an LLC or corporation, as Stripe requires this for using their services.
Meeting these prerequisites is crucial to successfully integrating Stripe with your Shopify store and providing a secure and efficient payment gateway experience for your customers.
Recommended Blog for You:
👉 How to Update Shopify Theme: A Step-by-Step Guide
👉 How to Remove Ships from Shopify – A Guide to Removing Shipping
👉 7 Top Shopify Free Themes to Elevate Your eCommerce Business
Setting up Stripe Account
Follow these instructions on how to integrate Stripe to Shopify to create a Stripe account:
Visit the Stripe website at www.Stripe.com.
Click on the "Create Account" button.
Fill in the required information on the registration screen and then click "Create your Stripe Account."
As a security measure, consider adding a mobile recovery number to prevent potential lockouts in the future. You have the option to skip this step if you prefer.
If you provided a mobile number in the previous step, you'll receive a 6-digit verification code on your mobile phone. Enter this code in the provided boxes. You can skip this step if you didn't add a mobile number.
Confirm your email address by following the steps outlined in the confirmation email sent to your email account. In the email, click on "Confirm email address" within the message.
Enter the password you created earlier and click "Confirm your email."
Once logged in, navigate to the Home page and click on "Activate your account" in the left menu.
Complete the Account application by answering all questions accurately and entering the required information on the application page.
Finally, click "Activating account" at the bottom right of the Account application page to complete the setup.
🚀Boost Your Online Store Sales with Mavon Shopify Theme!
Mavon – Your ticket to success! 🚀 Boost revenue with conversion-focused features and intuitive design, turning visitors into loyal customers.
Steps of How to Add Stripe to Shopify
To add Stripe to your Shopify store, follow these step-by-step instructions:
Step 1: Login or Create a Stripe Account
Begin by creating a new Stripe account on the Stripe website if you haven't already. You'll need this account to proceed with the integration.
Step 2: Log into Shopify
Log in to your Shopify store as usual. Depending on your location, you may have the option to accept Shopify Payments, powered by Stripe, as the primary payment method or as a secondary option. You might need to open a new Shopify account if you can't link your Stripe account because of your account type.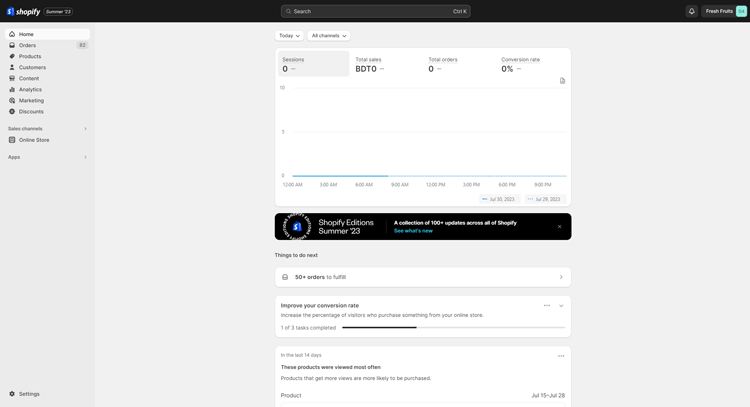 Step 3: Access Shopify Admin & Settings
Navigate to your Shopify Admin page and go to "Settings" from the dashboard at the bottom of the screen.

Step 4: Go to payment
On your Settings page, Go to the "Payment" Menu. Locate the "Payment providers" link and click on it. A new window will open, where you can select from various third-party payment providers.

Step 5: Choose Stripe as Your Third-Party Credit Card Provider
Click on "Choose another provider". A drop-down menu will display if the option for "choose another provider" is selected. Search for Stripe in the list of choices, then choose it.
Step 6: Enter Your Stripe Account Details
You must now enter both your Stripe password and email address. If your login information is correct, you shouldn't encounter any issues. If you have trouble logging in, return to the Stripe website, click "Log In," and use "Forgot Your Password" option to reset it if needed.
Step 7: Activate!
You can start accepting payments through the Shopify and Stripe collaboration as soon as you click the "Activate" button. Now that your account is set up, you can easily begin processing Shopify payments.
🚀 Ready to skyrocket your Shopify store to success?
🚀 Unlock the secrets to success and boost your sales 📈 with ShopiBuffet's expert services. Don't miss out, get started now!
Frequently Asked Questions
Does utilizing Stripe on Shopify come with any transaction fees?
Yes, both Stripe and Shopify may charge transaction fees for each sale made through the platform. Be sure to review their pricing and fee structures to understand the costs associated with using Stripe on Shopify.
Can I accept international payments with Stripe on Shopify?
Yes, Stripe supports payments in multiple currencies and is designed to facilitate international transactions. This allows you to expand your customer base globally.
Do I need a separate Stripe account to use it with Shopify?
Yes, you'll need to create a separate Stripe account if you don't already have one. You'll link this Stripe account to your Shopify store during the integration process.
Can I customize the appearance of the Stripe payment form on my Shopify store?
Yes, Shopify provides customization options to match the Stripe payment form with your store's branding and design.
Is Stripe compatible with Shopify's mobile checkout?
Yes, Stripe is compatible with Shopify's mobile checkout, ensuring a seamless payment experience for customers using smartphones or tablets.
Conclusion
The process of how to add Stripe to Shopify is easy and a great way to provide fast and secure payment options to your customers. Stripe is a trusted and reliable payment system that can increase sales and customer satisfaction. With Stripe, you can quickly process Shopify payments from all major credit cards and provide multiple payment options to your customers.
Additionally, Stripe offers strong security features that protect both your and your customer's sensitive data. By adding Stripe to Shopify, you can create a seamless checkout experience and build trust with your customers.