Having a sidebar on your Shopify store can be a valuable addition, providing an organized and efficient way to showcase important information, promotions, or sidebar navigation options. In this article, we will explore how to add a sidebar to your Shopify store with ease.
Whether you're a beginner or an experienced Shopify user, this step-by-step guide on how to add a sidebar in Shopify will help you customize your store layout and improve the overall user experience.
Benefits of Adding a Sidebar to Your Shopify Store
Enhancing navigation and user experience
Adding a sidebar to your Shopify store significantly enhances navigation and user experience. It streamlines the way customers interact with your website in several ways:
Improved Navigation: A well-structured sidebar navigation provides a clear and organized menu of essential sections. Customers can easily access product categories, collections, or pages without getting lost in complex menus.
Streamlined User Experience: Instead of relying solely on the main menu, customers can easily navigate your store. This reduces the cognitive load on users, making their shopping experience more pleasant and efficient.
Promoting featured products or collections
The sidebar is an effective tool for promoting featured products or collections, thereby increasing sales and customer engagement:
Highlighting Key Items: You can strategically place your best-selling or seasonal products in the sidebar. This draws immediate attention to these items, increasing the likelihood of conversion.
Cross-selling and Upselling: By showcasing related products or accessories in the sidebar, you encourage customers to explore additional items. This cross-selling and upselling technique can boost the average order value.
Displaying relevant information or announcements
Adding a sidebar Shopify is an excellent space for sharing essential information and announcements, keeping customers informed and engaged:
Important Updates: Use the sidebar to display time-sensitive announcements such as promotions, sales, or shipping updates. Customers are more likely to notice and act on these notices when they are prominently displayed.
Contact and Support: Provide contact details, customer support links, or even a live chat option in the sidebar navigation. This makes it convenient for customers to reach out for assistance, enhancing their overall shopping experience.
Recommended Blog for You:
👉 How to Add Font to Shopify: A Simple Guideline
👉 How to Add Author in Shopify Blog: Everything You Need to Know
👉 How to Add an About Us Page on Shopify: The Essential Guide
👉 Best Shopify Freelance Web Designers: How to Find and Hire One
Choosing a Theme that Supports Sidebar Customization
LeArts
If you love creating handmade products and want to take your business to the next level, LeArts is the Shopify theme. With over 13 pre-made homepage layouts to choose from, you can tailor your website to showcase your unique crafts perfectly. Moreover, this Shopify theme is packed with amazing features to help you scale your business effortlessly.
From blog sidebar widgets to multiple currency options, LeArts makes it easy to connect with your customers and expand your reach. With its clean, well-commented HTML & CSS files, your site will perform seamlessly and load quickly.
Highlighted Features:
Multiple Currency
13+ Home Versions
Shopify Builder
Well Commented HTML & CSS files
Neat, Clean, and Simple Design
Price: Regular License: $49
Mavon
Are you looking to create an online store that reflects your brand and vision? Look no further than Mavon, the versatile and user-friendly platform that can help bring your business to new heights. What sets Mavon apart is its ability to cater to experts and novices alike – no coding knowledge required. With one-time payment and free lifetime updates, you'll never have to worry about hidden costs or recurring monthly charges.
Your customers will appreciate the optimized speed and seamless shopping experience, while you'll enjoy the freedom of customizing your store with Mavon's 20+ flexible sections, size chart, and lookbooks. And if you ever need assistance, the Mavon theme editor's dedicated support team is always there to help. Ready to create a professional store that truly stands out? Choose Mavon.
Highlighted Features:
20+ Flexible Sections
Size Chart
Lookbooks
Color swatches
High-resolution images
Price: Free trial version
Regular License: $280/ year
Lezada
Creating an online storefront that stands out can be a daunting task, but with Lezada, you can do just that. This impressive Shopify theme offers over 220 home versions and 11+ Revolution Sliders, making customization options endless. Its minimalist aesthetic and 40+ Drag and Drop sections make your website look professional. With 10+ header variations and multiple blog layouts, your store will have a unique look and feel.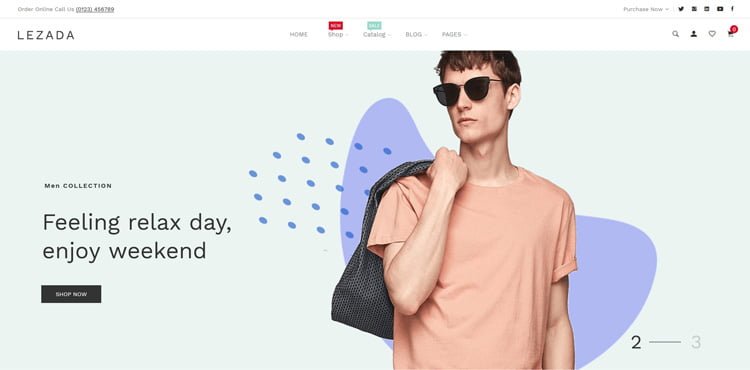 Plus, with its RTL version and Google Analytics integration, your website will be fully responsive and equipped with tracking tools. Even the most novice designers can easily customize their storefront with Lezada's sidebar widget. And let's not forget the convenient features such as the notification bar and multiple currency options. Overall, Lezada truly is the all-in-one solution for all of your Shopify needs.
Highlighted Features:
Fully Responsive
RTL Version
Notification Bar
Multiple Currency
Breadcrumb banner
Price: Regular License: $79
🚀 Ready to skyrocket your Shopify store to success?
🚀 Unlock the secrets to success and boost your sales 📈 with ShopiBuffet's expert services. Don't miss out, get started now!
Steps of How to Add a Sidebar in Shopify
Here are the straightforward steps on how to add a sidebar in Shopify:
Adding a sidebar in Shopify involves a few simple steps:
Start by going to Online Store > Themes in your Shopify admin. Here, you will see your current live theme and your library of saved themes.
Find the theme you want to make changes to and click the Customize button. This will take you to the Shopify theme editor.
In the theme editor, you can access different page templates from the dropdown menu at the top of the page. Depending on your theme, the sidebar may be a function of the collection page or a navigational menu used throughout the store.
If the sidebar is related to the collection page, navigate to "Collections" and select the "Default collection" page template to edit it. For themes with the sidebar as a navigational menu, you can edit it within any page template.
Once you're in the desired page template, locate the Sidebar (or Sidebar menu) section on the left side of the page. On the right side, you'll find customization options for your sidebar menu.
Within the customization options, you can choose which navigation menus to include in the sidebar and add social media icons if desired. Keep in mind that the customization options may vary depending on the theme you're using.
Note: In some themes, the sidebar settings may be found in a different section, such as Collection. Explore different sections within the theme editor to find the specific sidebar customization options available to you.
Frequently Asked Questions
Can I customize the appearance of the sidebar?
Yes, you can customize the appearance of the sidebar to match your brand's aesthetics. Themes often allow you to adjust the sidebar's design, color scheme, fonts, and other visual elements to maintain a cohesive look throughout your store.
What content can I include in the sidebar?
You can include various content in the sidebar, such as navigation links to product categories, featured products or collections, trust signals like trust badges and customer reviews, announcements about promotions or sales, contact information, and customer support options.
Are there Shopify apps for adding a sidebar?
Yes, there are several Shopify apps available in the Shopify App Store that can help you add sidebar Shopify and customize a sidebar to your store. These apps offer additional features and customization options.
Hire Experts to Build Your Shopify Store [Recommended- ShopiBuffet]
ShopiBuffet serves as a trusted partner for Shopify store development, garnering high recommendations from individuals and businesses seeking to enhance their eCommerce ventures. With a seasoned team of professionals, they offer a comprehensive solution that allows businesses to concentrate on growth while delegating technical intricacies. ShopiBuffet's user-friendly platform, combined with the expertise of its design and marketing team, caters to diverse budgets.
What Services We Offer:
Theme Installation & Demo Setup
Dropshipping Activation + product
Shopify theme development and customization
Shopify App development and customization
Shopify migration service
Conclusion
In conclusion, the process on how to add a sidebar in Shopify can be a great way to improve the overall user experience for your customers. With a well-designed sidebar, you can provide easy access to important information like product categories, promotions, and search bars.
Additionally, a sidebar can keep your website organized and streamlined, making it easier for shoppers to find what they want. Whether you choose to incorporate a sidebar into your website design or not, it's important always to keep the customer in mind and prioritize their browsing experience above all else