Are you worried about losing your precious store data on Shopify? It's daunting for store owners to keep their shops running without backups. But don't worry because this guide will show you exactly how to backup Shopify store quickly and easily.
With our step-by-step instructions, you'll learn how to backup Shopify store so you never have to worry about losing important information again.
Why it's Important to Backup Your Shopify Store
Backing up your Shopify store may seem tedious, but it's one of the most important measures you can take to protect your business. Imagine waking up one day to find that all your hard work has vanished into thin air – it's a nightmare for any online retailer.
To prevent this from happening, it's vital to back up your Shopify store regularly. Not only does it ensure that all of your data is safe, but it also gives you peace of mind knowing that you're prepared for any emergency. Remember, an ounce of prevention is worth a pound of cure!
How to Backup Shopify Store- Steps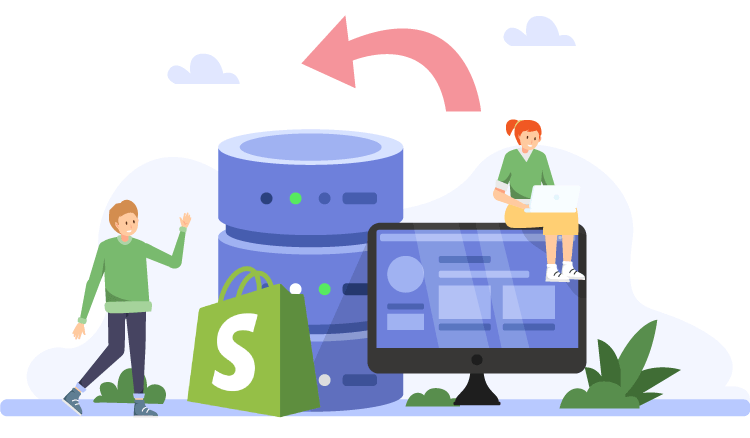 Backing up your Shopify store is essential for protecting your business against unexpected events, such as data loss or website crashes. By having a backup of your Shopify store, you can quickly recover and restore your data, minimizing the impact on your business. Here is the Step-by-Step Guide on how to backup the Shopify store —
Export Your Store Data as CSV
Exporting your Shopify store data as a CSV file is an essential step in backing up your business's data. With just a few clicks in your Shopify admin dashboard, you can export the following data as a CSV file:
Products
Customers
Orders
Gift card codes
Discount codes
Financial data
In this process, it's important to keep in mind that once the data is exported, it cannot be reversed.
Additionally, sorting the CSV file can cause product and URL variations that you may want to avoid. Importing a sorted CSV file can also result in data overwriting. In this guide, we'll walk you through the step-by-step process.
Save Any Remaining Items
Besides your data, save any other important items, such as images, videos, and documents associated with your store. This can be done by downloading these files from your Shopify admin and storing them securely, such as on an external hard drive or cloud storage service.
Store Your Files Safely
Once you have exported and saved all necessary files, it's important to store them in a secure location. This can be an external hard drive or cloud storage service, as long as it's safe from potential data loss or theft.
Regularly Update Your Backup
It's important to update your backup regularly, especially if significant changes to your store's data or files have occurred. This can be done by regularly exporting and saving your data and files, as well as reviewing your backup process to ensure it's still effective.
Import Your Files
If you need to restore your store from a backup, you can import your CSV files into Shopify by navigating to "Settings" and clicking "Import." You can select the appropriate files and import them back into your store.
🚀Boost Your Online Store Sales with Mavon Shopify Theme!
Mavon – Your ticket to success! 🚀 Boost revenue with conversion-focused features and intuitive design, turning visitors into loyal customers.
Benefits of Backing Up Shopify Store
Backing up your Shopify store offers many benefits for your business, including:
Data protection:
With a backup of your store, you can protect your data from unexpected events such as website crashes, hackers, or data breaches.
Quick recovery:
If your store experiences a data loss or website crash, having a backup allows you to quickly recover your data and restore your store to its previous state.
Business continuity:
By having a backup, you can assure business continuity and reduce the impact of unexpected events on your business operations.
Peace of mind:
When you are satisfied that your business data is backed up and protected, it can provide you the peace of mind to focus on other essential areas of your enterprise without worrying about the security of your valuable information.
Easy migration:
If you decide to migrate your store to a different platform or transfer ownership, having a backup of your data can make the process much smoother and easier.
Top Recommended Blog for You:
👉 How to Change Shop Name on Shopify: Quick and Easy Guide
👉 How to Cancel Shopify Order in a Few Easy Steps
👉 What is a Favicon on Shopify and How to Add One: A Comprehensive Guide
👉 How to Export Images from Shopify: A Step-By-Step Guide
👉 What is SKU in Shopify?
Frequently Asked Questions
What data is included in a Shopify backup?
A Shopify backup includes all the data on your store, including products, inventory levels, customers, orders, setting configurations, pages, and blog posts.
How often should I back up my Shopify store?
As a general rule, you should back up your Shopify store as often as possible, especially after any changes have been made. Depending on the frequency of updates and changes to your store's data, it is recommended to perform backups daily or weekly.
What are the options for securely storing my Shopify backup data?
There are several options for securely storing your Shopify backup data, including cloud-based storage options like Dropbox or Google Drive. You can also save backup files locally on your computer or on a separate external hard drive. Be sure to choose a storage option that meets your security and storage needs.
How do I restore my Shopify backup data?
To restore your backup Shopify store data, click on 'Settings' on your Shopify dashboard, then 'Account', and 'Data Exports'. Click on either 'Import products' or 'Import customers', then upload the most recent backup file from your storage location.
Note: this may overwrite your store's existing data, so it is important to make sure that you are uploading the correct backup file.
Get Exclusive Shopify Services from ShopiBuffet
Setting up an online store can be a daunting task, but it doesn't have to be with ShopiBuffet. Their team of experts will take the reins and guide you through the entire process, from creating a theme to configuring your products and much more.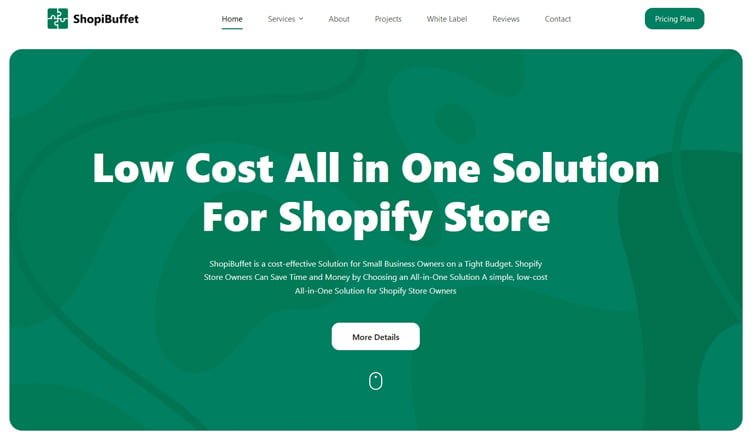 With their round-the-clock support, you can relax knowing that your online store will always be in good hands. ShopiBuffet offers a range of exclusive Shopify services that cater to all your needs, so you can confidently launch your online business and focus on growth. They'll handle the technical details, and you can focus on achieving your entrepreneurial goals.
Conclusion
Backing up your Shopify store is an essential task that ensures the safety of your business. But, it does not have to be complicated or time-consuming. You can easily back up your Shopify store by using the built-in Shopify feature or third-party apps from Shopify app store that automate the process. It also means you can quickly recover lost or deleted data if something goes wrong. So, don't wait until it's too late – backup your Shopify store today and protect your business from potential risks.