Are you an online retailer using Shopify as your platform? One essential aspect of running an eCommerce business is managing order documents efficiently. In this article, we will guide you through the process of how to print invoice on Shopify. 
By leveraging built-in features and apps like Order Printer, you can streamline your operations and enhance customer satisfaction. Whether you're new to Shopify or looking for a refresher, this step-by-step tutorial will equip you with the knowledge to simplify your order management.
The Advantages of Printing Invoices for E-commerce Businesses
Printing invoices for eCommerce businesses offers several advantages despite the digital nature of online transactions. These benefits include:
Professionalism: Printed invoices convey a sense of professionalism and legitimacy to customers. They show that your business is organized and committed to providing a thorough record of their purchases.
Tangible Record: Physical invoices provide a tangible record of transactions that customers can easily reference. This can be particularly valuable in case of disputes or the need for returns or exchanges.
Branding Opportunity: Company invoices can be customized to include your company's branding, logo, and contact information, reinforcing your brand identity with each transaction.
Compliance: Printed invoices often meet legal and tax requirements, ensuring that your business remains compliant with regulations. They can include essential details such as tax identification numbers, payment terms, and itemized lists.
Customer Engagement: Including personalized notes or promotional offers on print invoices can help engage customers and encourage repeat business. It's a tangible way to express gratitude for their purchase and entice them to return.
Accessibility: Not all customers prefer or have access to digital records. Printed invoices provide an accessible option for those who may require paper documentation for their own accounting purposes.
🚀Boost Your Online Store Sales with Mavon Shopify Theme!
Mavon – Your ticket to success! 🚀 Boost revenue with conversion-focused features and intuitive design, turning visitors into loyal customers.
Ways to Printing Invoices on Shopify
Printing invoices from your Shopify store can be achieved through several methods. You can print invoices via Shopify POS or directly from the Shopify admin page. In either scenario, the indispensable tool you'll be utilizing is the Order Printer app. Below, you'll find comprehensive steps for both of these approaches.
How to Print Invoice on Shopify from Shopify Admin
From your Shopify admin panel, follow these steps on how to print invoice on Shopify:
Access Your Shopify Admin: Start by opening your Shopify admin dashboard.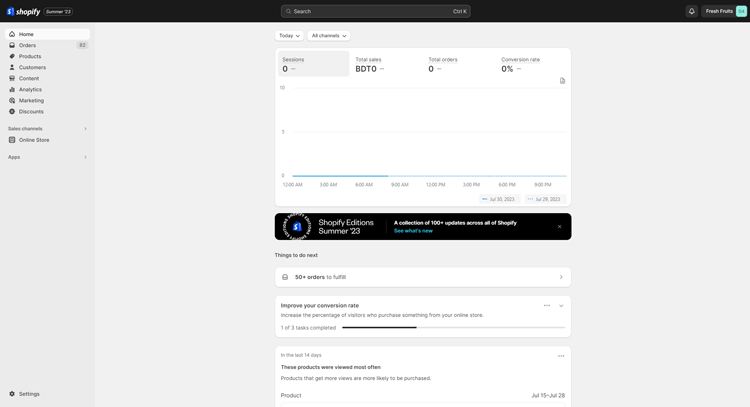 Go to Orders: In the admin panel, navigate to the "Orders" section. You can typically find this in the left-hand menu.

Select the Desired Order: Locate the specific order for which you want to print a company invoice and click on it to open the order details.
Access Print Options: Next to the "Print Order" option, you'll find a "More actions" button. Click on it to reveal a drop-down menu.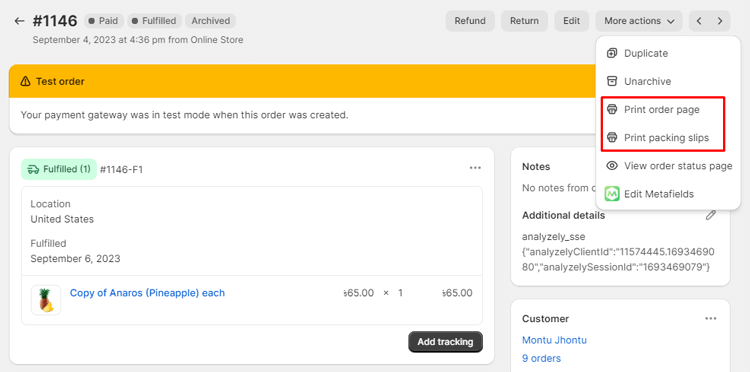 Choose "Print with Order Printer.": From the drop-down list, select "Print with Order Printer." This option enables you to format and print various order-related documents.
Select What to Print: On the next screen, you'll see a menu in the upper-right corner. Click on it to open the options.
Choose "Invoice" (and "Packing Slip," if needed): From the menu, select "Invoice" to print the invoice. If you also need to print a packing slip, you can select it here.
Click "Print": After selecting your desired print options, locate the blue "Print" button in the upper-right corner of the screen. Click on it to generate and print the selected document(s), which in this case, will be the invoice.
How to Print Invoice on Shopify from Shopify POS
If you prefer to print from Shopify POS, follow these steps:
Order Confirmation: When you're ready to confirm an order within Shopify POS, proceed to the order confirmation screen.
Access Apps: On the order confirmation page, look for and select the "Apps" option.
Choose "Print with Order Printer.": Within the Apps menu, locate and choose the "Print with Order Printer".
Select Document Type: You will be presented with the choice of printing either a packing slip or an invoice. You can also choose to print both documents if needed. Additionally, you may have the option to adjust printer settings, such as specifying the number of copies.
Confirm Printing: After you have configured the desired options, click on the "Print" button. This action will trigger printing the selected document(s) based on your preferences.
🚀 Ready to skyrocket your Shopify store to success?
🚀 Unlock the secrets to success and boost your sales 📈 with ShopiBuffet's expert services. Don't miss out, get started now!
Alternative Methods for Printing Invoices on Shopify
Get an idea from the section 'Other Ways to Print an Invoice:
While Shopify offers its free Order Printer app for basic invoice printing, there are several other third-party apps compatible with Shopify that provide additional features and customization options for invoices. These apps may come with a price, but many offer free trials to help you assess their suitability for your business before committing to a subscription. Here are some of these invoicing apps:
Sufio: Sufio offers a two-week free trial and costs $19 per month after the trial period. It provides advanced invoicing and bookkeeping features, making it suitable for businesses with more complex invoicing needs.
PrintHero: PrintHero is available for $14.99 per month and comes with a week-long free trial. It offers customization options for invoices and is designed to streamline the printing process.
Printout Designer: Printout Designer provides a 14-day free trial and charges $4.99 per month afterward. It allows you to create invoices and customize various types of documents, including invoices, packing slips, and labels.
Wholesale Catalog Maker: This app offers a two-week free trial and costs $25 per month. While primarily designed for creating wholesale catalogs, it can also be used for invoicing purposes, making it suitable for businesses that sell to both retail and wholesale customers.
Tips and Best Practices for Efficient Invoice Printing
Customizing invoices to align with your brand
Making the charges specifically reflect your brand is a potent approach to leave a lasting impression on your clients. When clients receive a company invoice with your company's logo, color scheme, and typefaces, it strengthens the professionalism and visibility of your brand. It promotes recognition and trust when branding is consistent across all touchpoints, including invoices.
A comprehensive summary of the goods or services purchased, combined with payment conditions and contact details, guarantees that your customers have access to all the information they require. By personalizing your invoices, you not only improve the perception of your company but also give your customers a more enjoyable and memorable invoicing experience.
Automating the printing process
Your invoice printing process is no exception to the rule that automation is the key to efficiency in modern business operations. The entire process can be streamlined by integrating your invoicing system with eCommerce platforms or specific invoicing software. You can decrease the chance of errors and gain critical time back by automating the generation and printing of invoices.
Whether you choose daily, weekly, or monthly printing cycles, you may build up routines using scheduled printing or batch printing choices. Along with improving accuracy, this automation also helps you maintain organization and focus on other crucial facets of your company. Including automation in your workflow for printing invoices can increase productivity, cut down on human labor, and make your business operations more effective as a whole.
Hire Experts to Build Your Shopify Store (Recommended- ShopiBuffet)
If you're seeking expert assistance to build your Shopify store, look no further than ShopiBuffet. It's your ultimate destination for top-notch Shopify services. With ShopiBuffet, you can effortlessly build an online store, thanks to their team of highly skilled professionals. They excel in various areas, from crafting captivating themes to configuring products, ensuring smooth navigation, and optimizing sales channels and collections.
What sets ShopiBuffet apart is its commitment to ongoing guidance and Shopify support, a crucial aspect of achieving success in the competitive online marketplace. Their dedicated customer support ensures you'll never feel alone when facing the challenges of running an online business. Whether you're a beginner taking your first steps or an experienced pro, ShopiBuffet tailors its services to meet your unique requirements, simplifying the process of online selling.
Frequently Asked Questions
Can I print multiple invoices at once on Shopify?
Yes, you can print multiple invoices at once by using batch printing. In your Shopify admin, you can group invoices by date, customer, or other criteria and print them together for greater efficiency.
What file format does Shopify use for invoices?
Shopify typically generates invoices in PDF format, which is widely accepted and easily printable.
Can I save digital copies of my invoices on Shopify?
Yes, Shopify allows you to save digital copies of your invoices for reference. You can access and download these invoices from your order history.
Is there a cost associated with printing invoices on Shopify?
Printing invoices through the default Shopify Order Printer is generally free. However, if you choose to use third-party apps for advanced features, there may be associated costs, often in the form of a monthly subscription fee.
Conclusion
After experimenting with various ways of how to print invoice on Shopify, opt for the method that best aligns with your specific requirements. This chosen approach not only offers remarkable simplicity but also delivers professionally designed invoices that present all essential information in a clear and easily digestible format.
Furthermore, take advantage of the capability to tailor the invoice design to harmonize with your brand identity and incorporate any extra notes or messages you desire for your valued customers.