If you are a Shopify merchant, you know how important it is to print shipping labels Shopify for your orders. Not only does this make things easier for you, but it also makes the shipping process faster and more efficient. This blog post will show you how to print shipping labels on Shopify. We will also provide some tips to help make the process easier for you.
Benefits of Printing Shipping Labels on Shopify
Printing shipping labels on Shopify has many advantages, making it an attractive option for small business owners. With Shopify's integration with major carriers, businesses can quickly select the shipping method and cost-effective access rates to streamline customer communications.
In addition, once a shipping label is printed through Shopify, packages are automatically included in shipment tracking, saving time and reducing the manual data entry required. Furthermore, it makes it easier for businesses to stay organized and keep track of product deliveries at all times.
All in all, printing shipping labels on Shopify is a great way for sellers to save both time and money while improving customer communication.
Overview of How to Print Shipping Labels on Shopify
Knowing how to print shipping labels is essential to running an efficient Shopify business. Printing labels directly from within your Shopify account is simple and fast. To begin, you must enter the destination information, including the address and package details. Once this is done, you will be directed to select a carrier and Shopify shipping service.
After selecting your preferred option from Shopify admin and paying the corresponding costs, you can generate the label and a packing slip. You can customize labels with custom branding or other logos if necessary.
With all these steps completed, you're ready for packing and shipment!
🚀 Ready to skyrocket your Shopify store to success?
🚀 Unlock the secrets to success and boost your sales 📈 with ShopiBuffet's expert services. Don't miss out, get started now!
Step-by-Step Guide to Printing Shipping Labels
Here's a step-by-step process on how to print shipping labels on Shopify easily –
Step-1: Log in to your Shopify account.
To get started, "Log in" to your Shopify account with your own-customized email and password. After logging in, you will access step-by-step instructions on customizing, previewing, and printing shipping labels.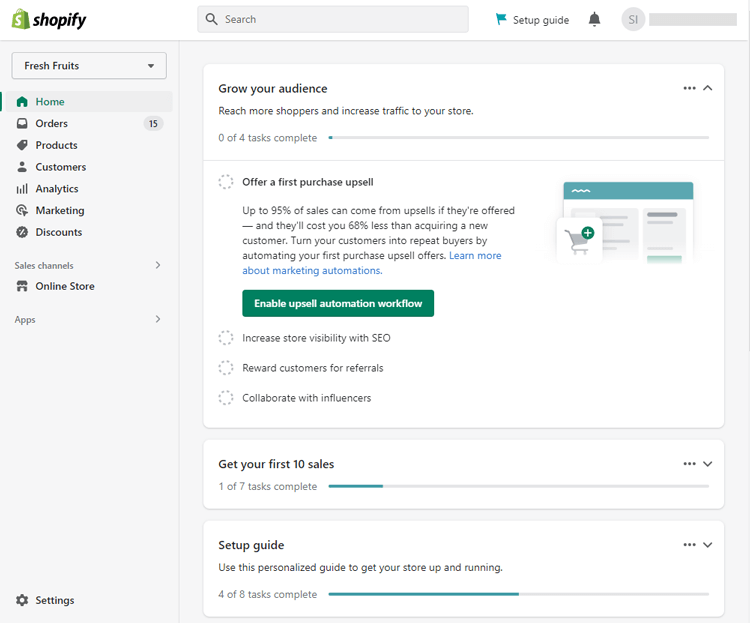 Step 2: Choose Orders.
After logging into your Shopify admin, you can select "Orders" from the sidebar. From there, you can filter orders to find what you are looking for in a snap.
Step 3: Select an order number.
Next is to start by selecting your "Order number". This step might seem minor, but it is key for any seller who needs accurate and timely labeling for their parcels.
Choosing the right order number ensures that you can quickly check the progress of an item and guarantee precise delivery times.
Step 4: Select Print label.
You can click "Print Label" to move on at this step in printing a shipping label. Doing so will take you to the Fulfillments area, where the next steps in labeling your package await. Once there, it is a good idea to double-check your order content and enter in all necessary information before completing the rest of the process.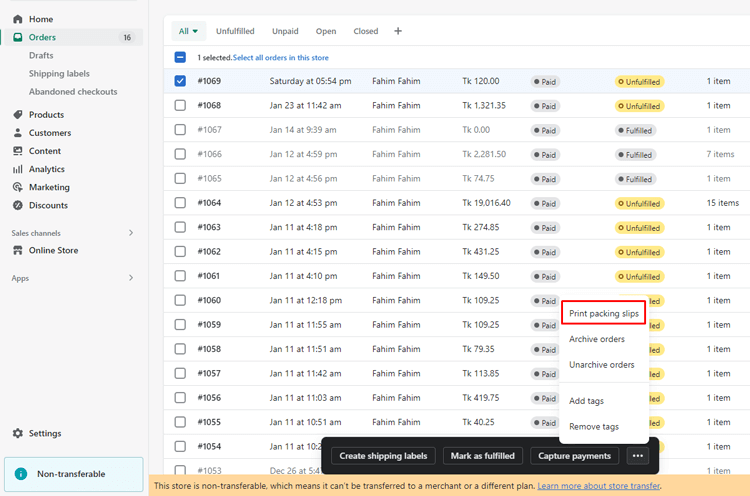 Step 5: Select a printer
Before printing your Shopify shipping labels, choosing your printer is one of the most critical steps. While you can use any type of printer you'd like, consider how frequently and how many labels need to be printed.
Step 6: Determine the paper size.
Every step is essential, especially step 6: Determine the paper size. Depending on which type of printer you are using – label printer or desktop printer – you need to click on (4″x6″ or 8.5″x11″), respectively. This step ensures that the labels are printed perfectly so that all necessary information looks neat and organized!
Step 7: Print a shipping label.
The seventh and final step in the "Print a Shipping Label" process is to click Print. Once you have inputted all the necessary information and verified that your label looks exactly as expected on the computer screen, it will be time to click that Print button.
Tips for Printing Shipping Labels on Shopify
Printing shipping labels is one of the most important aspects of running a successful business. On Shopify, there are a few simple tips that can make this job faster and easier. Such as —
Consider Using a Third-Party App for Printing Labels
With so many aspects of managing an online business, it can be easy to overlook the importance of printing shipping labels. Fortunately, Shopify makes it easier than ever for store owners to satisfy this critical requirement.
Consider using a third-party app for your printing needs to maximize convenience and efficiency. For example, third-party shipping label apps allow you to quickly pull up customer shipping address information and other details from orders. You can also generate labels on demand without manually entering data, saving time.
Use Customized Templates to Make Labels Easier
One of the best tips for printing shipping labels on Shopify is to customize your shipping label templates. This will not only make printing labels easier, but it will help you streamline the packing and shipping process, as it can help speed up delivery times.
Customizing your templates can also reduce errors by allowing accurate input of customer addresses and clearly labeling fragile items and special instructions. With the right template design, you can save time and money by reducing rejected shipments due to incorrect labeling – a major bonus.
Invest in Quality Shipping Supplies
If you're running a successful Shopify store and regularly printing Shopify shipping labels for your customers, buying shipping label supplies with good quality is essential. Doing so will not only help ensure the security of your products during transit, but it can also help extend their shelf life.
Quality Shopify shipping boxes, protective bubble covering, and tamper-proof sealing caps and tape are essential for keeping your products safe while they are en route to their destination.
🚀 Ready to skyrocket your Shopify store to success?
🚀 Unlock the secrets to success and boost your sales 📈 with ShopiBuffet's expert services. Don't miss out, get started now!
Conclusion
In conclusion, printing shipping labels on Shopify is a great way to save time and money while managing your online store. With the ability to select from various carriers, you can be sure that any package sent from your store will arrive promptly and at an affordable cost.
Print shipping labels on Shopify reduce costs for you and streamline Shopify shipping for customers with an automated process, so you don't have to worry about customer service or tracking orders.